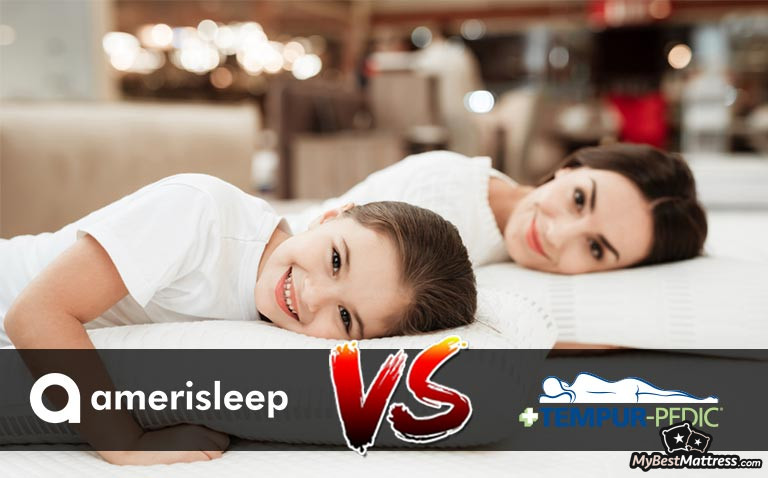 In this Amerisleep VS Tempur-Pedic comparison, TempurPedic has around 15 years on its competitor, Amerisleep (at least company age-wise). Will the extra experience be enough for TempurPedic to be considered the better mattress alternative here?
Well… We shall see soon enough.
Before we jump into the TempurPedic VS Amerisleep comparison article, though, we need to talk about the main features that we'll focus on when it comes to the two beds in question. Also, if you'd like a quick and to-the-point comparison, you could check it out here.
Table: TempurPedic and Amerisleep mattress comparison introduction
Note, though, that it won't really provide you with an in-depth look into either of the companies and their mattress features. If that's what you're looking for - read on!
Amerisleep VS TempurPedic: The 5 Big Features of a Proper Mattress
While different types of people need different amounts of sleep to stay healthy and rested (for example, pregnant women[1] and the elderly should sleep more than, say, a young adult), the adequate features of a proper mattress that would allow these people to do so remain the same.
Table: TempurPedic and Amerisleep mattress features
Above, you can see a table that showcases some of the more prominent features and benefits of the two beds in our Amerisleep VS TempurPedic comparison. Out of all of those features, there are 5 big aspects that should be further discussed and elaborated on, and they are the ones that we'll pay the closest attention to in this article.
Durability. Durability refers to how sturdy and well-built the mattress that you're looking to purchase is. That said, given that both of the mattresses in this Amerisleep VS TempurPedic comparison are seen as being high-end products, we'll take a closer look at not only the sturdiness of these beds, but also their longevity, how soon are they going to show signs of wearing down, and so on.
Firmness. While looking for a new bed, you'll notice that many customer Amerisleep VS TempurPedic reviews tend to talk about the firmness feature of both of the products in question. This isn't coincidental - firmness is actually a heavily-debated topic, and draws many different opinions from all around. Needless to say, there are specific benefits for both soft and firm beds - we'll discuss them as we progress through the article.
Motion isolation. In the same way as durability, motion isolation is mostly dependant on the material from which a bed is constructed. Some materials are great at absorbing motion, others might lack this feature, altogether. While this isn't going to be an issue in this Amerisleep mattress VS TempurPedic article, there are some other things worth addressing when it comes to your bed being good at absorbing motion.
Cooling. The effect of a "cool bed" can be achieved in many different ways. Some mattresses sleep cool by design - this is especially so the case with top-tier innerspring products, such as Saatva. Other types of beds "boost" the coolness of their beds by other means, such as special types of gels, cooling covers, or else. Either way, a hot-sleeping mattress can really ruin your sleep rather quickly - always make sure to check whether the bed that you're looking at buying has proper cooling features or not.
Responsiveness. A responsive mattress is one that will adapt and mold according to and around your body's placement. In other words, responsive beds are those that distribute pressure all throughout their diameter, not letting it concentrate under some specific parts of your body and thus form painful spots. Truth be told, out of all of the features that we'll discuss in this article, customer Amerisleep VS TempurPedic reviews that deal with responsiveness should be given the most attention.
Now that you are aware of the main aspects that we'll focus on in this TempurPedic VS Amerisleep comparison article, we can finally move on to talking about the two beds in question.
Amerisleep VS TempurPedic: The Comparison
So, then - in order to retain the continuity and flow of this Amerisleep VS TempurPedic article, let's take it from the top and start off with taking a look at the durability aspect of the two beds in question.
Durability
One thing that you're likely to notice all throughout this Amerisleep VS TempurPedic comparison is that both Amerisleep and TempurPedic Adapt are very similar mattresses - if you took a longer look at the feature table above, that's probably something that crossed your mind.
That's not really all that surprising - both of these two mattresses are very similar to one another, material-wise.
Amerisleep and TempurPedic are made out of foam - rather, a mixture of memory foam and polyfoam. Apart from other things, this similarity does really show when it comes to durability - both beds are considered to be quite durable by their respective customers.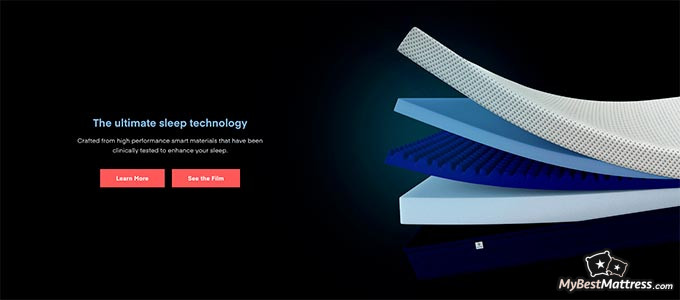 To be completely honest, this is a pretty significant compliment to Amerisleep and TempurPedic. Foam, as a mattress-building material, isn't really all that well-known for its durability and longevity.
Why is that the case? Well, other than the intricacies of the actual texture of the material, there are plenty of cheap foam knock-off materials circulating the in mattress industry. Some companies tend to cut corners and stuff their beds with "foam" that'll break down in a matter of months.
The two brands in question, however, have managed to avoid shortcuts and thus create two great, durable products.
Latest Saatva Coupon Found:
UP TO $500 OFF
Limited-time Saatva Sale
We're sharing a limited-time Saatva mattress discount with our readers! Grab this deal & enjoy your new mattress with huge discounts.
Expiration date: 08/12/2023
4,042 People Used
Only 83 Left
Firmness
I've mentioned earlier that both soft and firm beds have their own benefits.
Well, to be completely frank… Firmer beds are still the way to go.
Softer mattresses are going to provide the sleeper with some increased comfort features. I mean, let's face it - who doesn't love tucking in their sheets, and feeling how the mattress just cozily sinks down and molds around their bodies?
While the "sinking" feeling might seem really attractive at first, it's actually something that you should avoid at all cost, whether with any of the two beds in this Amerisleep VS TempurPedic comparison, or else.
Table: Firmness and thickness options of TempurPedic and Amerisleep mattresses
You see, when your body "sinks down" into the mattress, your proper spine and neck alignment is broken. This, in turn, causes a whole wide variety of issues, from back pains all the way to restless sleep.
Firmer beds, however, can not only prevent such issues from forming, but also eliminate (or at least alleviate) already-existing ones. While they are likely not going to provide as much comfort as their softer alternatives, you should still be able to find a pretty good middle ground.
Speaking of which, customer Amerisleep VS TempurPedic reviews note that, while Amerisleep is quite a firm mattress, by default, TempurPedic's Adapt model is actually also somewhere in the middle, but leans towards the softer side of things.

Did you know?
Motion Isolation
Motion isolation becomes a really important feature when you're choosing a mattress for yourself and your significant other.
Thing is, sometimes, even the slightest movement on the other side of the bed can wake you up, in the very middle of the night. It's not a fun scenario to find yourself in, and can lead to some annoying sleep disturbances that even daytime naps[2] aren't going to be able to fix.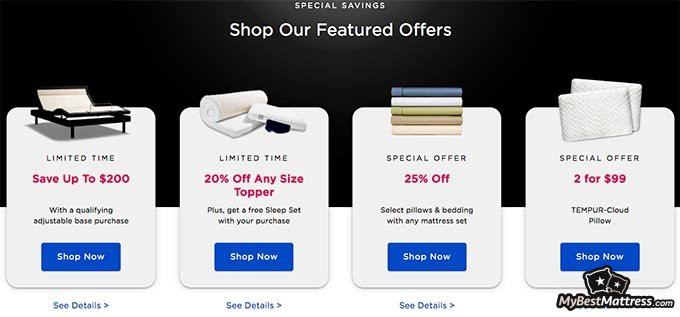 Now, take that scenario, and imagine sleeping with a person who tends to constantly toss and turn in their sleep. For these types of situations, you're definitely going to need a bed that is good at isolating motion to one side of the mattress, and not transferring it to the other.
TempurPedic VS Amerisleep customer comparisons note how TempurPedic is actually quite a bit better at absorbing motion than Amerisleep. So, if motion isolation is a specifically-important factor for you, do keep this in mind.
Cooling
Straight off the bat, let's get something clear - foam isn't good at "keeping it cool", especially when compared with other mattress materials out there.
Your average foam mattress is going to trap heat inside of the foam, and if there's no appropriate cooling technology in place to let that heat out, going into the latter part of the night, it's going to start feeling rather hot. In short, foam isn't known to be a breathable material.
That said, some higher-end foam mattresses do think of solutions for this problem - cooling gel-infused foam, cooling mattress covers, design alterations, and so on.

TempurPedic is one of the companies that have almost got it right. The brand's customer claim that the mattress sleeps a bit warm, but it's still far from being uncomfortable.
Amerisleep, however, isn't as fortunate. Many Amerisleep mattress VS TempurPedic comparisons point out that, if you're someone who's prone to sleeping hot, this mattress isn't going to be suitable for you.
Responsiveness
As I've mentioned earlier on in the Amerisleep VS TempurPedic comparison, mattress responsiveness helps people deal with painful pressure points that might have formed due to sleeping on some old, worn-out beds.
Truth be told, many Amerisleep mattress VS TempurPedic reviews do claim that you might not even think that you need a responsive mattress… Until you actually get one. This is because many people are so used to their old beds, that they might not even think that it's possible for a mattress to mold around your body and alleviate pressure, while at the same time retaining shape.
Table: TempurPedic and Amerisleep mattress pressure point alleviation
Well, it is possible, and both of the beds in this Amerisleep VS TempurPedic comparison are going to provide you with just that. Comparing and contrasting different customer feedback, it's obvious that most people are pretty happy about the responsiveness aspect of both of the mattresses in question.
Sleep Positions
Finally, before we move on to pricing and sizing section of this Amerisleep VS TempurPedic article, let's talk about sleeping positions.
As you may or may not know, there are three main positions in which a person sleeps throughout the night - back, stomach and sides. Each and every one of these three positions requires its own, specific set of mattress features to be comfortable.
TEMPURPEDIC
AMERISLEEP

You Can Choose From Different Firmness, Thickness and Construction Options
Zero-Motion and Amazing Sound Isolation
Very Durable (Customers Approved)
Great for All Sleepers
90-Nights Free Sleep

Pain and Pressure Relief
20 Year Waranty
Celliant Fiber Cover
Body Contouring

Minimal Off-Gassing
High-Price
30-Nights Break-in Period Required for Sleep Trial

Above-Average Price
Not the Best Edge Support

See TOP10 Brands
Read Review
See TOP10 Brands
Read Review
Table: TempurPedic and Amerisleep mattress sleep positions
More often than not, foam mattresses tend to suit back and side sleepers best, while being less-than-ideal choices for people who prefer sleeping on their stomachs. The same is kind of true with the two beds in question, too - TempurPedic is considered to be best for back and side sleepers, while Amerisleep might actually be suitable for all types of sleepers out there!
Naturally, though, this is all based on customer feedback - while your experience with these mattresses might be completely different, this should serve as a general guideline.
Price
To finish off this Amerisleep VS TempurPedic comparison, let's take a look at the pricing options of both fo the beds.
Do keep in mind, though, that the prices provided below might change at any given time, at the sole discretion of the product owners themselves.
Table: Pricing and sizing options for the TempurPedic and Amerisleep mattresses
Amerisleep is priced like this:
TempurPedic's prices are:
It's pretty obvious that TempurPedic is way more expensive than Amerisleep.
Table: TempurPedic and Amerisleep mattress shipping, trial and warranty information
Furthermore, TempurPedic offers customers a 90-night sleep trial, a 10-year warranty and free shipping in the US. Amerisleep, on the other hand, provides its customers with a 100-night trial and 20 years of warranty + free shipping within the US! Neither companies ship internationally, though.
Conclusions
Both of the mattresses in this Amerisleep VS TempurPedic comparison have their own set of pros and cons - that's pretty obvious.
If you can afford an expensive mattress that will provide you with some notable comfort options and above-average cooling, then you should go with Tempur-Pedic. If, however, you're more interested in a more affordable bed that does come with most of the same features, yet is warmer and lacks edge support - Amerisleep is the best choice for you.

If you're having a hard time deciding, do make sure to check out our side-by-side Amerisleep VS TempurPedic comparison. Also, if neither of these two mattresses suit you, there are many more fish in the sea!
Thanks for reading, and good luck in finding the best mattress for yourself!
TempurPedic Deal Active Right Now:
Buy 1 Get 1 Free
Pillow Bundles
Purchase a selected TempurPedic pillow and get a second pillow of equal or lesser value completely free! Follow this coupon link & add two pillows to your shopping cart.
Expiration date: 10/12/2023
1,765 People Used
Only 35 Left
Scientific References
1. Kathryn J. Reid, PhD, Francesca L. Facco, MD, MSCI, William A. Grobman, MD, MBA, et al.: 'Sleep During Pregnancy: The nuMoM2b Pregnancy and Sleep Duration and Continuity Study'
2. Jared M Saletin, PhD, Cassie J Hilditch, PhD, William C Dement, PhD, and Mary A Carskadon, PhD: 'Short Daytime Naps Briefly Attenuate Objectively Measured Sleepiness Under Chronic Sleep Restriction'
Leave your honest feedback
Leave your genuine opinion & help thousands of people to choose the best mattress. All feedback, either positive or negative, are accepted as long as they're honest. We do not publish biased feedback or spam. So if you want to share your experience, opinion or give advice - the scene is yours!