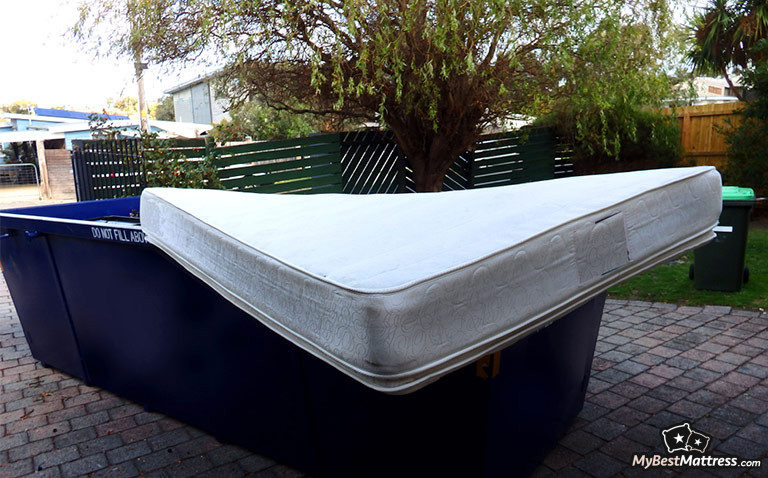 Mattress disposal is a process we all go through, sooner or later. The average person doesn't really think about it until the time comes - this is the main reason for all the confusion that is present when you realize it's time to change your bed and get a new one.
It doesn't have to be that way, however! In this guide, I'll tell you all about mattress disposal and mattress recycling. You'll learn the wheres, the whys and the hows.
We'll start off by talking about the main signs to look for when trying to decide whether or not your old mattress should be disposed of. Then, I'll tell you how to get rid of mattress - there are a few ways you can do this, and the choice is yours (if you got the reference, I love you).
Finally, since you're getting rid of your old bed, I'll give you some suggestions of mattress providers that you could start looking at.
How to Know That the Mattress Disposal Time Has Come?
First things first - let's figure out whether you really need to get rid of your old bed, and then we can move on to talking about how to dispose of a mattress.
Take a good look at your old mattress - there are a few telltale signs that should be a dead giveaway. First of all, the exterior - and I don't mean stains or other insignificant marks. These can always be washed off - some harder than others, but the sentiment is still the same.
No, what I mean are cuts, rips, holes, and so on. If your mattress is literally "leaking foam", or you can't lay on it without getting stabbed by a loose spring, then I think it's pretty evident that you do need a new bed.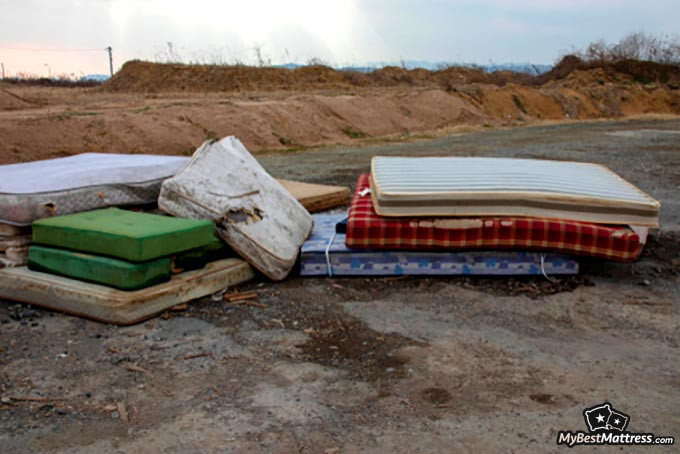 When it comes to deciding on mattress disposal, however, things can be much more subtle than that.
Oftentimes, if you had taken care of your bed all throughout the years, it will have no exterior signs of age. These are the situations where you actually have to lie down on the bed to figure out the above-mentioned conundrum.
If your mattress is squeaky (some noise is normal, but if you can't even take a breath of air without the bed reacting to it, that's a pretty clear sign), has weak edges and you sink as soon as you lay down on it, well… Those are some pretty good indicators that it's likely about time to think about mattress disposal.
Now, in general, after giving it a few good looks, you should be pretty sure on whether or not your bed is worth keeping or discarding. For the sake of the argument, let's say you've decided to discard it… What to do with old mattress?
A Possible Easy Way Out
Before you start looking for the closest garbage container or begin tearing your bed apart, take a look at your warranty (i.e. Nectar).
Chances are that you might go through the process of mattress disposal rather quickly.
Depending on the company from which you've bought your old mattress, there is a possibility that your warranty might still be valid. If it is, then you're in luck - a whole lot of possibilities open up.
Some warranties give you a discount on a new bed, others give you a new bed for free (although that's quite rare). However, most companies won't leave you hanging on the question of "what to do with old mattress" - they might come, collect and dispose of it for you.
Somewhat of the same concept applies when you want to hire a mattress disposal company. OK, fair enough, there probably aren't any "mattress disposal companies", but there are some garbage-collecting firms that are willing to come and pick your mattress up, for a price.
Donations
Right, so - let's say that you've checked your warranty, and it's expired. What now?
Before you start googling "mattress recycling" or "how to get rid of mattress", there is one more option left for you - donations.
Yup, you've read that right - you can donate your mattress.
Depending on where you live, a place to donate your old bed could either be easier or more difficult to find. It shouldn't get TOO difficult, though - there are quite a few organizations that are willing to accept used beds from people.
That being said, there are a few criteria that your bed is likely going to have to face.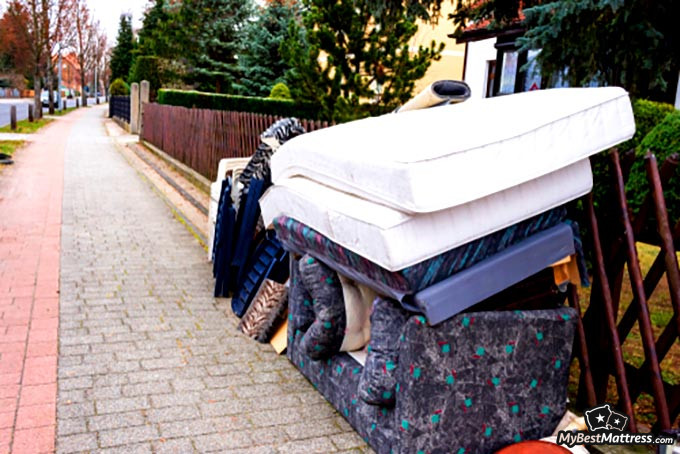 First of all, a pretty easily-understandable one - cleanliness. While no one expects that you'll be bringing a mattress that's 10 years old and still looks like it's brand new, there are certain hygiene aspects that should be met. If you can't even see the original color of your bed, mattress disposal might be the better option.
Also, make sure that, if you want to donate your old mattress, it's hazard-free. This simply means that it shouldn't have any metal spring or coils sticking out, there are no other sharp things pointing out of the mattress, and that it still resembles a mattress, overall.
If your old bed meets these criteria, and is generally still of mediocre shape, then you can go ahead and give a call to Goodwill or any other institution that would take the bed and give it to someone who's truly in need. Not only would you get rid of the bed (likely maybe even for free?), but you're also going to be doing someone a huge favor.
Recycling
Assuming that donating your old mattress isn't an options, and your warranty is lost forevermore, the next best step would probably have to be mattress recycling.
A cool thing here is that there are a couple of ways you can go about it. One of them is faster and easier, but is going to cost you a little bit of money, while the other one is a bit more time-consuming, and requires you to get your hands dirty, but is relatively free.
The first and easier way to find out how to dispose of a mattress by recycling it is to find a recycling company and provide them with the mattress. Depending on whether you are going to take the mattress there yourself, or you want the company to come to you, the price will vary.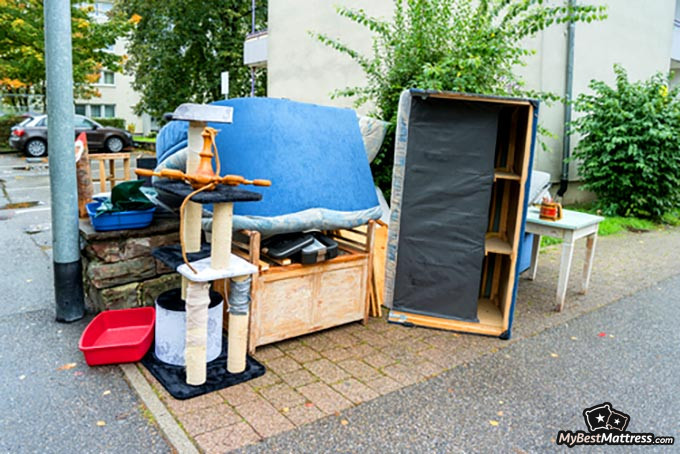 Regarding the price, though, you shouldn't worry too much - it's not going to cost an arm and a leg. All things included, you shouldn't pay more than $50 USD for the entire service.
Now, if you're really short on money, or simply don't want to spend it on recycling services, there is another option regarding this method of mattress disposal.
You know those recycling containers that are usually placed in residential areas or near shopping markets? Well, what you'd have to do is cut your mattress apart, organize the different parts in separate piles and then simply take all those parts to the designated containers.
Sounds complicated? Well, to tell you the truth, it really isn't.
Sure, it might be a little more time consuming than simply handing the bed over to a recycling company, but if you have some spare time on your hands, and want some "destruction meditation", this is definitely a viable option.
Reusing the Materials
Yup, that's definitely an option. Hear me out!
While your mattress might have tears and stains on the outside, there are certain areas in which it can still definitely be used.
Examples, you say? Sure, here's one - stuffing.
Let's say that you're into arts and crafts, and like to make stuffed animal toys in your free time (or anything else that requires stuffing, really). The foam from a mattress can serve as great filling for your creations!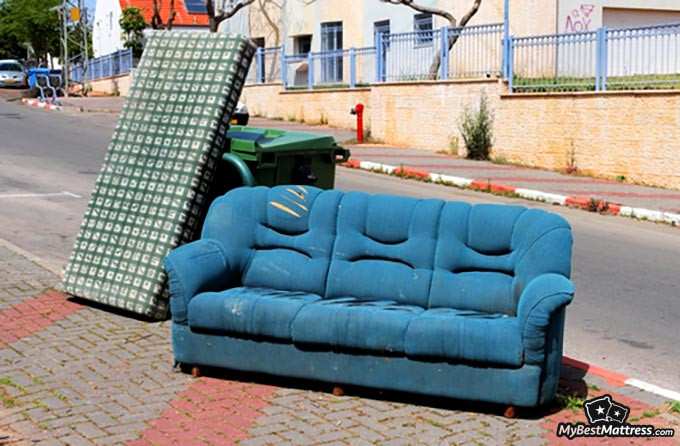 The same can be said about punching bags. If you have one, and it seems to lack weight, you could always unzip it and stuff it full with mattress foam, surface cloth and any other materials that you'd see fit.
Even if you're into dealing with machinery and automobile repairs, the surface from an old mattress can come in handy as a cloth to clean your hands, or use it in any other way related to car work.
I'll admit, these are some rather specific mattress disposal tips. That being said, if you're looking what to do with old mattress, you are surely going to find a way to reuse it, if only you want to.
Need a New Mattress? Here are Some Suggestions
So, you've learned how to get rid of mattress and now the deed is almost done - you're about to become mattressless (I'll admit, that sounded better in my head). The next logical step would be to go out and buy a new bed, right? Well, let me tell you this - if you play your cards right, and choose the best mattress providers out there, you might not even need to get rid of your mattress yourself.
That's right - there are mattress providers out there who are not only willing to bring your new product to your door, but also take your old bed with them! While that's not exactly common practice, it is a service that some providers do have.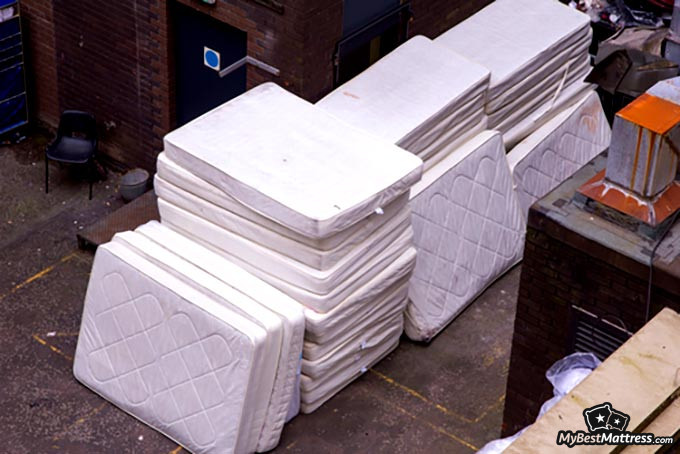 As far as the best mattresses are concerned, there's a pretty good selection you choose from. Here are just a few examples.
Saatva
Saatva is an innerspring mattress. Old-schooled, responsive and cool - all these words are perfect to describe this bed.
Saatva is going to be amazing for anyone who likes to sleep on a firmer surface. It offers perfect temperature neutrality features, and is bouncy - great for both sleeping and making love!
Saatva's prices are:
A very reasonably-priced bed!
Latest Saatva Coupon Found:
UP TO $500 OFF
Limited-time Saatva Sale
We're sharing a limited-time Saatva mattress discount with our readers! Grab this deal & enjoy your new mattress with huge discounts.
Expiration date: 29/09/2023
4,042 People Used
Only 83 Left
Puffy
While Puffy lacks a lot of that responsiveness that's so obvious with Saatva, it makes up in other departments, namely motion and sound isolation.
Puffy is a foam mattress. It's great for sleeping with your significant other, especially if they tend to twist and turn in their sleep.
Puffy's prices:
Same as Saatva, Puffy is super-reasonably priced, especially when you take into account the quality of the bed that you'll receive.

Did you know?
Nectar
Nectar is often labeled as one of the best mattresses ever created. Whether that's factually correct or not isn't really for me to comment on this "mattress disposal" tutorial - what I can say, however, is that it's really good.
Nectar comes packed with 6 layers of different materials that are there to guarantee you'll have a good night's sleep. It sleeps cool, has good motion isolation and sturdy edges.
The price tags of the Nectar mattress are:
As you can probably see for yourself, all three of the mattresses that we've talked about in this article are very reasonably priced, especially given their quality and reputation.
All of that said, there are definitely more great mattresses you could take a look at - whether it be memory foam or springs, latex or hybrids, you're bound to find a bed that would serve you well in the years to come. If you're interested and want more information, visit our list of the best mattresses to find out more!
Conclusions
By now, you should have a pretty good idea of how to dispose of a mattress.
While it's true that mattress disposal can become a tedious process really fast, it all depends on how well you're familiar with the subject. And, honestly, if you read the whole article from top to bottom, you now have more than enough knowledge on the different methods of getting rid of your old bed.
I sincerely hope that this tutorial was helpful to you. Remember - whether you choose to recycle your bed or donate it, there are great new beds just waiting to get snatched. Don't miss out on the opportunity and, after reading this mattress disposal tutorial, get yourself a bed that would last much longer than your old one!
Leave your honest feedback
Leave your genuine opinion & help thousands of people to choose the best mattress. All feedback, either positive or negative, are accepted as long as they're honest. We do not publish biased feedback or spam. So if you want to share your experience, opinion or give advice - the scene is yours!