Firm mattresses - something that some people like, while others hate. It's actually pretty funny - there doesn't seem to be a middle ground when it comes to the best firm mattresses in the industry.
While it seems that the majority of people do actually prefer to sleep softly, there are some amazing advantages that only a firm mattress can provide you! And that is exactly what we'll be discussing at the very beginning - pros of the firmest mattresses available.
Once that is done, I'll give you a list of the 7 best firm mattress providers in the current market. We'll take a look at their products, the pros and the cons, and everything in between. The providers are, as follows:
Here is The Best Saatva Offer I Found:
UP TO $500 OFF
Limited-time Saatva Sale
We're sharing a limited-time Saatva mattress discount with our readers! Grab this deal & enjoy your new mattress with huge discounts.
Expiration date: 05/12/2023
4,042 People Used
Only 83 Left
Why do People Look for the Best Firm Mattress?
If you've told your friends that you're looking for the best firm mattress on the market, you've probably received some looks of disbelief.
I know I did.
It's funny, because all that it takes is a single look at the firmest mattress reviews and you see a heap of benefits that can only be enjoyed if you have the best firm mattress. If I had to machine-gun them, it would be good temperature control, bounciness and responsiveness, strong edge support, lack of sinkage, and so on.
Naturally, a lot of hybrid (and even some all-foam) mattresses do have these benefits, too. That being said, however, they are nowhere near as noticeable as with the firm innerspring products.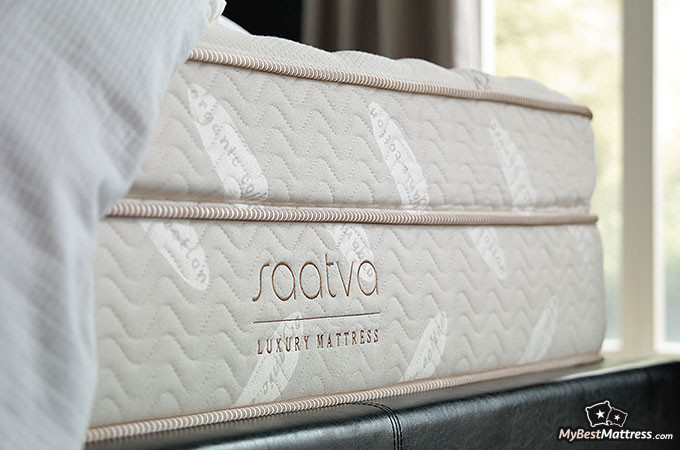 Another big reason to look for and purchase the best firm mattress is back pain. People who struggle with this problem are often the ones that are actively searching through firmest mattress reviews online. Why? Well, firm mattresses help to alleviate and lift back pain[1] - it kind of depends on their structure, but the majority of the top-tier providers do advertise this feature.
So, why do people seem to like softer mattresses more? It's actually mostly a thing of comfort and a little bit of a misconception. While softer beds are indeed cozier, people tend to imagine the word "firm" to be as stiff as a plank (not the mattress - the object, that is). Most commonly, that's not really the case!
Now, with all of that said, let's move on to the actual "best firm mattress" list.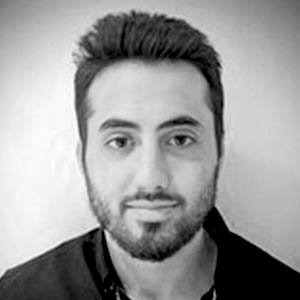 Caleb Backe
Certified Personal Trainer, Health & Wellness Expert
What is the most important feature that a good mattress should have?
The truth is that the perfect mattress will differ based on individual needs. That said, generally speaking, mattress firmness should be a priority. Spine alignment is a hugely important aspect of proper sleep, and this is largely determined by your pillow and mattress. If the mattress is too soft, your body will curve, and misalignment is likely to occur.
Ranks #1 out of 7 Mattresses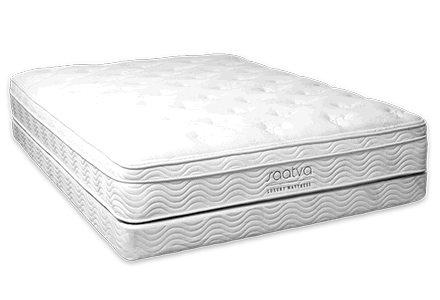 Things we liked:
+ Very bouncy and responsive
+ Cool (temperature AND visual-wise)
+ Top-tier edge support
+ Handcrafted in the US from ECO materials
Things we didn't like:
UP TO $500 OFF
Limited-time Saatva Sale
We're sharing a limited-time Saatva mattress discount with our readers! Grab this deal & enjoy your new mattress with huge discounts.
Expiration date: 05/12/2023
4042 People Used
Only 83Left
First off on our list, we have Saatva - one of the top innerspring-based mattresses that do make it to the top of the "best firm mattress" reviews.
Saatva is an eco-conscious mattress provider. Their product is probably most famous for three big reasons - it's responsive, has good temperature control and some of the best edge support you'll ever come across among the firmest mattresses.
Responsiveness is somewhat a no brainer here - since Saatva's base is made out of metal coils (hence the "innerspring" name), customers would come to expect the mattress being on the bouncier side of things. That said, it's actually impressively bouncy - couples who like to do it in their bed will appreciate it even further.
Good temperature neutrality is also something that's a usual feature for innerspring mattresses. Because of the way that these mattresses are made, Saatva's products are great at circulating air and having a good airflow - combine that with a special cover, and your nights should be that much cooler.
Finally, edge support. This might perfectly be the feature for which Saatva is most famous for (at least as far as the best firm mattresses go). It's also something that isn't that easy to pull off, either - there are plenty of hybrid and innerspring mattresses in the industry that do still have relatively weak edge support. Saatva is one of the exceptions to that rule.
So, let's talk firmness (this is a "best firm mattress" list, after all). Saatva offers customers three distinct options of their product - you have the "Plush Soft" model, the "Luxury Firm" (that would be the medium-firm mattress) and the "Firm" one. The "Firm" option, as you might probably have guessed, is the firmest mattress out of them all - quite close to being as hard as a table-top (I might have taken this metaphor from their official site).
What is the Saatva Mattress Price?
Now, as far as the pricing is concerned, these are the options that you can choose from:
While the King size price tag might scare some customers away, the overall prices of Saatva's products are actually rather decent! I'd say, they are somewhere in the middle - not too cheap, yet also not crazy expensive. Furthermore, don't forget that you'll be purchasing one of the best firm mattresses from one of the industry leaders!
Ranks #2 out of 7 Mattresses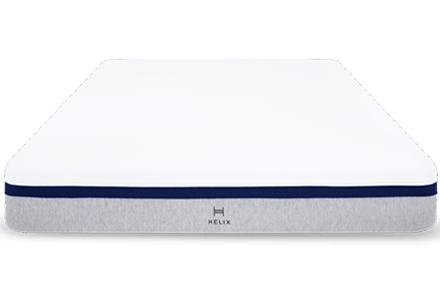 Things we liked:
+ Different levels of firmness
+ Responsive and bouncy
+ Good motion isolation
Things we didn't like:
- Somewhat noisy
- Some off-gassing involved
SAVE UP TO 25%
+ 2 FREE Pillows - Helix Sale
Special Helix mattress coupon: get 25% off your mattress purchase together with 2 amazing Dream pillows completely for free. Hurry up to use this offer before it expires.
Expiration date: 05/12/2023
1925 People Used
Only 5Left
Helix is a company that offers a lot of different mattresses to the average sleeper. Their main models are divided into three different groups, based on the level of firmness that they provide. That's why, in this "Best Firm Mattress" list, we'll be referencing the Dawn model.
Helix Dawn is one of the firmest options that the company has in stock. It is a mattress that's great for anyone who's experiencing back pain, and who like a bouncy bed, in general.
That being said, some customers report that you might notice some slight off-gassing once you first unpack and settle the bed down. It shouldn't really be a game-breaker, though, and should dissipate in a matter of days.
What is the Helix Dawn Mattress Price?
Dawn's prices are:
The prices are the same as for any other base Helix model out there.
Ranks #3 out of 7 Mattresses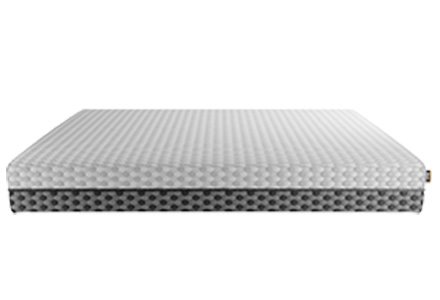 Things we liked:
+ Lower Than Average Pricing
+ Flippable
+ Pressure Relief
+ Cooling Properties
Things we didn't like:
- Fair Edge Support
- 2-Week-Break-In-Period
UP TO $1,250 OFF
Huge Layla Mattress Discounts
You can now save up to $1,250 on Layla products & get dozens of other discounts on accessories with this special Layla coupon!
Expiration date: 05/12/2023
3887 People Used
Only 23Left
What if I tell you that it's possible to get two mattresses in one? Well, it is, if you choose Layla. Of course in this review, we will only take a look into its firm side as that's what you're looking for, right?
One of Layla's side is medium-soft(4), another one is firm (7). The previous option is one of the most popular between heavy sleepers and those who prefer to sleep on their back, maintaining a healthy spine position.
Layla is designed from copper-infused gel memory foam, which sleeps much cooler than the regular memory foam mattresses and can improve circulation. It is also expected to serve you at least seven years on the nightly usage.
If you sleep with your partner, motion and sound isolation are probably the most important aspects. Layla will provide you with these features. It not only minimizes the motion transfer to a significant extent but also produces zero noise. So, both you and your partner will get the quality sleep you deserve. But that's not everything. According to the mattress owners, Layla adapts to the body perfectly, giving you pain and pressure relief.
The only few things that this mattress is missing are quite common to memory foam mattresses. It's the lack of bounciness and fair edge support. But that's only minimal flaws compared to the beneficial Layla's sides.
What is the Layla Mattress Price?
Let's take a look at Layla's pricing. Here is the Layla price list:
Those are some great prices indeed!

Did you know?
Ranks #4 out of 7 Mattresses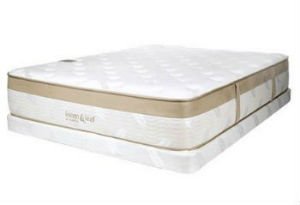 Things we liked:
+ Great motion isolation
+ No noise
+ Good for back pain
Things we didn't like:
- Might sleep rather warm
- Average edge support
120-Day
Coupon for Home Trial
Use this Loom and Leaf coupon to activate your 120-day sleep trial for your new mattress and enjoy your stress home experience.
Expiration date: 29/11/2023
1977 People Used
Only 23Left
Now, let's talk about Loom and Leaf.
The company offers a foam mattress with several different firmness options. Choosing even the firmest option, you're going to receive some great motion isolation - something that's rare with firmer beds!
Another great feature about Loom and Leaf is that, according to customer best firm mattress reviews, it's very well-suited for all types of sleepers. Whether you prefer to sleep on your back, stomach or side, L&L should provide you with the maximum amount of comfort, either way.
What is the Loom and Leaf Mattress Price?
The pricing options for Loom and Leaf are:
While Loom and Leaf isn't really the cheapest mattress around, customers state that the product s worth every penny.
Ranks #5 out of 7 Mattresses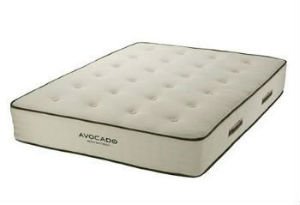 Things we liked:
+ Sleeps cool
+ Good for back and side sleepers
+ Durable
Things we didn't like:
- Not very responsive
- Lacks motion isolation
10% OFF SITEWIDE
Avocado Mattress Coupon
Enjoy this special Avocado mattress promo code and get your new mattress with a 10% discount. Offer is valid for a limited time period only, so hurry up!
Expiration date: 05/12/2023
2459 People Used
Only 172Left
Now, we have Avocado - a company that you might have also heard of if you've been browsing through the "best firm mattress" reviews.
Let's just get something straight right off the bat - the Avocado mattress is a hybrid one, and offers all of the main features that other hybrid mattresses possess.
Avocado sleeps very cool, has a 25 -year warranty (while most other mattress providers offer a 10-year one) and has some unmatched edge support. It's perfect for people who like to sleep on their side or back, since (just as the other top mattress providers) the mattress is capable of alleviating back pain.
So, what makes Avocado stand out, then?
Apart from the earlier-mentioned 25-year warranty, Avocado is an organic mattress. In addition to that, if you choose to go with their "Vegan" model, you'll receive the same mattress, just with some 100% organic cotton. This would be the factor that makes Avocado Vegan, well… Vegan.
What is the Avocado Mattress Price?
Admittedly, though, Avocado isn't a very cheap mattress.
Not the cheapest option in town, but seeing as it's an organic mattress, the price does seem to make sense. Do keep in mind that these are the prices for the Avocado Green model.
Ranks #6 out of 7 Mattresses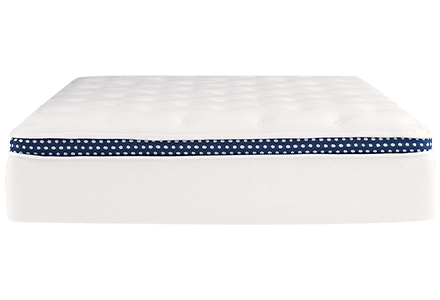 Things we liked:
+ Good noise and motion isolation
+ Bouncy
+ Great temperature neutrality
+ No off-gassing
Things we didn't like:
- 30-day break-in period
- Relatively new company
$300 OFF
WinkBeds Limited-Time Sale
WinkBeds is running special promotion and offers up to $300 off top-tier mattresses. Don't miss this chance to save!
Expiration date: 05/12/2023
3135 People Used
Only 48Left
WinkBed is yet another popular provider that can be spotted quite often in a lot of the "best firm mattress" reviews.
Winkbed has 4 different types of mattresses (or, rather, mattress types) for you to choose from. It goes from "Soft" all the way to "Plus". The latter one, as the company does state themselves, is designed specifically for heavier people, and would probably belong to the "best extra firm mattress" lists.
While their "most popular model" can be considered to be a medium-firm mattress, the "Firm" option is what you're probably looking for. It comes with a "7-zone support coil system", made specifically for the purpose of providing you with a firmer-type of a mattress.
In a general sense, WinkBed is an all-around good mattress provider - the products have great edge support, are durable and will definitely be appreciated by couples (if you know what I mean).
What is the WinkBeds Mattress Price?
The WinkBeds mattress prices are, as follows:
While far from being "cheap", customer reviews do claim that the quality does match the price.
Ranks #7 out of 7 Mattresses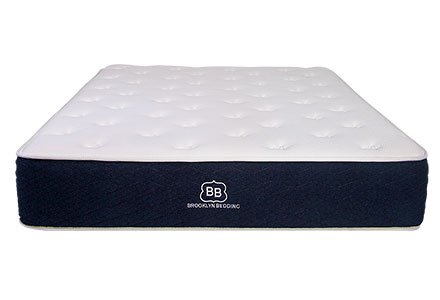 Things we liked:
+ Firmness Options
+ Six Different Models for Everyone
+ Free Shipping in the U.S
+ Lower Than Average Pricing
Things we didn't like:
- 30-Night Break-in Period for Free Trial
- Not All Mattresses Offer Similar Quality
GET 30% DISCOUNT
On Brooklyn Bedding Mattresses
Right now you can purchase your selected Brooklyn Bedding mattress for 30% less than usual. This offer is valid only for a limited time so be sure to use it!
Expiration date: 05/12/2023
4902 People Used
Only 19Left
Do I really need to talk about this mattress? I mean, the name should tell you everything you need to know as it is.
On a serious note, though, you will find that the Brooklyn Bedding's "Plank" mattress is often advertised (and reviewed) as being one of the best extra firm mattresses around. Not without good reason, either!
It is a foam-based product that has a "flippable" function - you can flip the mattress on either side, depending on the level of firmness that you desire.
Plank is amazing on almost all aspects you could think of - it's super-durable, has great motion isolation (being an all-foam bed, that isn't too surprising) and is really hard (hence the "best extra firm mattress" tag).
Now, it's a great mattress for sex, but in a bit of a different way than, say, Saatva. You see, Saatva is very responsive - that's what innerspring-based mattresses have in common. Plank, on the other hand, isn't responsive at all - instead, it's simply hard. While both scenarios are a bit different from one another, they are also both great for the same purpose.
Being a (quote on quote) "hard" mattress has it's own, distinct advantages. Plank is great for stomach sleepers - probably the group of people that are the most difficult ones to please when it comes to mattresses! The fact that Plank's good for back sleepers goes without saying - the stomach ones, however, are the surprising ones.
The only quirks that you might notice with this "best extra firm mattress" are the lack of conforming to one's body and some slight off-gassing when freshly bought and unpacked.
Admittedly, there are Brooklyn Bedding reviews that claim to have experienced these "problems" with the product. That said, if you're looking for even a medium-firm mattress, the "body-conforming" part probably isn't going to be too big of a problem.
What is the Plank Mattress Price?
Plank's prices are:
Additionally, if you wanted to add a top cooling panel to the mattress, it would cost an extra $200 USD with all of the sizes listed above. To tell you the truth, however, Plank is actually on the cheaper side of the industry - those are some attractive prices indeed!
Visit Brooklyn Bedding
...or read our Brooklyn Bedding review
Here is The Best Saatva Offer I Found:
UP TO $500 OFF
Limited-time Saatva Sale
We're sharing a limited-time Saatva mattress discount with our readers! Grab this deal & enjoy your new mattress with huge discounts.
Expiration date: 05/12/2023
4,042 People Used
Only 83 Left
Conclusions

So, those were all of the top contenders for the spot of the firmest beds in the industry.
According to M. Louca and M. A. Short, even a single night of sleep deprivation can have some major impact on your health, and overall performance[2]. That's why finding a proper mattress is important - firm mattresses will help you get some proper sleep, especially if you're someone who's struggling with the above-mentioned back pain problems.
I hope this list was helpful to you, and that you now have an idea about which one of the mattress providers is going to suit your wants and needs the best!
Table: The current top 3 firm mattresses on the market
---
Other Less Favoured Mattresses in This Category
Here are other mattresses related to the category but not as favoured by MyBestMattress readers yet. In my personal opinion, today there are much more optimal mattresses in the list with the higher rating that I'd recommend for the same price range or less.
DreamCloud - Firm Hybrid Mattress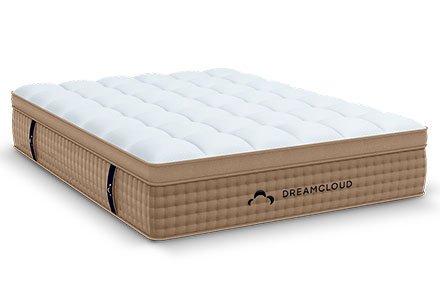 Things we liked:
+ Bouncy
+ Good motion isolation
+ No notable noise
Things we didn't like:
- Might be a bit too firm for some people
- Weak edge support
In my DreamCloud review, one of the cons that I've listed was that a lot of firmest mattress reviews say that DreamCloud might actually be a bit too firm for some people. Well, if you're reading this "Best Firm Mattress" review, chances are that you're not one of those people.
The very first big difference that distinguishes DreamCloud from Saatva is the fact that it's a hybrid mattress. While innerspring mattresses concentrate on the "coil" part of their construction, hybrids try to utilize both coils and memory foam to find the perfect balance between comfort and responsiveness.
And DreamCloud does, indeed, manage to do so.
As a contender for the spot of the "best extra firm mattress", DreamCloud will be perfect for people who like to sleep on their back or side. This is actually a feature that most firm mattresses share - since you won't be "sinking in" into the mattress while you sleep, it will slowly, but surely eliminate back pain and some other painful pressure spots from your body as you sleep.
DreamCloud is at the top of many "best firm mattress" reviews mostly because of the fact that it manages to combine features that would otherwise seem to be on the opposite side of the spectrum. Let me give you a good example.
Some firmest mattress reviews state that DreamCloud is very bouncy - that makes sense, because it being a hybrid mattress means that the coil part of the construction works very well. That said, the often-noticeable scenario with other hybrids is that if one part of the mattress works great (i.e. the coils), the other one then lacks functionality (i.e. the layers of memory foam).
That is not the case with DreamCloud.
The same user reviews go on to point out the great motion isolation that the mattress has. That's a very rare combination, for the mattress to be responsive, yet also isolate motion well!
While DreamCloud might not be the firmest option imaginable, it's certainly up there in the best firm mattress lists. Where it lacks in firmness, DC makes up with being a great all-around product.
What is the DreamCloud mattress price?
The pricing and size options are, as follows:
Twin - $699
Twin XL - $899
Full - $1099
Queen - $1299
King - $1399
Cal King - $1399
Not the cheapest mattress you'll come across, but also far from being the most expensive one. Definitely a product that's worth consideration!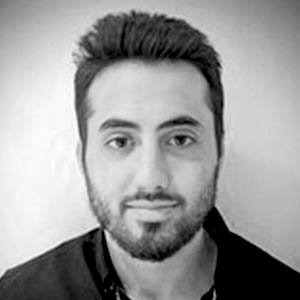 Caleb Backe
Certified Personal Trainer, Health & Wellness Expert
Contributed By Caleb Backe, Certified Personal Trainer, Health & Wellness Expert
Caleb Backe's work with natural product development has given him insight and expertise in the health industry, as well as an attuned understanding of the wellness world. When Caleb is not developi...
Read Full Bio...
Scientific References
Contributed by Caleb Backe, Certified Personal Trainer, Health & Wellness Expert

1. Kovacs FM, Abraira V, Peña A, et al.: 'Effect of firmness of mattress on chronic non-specific low-back pain: randomised, double-blind, controlled, multicentre trial.'

2. Mia Louca, BPsycSci(Hons) and Michelle A. Short, PhD: 'The Effect of One Night's Sleep Deprivation on Adolescent Neurobehavioral Performance'



Leave your honest Best Firm Mattress review
Leave your genuine opinion & help thousands of people to choose the best mattress. All reviews, either positive or negative, are accepted as long as they're honest. We do not publish biased reviews or spam. So if you want to share your experience, opinion or give advice - the scene is yours!