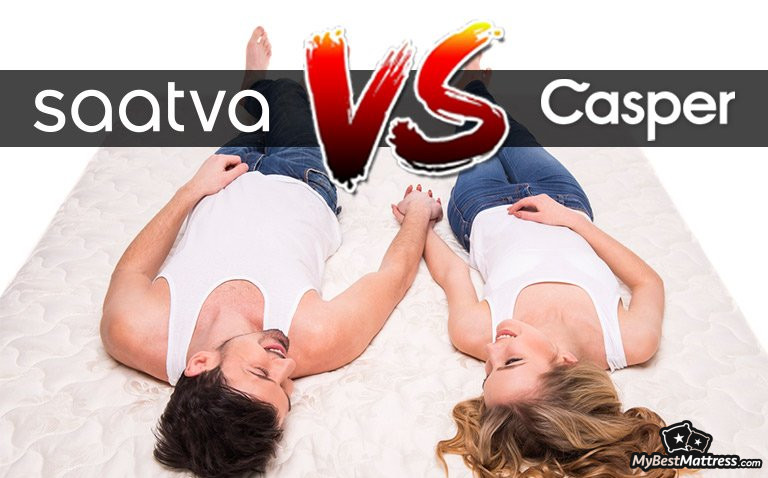 Poor quality sleep and sleep disruptions are widespread[1] among adults, elderly, and even children. If you're not getting the proper rest you deserve, the reason for that might be hiding behind your old mattress.
However, I know that picking the right bed for yourself can be a truly long and challenging process. Since you've been looking for Saatva VS Casper comparison, it means that you probably haven't decided yet whether to pick innerspring or memory foam mattress.
I'm going to make this process so much easier for you, and go through each of these mattresses while comparing the most vital features that you should pay attention to before making your final decision.
You can start by checking Saatva mattress VS Casper technical qualities using the comparison tool and then move further for additional details.
Saatva VS Casper: What You Should Pay Attention to
Before finding this Saatva VS Casper comparison, you have probably read other articles related to these two mattresses. However, since you're here, they weren't as helpful as you thought they would be. To make sure that this time you get all the needed information, I will provide you with a thorough, yet super clear Casper VS Saatva comparison.
When you choose certain products, you know what features you're expecting to get. It's the same when choosing a mattress. So, let me introduce you to the measurements that will help you decide which of the two mattresses better matches your needs:
Durability. Finding a mattress that maintains a good quality-price ratio is what we're all looking for. After all, when you pay a significant price for a product, you expect it to have a long lifespan.
Firmness. While some beds come in only one mattress firmness, others give you an opportunity to choose. What is important to remember is that you should pick a mattress not only based on your personal preferences but also on giving significant attention to your health conditions. You'll see that only one of the "Casper VS Saatva" mattresses gives you such an option.
Edge support. You may not feel it when sleeping in the middle of the bed, however, couples know the struggle. If you find it difficult to get up from your bed or simply feel like falling down when laying on the side of your mattress, it means that it lacks edge support.
Temperature regulation. Nightly sweats are not something that any of us want. That being said, it's a must to pick a mattress that manages to maintain neutral body temperature throughout the night and does not trap heat.
Suitability for sex. Some of you might think that there's no difference, however, mattress bounciness and responsiveness to pressure is what matters when evaluating if a mattress is good for your sexual activities. We'll see which one of the two competitors Saatva VS Casper wins.
Pressure point relief. From my personal experience, the mattress's ability to alleviate pressure points is what you should be looking for. Nowadays, not only the elderly but also young people who sit by the computer all day long find these qualities beneficial.
Now that you're aware of the qualities that are crucial to consider in order to make the right decision, let's move to the actual Saatva VS Casper comparison and find out which one of them is the best.
Saatva VS Casper: Let's Compare
In the same order as I previously introduced you to the features that are the most important when picking the right mattress for yourself, I'll go through them one by one while comparing Casper mattress VS Saatva.
But before rushing into it, you can take a look into the most important measures of Casper mattress VS Saatva comparison:
Table: Saatva VS Casper comparison of major features.
It might seem that both mattresses are as good, however, you'll see that there are some major differences.
Durability
Among all the other aspects, mattress durability mostly depends on the quality of the materials that it's made of. Both Saatva and Casper beds are built of four layers, however, they significantly differ from one another - one is innerspring, another is memory foam bed.
First, let's have a look in the Saatva mattress layers:
1.25" TitanFlex Foam
0.375" Memory Foam
4" Individually Pocketed Coils
7" Continuous Coils
Just like expected, Saatva has two layers of coils - individually pocketed and continuous coils. What is more, it comes with an additional memory foam layer that provides you with comfort. Saatva mattress is well known all around for the perfect price-quality ratio.
Now take a look in the Casper mattress design:
1.5" Latex Foam
1.5" Memory Foam
1.5" Polyfoam/Polyurethane Foam
5" HD Polyfoam
As you can see, Casper mattress is designed from different foams: latex, memory, polyfoam. Customers usually find the first latex layer truly beneficial - it's natural and breathable.
When comparing Saatva VS Casper, it's safe to say that both of them have a higher than average lifespan. However, for the exceptionally durable materials used in the Casper construction, it will remain in a good state longer than Casper mattress.
Latest Saatva Coupon Found:
UP TO $500 OFF
Limited-time Saatva Sale
We're sharing a limited-time Saatva mattress discount with our readers! Grab this deal & enjoy your new mattress with huge discounts.
Expiration date: 29/09/2023
4,042 People Used
Only 83 Left
Firmness
The ability to pick different mattress firmness is a huge benefit that not all mattress providers offer. While comparing Saatva VS Casper, Saatva has a huge advantage as it gives an opportunity to choose three different levels of firmness - plush soft, luxury firm and firm.

Needless to say, the most popular option is a luxury firm mattress that people evaluate from 5 to 7 on the firmness scale. It's the perfect option for the majority of medium weight sleepers. However, if you're light of a heavier sleeper, then you can pick either plush or firm alternative. So, everyone gets the perfect option for themselves.
Table: Saatva VS Casper firmness comparison.
Now, Casper offers only one level of firmness that's 5.5 out of 10 or medium firm. So, the options are limited, however, since it's in the very middle, medium weight sleepers find this option just the right fit.
It's fair to say that comparing Saatva VS Casper mattress firmness, Saatva has a huge preponderance against its competitor.

Did you know?
Edge Support
Everyone knows that one of the major drawbacks of memory foam mattresses is the lack of edge support. So, the first question is, how well does Casper deal with it? Surprisingly good, I should say. Even though it's not perfect, it performs way better than the majority of other memory foam beds.
Moving to Saatva, it's fair to say that this provider is way ahead of its competitor Casper. Let me explain why. Saatva uses a Dual Perimeter edge support system that not only adds additional support but also durability to their bed.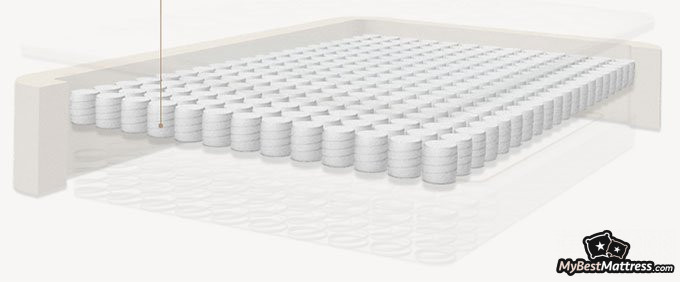 So, if the edge support is what you need from a mattress, then when comparing Casper VS Saatva, the innerspring mattress is simply better.
Temperature Regulation
It's known that poor quality and shorter duration of sleep is strongly linked to a higher temperature[2]. So, a mattress quality to maintain the neutral body temperature is a necessity for those who value sleep.
That's the most significant difference in Saatva VS Casper comparison. I've heard a number of complaints from memory foam mattress owners about the heat they're experiencing during the night. Even though Casper performs quite well compared to similar beds, it still traps some heat that might be an issue for individuals who prefer sleeping cool.
Saatva is one of the providers that's known for the perfect cooling properties. Due to airflow in their coals, the heat is not trapped in the mattress. What is more, their organic breathable cotton cover promotes natural airflow when you're sleeping. That's what allows Saatva to regulate temperature.
So, when comparing Saatva VS Casper cooling properties, it's clear that innerspring bed is a way better option for those who hate sleeping hot.
Suitability for Sex
Suitability for sex is another aspect that significantly differs in innerspring and memory foam mattresses. Even though there are some exceptions, Saatva VS Casper comparison wasn't the case.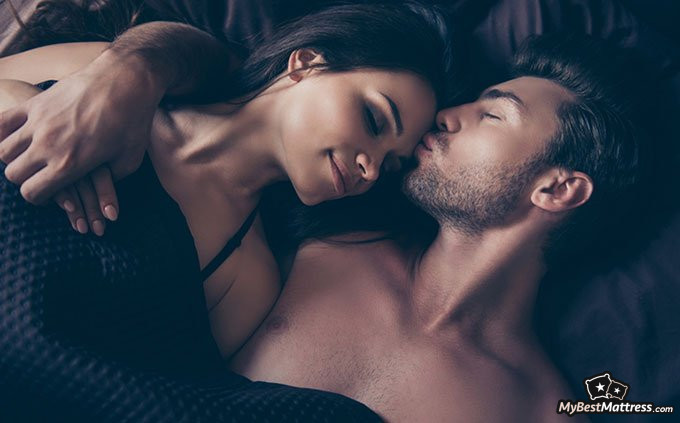 There are two main aspects to pay attention to in order to find out how good a mattress is for sex - bounciness, and responsiveness. Both of these features are just perfect in the Saatva mattress. It quickly reacts and responds to pressure and is truly bouncy.
Casper, on the other hand, being memory foam mattress as it is, responds to pressure quite well, however, it lacks bounciness that couples name as one of the drawbacks.
Thus if you're looking for a mattress that will allow you to spend quality time with your partner, then Saatva mattress is a perfect option that has all the necessary qualities.
Pressure Point Relief
Pressure point relief is not only needed but it's a necessity. After all, many of us experience various aches, such as back, neck or joint pain[3]. This problem is not only associated with the elderly, young people who sit by the computer daily might be also experiencing this issue.
Some mattresses can alleviate the pressure points better than others. That's exactly what we expect from a mattress.
When comparing Casper mattress VS Saatva, it became clear that both of them work pretty well at relieving the pain. However, it's also pretty obvious which one of them has better qualities - the winner is Saatva mattress.
Here's the Casper VS Saatva pressure relief comparison:
Table: Saatva VS Casper pressure point relief comparison.
As you can see, both Saatva and Casper perform better than average. Saatva was evaluated almost perfectly by sleepers for shoulder support and neck pain relief. Thus, if these are the issues you've been experiencing, you already know what to do.
Pricing
I've noticed that people often make primary assumptions about Saatva mattress pricing. Knowing that it's one of the luxurious innerspring mattresses that offer great qualities, they think that it costs a fortune. But that's completely the opposite.
Take a look into the Saatva VS Casper pricing comparison table:
Table: Saatva VS Casper pricing comparison.
Saatva mattress price and size options are provided here:
And here's how Casper pricing compares to Saatva's:
Note that this is the current pricing, so it might be slightly different at the time you're reading this comparison article.
By the way, you can grab a coupon code to get special deals.
Saatva Deal Active Right Now:
UP TO $500 OFF
Limited-time Saatva Sale
We're sharing a limited-time Saatva mattress discount with our readers! Grab this deal & enjoy your new mattress with huge discounts.
Expiration date: 29/09/2023
4,042 People Used
Only 83 Left
As you can see the Saatva VS Casper pricing differs only slightly, however, when picking a queen-size bed that's known to be the most popular option, the price is almost the same. Considering the fact that innerspring mattresses are usually more expensive than memory foam beds, Saatva maintains a better price-quality ratio than its competitor.
Each of the mattresses comes with a money-back guarantee. Saatva offers 120 nights, and Casper gives you 100 nights to try their product before deciding if it's the right fit.
Table: Saatva VS Casper trial, shipping, and warranty.
Moreover, no matter which bed you decide to pick, it's completely risk-free. While Casper gives you a regular warranty - 10 years, Saatva completely relies on the quality of their mattress and gives you 15 years. Amazing, right?
Both Saatva and Casper will deliver their items for free all around the US. What is more, Saatva offers free white glove delivery, meaning that they will not only deliver your new bed but will also set it up, and get rid of your old mattress if you prefer to do so.
Conclusions
All things considered, Saatva strongly outweighs Casper mattress. It has better edge support, temperature neutrality, noise isolation and is way more bouncy that's needed for sex.
What is more, when comparing Saatva mattress VS Casper, it's clear that the innerspring bed offers better pressure point relief which is one of the most crucial aspects when picking the right mattress.
Moreover, Saatva maintains a better price-quality ratio which makes all the difference. So, as you probably understand, I would recommend choosing Saatva instead of Casper.
Before making the final decision, I recommend taking a final look into the Saatva mattress VS Casper detailed comparison.
Scientific References
1. Goran Medic, Micheline Wille, and Michiel EH Hemels: 'Short- and long-term health consequences of sleep disruption'
2. Guozhong Zheng, Ke Li, and Yajing Wang: 'The Effects of High-Temperature Weather on Human Sleep Quality and Appetite'
3. Bert H. Jacobson, Ali Boolani, and Doug B. Smith: 'Changes in back pain, sleep quality, and perceived stress after introduction of new bedding systems'
Leave your honest feedback
Leave your genuine opinion & help thousands of people to choose the best mattress. All feedback, either positive or negative, are accepted as long as they're honest. We do not publish biased feedback or spam. So if you want to share your experience, opinion or give advice - the scene is yours!