Many people who are tired of waking up in the middle of the night from sudden heat waves find themselves searching through the best cooling mattress reviews. Hot mattresses can be a real nuisance! That's why, if you're looking for the best mattress for hot sleepers, you've come to the right place!
We'll talk about 7 different cool mattress providers. I'll tell you the main reasons why cool mattresses are usually far better options than hot ones. After that, we'll dive straight into the actual best cooling mattress reviews.
The mattresses that we'll be talking about in this list are:
Why Would You Need the Best Cooling Mattress?
Cooling mattresses. Why are they so popular?
On a serious note, though, temperature neutrality is one of the most important factors when choosing a new mattress to buy. Most people are looking for the coolest, most temperature-neutral mattress out there. But why is that the case?
Well, first of all, let's be honest and get obvious out of the way - nobody likes to sleep hot. And it doesn't matter where you live - on a tropical island or in the North Pole. And don't get me wrong - sleeping warm is really cool (not temperature-wise, but… You get it). However, waking up al drenched in sweat isn't.
To avoid this, temperature-neutral mattresses exist. Since the before-mentioned "heat waves" are most commonly associated with all-foam beds, the solutions include, but are not limited to: innerspring mattresses, hybrid beds, cooling gel covers, and so on.
Which brings me to the other reason for why you might be looking for the best cooling mattress - responsiveness and firmness. Since a lot of the best cooling mattress reviews talk about innerspring products, they are also pretty well-known for being bouncy and firmer than their all-foam counterparts. Basically, you receive the full package.
That being said, a "full package" also includes the cons, too. While reading through this best mattress for cool sleeping list, you'll find both the strengths and the weaknesses of cool mattresses.
Without further ado, let's jump straight into the list.
1. New Purple - Best Cooling Mattress
Ranks #1 out of 7 Mattresses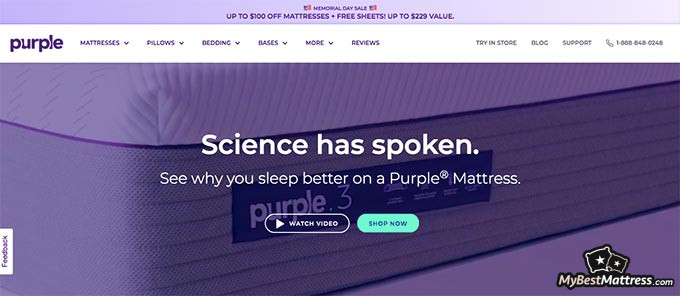 Things we liked:
+ Really good temperature neutrality
+ Firm, but not too much
+ Great motion isolation
Things we didn't like:
- Expensive
- Not the best edge support
The Original Purple mattress was the most memorable mattress provider I'd reviewed on this website - their New Purple series is all of that, but much more.
What makes the New Purple mattresses able to compete for the best cooling mattress title spot? Well, the New Purple utilizes the same (but improved) technology as the older model - hyper-elastic polymer. What this does is that it creates pockets for airflow - with proper airflow, you're guaranteed to sleep cool.
And this isn't just some marketing gimmick or cheap latex knock-off - the best cooling mattress reviews can add to that. A good portion of people actually claim that this is the coolest mattress they've ever slept on - that's a bold claim! However, it would seem that the company behind this New Purple models has truly put a lot of emphasis on the "temperature neutrality" part.
With the New Purple, you'll have a few different options to choose from firmness-wise. On a scale from 1 to 5, New Purple seems to be somewhere in the middle - not too firm, but not too soft, either.
Another thing that you'll quickly notice with the few mattresses in this new line of Purple beds is that they all absorb motion amazingly well. Many people who are looking for the best mattress for cool sleeping are often surprised by just how responsive and bouncy the mattresses are. This, in turn, means that the beds are perfectly suitable for sex.
What is the New Purple Mattress Price?
You know what's even better than a cool and movement-absorbing mattress? That's right - a cool and movement-absorbing mattress that's also affordable!
Here's the pricing list of the New Purple:
Sure, the prices can be considered to be on the higher end of the spectrum. That being said, however, you'll be paying for an industry-proven, high-tier hybrid mattress that has special technology for keeping you cool at night, no matter how hot you really do sleep.
Considering that, the New Purple definitely deserves to be called the best cooling mattress.
2. Saatva - An Eco-Friendly Mattress
Ranks #2 out of 7 Mattresses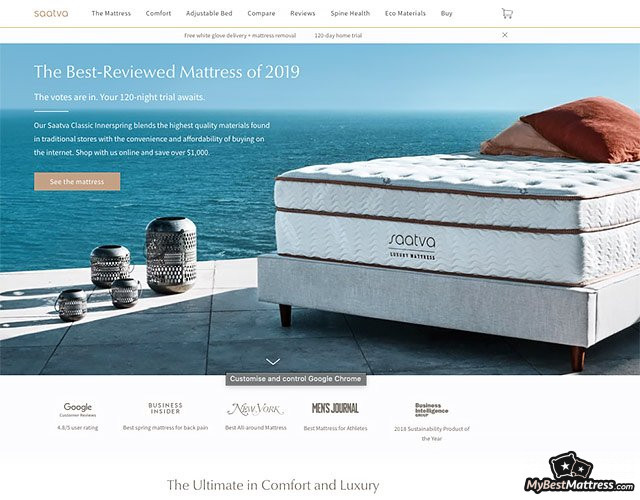 Things we liked:
+ Bouncy and reponsive
+ Cool (temperature AND visual-wise)
+ Top-tier edge support
Things we didn't like:
- Somewhat heavy
- Not the best motion isolation
Saatva is a mattress provider that you're likely to see quite often on various different "best bed" lists. And there's a good reason for that, too.
The original Saatva is an innerspring mattress. Its coil-based construction if often referenced as being more old-schooled than the currently-popular memory foam one. That being said, it's actually because of this construction why Saatva is considered by many as the best cooling mattress in the industry.
Among other features, innerspring mattresses come equipped with some top-tier breathability. Hybrid beds that have pocketed coils inside of them (such as the Aurora mattress) aim to do something similar, but innerspring products will always be ahead airflow-wise.
Furthermore, Saatva also differs heavily from beds such as the Aurora by being very bouncy and responsive. This is great for anyone who's interested in having sex as well as sleeping on the mattress.
Coil-based designs do have their shortcomings, however, and one of the more prominent ones would have to be the lack of motion isolation. People who tend to twist around in their sleep might notice that Saatva doesn't really absorb motion all that well, and this might be an issue if you don't sleep alone.
What is the Saatva Mattress Price?
On top of all of the above-mentioned features, Saatva is actually very affordable as far as the best mattress for cool sleeping is concerned. Take a look yourself:
Additionally, Saatva comes with a generous 120-night sleep trial. That should be more than enough time for anyone to decide whether or not the bed is for them.
3. Nectar - Designed from Gel Memory Foam
Ranks #3 out of 7 Mattresses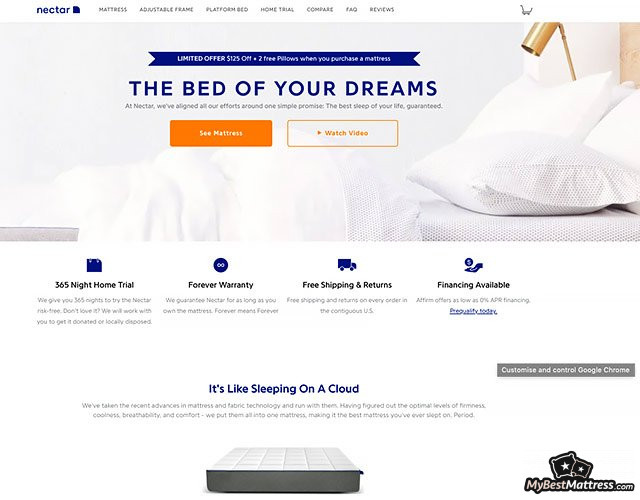 Things we liked:
+ Temperature neutrality
+ Good level of firmness
+ No noise
Things we didn't like:
- Might be a bit too firm for some people
I know that I told you should choose either innerspring, hybrid or latex mattresses, but there are always exceptions and Nectar is one of them. Nectar is a memory foam mattress, which is best known for its high-quality and low pricing. And, of course, it shows pretty amazing results at maintaining neutral body temperature.
So how is that Nectar is a memory foam mattress but sleeps relatively cool? There are two main reasons for this. First of all, it uses gel memory foam, which is so much more cooling than the regular foam. Secondly, it offers a lyocell cover, which is extremely breathable and does not allow to trap your body heat.
But Nectar does not only have this quality, but it also offers other amazing features. This mattress should serve you at least seven years. It as excellent motion and sound isolation, which are one of the most beneficial aspects of memory foam beds.
Nectar also offers pain and pressure relief as it conforms closely to your body. So, you will wake up rested all the time. What is more, unlike the majority of other memory foam mattresses, Nectar has firm edges, to keep you from rolling out of the bed.
There are some small flaws that Nectar has and you should know about. One of them is associated with the majority of memory foam and that is the lack of bounciness, which might be needed for some couples. And, according to some sleepers, there were some off-gassing, which dissipated within a few hours.
What is the Nectar Mattress Price?
Nectar's prices are, as follows:
Great prices that are difficult to come by nowadays!
4. Helix Midnight - Good Price VS Quality
Ranks #4 out of 7 Mattresses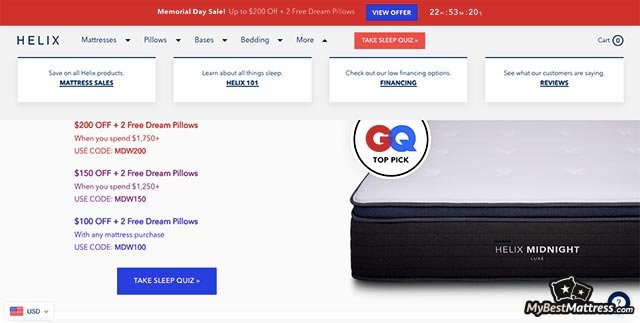 Things we liked:
+ Different levels of firmness
+ Responsive and bouncy
+ Good motion isolation
Things we didn't like:
- Somewhat noisy
- Some off-gassing involved
Helix is a company that offers customers a wide selection of different mattresses. All of these mattresses are aimed at different types of audiences, too - varying types of sleepers, people with back and neck pain, lighter and heavier folks, etc.
Hot sleepers are a thing, too.
While customers report a few of the company's beds being suited for the title of the "best cooling mattress of the year", the Midnight model seems to be the most commonly-referenced one.
Being a hybrid mattress, Midnight has a layer if coils inside of it. While not all hybrids manage to "get it right", the Helix Midnight mattress seems to be a great option!
What is the Helix Mattress Price?
All of the base Helix mattress models are priced exactly the same:
Now, when compared to, say, mattresses suh as Aurora or WinkBeds, these are definitely some bargain prices!
5. TEMPUR-Breeze - Luxurious Mattress
Ranks #5 out of 7 Mattresses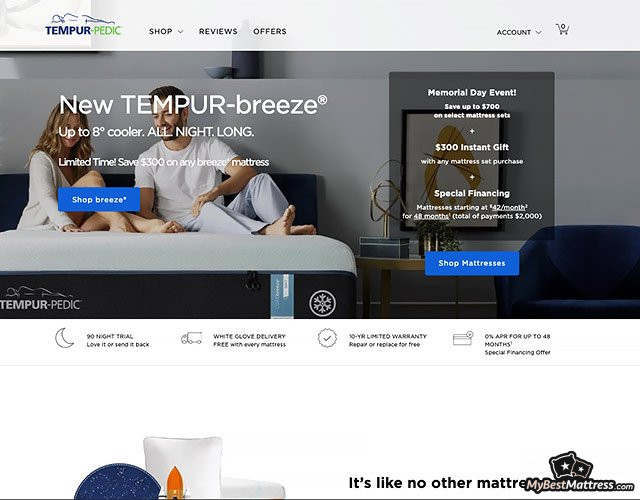 Things we liked:
+ You Can Choose From Different Firmness, Thickness and Construction Options
+ Zero-Motion and Amazing Sound Isolation
+ Very Durable (Customers Approved)
+ Great for All Sleepers
+ 90-Nights Free Sleep
Things we didn't like:
- Minimal Off-Gassing
- High-Price
- 30-Nights Break-in Period Required for Sleep Trial
While TEMPUR-Breeze is one of the most expensive mattresses I've ever seen, it's also one of a kind cooling mattress with multiple options. You can choose from four mattress options and three firmness levels, including soft, medium and firm. The most exceptional feature of the TEMPUR-Breeze is that you can pick either 3° or 8° cooler mattress. Have you heard anything like that before?
With TEMPUR-Breeze you get two different designs: TEMPUR-PRObreeze° and TEMPUR-LUXEbreeze°. The first option offers an all-foam or hybrid mattress in a medium level of firmness (5), the following option offers all-foam beds in soft and medium support. Therefore, there are enough options for everyone to find the right option.
While TEMPUR-Breeze is a relatively new model, there are enough reviews to make some assumptions. It seems that the majority of sleepers are very satisfied with the experience. They say that the cooling system works as intended and there is a major difference compared to their old bed. Others were really satisfied with the conforming, pain and pressure relief and wouldn't change the bed for anything.
Therefore, it seems that TEMPUR-Breeze is performing amazing so far, but I told you that it's one of the most expensive mattresses I've ever seen. So, let's take a look.
What is the TempurPedic Mattress Price?
First, take a look into the TEMPUR-PRObreeze° mattress pricing:
Now, let's move to the TEMPUR-LUXEbreeze° price:
While the prices really are... special, so is the product itself.
6. Zenhaven - Great All-Latex Cooling Mattress
Ranks #6 out of 7 Mattresses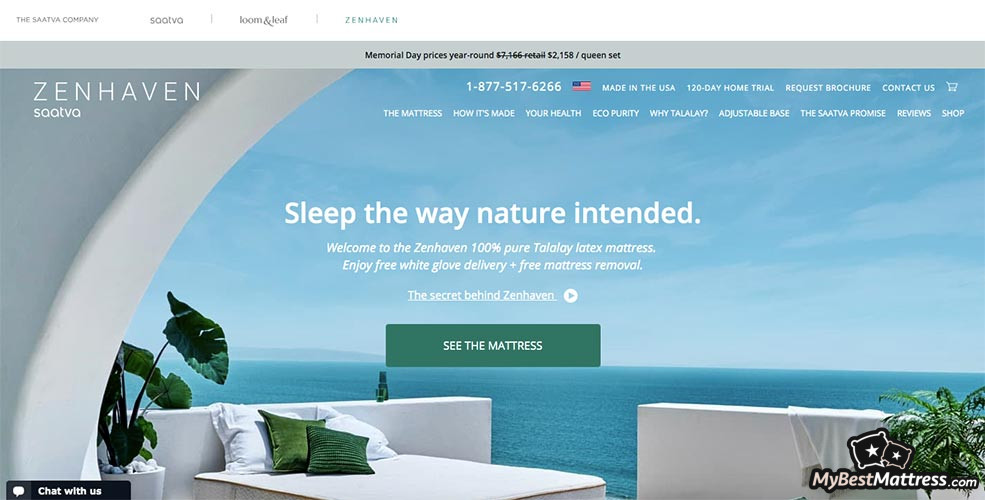 Things we liked:
+ Multiple firmness options
+ No noise
+ Good movement isolation
Things we didn't like:
- Virtually no edge support
- Can get warm
Now let's talk about Zenhaven - the only all-latex bed on this "best cooling mattress list".
In a very similar fashion to Amerisleep, Zenhaven isn't "the coolest-sleeping mattress that you'll ever come across". The reports about its temperature neutrality are rather mixed - some people claim that it's relatively cool, while others state the opposite.
That being said, when it comes to all-latex products, Zenhaven seems to sleep the coolest. It doesn't make any noise, and is great at isolating motion and conforming to your body as you lay down on the bed - something quite usual to latex-based products!
What is the Zehaven Mattress Price?
Admittedly, Zenhaven is going to be one of the most expensive mattresses on this list:
While it might not suit everyone, people who are specifically looking for the best cool sleeping mattress that's also completely made out of latex might find Zenhaven to be a decent choice.
7. WinkBeds - 120-Night Sleep Trial
Ranks #7 out of 7 Mattresses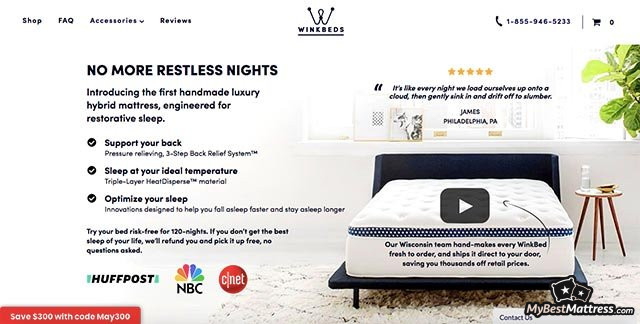 Things we liked:
+ Good noise and motion isolation
+ Bouncy
+ Great temperature neutrality
+ No off-gassing
Things we didn't like:
- 30-day break-in period
- Relatively new company
WinkBeds is one of the newer company's on the block, but they've already had enough time to make some waves, especially as far as innerspring mattresses are concerned.
Being an innerspring, WinkBed does automatically come with some specific pros. The mattress is very durable, super-responsive and almost completely silent. However, these are not the reasons why the company has made it on this list.
WinkBed promotes airflow and does not trap your body heat while you sleep. With a pretty straightforward innerspring mattress design, this shouldn't come as too big of a surprise, though.
On the flip side, it would seem that there are very few complaints to be had as far as WinkBed is concerned. The only thing that seems to bother people who are looking for the best cooling mattress of 2019 is the fact that the company has a mandatory mattress break-in period. This shouldn't be a deal breaker, though.
What is the WinkBeds Mattress Price?
Pricing-wise, WinkBed is often considered to be on the more expensive side of things:
Same as Saatva, the WinkBed comes with a 120-night sleep trial.
Conclusions
With that, we've talked about a good amount of options for the spot of the best cooling mattress in the industry!
I hope that this list has helped you in deciding which bed would suit you the most. And don't forget the sleep trials - if you're hesitant on choosing the right mattress for yourself, you can always try one out and return it if it fails to meet your expectations!
---
Other Less Favoured Mattresses in This Category
Here are other mattresses related to the category but not as favoured by MyBestMattress readers yet. In my personal opinion, today there are much more optimal mattresses in the list with the higher rating that I'd recommend for the same price range or less.
Aurora - Good Comfort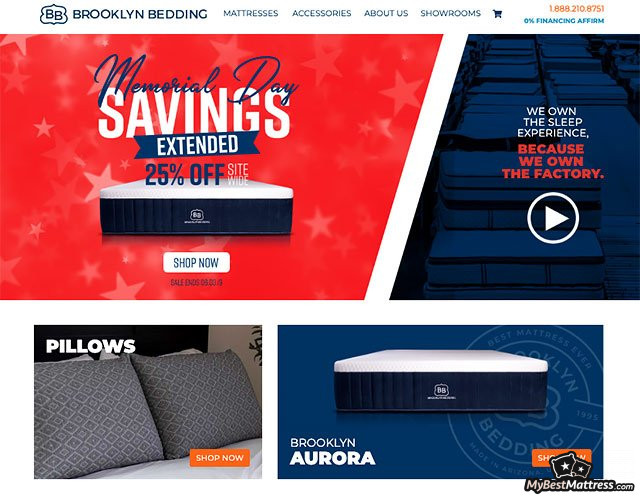 Things we liked:
+ Firmness Options
+ Six Different Models for Everyone
+ Free Shipping in the U.S
+ Lower Than Average Pricing
Things we didn't like:
- 30-Night Break-in Period for Free Trial
- Not All Mattresses Offer Similar Quality
Aurora is one of the more well-known beds of the company Brooklyn Bedding.
Since the mattress is a hybrid one, there are two parts responsible for providing the sleeper - you - with a cool and heat-wave-excluding sleep. First of all, the pocketed coils - located in the support layer of the mattress, these coils help the air to circulate all throughout the mattress. Combine that with a copper-infused layer at the top of the bed, and you might just find yourself the best mattress for hot sleepers.
Having said that, Aurora is actually famous for being an all-around well-designed and built product. The bed comes with three different firmness options, so it's bound to suit most types of sleepers out there.
On top of that, Aurora is very good at isolating motion and conforming to the sleeper's body. This does, however, come with a price - since the bed is really thick (thus being able to absorb motion very well), it's not really all that responsive.
In other words, if you need the best cooling mattress solemnly for the purpose of a good night's sleep - great! Aurora will suit you. However, if you also want a responsive hybrid mattress, then some other combination of layers might be more suitable for you.
What is the Aurora mattress price?
Now, let's take a look at the price and sizing list of the Aurora mattress.
Twin - $999 USD
Twin XL - $1249 USD
Full - $1549 USD
Queen - $1699 USD
King - $2124 USD
Cal King - $2124 USD
Needless to say, it's one of the more expensive products on the market. While the smaller size prices are similar to those of the New Purple, the Queen and (Cal) King ones are quite a bit more expensive.
That being said, you do pay for a luxury mattress, after all! So, if you need the best mattress for hot sleepers, Aurora might be a decent choice!
Amerisleep - Less Good Cooling Mattress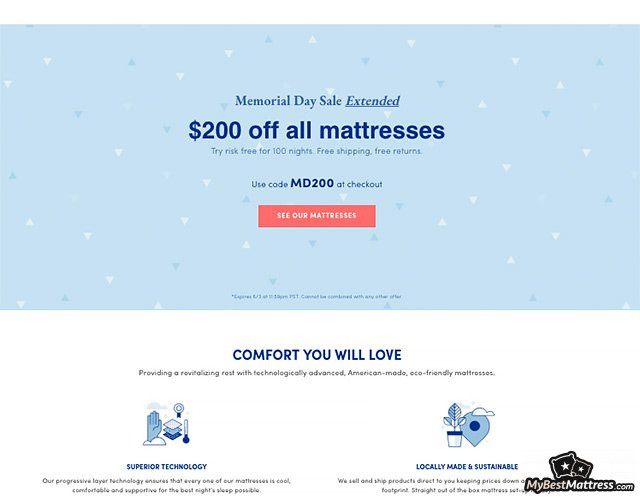 Things we liked:
+ Pain and Pressure Relief
+ 20 Year Waranty
+ Celliant Fiber Cover
+ Body Contouring
Things we didn't like:
- Above-Average Price
- Not the Best Edge Support
Amerisleep offers customers 5 different mattresses - all of them are similar in design (all of them are foam mattresses), and your choice will depend on what kind of firmness you like.
Reportedly, their firmest option - the AS1 - sleeps the coolest. While it might be rather odd to see an all-foam product in "the best cooling mattress" list, people claim that Amerisleep actually does a pretty good job at isolating your body heat.
Now, let's get one thing straight - when compared to other mattresses on this list, Amerisleep will sleep hot. However, as far as all-foam products are concerned, it's one of the better options out there.
What is the Amerisleep mattress price?
The AS1 model of the Amerisleep mattress is actually the cheapest one. This is mostly because of the fact that it's also the firmest one of them all:
Twin - $849 USD
Twin XL - $899 USD
Full - $1049 USD
Queen - $1199 USD
King - $1399 USD
Split King - $1599 USD
Cal King - $1399 USD
Leave your honest Best Cooling Mattress review
Leave your genuine opinion & help thousands of people to choose the best mattress. All reviews, either positive or negative, are accepted as long as they're honest. We do not publish biased reviews or spam. So if you want to share your experience, opinion or give advice - the scene is yours!