While mattresses are an essential part of your sleeping experience, there are also other elements that add up to create either a great night's sleep… or a horrendous one. Many people today are looking for the best pillow reviews online. Whelp - I'm here to provide you with one.
Choosing a pillow can be more difficult than you think. It's also usually much more important of a task than people perceive it to be - sleep deprivation is believed to kill you before food deprivation! And a pillow is one of the main components needed to avoid being deprived of sleep.
So, what is the best pillow ever? Well, we'll look at ten top-tier contenders:
Here is The Best Saatva Offer I Found:
$290 OFF + FREE DELIVERY
Saatva Holiday Sale
Don't sleep on this Saatva Holiday Sale & get your luxurious mattress with a $290 discount. The Saatva Holiday Sale is the best time to level-up your sleep!
Expiration date: 26/01/2022
2,711 People Used
Only 37 Left
The Importance of Finding the Best Pillow
So… What do the best pillows have to do with sleep deprivation, and how should you go about choosing a pillow that would fit you?
Well, as far as sleep deprivation is concerned, that's pretty simple. Imagine that the quality of your sleep is measured by a few different factors - your mood, exhaustion level, the quality of your bed and its components (duh) and so on. If one of these factors falls off, you're looking at an increased chance of waking up in the morning, completely deprived of sleep.
Naturally, some things matter more than others. It is generally agreed upon that, when it comes to bed components, a good mattress and the best pillows you can find are some of the more important factors out there.
Now, while choosing the best pillow ever can drastically improve the quality of your sleep, that doesn't really answer the question of how you should go about doing it, right?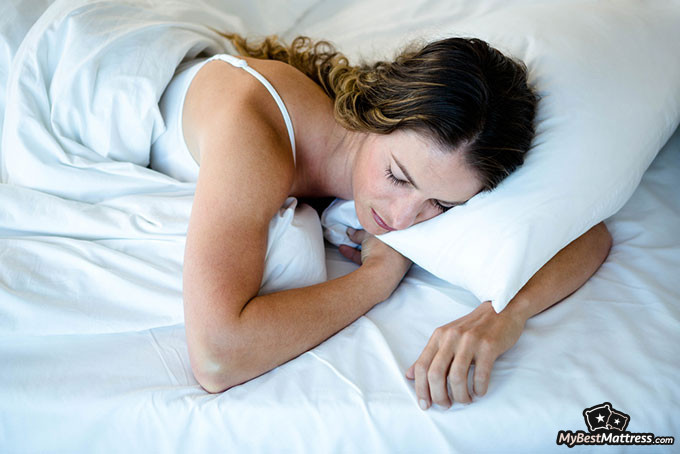 For starters, the very first thing that you should do is think about your allergies - do you have any? Are there any things that trigger a running or a stuffed nose while you sleep? What's the environment like in your bedroom - is it cool, or does it tend to get hot?
Depending on your answers, deciding what is the best pillow might be pretty simple - most people's opinions are only going to differ when it comes to the pillow being soft or stiff, big or small, and perhaps the stuffing.
A few things that every contender for the spot of the best pillow should have figured out is dust mite avoidance, quality covers (whatever they might be), optimal pricing and ease of cleaning.
Also, upon choosing the best pillow for yourself, do make sure that all of the essential features really do fall in-line with your preferences before buying.
All too often people get mixed up in the different pillows out there (i.e. someone's looking for the Saatva Dreams pillow (currently simply known as the Saatva pillow) reviews, stumbles upon Sleep Dream pillow Okita reviews, thinks they're the same thing), and end up purchasing something that doesn't add up to their wants and needs.
Right, so - you know what to look for when it comes to the customer best pillow reviews out there. But you've come here for facts - for actual suggestions regarding the topic of best pillow choice. So, let's get right into it.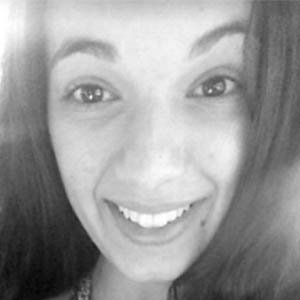 Brittany Ferri
Occupational Therapist, CPRP
What importance does the pillow we sleep on have?
A good pillow should retain its firmness and shape while making the person using it more comfortable. If you constantly find yourself fluffing, readjusting, flipping, or otherwise moving your pillow and you suffer from a sore neck or headaches most mornings, this is a sign that you need a new pillow. No matter what position you sleep in, an ideal pillow will fill the gap between your neck and the bed while keeping your head level with the rest of your body. Finding the right pillow involves the Goldilocks principle: not too fluffy, not too flat, but just right.
Ranks #1 out of 10 Mattresses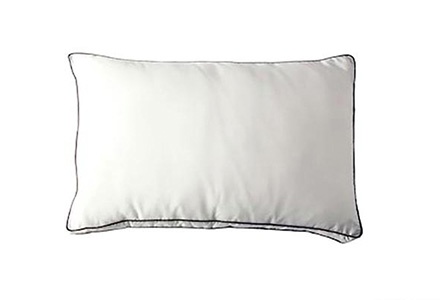 Things we liked:
+ Adjustable loft
+ Changeable insert
+ Great shape retention
Things we didn't like:
- Expensive
- Unsuitable for stomach sleepers
- Too soft for some customers
Believe it or not, but the Saatva pillow is all too often mixed up with another product - people end up reading Sleep Dream pillow Okita reviews thinking that they are looking at Saatva, and vice versa. So, to be clear - we're talking about the Saatva pillow.
Saatva is one of the best-known mattress brands in the industry. It's a top-tier company that provides some amazing, luxury mattresses that are beloved by vast numbers of sleepers around the world. It would seem that the company decided to take a formula that works for them, and transfer it to a pillow format.
Did it work as intended? Well, seeing as it's widely regarded as one of the best pillows out there, I would have to say yes.
The cover of the Saatva pillow is made out of 100% organic cotton. This reduces any allergy dangers, given that it's a very breathable and shape-retaining pillow, and allows you to sleep rather cool, overall.
Customer best pillow reviews talk about how the pillow sleeps pretty softly, even though it has a supportive feel to it. Admittedly there are people that claim that the pillow might be a bit too "tall" - depending on your sleeping position and shoulder-width, you might find your neck somewhat elevated while laying down on the pillow.
That said, though, you can easily customize and adjust the filling of the Saatva pillow, thus eliminating any uncomfortable feelings that you might have.
What is the Price of the Saatva Pillow?
Let me warn you in advance - the Saatva pillow isn't a cheap option as far as the best pillows of the year are concerned:
Yup - the prices are really up there. That said, it is a luxury type of pillow, and while there are people who aren't all that happy with the price tags, most Saatva's customers seem to agree that the price matches the quality of the product. Even if you were looking for Sleep pillow reviews, you might want to give Saatva a shot!
If this particular pillow isn't exactly your cup of tea, though, you can also check out some other options from Saatva - namely, the Down Alternative and Memory Foam pillows!
Ranks #2 out of 10 Mattresses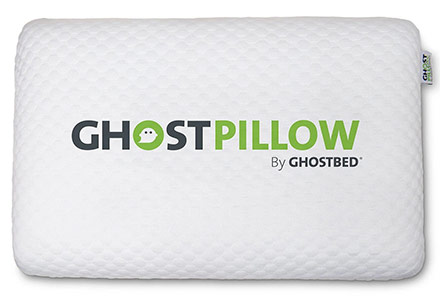 Things we liked:
+ Cooling
+ Aerated for continuous airflow
+ Easily-removable cover
+ Ultimate comfort
Things we didn't like:
- Not a budget-friendly pillow
GhostBed is one of the better-known mattress brands that offer products made exclusively in the USA. When looking for the best pillow, this is one of the providers that you'll definitely come across.
GhostBed offers 3 different pillows to choose from:
GhostPillow - Memory Foam
GhostPillow - Faux Down
GhostPillow - Shredded (2-Pack)
Each of them provides different properties and is suitable for different sleepers - whether you like a firmer or softer option, you'll easily find an option based on your personal preferences.
Now, even though all 3 pillows are really comfortable, the memory foam option is definitely the most popular. That's why I would like to focus on this product.
The GhostBed memory foam pillow provides amazing cooling properties, it features an ergonomic design for better support and spinal alignment. Also, this pillow is capable of maintaining its form throughout the night.
It doesn't matter whether you're back, side or stomach sleeper, this pillow is considered to be a great option for all types of sleepers. The GhostBed pillow also comes with a removable cover, so you'll be able to remove and wash it regularly to maintain your bed's freshness.
The dimensions for this pillow are: 16" x 23" x 6". It's made of 4 different materials, including the cool-to-the-touch cover that you can easily remove, aerated gel memory foam that helps to maintain coolness, phase change material and aerated mesh cover for even more breathability.
What is the Price of GhostBed Memory Foam Pillow?
GhostBed offers only one size option and it currently costs $64 with a discount. On a regular basis, this pillow costs $85. That's an average price to pay for such a high-quality product.
You should also know that GhostBed pillow comes with a 101-night sleep trial, 5-year warranty, and will be delivered completely free.
Ranks #3 out of 10 Mattresses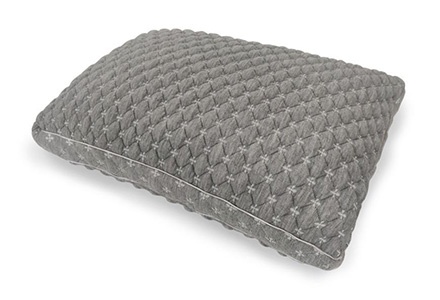 Things we liked:
+ Cool to sleep on
+ Good moldability
+ Best for back and side sleepers
Things we didn't like:
- Not the best shape retention
- Might not suit some stomach sleepers
Puffy offers its customers an adjustable, foam-based pillow. "Adjustable" means that you'll be able to add or take out foam, thus adjusting the firmness and, well… Puffiness of the pillow to your liking.
The pillow in question also has amazing cooling capabilities. While that's not something that you'd naturally expect out of a foam-based product, Puffy has found a way to create one of the best pillows on the market in this regard, too!
The way that the Puffy pillow combats heat is by utilizing a cooling cover made from bamboo rayon. Premium-quality bamboo rayon is actually the secret behind the pillow's breathability - while a cotton cover might not have sufficed, bamboo rayon does guarantee a cool night's worth of sleep.
Thanks to its adjustable nature, the Puffy pillow is also going to fit most types of sleepers out there. No matter if you prefer sleeping on your sides, stomach or back, you should be able to find the perfect comfort with Puffy - no problem!
What is the Price of the Puffy Pillow?
The Puffy pillow comes with two different sizes and pricing options:
The pillow comes with free, no-contact delivery, has a 101-night sleep trial and an amazing lifetime warranty. Surely one of the best pillows on the current market!
Ranks #4 out of 10 Mattresses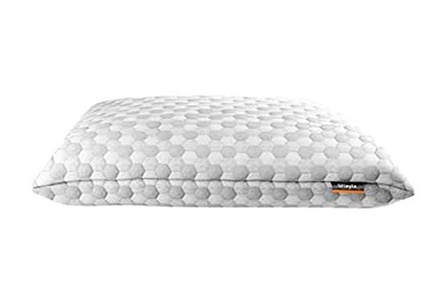 Things we liked:
+ Sleeps rather cool
+ Designed to be comfortable for most sleeping positions
+ Good breathability
Things we didn't like:
- A hassle to clean
- Loft might be too high for some people
As far as memory foam-based pillows go, Layla is one of the more widely-beloved companies. Not even mentioning their top-tier mattresses, user best pillow reviews note that the Layla pillow is a standalone awesome product for your sleep.
While the pillow is a memory foam product, it's actually one of the softer pillows in this category. That's mostly due to the fact that the company mixes its shredded memory foam stuffing with some fibers from the kapok tree.
While it might sound like a strange mixture at first, these fibers are sometimes used to provide a more soft, cushion-like feeling - and, judging from the majority of positive customer opinions online, it works perfectly as intended to.
Another great feature that puts Layla at the top of the best pillows lists is that their product is really good for anyone who tends to sleep hot. While this sometimes happens due to a fever or broken air conditioning, there are people who sleep hot all the time - this can really interfere with you having a decent sleep cycle.
Because of the polyester-blend cover of the pillow, however, Layla is able to provide people with a really cool (as in temperature, although the pillow is quite awesome, in general) sleeping experience.
What is the Price of the Layla Pillow?
The Layla Kapok memory foam pillow comes in two different sizing and pricing variants:
On top of the pillow being quite affordable, Layla also offers free shipping, a 120-night money-back guarantee, and a 5-year warranty. Do note, though, that free shipping applies only to the 48 states in the US - HI and AK do have shipping fees. That said, though, Layla doesn't charge anything for returns.
If this particular pillow hasn't really left a lasting impression on you, do also check out Layla's other pillow product - the Layla Memory Foam Pillow.
Ranks #5 out of 10 Mattresses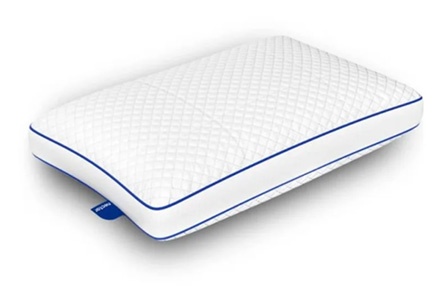 Things we liked:
+ Cooling technology
+ Two layers of different materials
+ Adjustable firmness level
Things we didn't like:
- Some initial odors
- Some customers aren't too happy about the price
Nectar is a pretty well-known brand in the sleeping product industry. The company has built a reputation of providing its customers very affordable, yet still high-quality products. This is true with the brand's mattresses, but it's also true with their pillow products, too.
The most-popular pillow that Nectar offers is made out of two types of foam, including some visco-elastic memory foam. This allows the pillow to contour to the sleeper's head, neck, and shoulder regions, thus promoting proper spine alignment and easing some potential pressure spots on your body.
The pillow is also rather decent when it comes to maintaining its shape, in the long run. While it may be floppy and saggy when it first arrives, given some time, the Nectar memory foam pillow should expand and find its place quite well!
The pillow is adjustable, easy to wash and take care of, in general. After all, it's not seen as one of the best pillows on the market for nothing!
What is the Price of the Nectar Pillow?
The memory foam pillow offered and sold by Nectar ir going to cost you $75. This, however, comes in addition to free shipping & returns, and also a 50-night sleeping trial (that's generous!).
Love Nectar, but aren't sure if this is the right pillow for you? Do also check out the Nectar Lush pillow - while being a bit more expensive than the Memory Foam model, this pillow should provide you with some top-tier support and contouring features.
Ranks #6 out of 10 Mattresses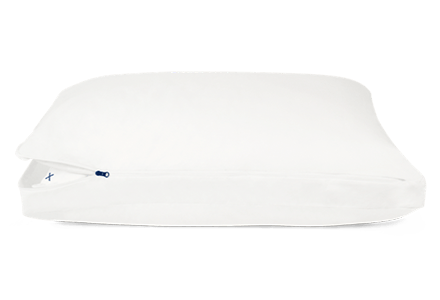 Things we liked:
+ Very cool to sleep on
+ Gel microfiber fill
+ Suitable fro most sleeping positions
+ 1-year warranty
Things we didn't like:
Helix offers its customers a decent selection of different sleep products, all coming with their own, unique features and benefits. The company sells 6 different mattresses, and has a pretty varied pillow stock, too!
Speaking of which, here, we'll be focusing on a single, specific pillow - the Helix Adjustable Pillow.
This particular pillow product in question has a gel microfiber fill. This, in turn, makes it one of the cooler pillows on this list, as far as temperature neutrality goes.
Same as some other options for the spot of the best pillow, Helix's product is fully adjustable, which means that it is likely to suit the vast majority of sleepers out there, no matter what your preferred sleeping position might be.
What is the Price of the Helix Pillow?
The Helix Adjustable pillow, same as most other models on this list, comes in two different pricing and sizing variants:
Together with your purchase, you'll also receive free shipping (no-contact), and a generous 100-night sleep trial. Also, you can expect a 1-year warranty to accompany that, too! You can also check out the company's ultra-cool, wedge, and down pillows, too.
Ranks #7 out of 10 Mattresses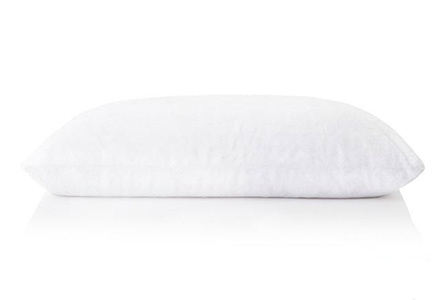 Things we liked:
+ Responsive
+ Solid organic latex
+ Breathable, good cooling
+ Great body-contouring features
Things we didn't like:
- Might be too soft for some
- Difficult-to-contact customer support
Solid latex pillows are some of the rarer types of products that you'll find in this category. Plushbeds, however, is one of the companies that offers this specific type of a pillow.
The first benefit that you can expect from a solid latex pillow is breathability. Due to the way that the product is made (its design options), the PlushBeds pillow should sleep exceptionally cool, thus being a great choice for hot sleepers.
Furthermore, if you're struggling with painful pressure points, you might have heard about the effects that latex products have on such issues. I'm here to tell you - it's true! The solid design of the latex pillow in question will both enhance your sleeping experience, and also make sure that the painful spots on your neck or shoulders dissipate as soon as possible.
What is the Price of the PlushBeds Pillow?
The PlushBeds Solid Natural Latex pillow comes in three different sizes, and will thus have three different pricing options:
The pillows come with a 3-year warranty period, and free shipping.
Ranks #8 out of 10 Mattresses
Things we liked:
+ Same technology (Smart Comfort Grid) in both the mattress and the Purple original pillow
+ Both pillows sleep cool
+ The original Purple pillow is very easy to clean
Things we didn't like:
- Original Purple is a heavy pillow
- Single firmness option
If you've ever heard about Purple, chances are that you know about their Smart Comfort Grid (otherwise known as Purple Grid) technology. The company uses this grid in their mattresses and, evidently, in their pillows, too.
So, what are the actual benefits of the Purple Grid?
For starters, you can expect the Purple pillow to sleep exceptionally cool, especially when compared to some foam or down feather alternatives. The grid contains hundreds of holes that all guarantee breathability and, by extension of that, sleeping comfort.
On top of that, customers point out that the Purple pillow will also exceed in the realm of pressure relief, too. This is, yet again, thanks to its unique technology - the Smart Comfort Grid will adapt and contour to your head and neck, and keep your spine properly aligned to your mattress, while still providing amazing support capabilities.
What is the Price of the Purple Pillow?
The Purple pillow comes in three sizing options:
If you'd like to check out some alternative Purple pillow models, you could take a look at the Harmony pillow, or the Plush model. There's also a model for kids, too!
Ranks #9 out of 10 Mattresses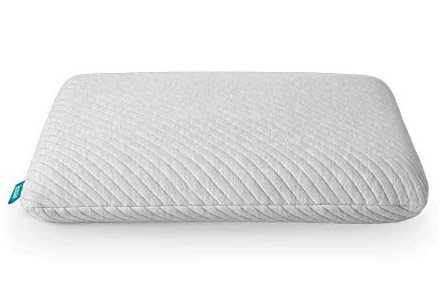 Things we liked:
+ Sleeps cool
+ Loft height suitable for most sleepers
+ Removable insert
+ Easy to take care of
Things we didn't like:
- Some initial odors might be present
- Might be a bit too heavy for some people
Yup, you've read that right - a hybrid pillow. Now, what does that mean?
Well, Leesa does offer customers a hybrid mattress - it's made from a mixture of pocketed coils and different types of foam. And while the Leesa pillow doesn't necessarily have "pocketed coils" inside of it, it has different materials on both sides - gel comfort layer on one, and a quilted pocket layer on the other. The middle of the pillow is stuffed with a removable material.
So, what does this mean for the sleeper? Truth be told, Leesa provides a very interesting sleeping experience for anyone who's going to try the pillow out. There are customers that claim the Leesa hybrid pillow to be the best pillow ever, mainly because it offers a double-like sleeping experience - it has firm support, but sleeps rather soft.
While it may sound strange at first, that's actually very possible thanks to the pillow's hybrid design.
Also, it's worth addressing the "removable part" of the pillow. It's located in the middle, between the two different layers - you can remove the pillow insert at any time, change it, or even add more, if that's what you wish. That makes the product very versatile, since you can adjust it as much as you want.
What is the Price of the Leesa Hybrid Pillow?
Same as most other entries on this list, the Leesa hybrid pillow comes in two different price and size options:
The pillow is on the very middle ground as far as the pricing side of things is concerned, but if you're wondering what is the best pillow ever, the Leesa Hybrid is a pretty good contender for that spot.
Ranks #10 out of 10 Mattresses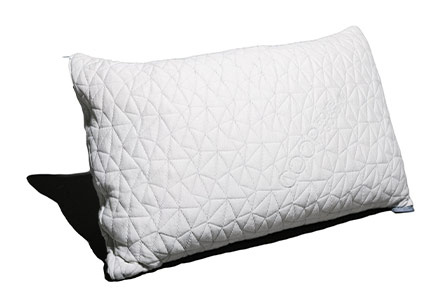 Things we liked:
+ Sleeps cool
+ Stuffed with shredded memory foam
+ Multiple firmness options
Things we didn't like:
- Some initial odor might be present
- Poor shape retention
Almost anywhere you'd look online, any customer best pillow reviews and any other recommendation sites, you'd most commonly encounter Coop at the top of all the lists.
You might ask yourself - is this pillow really that good?
Well, Coop Home Goods has many different pillows in stock. The two most notable ones, however, are the Coop Original and Coop Eden - and yes, they are *that* good. To remain unbiased and show some variety, however, in this "Best Pillows" review, we'll be talking about The Original.
So, then - what's so special about this pillow?
A lot.
First of all, it's a memory foam-based pillow. This means that it is going to adapt to your head and neck, and while sleeping on it, you'll be able to avoid "sinking into" the pillow, and thus waking up in the morning with a sore neck.
User best pillow reviews also note that Coop Home Goods has somehow managed to "get it right" as far as memory foam is concerned. You see, some memory foam pillows tend to go overboard with their stuffing, which results in the pillow being way too stiff to be comfortably slept on.
Even with that being said, though, Coop takes it a step further - you'll be able to adjust the stuffing of the pillow to your liking. Yup - all you have to do is unzip the pillowcase and add or remove as much material as you'd like. How's that for the best pillow ever?
Many different customer best pillow reviews also agree on the fact that the company marketing a "dust mite resistant" product isn't just false advertising - it's true. People are seemingly waking up in the morning without a hint of allergies or a stuffed nose, something that they did suffer from while sleeping on their old pillows.
What is the Price of the Coop Home Goods Original Pillow?
Now, as far as best pillows are concerned, Coop Original is obviously at the top of the contender lists. That said, let's talk numbers - what's the actual price of the pillow in question?
Well, if you choose to purchase the pillow from the company's official website, you'll have two choices as far as size and price are concerned:
Let me be the first one to say this - these prices are hard to believe! Remember - we're talking about a pillow that is so widely beloved, that it's the most common occurrence at the top spots of people's best pillow reviews!
Here is The Best Saatva Offer I Found:
$290 OFF + FREE DELIVERY
Saatva Holiday Sale
Don't sleep on this Saatva Holiday Sale & get your luxurious mattress with a $290 discount. The Saatva Holiday Sale is the best time to level-up your sleep!
Expiration date: 26/01/2022
2,711 People Used
Only 37 Left
Conclusions
On average, we sleep for one-third of our lives - that's a long time to spend in bed. The quality of our sleep is going to affect not only the mood that we're in next day - it also influences decision making, energy levels and, of course, overall health.
Because of the reasons listed above (and many, many more), it's important to ensure that we get the best possible sleep we can - and the best pillows can help us achieve that, or at least get much closer to doing so.
Also, do keep in mind that you should always double-check the products that you're purchasing! You probably wouldn't be too happy if you were to read Sleep pillow reviews thinking that you were reading about Saatva, or the other way around. Some products have very similar names, but are still very different!
I hope that this list of the best pillows of the year was helpful to you, and that you might have found the pillow of your dreams (yes, this pun was very intended).
---
Other Less Favoured Mattresses in This Category
Here are other mattresses related to the category but not as favoured by MyBestMattress readers yet. In my personal opinion, today there are much more optimal mattresses in the list with the higher rating that I'd recommend for the same price range or less.
Tuft and Needle - A Conforming Foam Pillow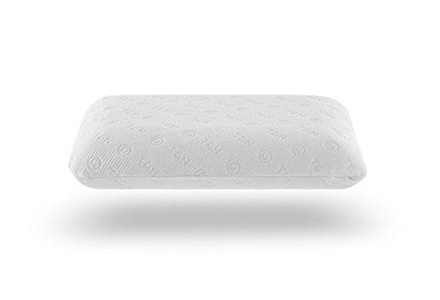 Things we liked:
+ Good breathability
+ Decent pricing options
+ Very moldable
+ Retains shape well
Things we didn't like:
- Possible initial odors
- Only one firmness options
Tuft & Needle is yet another popular mattress brand that also offers a great pillow to complement their main product and improve your sleeping experience.
The Tuft & Needle pillow is a foam product - according to customer best pillow reviews, the product is somewhat soft, yet conforms to your head, neck and shoulders pretty well.
Due to the material it's made from - adaptive polyfoam - the pillow has some very good pressure relief abilities. This is going to be important for anyone who suffers from a stiff neck, sore shoulders or an overall hurting back. The pillow has the ability to aid you in alleviating those problems - that's pretty good!
What is the Price of the Tuft & Needle Pillow?
The Tuft & Needle comes in two different sizing options - Standard and King. The prices are:
Standard - $75
King - $100
The prices are on the more affordable side of things, especially seeing as Tuft & Needle also offers free shipping in the US, free returns, a 100-night trial and a 3-year limited warranty.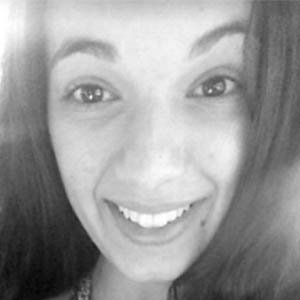 Brittany Ferri
Occupational Therapist, CPRP
Contributed By Brittany Ferri, Occupational Therapist, CPRP
As an occupational therapist, Brittany takes a client-centered approach to look at a person's environment, interactions, habits, and function to determine the best way to improve their health statu...
Read Full Bio...
Leave your honest Best Pillow Overall review
Leave your genuine opinion & help thousands of people to choose the best mattress. All reviews, either positive or negative, are accepted as long as they're honest. We do not publish biased reviews or spam. So if you want to share your experience, opinion or give advice - the scene is yours!