If you're not exactly satisfied with your mattress, hold on for just one minute - perhaps I can change your mind in throwing that old bed of yours out the window (sometimes figuratively, sometimes literally) by telling you about the best mattress toppers of the year.
While I admit that a mattress topper isn't really going to help you solve the issue of you hating your mattress completely, perhaps a new, high-quality topper will allow you to sleep just well-enough up until you find a new and decent mattress for yourself.
The top-rated mattress toppers that we'll be looking at today are:
Best Mattress Topper: What is a "Mattress Topper" and Why Do You Need One?
So, then… What is a mattress topper and why would you need the "best mattress topper", in the first place?
Mattress toppers are extra layers of material that you'd place on top of your bed. These products tend to differ in firmness and thickness, but most of them range around the 2"-3" mark.
Material-wise, there are many (and I do mean - many) different materials from which the best bed topper can be made. However, if you were to look at the more-common industry trends, memory foam and latex products seem to be the ones that are dominating the charts.
OK, so mattress toppers reviews note that these items are designed to be placed on top of your already-existing bed, and they act as an additional layer to your mattress… But what's the actual point of these products?
Reading through some of the customer best mattress topper reviews, you're likely to notice that there are three big reasons why people are interested in these products - cooling, pressure relief and motion isolation.
If your own bed sleeps hot, some top-rated mattress toppers that have cooling gel installed into their design can help take some of that heat away, and allow you to sleep much cooler in the process. There's a lot of research[1] done in order to find the actual effectiveness of such a process - it would seem sleepers truly do appreciate it!
Also, the best mattress toppers are going to be the ones that provide the best pressure relief by dispersing all of that pressure throughout the topper, instead of trapping it in a single point. This can not only help reduce pressure, but also prevent painful spots from forming all over your body.
Finally, the best bed topper is also going to help isolate motion on one side of the bed - this is going to be beneficial to anyone who sleeps with their partners who tend to constantly toss and turn around at night.
Now, with all of that out of the way, let's talk about the best mattress toppers in the market.
Ranks #1 out of 5 Mattresses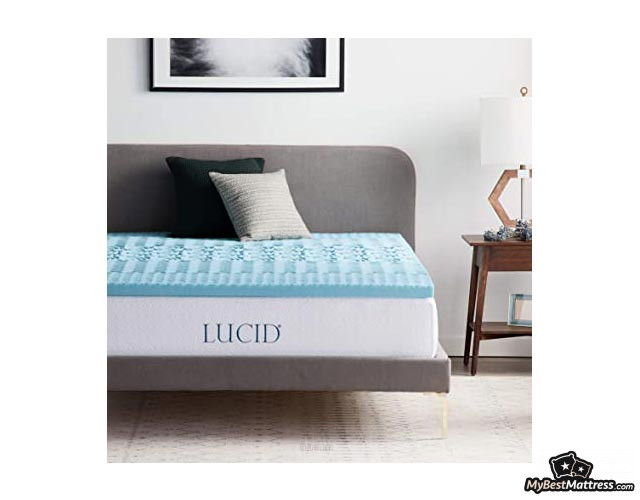 Things we liked:
+ Suitable for all sleeping positions
+ Great for hot sleepers
+ 3-year warranty
Things we didn't like:
- Might lack some motion isolation
As you may recall, I've mentioned that one of the main aspects of the best mattress toppers is that they should provide some proper cooling features for all types of sleepers out there.
Well, if you tend to sleep hot, and want to solve this issue in as simple of a manner as possible, then the Lucid mattress topper is exactly what you need.
While the company has a few different toppers for customers to pick from, today we're talking about their 2,5" product - the cooling gel-infused topper.
Customer best mattress toppers reviews note that many of the more-similar products in the industry claim that they "sleep really cool" and "provide optimal temperature neutrality capabilities", but as soon as you buy and give them a try, you're left disappointed.
Apparently, that's far from being the case with Lucid's 2,5" topper.
This product has not one, but TWO different ways of how it ensures that you'll be able to get a cool night's sleep.
The first feature is pretty obvious - it's a gel-infused topper, which means that it has cooling gel within its memory foam design. While many foam products that claim to be the "best mattress toppers" fail to combat the foam-heat problem effectively, but that's not the case with Lucid.
The other feature is a bit more spottable with the naked eye - the Lucid topper has holes inside of it, going through the top to the bottom. These holes are here for a reason - they promote breathability and airflow, further enhancing the "coolness" feature of the product.
What is the Price of the Lucid Gel Mattress Topper?
Many customer best mattress toppers reviews will tell you that the Lucid gel topper is actually one of the most-affordable mattress toppers that you might come across, at least as far as top-tier products are concerned.
If you're interested in what Lucid has to offer, you could purchase their topper from Amazon. On their official site, the company claims that the product retails for $94,99.
In addition to receiving an amazingly-cool (slight pun intended) product, you'll also get free shipping and a 3-year warranty.
Ranks #2 out of 5 Mattresses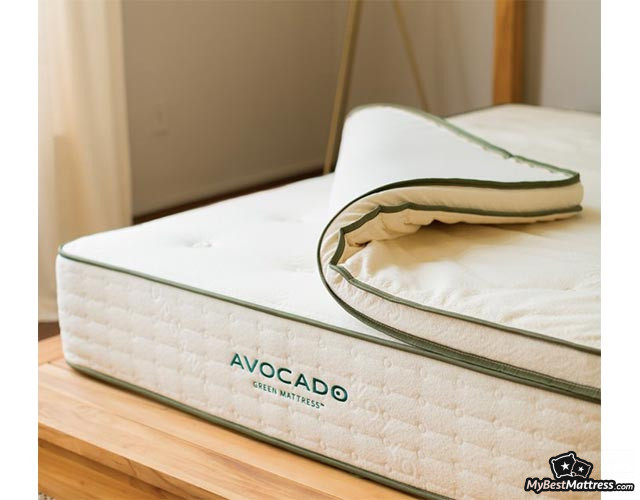 Things we liked:
+ Sleeps cool
+ Eco-friendly
+ 10-year warranty
Things we didn't like:
Avocado is a pretty well-known name in the sleep product industry - the company is famous for selling some of the most eco-friendly and completely natural mattresses, with even a vegan version available.
Truth be told, this isn't just a gimmick for Avocado - not only are they firm believers in the cause of providing customers with natural products, but their beds are also seen as some of the more durable and cool-sleeping products around.
Does this translate to the Avocado mattress topper? Yes - mostly.
If you're on the lookout for the best mattress toppers, Avocado should be one of your top options mostly because it's super-durable and completely organic. The topper is filled with natural Dunlop latex, with a layer of wool on the top. Don't worry - the cover is organic, too.
As far as cooling is concerned, well… This is actually a bit tricky. Don't get me wrong, the majority of customer best mattress topper reviews do note that the topper is really cool to sleep on, and provides optimal breathability. That said, if you tend to sleep really hot, Avocado's cooling features might not actually be enough.
What is the Price of the Avocado Mattress Topper?
Now, let me just tell you in advance - the Avocado mattress topper isn't cheap. Far from it.
What I found really odd is the fact that there were quite a few best mattress topper reviews online that noted how "affordable" this product is. I mean, sure, it does not cost an arm and a leg, but it's certainly one of the more expensive toppers on the market.
If you're interested in Avocado's topper, it will cost you anywhere from $349 to $549, depending on the size and firmness that you prefer.
Now, with that being said, I would also like to note that Avocado does provide a 10-year warranty with this product. This is notable because 10 years is usually the warranty time period which is given to high-end mattresses. It should go to show how durable the product actually is!
So, if you're interested in an organic option for one of the best mattress toppers of the year, and are not hesitant on spending a bit more money on the product, then definitely check Avocado out.
Ranks #3 out of 5 Mattresses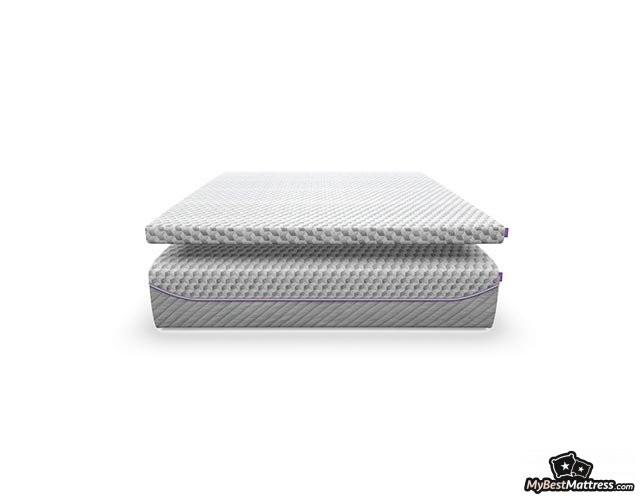 Things we liked:
+ Lifetime warranty
+ Great at isolating motion
+ Superb pressure relief
Things we didn't like:
- Sleeps a bit warm for some
Layla, as you may or may not know, is primarily a mattress-selling brand - it's also widely considered to be one of the better brands of the industry. Today, however, we're not here to talk about mattresses - instead, discuss the Layla mattress topper.
The topper in question is notable for a few different things, but mostly for its pressure relief capabilities - it's one of the top-rated mattress toppers for anyone who needs pressure point alleviation.
As I've mentioned in the introductory part of this list, pressure relief is going to be something that's most important to people who suffer from back, hip, shoulder and neck pains. There's plenty of scientific research[2] that points towards the fact that, if you want to get a good night's worth of sleep, you have to find yourself a bed that'll distribute pressure evenly all throughout.
Well, it doesn't actually have to be a bed - the best bed topper will do just fine.
Customers note that Layla's topper does provide amazing pressure relief, is rather durable and isolates motion pretty well. There are some people who note that it might not be the coolest-sleeping product around, though, so do keep this in mind!
What is the Price of the Layla Mattress Topper?
If you're interested in the Layla topper, you could purchase one from anywhere around $199, up to $299. Not the cheapest topper around, but the price does seem to match the quality pretty well!
Layla also provides free shipping, a 120-night sleep trial and a 5-year warranty with their product.
Ranks #4 out of 5 Mattresses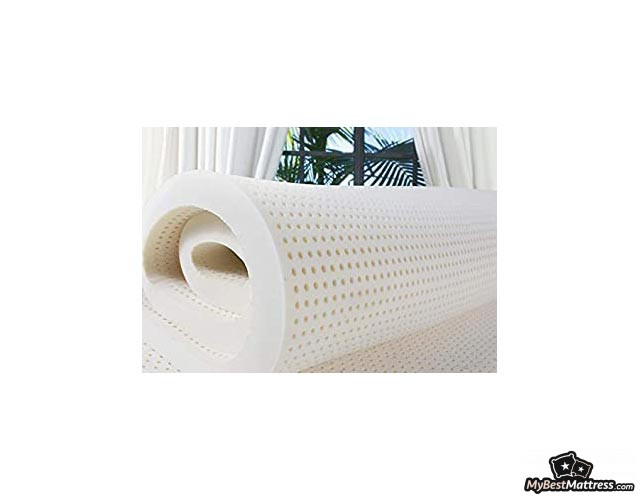 Things we liked:
+ Organic latex
+ Great for pressure point relief
Things we didn't like:
- Might sleep a bit warm for some
The PlushBeds mattress topper is made from natural latex - there are a few different perks that come from this.
First of all, latex toppers are exceptionally durable. This means that the PlushBeds product should last and serve you for much longer than the average mattress topper that's made from some other material.
Furthermore, PlushBeds customer reviews note that this topper is going to be great for all of the different types of sleepers out there. Whether you sleep on your stomach, back or side, the product should be able to alleviate pressure points by distributing the pressure applied to the surface of the topper.
What is the Price of the PlushBeds Mattress Topper?
The PlushBeds topper is going to cost you anywhere from $319 to $704, depending on the size, firmness, thickness and the addition of an organic cotton cover. The company also provides customers with a free shipping option - a pretty good deal!
Ranks #5 out of 5 Mattresses
Things we liked:
+ Good cooling
+ Good motion isolation
Things we didn't like:
- Some customers question the durability of the topper
Different from what the name of the company might imply, the ViscoSoft mattress topper isn't actually all that soft. Multiple customer best mattress topper reviews will tell you that the topper is actually "medium-firm", leaning towards the softer side of the spectrum.
In addition to providing great comfort and motion isolation capabilities, the ViscoSoft mattress topper is also amazing at keeping the sleeper cool at night. It's a memory foam product, but it's also infused with cooling gel - this makes the 3" product more breathable and temperature-neutral than many of its competitors.
What is the Price of the ViscoSoft Mattress Topper?
One thing that this product has over many of its competition is the price tag.
ViscoSoft comes with some pretty competitive prices.
If you're interested in the ViscoSoft mattress topper, you could purchase one for anywhere from $119,99 to $189,99. Considering the fact that the brand also provides free shipping and returns, and also a 60-day money-back guarantee, that's actually a great deal!
Conclusions
In this list of the best mattress toppers of the year, we've not only talked about the benefits of a mattress topper, but also discussed 5 contenders that are widely seen as some of the best mattress toppers in the entire sleep product industry - there's certainly an option for all of people's different wants and needs!
Note, though, that if you're actually looking for a really long-term solution for your problem (whether it be sleeping hot, experiencing motion transfer, dealing with back and neck pains, or any other), you should consider getting yourself a brand new mattress, altogether.
Also, while the best mattress toppers are going to help you alleviate some of the issues that you might have, they'll work much better when combined with a top-tier pillow, too - if you're interested, you can take a look at our list of some of the best pillows on the market.
With that said, I thank you for reading, and wish you the best of luck in finding the best mattress topper for yourself. Cheers, and until next time!
Scientific References

1. Zongyong Chen, Yuqian Li, Rong Liu, et al.: 'Effects of Interface Pressure Distribution on Human Sleep Quality'
2. Shintaro Chiba, Tomoko Yagi, Data, Motohiro Ozone, et al.: 'High rebound mattress toppers facilitate core body temperature drop and enhance deep sleep in the initial phase of nocturnal sleep'
Leave your honest Best Mattress Topper review
Leave your genuine opinion & help thousands of people to choose the best mattress. All reviews, either positive or negative, are accepted as long as they're honest. We do not publish biased reviews or spam. So if you want to share your experience, opinion or give advice - the scene is yours!