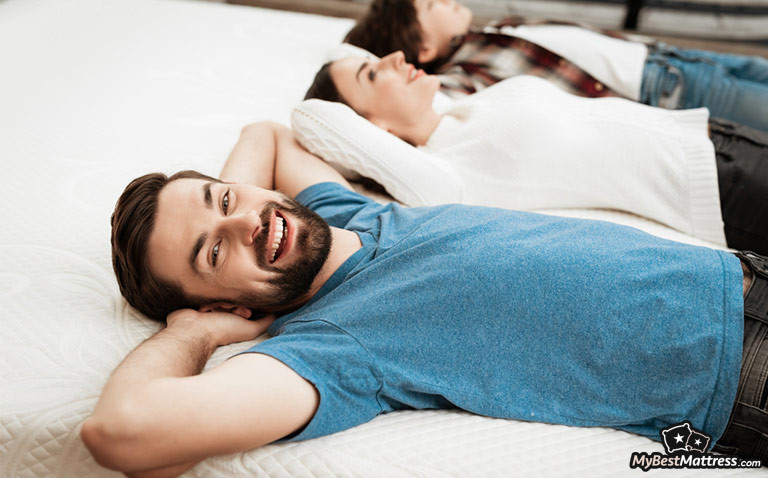 A new bedding system can have a huge impact on the quality of your sleep[1]. Since buying a mattress can get really confusing, it's always best to use a mattress buying guide. It's kind of the same as with purchasing any other major item, really - most people would first look at various guides, find out all of the intricacies, and only then would they go out and make the purchase.
Using this ultimate mattress buying guide, you will be able to minimize the hassle associated with going out and looking at products at the various different stores. On the contrary - once you finish reading this tutorial, you will be buying a mattress online!
You might say - how am I supposed to know if the bed is good if I haven't even seen it live? Well, don't worry - I'll tell you all about it in the chapters to come. Before that, however, there is one more thing we need to discuss - the benefits that you'll receive for using our mattress buying guide.
Why Read and Use a Mattress Buying Guide?
So, then, first things first. The most common question that people might have in this situation is why - why would anyone need an entire mattress buying guide?
Even though I've mentioned this a few times in other articles, and have even referenced it at the beginning of this one, it's still worth stressing that the main reason would have to be the fact that it's rather difficult to choose a decent mattress.
You see, there are many different mattresses out there in the world. This type of variety isn't coincidental, though - people have varying wants and needs, and each mattress type is tailored in accordance with these needs.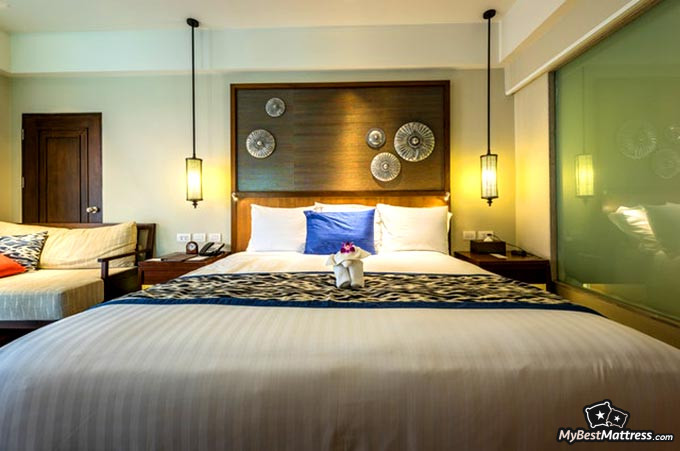 If you go into the mattress industry completely blind, chances are that you're not only going to get lost between the hundreds of possible choices, but will also end up buying a product that you will eventually come to regret.
As I've mentioned earlier, though, buying a mattress doesn't have to be that difficult of a task. If you don't have much time, want to know how to buy a mattress and are looking for the best time to buy a mattress, then this ultimate mattress buying guide is just what the doctor ordered.
For your convenience's sake, this guide is going to be segmented into different steps. Each step is going to give you a detailed explanation of why it's important, how you should go about dealing with it and perhaps even a few mattress provider suggestions here and there.
At the very end, we'll have a quick summary of all the steps, just to make sure the information sticks with you for good. That said, you can feel free to come back and reference this mattress buying guide at any given time that you like.
Step 1: Understanding the Basics
Before we get into talking about purchasing the actual mattress, there are a few different things we need to get out of the way first. That said, all of them are an essential part of this mattress buying guide, since they all have to do with the customer and the product.
So, before you think about purchasing a new bed for yourself, you should answer a few questions. For example:
Do I need the mattress for myself, or maybe for me and my significant other?
Am I allergic to something that might be used in the construction of the mattress?
What is the best time to buy a mattress for me? How much money can I put on the table for a new surface to sleep on?
Do I have back problems? Are my hips constantly sore?
Which type of a sleeper am I?
And the list goes on and on. Surely, though, if you can answer the above-given questions, you should already have a pretty good idea of what type of a product it is that you need.
Step 2: Picking a Size
Once you have the basics down, the next step in the mattress buying guide is deciding the size of the bed.
You might think - isn't that, like, one of the last things I should be doing?
Nope. Let me tell you why.
First of all, once you decide on the preferred size of the mattress, you will be able to know (approximately) how much money you're going to need. Sure, one mattress brand could charge dirt cheap for a Twin-sized mattress, while some other might rob you blind - but these are some extreme examples.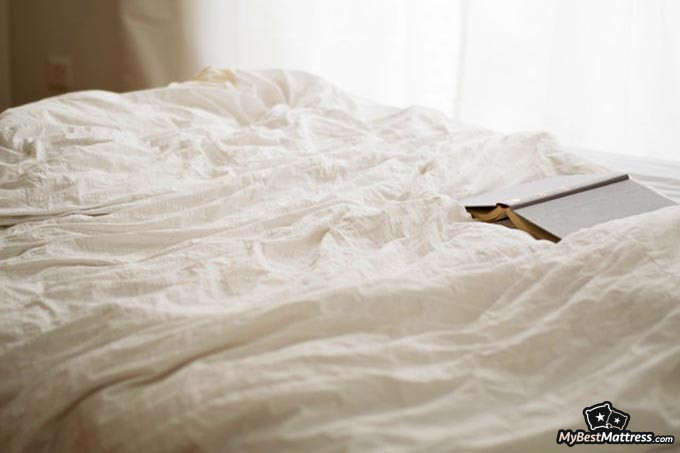 Also, when you know your preferred size, you'll be able to figure out some of the more intricate details. For example - if you're buying a Twin-sized mattress, you're probably going to sleep alone, and have all the choices in the world. However, if you're going with a Queen-sized bed, chances are that you have a significant other.
If your partner likes to sleep soft, but you like firmer mattresses, you'll have to find a compromise. Also, perhaps you sleep soundly, but your wife or husband tends to twist and turn during the night? If so, edge support should also come into play.
Do you see what I mean? If you have the basics down, and you know the size of the bed you want, then you're quite further ahead of the people who haven't read any mattress buying guides, and have just stormed into a store randomly.
Speaking of which…
Step 3: Forget Mattress Stores
Yup, you've read that right.
Forget 'em.
While it may sound a little bit extreme, it has been proven again and again - going to a mattress store and lying on a bed for 15 minutes is as good as pressing a button on your PC screen.
Yes, seriously.
Think about it yourself - what good can you learn about a mattress while you're laying on it for a super-limited amount of time, in a store setting, in front of the manager?
Nothing. Absolutely nothing.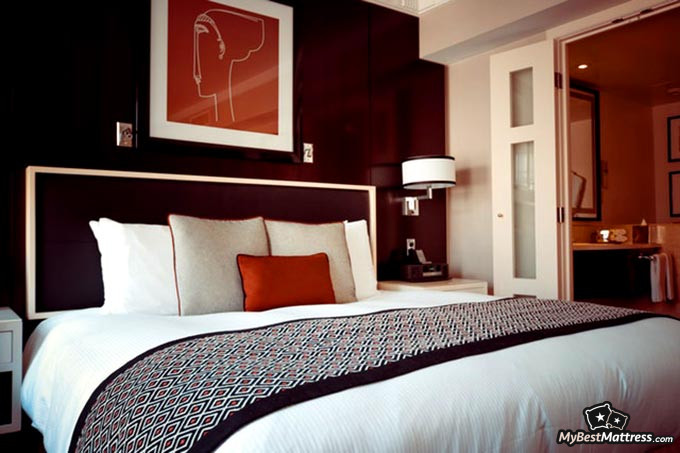 More and more people are starting to see this, and turn to online mattress buying guides. When you're browsing through a provider's store on their website, you have the option to read the reviews, discussions, complaints and everything in between.
You have time to decide.
When you're at a store, the timeframe is extremely limited, since there are other people who want to try the mattress out, too. Furthermore, if you really want to know whether you like the bed or not, you'll have to sleep on it for a good few nights.
15 minutes in the store simply doesn't do it.
Step 4: Choosing the Mattress Type
Currently, there are many different mattress types that are circulating in the market. It can get confusing even for me - and I review mattresses on a professional level! I can only imagine how difficult it might be for the average person who hasn't even heard about hybrid mattresses in their entire life.
As a general rule, you should only remember 4 mattress types - foam, latex, innerspring and hybrids. If you have these types all figured out, you should be more or less good to go.
Foam mattresses are soft, but sleep warm. Innerspring mattresses are the opposite - they tend to be firmer, yet quite a bit cooler than their foam counterparts. Latex is becoming a very popular choice - especially when it comes to organic mattresses (read: Avocado).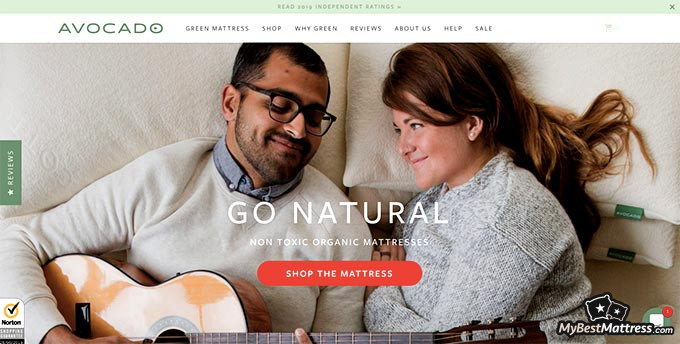 It's cooler (colder?) than foam, retains all the positive spine alignment abilities, and is somewhat firm (again, when compared with all-foam products). Finally, hybrids differ quite a bit - that said, people seem to like innerspring and latex hybrids the most. If a hybrid is built well, it has the potential to become one of the best mattresses in the industry (see: the New Purple).
With these four types of mattresses all figured out, you should compare and contrast each of their features in accordance to your own wants and needs. The result? You should develop a pretty good idea on which type will suit you best, and move on to the actual process of how to buy a mattress.
Step 5: Choosing a Provider and Making the Purchase
This is the final step of this mattress buying guide - after this, you should not only know the best time to buy a mattress, but also be able to choose the best bed provider out there.
So, how do you make the choice?
Well, it's actually super-simple.
Read the reviews about the best mattress providers.
I know it sounds really cliche, but it's honestly the best way to go about it. This is especially true given the fact that there are different review categories that you can choose from - best innerspring mattresses, best hybrid beds, best mattresses for side sleepers, and so on.
Let's say, you've done all of your calculations, and have decided that the best mattress for you would be a King-sized hybrid. Well, great - all you need to do now is go read about the best King-sized mattress providers, and see if any of them offer hybrid products.
It's that simple!
Later, once you have two or three beds to choose from, you'll have to compare the prices, things like durability and off-gassing, sleep trials and so on. However, once you're at that stage, you'll no longer have to worry about searching for mattress buying guides - you'll already know enough to make you own, educated decision!
Summary
Not that we've figured out all of the 5 main steps of purchasing a mattress, let's do a quick mattress buying guide revision and summarize what we've learned and talked about.
The very first thing that you should do is listen to yourself. Figure out your wants and expectations. Think about your allergies, financial and marital status, the amount of space in your house or flat, etc.
Once you have all of those things figured out, you can start researching how to buy a mattress. Here, you'll have to decide on the size of the bed - Queen-sized mattresses are the most popular ones, but it's going to depend solemnly on you.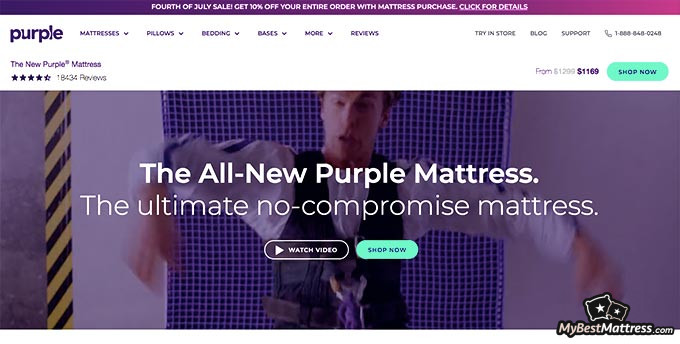 After you know what to look for in a bed, all that's left to do is to pick a type of the mattress that you wish and understand that no - you don't need to go to the store and awkwardly lie down on a plastic-wrapped bed. You'll make a much better decision online, since you'll have avoided all of the stress and pressure of having to choose quickly and on-the-spot.
Purchasing the actual mattress can be a bit intimidating, but all of the top providers in the industry offer a whole lot of benefits. You're likely to receive free shipping (especially if you reside in the US), perhaps even some white glove delivery options.
What's almost guaranteed, though, is the fact that you'll get a sleeping trial - a period of time during which you will have the opportunity to test the mattress out. If you decide that you don't like the product, you'll be able to return it and receive a full refund from the bed provider.
As for the providers themselves, well… While there are certainly many great mattresses companies around, you should always strive for the best of the best. And in order to find out which of them are "the best", you can go ahead and read through our "Best Mattress" list.
Conclusions
With that, we've reached the end of our mattress buying guide.
This tutorial was created with the intention to help people who have never bought a mattress before go through the process as smoothly as possible. I know how stressful it can be to not really know much about a topic, yet have to make a decision that will stick with you for an extended period of time.
All in all, as I've mentioned at the beginning of this mattress buying guide, remember that you can always come back and re-read this article, follow through the steps and continue improving your knowledge about which of the mattresses are dominating the market at any given time. With scientists coming out with new, sleep- and health-related information every other day[2], it's good to keep up with the loop!
I do honestly hope that this mattress buying guide was useful for you, and that you now know how to pick a product that will fit all of your wants and needs. Best of luck!
Scientific References
1. Bert H. Jacobson, Ali Boolani, and Doug B. Smith: 'Changes in back pain, sleep quality, and perceived stress after introduction of new bedding systems'
2. Meredith L Wallace, PhD, Katie Stone, PhD, Stephen F Smagula, PhD, et al.: 'Which Sleep Health Characteristics Predict All-Cause Mortality in Older Men? An Application of Flexible Multivariable Approaches'
Leave your honest feedback
Leave your genuine opinion & help thousands of people to choose the best mattress. All feedback, either positive or negative, are accepted as long as they're honest. We do not publish biased feedback or spam. So if you want to share your experience, opinion or give advice - the scene is yours!