Memory foam mattresses have become the staple of the industry. While innerspring ones used to be the leading products, that trend has shifted and people are now avidly looking for the best foam mattresses out there. Well, worry not, for this review will help you find just that.
Today, we are going to talk about the top 7 memory foam mattress providers that are currently dominating the market with their products. They can all compete for the "top foam mattress" spot, and all have their own distinct features and benefits.
First of all, we'll quickly run through the general facts of what a memory foam mattress is, in the first place. After that, we'll move right on to the list of the top providers. These are, as follows:
Best Memory Foam Mattress - What is Memory Foam?
Before we start discussing the best memory foam mattresses, we should first cover what memory foam actually is.
Memory foam is a special type of foam that is denser and more responsive than the standard types of foam. This means that, when you put your hand or lay on it, the foam adjusts itself to the shape and form of the object.
While innerspring mattresses used to be the industry norm, the trend has since shifted unto all-foam type of mattresses. Some of the top memory foam mattress providers actually pack in a few different layers of the special type of foam into their products, with all of them serving somewhat different purposes (look: Nectar mattress).
All of that's fine and dandy, but there's one question that likely plagues your mind right about now - what's so special about memory foam?
A few things, actually.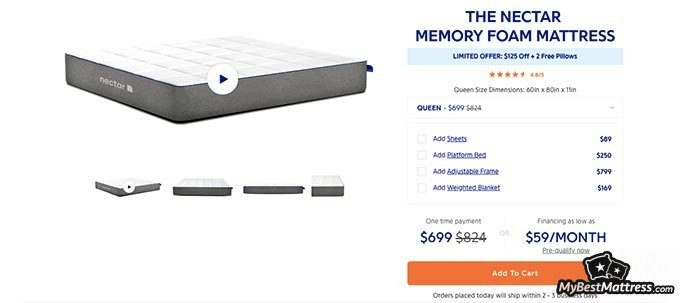 First of all, motion and noise isolation. These are actually the top two features that are usually advertised when it comes to memory foam mattress reviews. Because of the way that it's made, memory foam virtually isolates all of the noise and motion that you make while you sleep! This is super practical if you're sleeping with someone else, and that person likes to constantly turn in their sleep.
Another great aspect that the best memory foam mattresses can boast about is the back pain alleviation. Memory foam (together with some other different layers of the mattress) evens out your bodyweight - this helps in eliminating most of the painful "pressure points" that can be found throughout the body.
Furthermore, it's a great alternative for spine alignment - if you've got back problems, then the best foam mattresses should be one of your primary targets[1].
Now that we've got all of the technicalities out of the way, let jump straight into the best memory foam mattress list.
Ranks #1 out of 7 Mattresses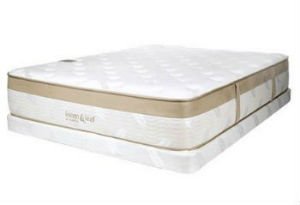 Things we liked:
+ Great motion isolation
+ No noise
+ Good for back pain
Things we didn't like:
- Might sleep rather warm
- Average edge support
While not being the most well-known mattress provider in general, Loom & Leaf is actually a very popular pick when it comes to memory foam mattress reviews.
First of all, the mattress is ideal for all types of sleepers. According to the users themselves, all three types (back, side and stomach) of sleeping positions feel great when sleeping on the mattress.
That's actually a pretty big deal! It is a well-known and established fact that memory foam is great for people sleeping on their backs - we've established that much already. However, stomach sleepers are the group that seems to have the most problems with the foam. Apparently, however, that's not really the case with Loom & Leaf!
As per usual with the best memory foam mattresses, motion isolation and noise reduction are also both prominent features with this particular bed. As a memory foam-based product, the mattress also does a great job in conforming to your body - you'll feel your body sink (in a good way) into the mattress, slowly but surely eliminating back pain and painful pressure points.
While Loom & Leaf does practice all of the main pros of all-foam mattresses, the unavoidable cons also come as an addition to that. If you're looking for a mattress with great edge support, excellent temperature neutrality and that would also be wonderful for sex, Loom & Leaf might not be the best choice.
While the mattress is by no means a total flunk in these departments, it's memory foam-centered construction means that it does, indeed, lack in those areas. A lot of customer reviews tend to agree - while Loom & Leaf is surely a good option in the "best memory foam mattress" lists, it falls a bit short in the above-mentioned departments.
If you decide to buy the mattress, you'll have two options to choose from - Relaxed Firm and Firm. The Queen-sized mattress will cost you $1499. Not the cheapest option out there, but also far from being the most expensive one!
What is the Loom and Leaf Mattress Price?
All of the sizing and pricing options are:
While the bigger options for the bed are somewhat expensive, the smaller sizes of the mattress are quite affordable.
120-Day
Coupon for Home Trial
Use this Loom and Leaf coupon to activate your 120-day sleep trial for your new mattress and enjoy your stress home experience.
Expiration date: 08/08/2020
1977 People Used
Only 23 Left
Ranks #2 out of 7 Mattresses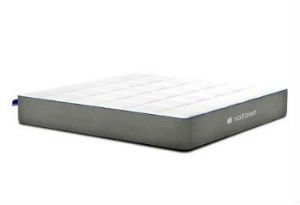 Things we liked:
+ Ultimate comfort for all sleepers
+ 100% risk-free 365-night trial
+ Pressure point relief for any body type
+ Unique 4-layer design
Things we didn't like:
- Might be a bit too firm for some people
- Some customers report that the mattress is a tad bit too warm
Nectar is surely one of the leading mattress providers not only when it comes to memory foam, but also in the general, overall mattress industry.
Within its product, Nectar has built in three different layers of memory foam. The first one - "Adaptive Hi Core Memory Foam" - is a recovery layer - this means that this layer of foam supports your body and gives the mattress bounciness. Then there's the "Gel Memory Foam" - it serves the purpose of distributing your body weight and cooling the mattress.
Finally, the "Quilted Gel Memory Foam" provides good air circulation and contours to your body. All three of these layers of memory foam (together with the base and the cover of the mattress) make up the Nectar's flagship product - a great contender for the spot of the best memory foam mattress.
According to the plenty of customer memory foam mattress reviews found online, the mattress really is great for both noise reduction and motion isolation. Customers seem to be pretty satisfied with the fact that they can sleep soundly and not be woken up by their significant other turning around in the middle of the night.
Price-wise, Nectar is somewhere in the middle - not too cheap, but also not too pricey. The Queen-sized Nectar mattress will cost you $699. In addition to that, the company does offer users a 365-night sleep trial, free shipping, and returns and a "forever" warranty! That's a pretty good deal when it comes to the best memory foam mattresses!
What is the Nectar Mattress Price?
Here's a list of Nectar's pricing options:
Your eyes aren't deceiving you - the prices really are that great!
Ranks #3 out of 7 Mattresses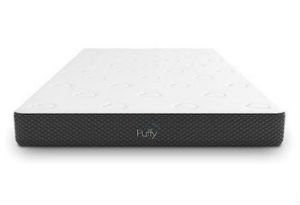 Things we liked:
+ Best for all type of sleepers
+ Lifetime warranty
+ Total spine pressure elimination
+ Highest breathability & coolness
Things we didn't like:
- Average temperature neutrality
Puffy has two different foam mattresses for customers to choose from - Puffy and the Puffy Lux. The Lux version of the mattress comes with an additional layer of foam, while the original Puffy mattress possesses three layers of the above-mentioned material.
Puffy is great for anyone who's experiencing back pain, and would like a decent memory foam mattress to alleviate that problem (that said, researchers note that most new beds should improve your sleep quality[2]). As far as the question of the best memory foam mattress goes, Puffy is amazing at two things - motion and noise isolation.
On the other hand, it would seem that both models of the mattress (the original and the Lux one) have some comparatively weak edge support. Furthermore, Puffy being an all-foam mattress, it's not very bouncy, either.
What is the Puffy Mattress Price?
Here are the pricing options for the original Puffy mattress:
Well, it's probably safe to say that the company has definitely got the pricing right - it's one of the cheapest and most affordable mattresses out there!
Ranks #4 out of 7 Mattresses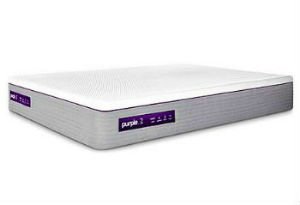 Things we liked:
+ Really good temperature neutrality
+ Firm, but not too much
+ Great motion isolation
Things we didn't like:
- Expensive
- Not the best edge support
Purple has two mattresses that are worthy of every sleeper's attention. However, since you came to this review looking for the best memory foam mattress, I will present you with only one option - the original Purple mattress.
Purple provides only one firmness option; it's a medium-firm mattress, and it will be great for almost every sleeper, except, perhaps, for the very light one.
What other qualities make it worthy of being called the best memory foam mattress? Purple is created using smart technologies, such as Purple Smart Comfort Grid, which not only reduces pressure and conforms your body perfectly but also sleeps cool due to the same technology as it manages to minimize body heat to a significant extent.
In addition to the Purple Comfort Grid, the company also uses high-density foam for the comfort layer and similar foam for support. It seems that customers are happy with the Purple mattress; however, there are a few aspects that are just not here… Minimal edge support and lack of bounciness. Other than that, every measure was evaluated almost perfectly.
What is the Purple Mattress Price?
Now let's move to the Purple mattress pricing and sizing options:
I have to say that Purple price surprises me every time, as I can't believe what a fantastic product you can get for lower than average pricing in the market.
Ranks #5 out of 7 Mattresses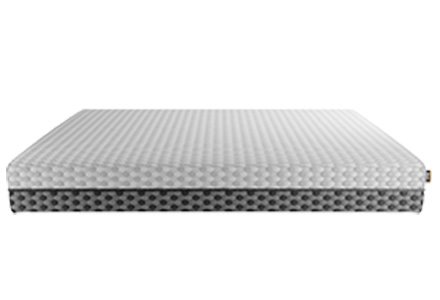 Things we liked:
+ Lower Than Average Pricing
+ Flippable
+ Pressure Relief
+ Cooling Properties
Things we didn't like:
- Fair Edge Support
- 2-Week-Break-In-Period
Layla offers customers a copper-infused memory foam mattress with a couple of firmness options. Is the copper just a marketing gimmick, or is it actually a feature that's worth paying attention to?
Yes, actually, it does work pretty well!
Customers who have bought the Layla mattress often state that it is definitely one of the best memory foam mattresses around! The great thing about it is that it is actually rather cool, especially when compared to other foam mattresses (naturally, products like the Tempur-ProAdapt is an exception here). This is due to the above-mentioned copper - it cools the mattress down, while still preserving all of the good features that the memory foam offers.
Speaking of which, you'll find that Layla's motion isolation is actually one of the best out of all of this list! The company's customers report that the mattress almost completely absorbs any and all movements - perfect for couples and constant nighttime turners!
A thing to note, however, is that just like a lot of the other products on the "top memory foam mattress" lists, Layla isn't ideal for stomach sleepers. So, if that's your primary sleeping position (which would be rather weird), do take this fact into consideration before going out and purchasing the mattress.
Layla's pricing, though, is also great - the Queen-sized copper-infused memory foam mattress will cost you $874! You'll receive a 120-night sleep trial, and a lifetime warranty - good stuff!
What is the Layla Mattress Price?
Pricing list:
Layla has some pretty good pricing options indeed!
Ranks #6 out of 7 Mattresses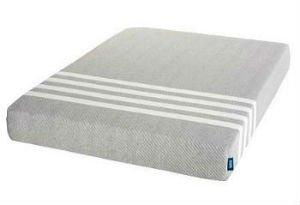 Things we liked:
+ High-Quality Layers
+ Medium Firmness - Almost for Every Sleeper
+ Almost For Everyone
+ Minimal Off-Gassing
Things we didn't like:
- Not Perfect for Side-Sleepers
- Not Great for Cool Sleepers
Next up, let's talk about Leesa - a mixed-foam mattress that comes equipped with all of the great features that you'd come to expect out of a memory foam mattress.
Leesa is best known for being able to conform very well to the sleeper's body. In doing so, the bed alleviates the painful spots from your spine, neck, shoulders and lower back area - that's great news!
Leesa is also very silent - as you lay down on the bed, you shouldn't hear any noise whatsoever. Since the mattress is seen as at least somewhat responsive (when compared to other best memory foam mattresses, at least), it makes it an above-average option as far as sex is concerned.
What is the Leesa Mattress Price?
The prices for the Leesa mattress are:
The prices are very much on the affordable side of things.
Ranks #7 out of 7 Mattresses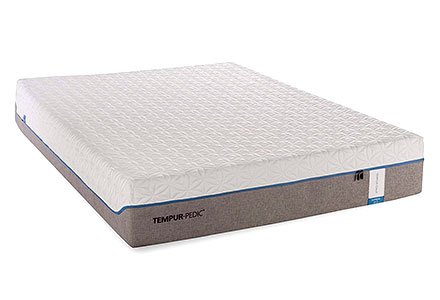 Things we liked:
+ You Can Choose From Different Firmness, Thickness and Construction Options
+ Zero-Motion and Amazing Sound Isolation
+ Very Durable (Customers Approved)
+ Great for All Sleepers
+ 90-Nights Free Sleep
Things we didn't like:
- Minimal Off-Gassing
- High-Price
- 30-Nights Break-in Period Required for Sleep Trial
When it comes to the best foam mattresses, Tempur-Pedic offers customers three distinct options to choose from. For the sake of staying consistent, however, we'll be focusing on the company's most popular product - the Tempur-ProAdapt.
The ProAdapt mattress does, indeed, have everything - both the features that you would come to expect from a memory foam-based mattress, and those which you would expect NOT to be there.
First of all, the obvious - conforming, motion isolation and noise reduction. All of these three aspects are top-tier when it comes to Tempur-ProAdapt. Do note that the mattress is also available in a hybrid version, but this review focuses on the all-foam one - the hybrid isn't as good as it's counterpart in the above-mentioned aspects.
In addition to all of that, ProAdapt makes sure to secure its spot on most of the "best memory foam mattress" lists by offering some great durability and temperature neutrality!
The latter feature is actually the most surprising one. Even the top memory foam mattresses struggle with keeping it cool - they tend to be a lot warmer to sleep on than their innerspring competitors. Tempur-ProAdapt, however, comes with a double-layered cooling cover - it helps manage the temperature of the mattress and doesn't allow it to het up throughout the night.
So, if Tempur-ProAdapt is such a great choice, there surely has to be a catch, right? Well, yes, actually, there is one - the price.
A Queen-sized ProAdapt will cost you $2899 (as of writing this list "Best Memory Foam Mattress" list, that is - since it's on a discount, the original price is actually $2999)! Compared to the competition, this is actually an insane price! However, taking a single look at the user reviews will reveal that, seemingly, the price does fit the quality of the product.
What is the TempurPedic Mattress Price?
A full list of ProAdapt's prices would look something like this:
That's a big list of options for sure!
Conclusions
These were the top 7 best memory foam mattresses that are currently dominating the market.
You might wonder - how do I pick one if all of them are that good? It's pretty simple, really - you should find the best memory foam mattress for you! Different people have different reasons for why they might need a new foam mattress. Depending on these reasons, you should choose the product accordingly.
You can be certain of one thing, though - all of the product providers that have been named in this "Best Memory Foam Mattress" list are top-level players that sell top-tier products to their customers. While they all have their pros and cons, this is actually a good thing - you have the opportunity to choose the one that will suit your wants and needs the best.
If anything, remember that all of these mattress providers have trials that you can use to your advantage. If you don't like the product, you can always turn it in and get a refund!
120-Day
Coupon for Home Trial
Use this Loom and Leaf coupon to activate your 120-day sleep trial for your new mattress and enjoy your stress home experience.
Expiration date: 08/08/2020
1977 People Used
Only 23 Left
---
Other Less Favoured Mattresses in This Category
Here are other mattresses related to the category but not as favoured by MyBestMattress readers yet. In my personal opinion, today there are much more optimal mattresses in the list with the higher rating that I'd recommend for the same price range or less.
Casper - Not Too Hot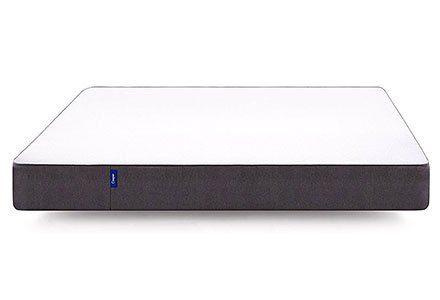 Things we liked:
+ Made of Quality Material
+ Casper is For Every Sleeper's Needs
+ Medium-Firm Level of Support that Works for Almost Everyone
+ 100-Nights Sleep Trial
+ Durable (Confirmed by Users' Reviews)
Things we didn't like:
- Only One Firmness Option
- Not so Great for Hot Sleepers
Next up, let's take a look at a very well-known name in the mattress industry - Casper. Just to be clear, we'll be talking about the company's main product - The Casper Mattress.
Casper utilizes 4 layers of foam in order to provide users with a perfect mix of the most essential features for sleeping. A lot of the "top memory foam mattress" lists agree that the mattress has some great ventilation (breathability), is super comfortable and has decent temperature control (as far as all-foam mattresses go).
Casper isn't as popular as it is without a good reason, either - the company has been providing top-quality products for years now, and the amount (and tone) of user reviews that you can find online tend to further that notion. The original Casper model still stands ground to this day - it isn't too firm, comes equipped with all of the most notable features that the best memory foam mattresses are known for, and is also rather light (a bit above 70 lbs in weight).
Casper does, however, face the two big issues that have now become the bane of memory foam mattresses - limited bounciness and not-the-best edge support. Admittedly, the later versions of the mattress do correct these problems, at least to a certain extent.
The Double-sized Casper mattress costs a bit over $700 (converted from the UK pounds). Definitely a decent price for one of the most notable products in the game! To add to that, Casper offers a 100-night trial and free shipping and returns. Three months to decide whether or not you want to keep on using the mattress - a pretty solid deal indeed!
Scientific References

1. Canadian Agency for Drugs and Technologies in Health: 'Mattresses for Chronic Back or Neck Pain: A Review of the Clinical Effectiveness and Guidelines [Internet].'
2. Bert H. Jacobson, Ali Boolani, and Doug B. Smith: 'Changes in back pain, sleep quality, and perceived stress after introduction of new bedding systems'
Leave your honest Best Memory Foam Mattress review
Leave your genuine opinion & help thousands of people to choose the best mattress. All reviews, either positive or negative, are accepted as long as they're honest. We do not publish biased reviews or spam. So if you want to share your experience, opinion or give advice - the scene is yours!