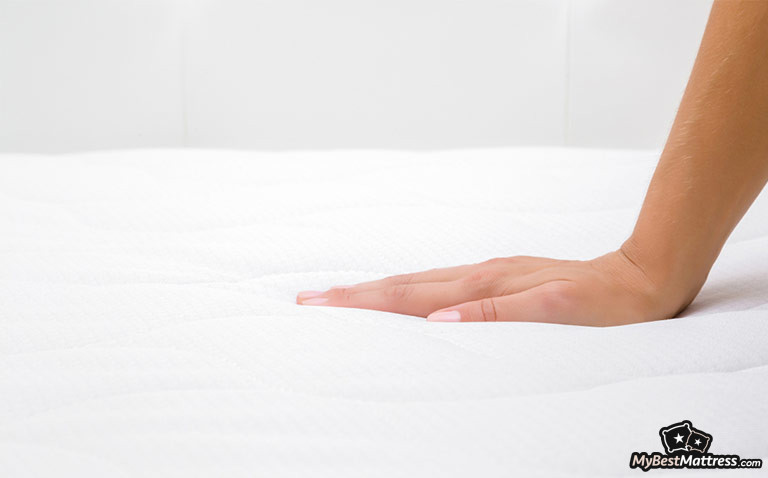 While it might seem simple in the first place, the mattress firmness scale is quite a tricky topic. What some of us understand as "soft", others perceive as "firm". The problem is that mattress firmness[1] is one of the most important factors when picking the right bed for yourself.
In this guide, I will help you to solve the confusion that appears towards the mattress firmness scale. I'll cover the detailed description of the mattress firmness scale, provide information on firmness and support, and go through all the aspects you should consider when picking the right mattress for yourself.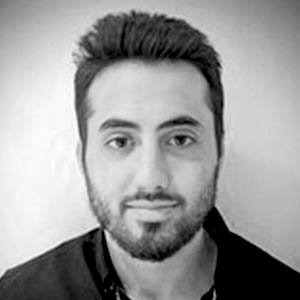 Caleb Backe
Certified Personal Trainer, Health & Wellness Expert
How different mattress firmness levels can impact the way we sleep?
You mattress responds to your body weight and pressure which means that mattress firmness has a profound impact on sleep - and it's not a one-size-fits-all approach. Taking into account your weight and sleeping position is important when choosing a mattress with the right firmness levels for your needs. If your weight is relatively light you should go for a softer mattress whereas generally speaking, someone who is heavier set would do well with a firmer mattress. Additionally, side and back sleepers would benefit from medium-firm mattresses while stomach sleepers need a firm mattress to avoid a U curvature in the spine.
Mattress Firmness Scale: What is That?
The first misconception that people have about the mattress firmness scale is believing that it refers to the same meaning as a mattress support. Even if these two characteristics correlate, there's a difference.
Mattress firmness can be explained pretty easily. It's the way that mattress feels - is it firm or soft? That's the main question you should be asking yourself. Mattress support[2], on the other hand, defines how well the mattress holds the body in place throughout the night. Does it keep my spine in a healthy position? That's the question you should be asking when considering the level of support.
| | | | | | |
| --- | --- | --- | --- | --- | --- |
| Firmness | 1-2 | 3-4 | 5-6 | 7-8 | 9-10 |
| Feel | Very Soft | Soft | Medium | Firm | Very Firm |
| Best for | Very Light People | Light Side Sleepers | Average-Weight Sleepers | Heavier Back Sleepers | Heavy Sleepers |
Thus, even if it's a subjective matter, I'm going to introduce you to the mattress firmness scale and how each of the levels of firmness is defined in the market.
Understanding Mattress Firmness Scale
Let's take a look into the mattress firmness chart to understand the difference.
1-2 (extremely soft)
Such mattresses are super soft, they do not provide the needed level of support and you will feel like sinking into your bed. Sleeping on such mattress, will, most likely, negatively impact your sleep and health - your spine won't stay in a healthy position and you will feel super uncomfortable. Only very light people could pick such a mattress. There are very little mattress providers that offer such an alternative as the small percentage of people pick such beds.
3-4 (soft)
Soft or plush mattresses are great for very lightweight sleepers. Such mattresses tend to sink in from 1.5 to 3 inches depending on your weight. Those who love cushioning and like to sleep on their side could benefit from a soft bed.
5-6 (medium)
The bed that's from 5 to 6 on the mattress comfort level is the option that the majority of sleepers prefer.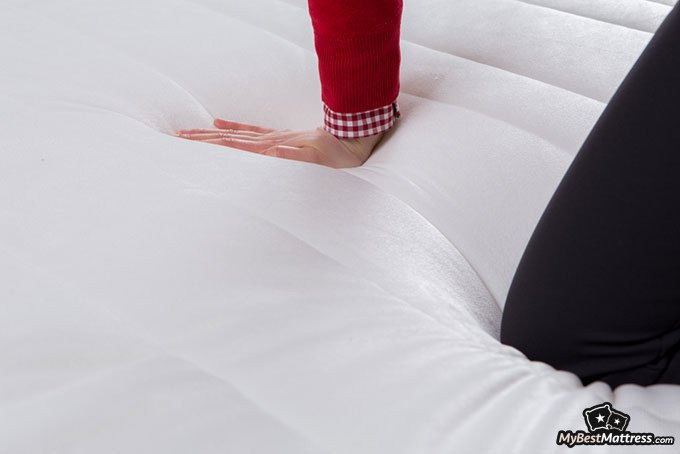 It offers limited sinking and some plushness. Each top-tier brand offers the ability to pick a top firm mattress. It completely depends on your personal preference whether you choose a mattress that's firm or medium-firm.
7-8 (firm)
Such mattresses tend to be firmer than we're normally used to. They provide much less sinking and hugging compared to the medium ones and, naturally, give you more support. Sleepers who prefer rather firm options usually consider it as the alternative. Otherwise, it can be too hard.
9-10 (extremely firm)
Normally, you won't see extremely firm mattresses in the market, as very little people prefer a rock-hard bed. However, sleepers who suffer from obesity should consider picking such an alternative as it would give much more support.
As you can see, the mattress firmness scale is pretty easy to figure out.
Can One Firmness Fit All?
You're probably wondering if the phrase "one firmness fits all" make sense? As surprising as it sounds, there's a firmness that fits 80% of the individuals. The majority of sleepers prefer from 5 to 7 on the mattress firmness scale. That's why this phrase actually makes sense.
Some of you might argue and believe the approach that one firmness fits all in this situation is inapplicable. You wouldn't be wrong saying this, however, the majority of sleepers actually prefer mattresses that are medium in the firmness scale.
So, even if you should choose the mattress based on your needs, the majority of sleepers always prefer a medium-firm alternative. Thus, this is the safest option when you're not sure what bed to choose.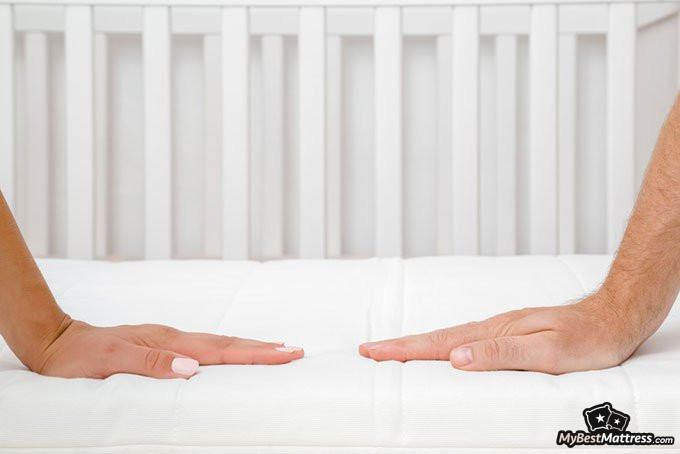 However, you shouldn't forget other aspects that come together with mattress firmness, such as support. Your mattress should be firm enough depending on your weight and sleeping position, and, of course, provide enough support to keep your body in the same position throughout the night.
Whatever you do, do not choose cheap mattresses as they're made of low-quality materials that won't provide you with needed qualities as well as have a much shorter lifespan. Therefore, you will end up spending more than getting a high-quality mattress in the first place.
Choosing the Right Firmness: Aspects to Consider
Even though the mattress firmness ratings are pretty easy to figure out, there are additional aspects that should be considered before purchasing a bed.
Firmness Based on Sleeping Position
The majority of us are multi sleepers, meaning that we tend to turn around and change sleeping positions during the night. However, you probably have one sleeping position that you prefer when falling asleep: back, stomach, or side. As you probably understand, the way you sleep should also have an impact on your mattress choice.
Stomach Sleepers
Stomach sleepers should pick either medium or medium-firm mattresses. While sleeping on your stomach is not the healthiest position due to the unnatural curving of your body, when you pick a bed that's on the firmer side, you will provide your hips with the needed support and will be able to maintain your spine in the straightest possible position.
Side Sleepers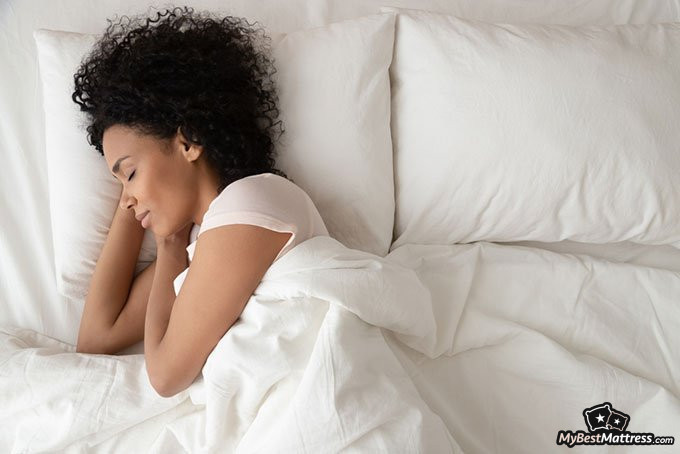 Side sleepers usually prefer quite soft mattresses that can range from 3 to 6. When sleeping on a too-firm mattress, side sleepers might experience unpleasant support in their shoulders. Needless to say, when your shoulders are elevated more than needed, your spine will crook and, in the long run, it might lead to some serious issues.
Back Sleepers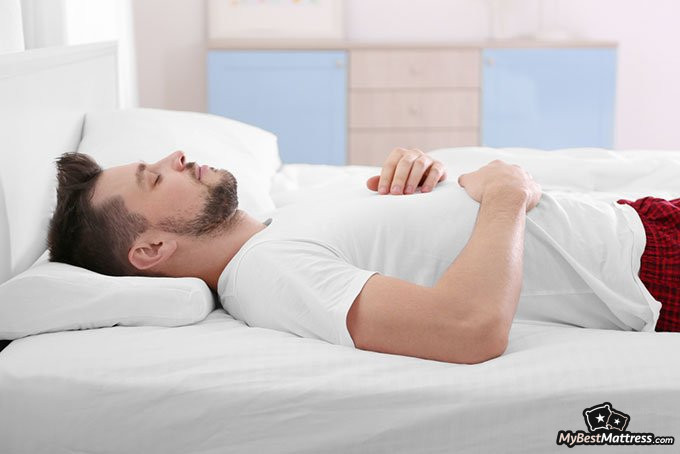 Back sleepers don't have that many requirements regarding mattress firmness scale. If you're sleeping on your back, then my advice is to consider mattresses that are from 4 to 8, depending on your weight. That's exactly what I'll be discussing in the further section. I've noticed that back sleepers tend to appreciate innerspring mattresses the most.
Combination Sleepers
The majority of us are combination sleepers, meaning that we tend to sleep in 2 or more positions. The result shows that it's best to choose a mattress that's from 4 to 6 on the mattress firmness chart.
Latest Saatva Coupon Found:
UP TO $500 OFF
Limited-time Saatva Sale
We're sharing a limited-time Saatva mattress discount with our readers! Grab this deal & enjoy your new mattress with huge discounts.
Expiration date: 13/06/2023
4,042 People Used
Only 83 Left
Firmness Based on Weight
Firmness together with the level of support goes hand in hand with one another. These aspects are crucial to sleepers of different weight groups.
Light
Lightweight sleepers (less than 130 pounds) should pick either soft or medium mattresses. Differently from heavier sleepers, the sinkage into the mattress will be minimal. By picking a mattress that's too firm, you won't feel the pressure relief qualities as you'll be floating on top of it. Additionally, it will create many pressure points.
Medium
Medium weight sleepers (from 130 to 230 pounds) tend to benefit from beds that are from 5 to 7 on the mattress firmness scale. Basically, whether you choose a mattress that's more on the firmer or softer side of the mattress firmness chart completely depends on your sleeping position and personal preferences. Medium-firm mattresses will provide you with the needed level of both firmness and support.
Heavy
If you're a heavyweight sleeper (over 230 pounds), you'll find that you need more support that can, generally, give firmer mattresses. When sleeping on a soft mattress, you'll feel like sinking in due to the lack of support. What is more, if you pick a firmer mattress, it will serve you much longer than the soft option and will give you more breathability together with coolness because you will be sleeping on the mattress rather than in it. I recommend choosing a mattress that's at least 10 inches thick.

Did you know?
Firmness Based on Health Issues
If you wake up with aches in your back, hips or shoulders, it means that you need a new mattress - most likely, you weren't aware of the mattress comfort level before purchasing.
Back Pain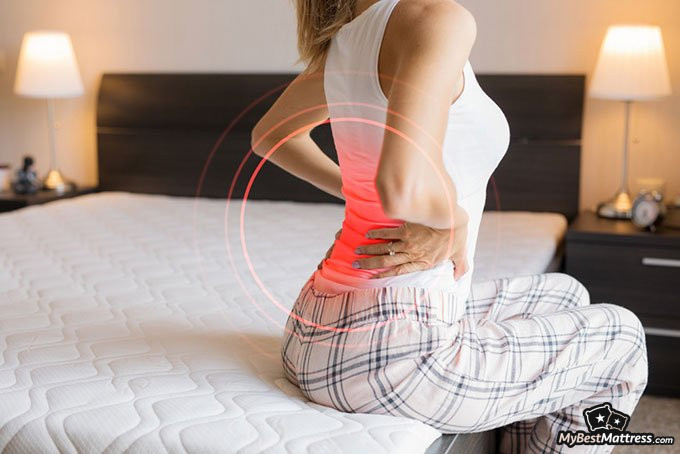 If you're experiencing back pain problems, it means that your spine is unnaturally curved when you sleep. If you're back or stomach sleeper, you should pick a mattress that's about 5 to 8 on the mattress firmness scale (depending on your weight). This way, your lower back will get the right level of support and maintain your body in a healthy position.
Hip Pain
Hip pain can be caused by many different factors, inappropriate spine alignment is one of them. As I said in the very beginning mattress firmness and support are not the same. So, in this case, you need a bed that's supportive, yet soft. It will make a significant difference.
Shoulder Pain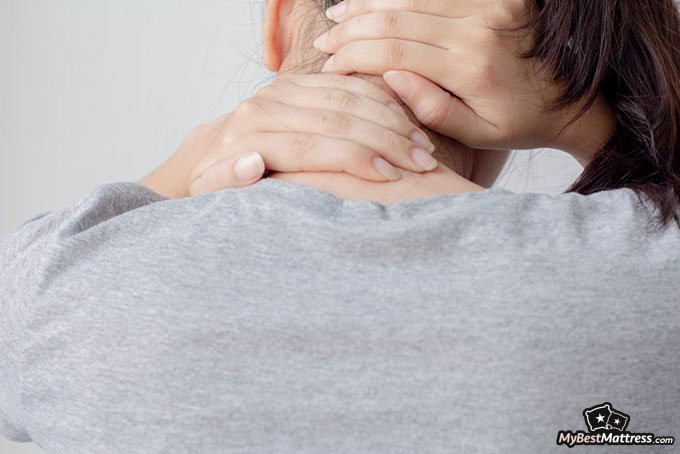 Shoulder pain is often caused by a too firm mattress. People who sleep on their side experience this problem quite often. You need a mattress that's more on the soft side to cushion the shoulders and hips and keep the spine alignment.
Firmness Based on Sex
Even your sex has a difference when picking the mattress comfort level. Men are typically heavier than women, which means they need more firmness and support. When men choose a mattress that's not firm enough, it can lead to spinal misalignment and cause serious health issues.
Women typically weigh less than men, thus, they need a mattress that's not too firm. What is more, since women have a more subtle body structure, they should pick a bed that's more supportive. I'm always highlighting the fact that sleeping position is vital when choosing a bed, however, women should pay even closer attention to this factor.
Other Important Aspects
Let's get through some additional aspects that also have a major impact when choosing the right mattress for yourself.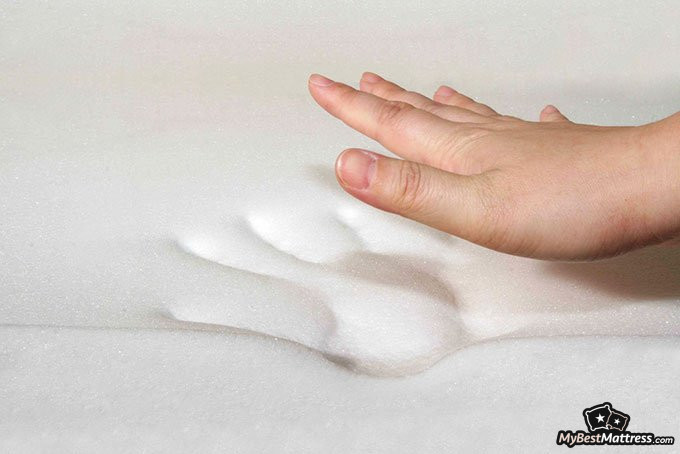 Conclusions
Therefore, the mattress firmness ratings/scale varies from extremely soft to extremely firm. Since the options are unlimited, it's important to know what kind of bed to choose based on your personal needs.
Basically, mattress firmness shows how firm your mattress is. It refers to a different meaning than mattress support, which is the ability to keep your body in a healthy position throughout the night.
Even though many providers say that their mattress fits all, it's only partly true. The majority of sleepers (about 80%) choose beds that are medium firm. The rest 20%, pick either softer or firmer alternatives.
There are many factors that you should consider when picking the right bed for yourself. That includes your sleeping position, weight, health issues, sex, and such aspects as edge support, bounciness, motion transfer, and whether you're a hot or cold sleeper.
If you need more guidance on how to choose the mattress for yourself, you can find more information here. By the way, you can jump straight into the most recommended mattresses' list and find a perfect option there.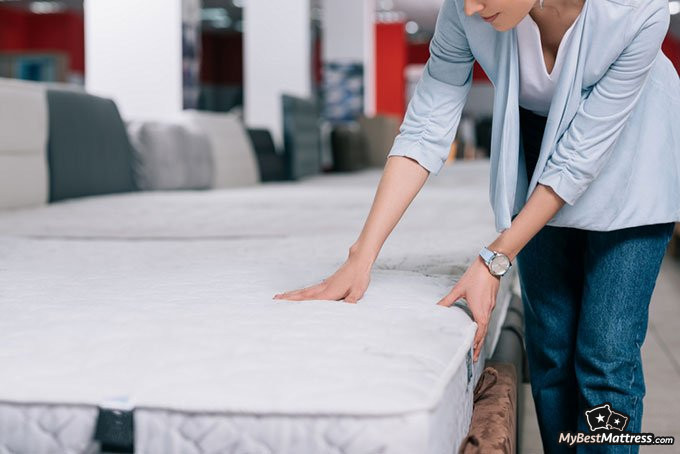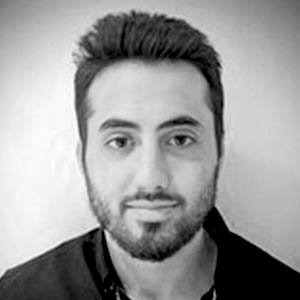 Caleb Backe
Certified Personal Trainer, Health & Wellness Expert
Contributed By Caleb Backe, Certified Personal Trainer, Health & Wellness Expert
Caleb Backe's work with natural product development has given him insight and expertise in the health industry, as well as an attuned understanding of the wellness world. When Caleb is not developi...
Read Full Bio...
Scientific References
Contributed by
Caleb Backe
, Certified Personal Trainer, Health & Wellness Expert
1. Eugene Kraft: 'Varying firmness mattress'
2. John W. Wilkinson, Richard W. Raburn: 'Automated pressure relief mattress support system'
Leave your honest feedback
Leave your genuine opinion & help thousands of people to choose the best mattress. All feedback, either positive or negative, are accepted as long as they're honest. We do not publish biased feedback or spam. So if you want to share your experience, opinion or give advice - the scene is yours!