Bed Frames (sometimes also called bedsteads) are created for the main purpose of supporting the mattress, some can even support the mattress bases. They're usually made of metal and wood.
Bed frames can add a whole new look to different room designs and styles. While some prefer frames that are super cozy, others choose the alternatives that are minimalistic, modern, and sleek. Depending on your taste, you can easily find the best bed frame that can complement your bedroom.
Since choosing among hundreds of bed frames can be truly challenging, I've gathered the most recommended options for you. Here's the list of the best bed frames:
Before jumping straight into the best bed frames reviews, let me tell you more about them, including the main functions and advantages. If you'll know this information, it will be way easier to make the right decision.
Best Bed Frames: Why do We Need Them?
Bed frames, just like the best platform beds not only add the style element to your room but, as you already know, they also play a major role in alleviating your mattress. But that's not the only reason why you must have it.
Since the best bed frames lift your mattress off the floor, they make it so much easier for you to get up as well as get back to sleep. When you put the mattress on the floor, it requires additional energy to get up every morning. Getting up in the morning is difficult as it is, don't make it even more complicated. Based on the study[1], early work reduced sleep to 5 hours and 12 minutes, it consisted of less stage 2 and rapid eye movement (REM) sleep.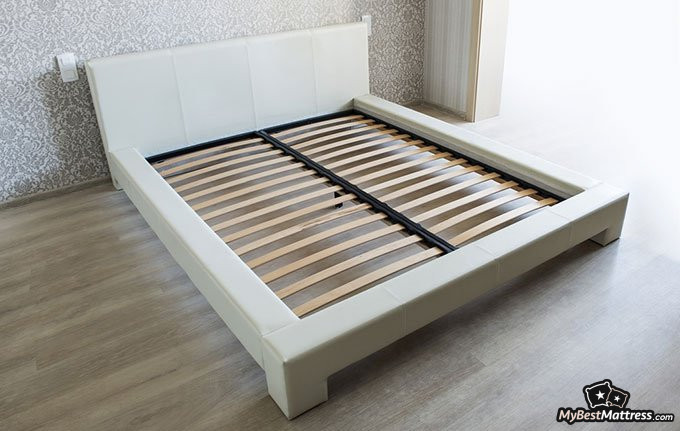 What is more, even though some people prefer putting their mattresses straight onto the floor, it can create other issues. When you're sleeping on the floor, you breathe in dust that can lead to the occurrence of allergies if you're a sensitive person.
Moreover, your mattress is not breathing when it's laying on the floor. It means that all body fluids are trapped inside it. Based on the studies[2], mattress dampness, lack of ventilation, and humidity are some of the main reasons for the appearance of the dust mites.
Therefore, it's pretty clear why mattress frames and platforms are necessary in order to protect your mattress from dust and mites as well as to experience quality sleep. Now, let's get into the best bed frames reviews and discuss them one by one.
Ranks #1 out of 5 Mattresses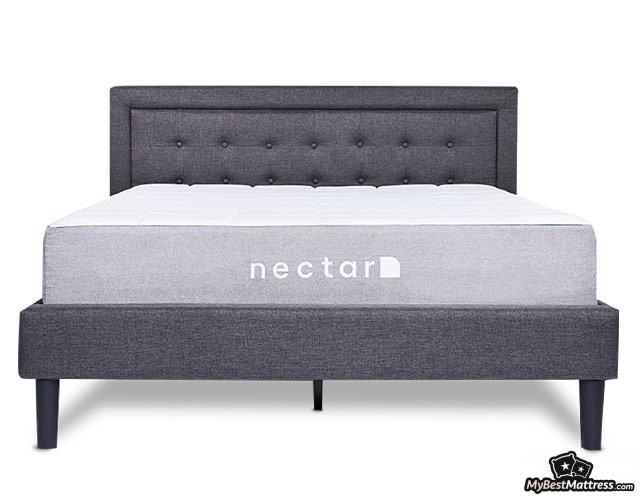 Things we liked:
+ Silky-to-touch headboard
+ Strong construction
+ Fashionable grey and neutral linen colors
+ Amazing price-quality ratio
Things we didn't like:
Nectar offers metal frame with wooden slats and an upholstered, button-tufted headboard that's silky to the touch. The structure itself looks luxurious and elegant, and their 8" tall legs create a perfect height for you to get in and out of bed.
Even though the look is not everything, the best bed frame reviews proved that the Nectar bed frame is genuinely high-quality and durable. This has to do with its robust construction.
If you're worried about setting it up, there's no need, Nectar's frame is super easy to install. Since it comes together with all the necessary tools, you won't have to be worried about anything else.
Nectar's frame has a central support design and can be used with any mattress without a box spring. You can choose from two neutral colors: fashionable grey and neutral linen that create a cozy atmosphere in your bedroom.
Therefore, it's pretty clear why Nectar deserves to be called the best bed frame. But a few aspects are still missing, so let's move further.
How Much Does Nectar Bed Frame Costs?
Nectar offers an amazing price-quality ratio. Even though it's not as cheap as those low-quality bed frames that you can find on Amazon, the quality is what you should be investing in. Take a look at the full pricing and size options:
Note that all prices in this article are provided at the time of writing, so they might slightly vary.
As you can see, prices are adequate for the product that you get. You should also know that the Nectar bed frame comes with a 50-night home trial, 3-year warranty, and even free shipping & returns. Therefore, when purchasing one of the best bed frames in the market, you get it all!
Ranks #2 out of 5 Mattresses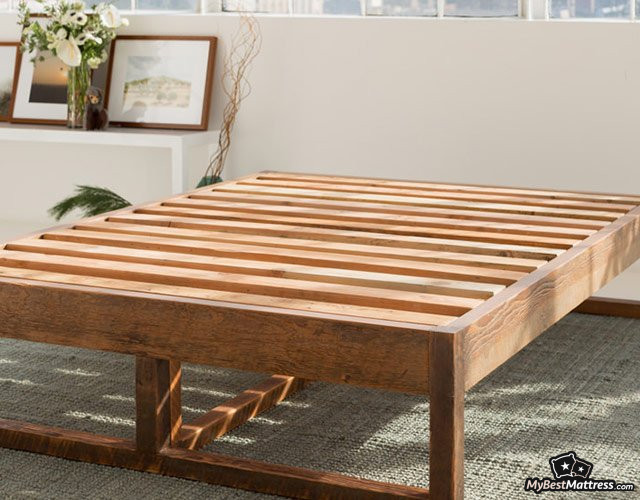 Things we liked:
+ Made from 100% reclaimed wood
+ Sustainable option
+ No MDF or particle board
+ Super simple setup
Things we didn't like:
- No money-back guarantee
- Expensive
Another nomination for the "best bed frames" goes to Avocado. It's made by the leading manufacturers of sustainable furniture from 100% reclaimed wood. They use eco-friendly materials and features environmentally conscious manufacturing.
Avocado's bed frame is minimalistic and modern-looking, and will complement everyone's home. They do not use MDF or particle board and creates enhanced furniture with little scratches.
You'll be able to set up your mattress without worrying about the tools because you won't be needing any. Everything simply locks in together, so it will be super quick as well.
Therefore, if you're looking for greener choice, Avocado offers the best bed frame.
What is the Avocado Eco Wood Bed Frame Pricing?
The only downside of the Avocado bed frame is that it's truly expensive compared to regular options. However, I wouldn't say that it surprised me because natural alternatives always cost more. Take a look:
So, yeah, it does cost you more than a high-quality mattress. However, the price comes with durability and greener alternatives. Thus, it was expected.
Avocado does not provide you with a money-back guarantee for their bed frame unless any manufacturing defects appear. However, you get a 10-year mattress warranty that covers all the details in workmanship. So you're good to go.
Ranks #3 out of 5 Mattresses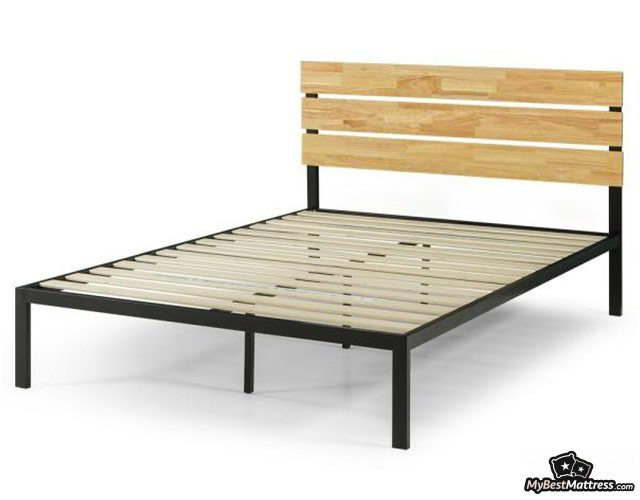 Things we liked:
+ Inexpensive
+ Minimalistic
+ Perfect stability
+ 5-year warranty
Things we didn't like:
- Not for all bedroom styles
Zinus Sonoma is perfect for everyone who's looking for a minimalistic, modern, high-quality bed for the lowest pricing. They prove that a top-tier product doesn't have to cost a fortune.
It features in a low-profile metal frame and a slatted pinewood headboard that's 41.5" height. The wooden slats are less than 2.5" apart from each other which make Zinus great for all mattress types. So, no matter if you prefer memory foam, latex, or a hybrid bed, they all will fit perfectly.
The weight limit of their twin size bed is 250 lbs, the rest of the sizes can hold up to 500 lbs, excluding the mattress. So their bed frame is truly strong and durable.
If you ask what's exceptional about Sonoma and what makes it one of the best bed frames, I would say that it's the fact that it comes with 7 legs. Yes, you read it correctly. Seven legs allow this bed frame to offer perfect stability.
The only drawback is that the Sonoma bed frame is non-upholstered. Based on the best bed frames reviews, some sleepers found it slightly uncomfortable or simply not something they're used to. However, I believe that others appreciate this aspect even more.
How Much Should I Pay to Get Zinus Sonoma?
As I said, Zinus Sonoma is truly inexpensive. Take a look at the prices:
I've told you, right? You can get any-size bed frame for less than $200. I bet you rarely see such prices, especially when it comes together with a 100-night trial, free shipping, and a 5-year warranty.
Ranks #4 out of 5 Mattresses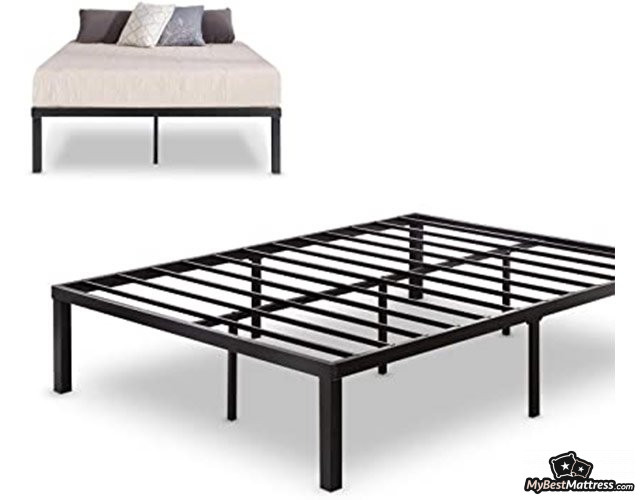 Things we liked:
+ The cheapest alternative
+ Can take when traveling
+ Frame and slats of steel
Things we didn't like:
Another product offered by Zinus - Quick Lock Smart Platform. It's often considered as one of the best platform beds for such low pricing. Frame and slats of steel allow you to experience a stable sleep and know that it will serve you for quite some time.
Let me tell you why this bed frame is so smart. It's easily foldable if you want to move it to another place or take it with you while traveling.
If you prefer a frame with a headboard, you can add it to any of the Zinus SmartBases using the headboard brackets. The footboard, however, cannot be added.
What I personally love about this frame is its style. It has such a simple, minimalistic and clean design that can complement any bedroom without standing out too much. You also get a storage space under your bed frame - put anything up to 13" inches height under it and save some space in your room.
Even though we all have different tastes, Zinus Smart Platform is called one of the best bed frames for a reason.
What is the Pricing of the Zinus Smart Platform?
Sooooo… the price. Once again Zinus surprised me. See for yourself:
Once again, you can purchase any size for less than $200 and additionally get it delivered for free together with a 100-night free trial and a 5-year warranty.
Ranks #5 out of 5 Mattresses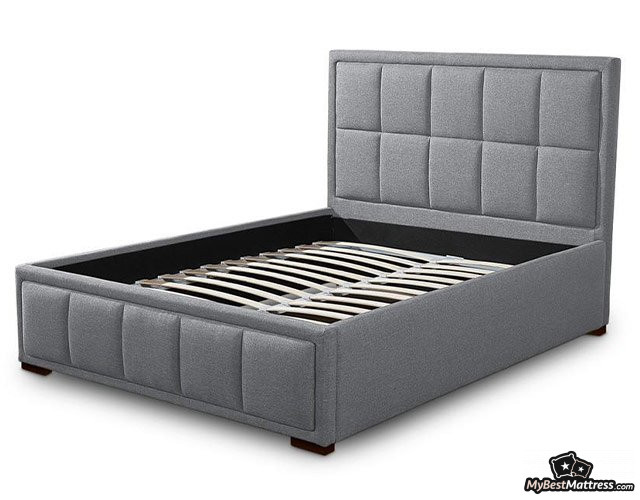 Things we liked:
+ Luxurious
+ Looks well with any color scheme
+ Premium wooden slats
+ No noise
Things we didn't like:
Puffy offers a luxurious bed framethat has premium wooden slats that perfectly support your mattress. It's designed to reduce the noise no matter how much you move throughout the night so that both you and your partner could enjoy uninterrupted sleep.
This bed frame will provide a completely new look to your bedroom. Since it's upholstered with a cool, neutral-grey soft cloth, you won't have to match it to other furniture in your bedroom, it will look great with any color scheme.
Here are the measurements for Puffy's bed frame:
Slats - 12"
Sideboard - 17"
Headboard - 51"
The headboard is so soft to touch and since it's padded, you will be able to sit back and relax without worrying about the aches. Also, the fabric on the Puffy bed frame is of easily-cleanable material, so you'll be able to keep it fresh longer.
Is Puffy Bed Frame Expensive?
It's quite expensive, however, that's the price you could expect from one of the best bed frames in the market, that's as luxurious and durable as provided by Puffy. Here are the prices:
So, you'll need to pay around $1000 to purchase such a luxurious product. If you're afraid to make a commitment before trying it out first, there's no need. You can try Puffy's bed frame for 101-night to see if it's the right option for you and only then make a final decision.
What is more, you get it delivered for free straight to your doorstep and an exceptional lifetime warranty.
That's it, I've already introduced you with the best bed frames. Maybe you've made up your mind by now but if not, I'll help you to decide in the conclusions.
Conclusions
Therefore, everyone should choose a bed frame depending on personal wants, needs, and abilities. If you're looking for the best price-quality ratio, then I suggest Nectar's bed frame - it offers a lower-than-average lifespan, yet manages to maintain superb quality and offers a modern design.
If going green is what you're aiming for, then Avocado bed frame is just the right pick. Even though it's relatively expensive, the frame itself is unique-looking and made of 100% reclaimed wood.
Now, Zinus offers two bed frames, both of them are modern-looking and amazing options for those who value minimalism. They come with the best prices as well. The Zinus Smart Frame is also one of the best platform beds you can find in the market.
The most luxurious option this time was offered by Puffy. The bed frame they're offering will definitely bring out the new look to your bedroom. The neutral grey color design makes sure it goes with every color in your bedroom.
So, that's it. If you know what you like and need, it should be pretty easy to make the right decision and pick one of the 5 best bed frames for yourself.
By the way, since you're looking for a new bed frame, you'll probably be interested in a new mattress as well. If so, check out the list for the most recommended beds. And you can get exceptional discounts for mattresses and bed frames here.
Scientific References

1. Kecklund G, Akerstedt T, Lowden A.: 'Morning work: effects of early rising on sleep and alertness.'
2. Schei MA, Hessen JO, Lund E: 'House-dust mites and mattresses.'
Leave your honest Best Bed Frames review
Leave your genuine opinion & help thousands of people to choose the best mattress. All reviews, either positive or negative, are accepted as long as they're honest. We do not publish biased reviews or spam. So if you want to share your experience, opinion or give advice - the scene is yours!