When it comes to latex being used in the sleep product industry, most people immediately associate it with temperature neutrality and pressure relief. Well… They're not wrong - whether it be a latex mattress, or the best latex mattress topper, cooling and pressure relief capabilities should always accompany latex products.
In this article, I'll briefly tell you about the pros and cons of latex sleeping products, and then move on to introduce and talk about the best latex mattress toppers of the current year. By the end of the list, you should be able to pick the right latex product for yourself, without much difficulty!
Our list will look like this:
Best Latex Mattress Topper: Why Choose a Latex Topper?
As I've mentioned in the introduction, the best latex mattress toppers are going to have two things in common - superior temperature neutrality and amazing pressure relief. Well, OK, they will have more things in common, but these two are the core foundation that every top-tier, natural latex mattress should posses.
As far as temperature neutrality is concerned, customer latex mattress topper reviews note that the material is good at rejecting and pushing heat away from itself. If you sleep on a latex bed or topper, you should notice that it doesn't warm up as easily as, say, a foam product would.
The true "win" of the best latex mattress toppers, however, lies in their pressure relief and support capabilities. Truth be told, this is actually something that latex products do share with foam ones, in a way. Foam, however, is prone to sinking - if your body sinks down too much into the mattress, that's going to break your proper spine alignment, and cause a whole lot of pains.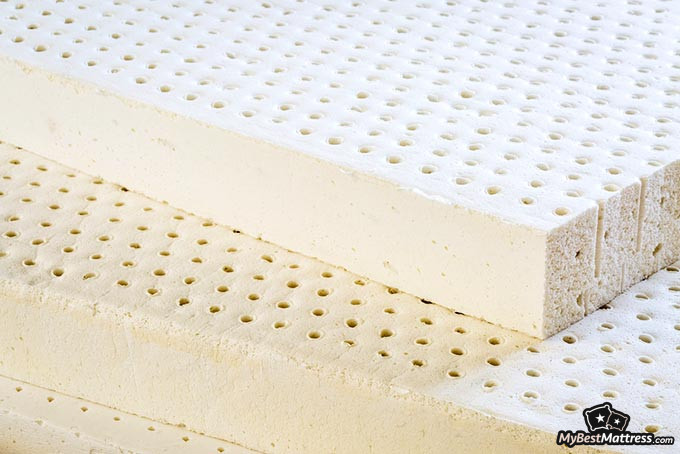 This is where latex (or a latex-foam hybrid) becomes the superior alternative. This material isn't as prone to sinking as foam is, but it still provides just enough support to keep your body aligned to the bed, and alleviate any and all painful spots.
As far as the best latex mattress toppers go, these products do have their own, specific benefits, too.
Latex toppers are usually great for anyone who has just bought a brand new bed, is in love with it, yet there's still that one, single feature that's lacking… More often than not, this tends to be responsiveness or temperature neutrality. If this is the case for you, worry not - you don't need to search for your receipts and return policies - the right kind of a topper will help you out.
That being said, it's also possible that the time has come for you to change your bed, altogether. If it creeks, smells and has holes going all the way from the top of the mattress to the bottom, you best forget about topper and go look for a new and improved mattress!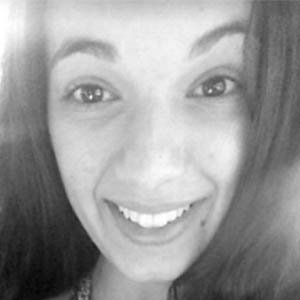 Brittany Ferri
Occupational Therapist, CPRP
How can various sleep accessories help us sleep better?
Face masks can help signal our brain that it's time for sleep. White noise machines and other "sound spas" that create ambient sounds or instrumental music help us relax, unwind, and drift off to sleep. Weighted blankets are intended to provide deep pressure over a large surface area. In simpler terms: the type of pressure that weighted blankets offer is calming, regulating, and soothing. This means it encourages short-term relief from anxiety, which often prevents people from getting to sleep. Lastly, essential oils such as lavender, chamomile, and eucalyptus can also offer short-term reprieve from anxiety, which can offer improved sleep.
Ranks #1 out of 5 Mattresses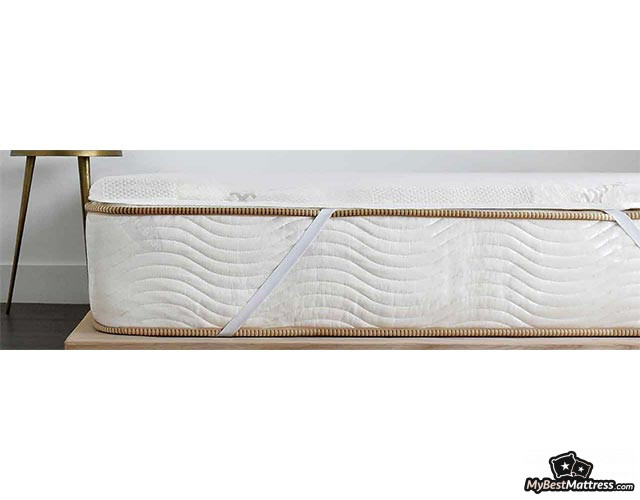 Things we liked:
+ Hypoallergenic
+ Made from latex
+ Completely organic
Things we didn't like:
- Questionable durability
As might already know, Saatva is one of the major companies that are currently dominating the sleep product market. The brand offers amazing innerspring mattresses, some top-tier pillows and - you've guessed it - some of the best latex mattress toppers around.
Among the many different and amazing features that the Saatva topper has, probably the most notable one would have to be that it's a product that's going to suit most (if not all) of the different types of sleepers out there.
If you're not aware, there are three main sleeping positions that the majority of people fall into - side, back and stomach. Most of the time, these positions are going to require different product features, at least as far as sleeping comfort is concerned.
That said, Saatva has managed to create a topper that does seemingly suit all three of the above-mentioned sleeping positions. Saatva's customer best latex mattress topper reviews point out that the product is very responsive, and offers the perfect level of firmness and comfort.
Research shows that your sleep quality and sleep duration are directly linked to symptoms of insomnia and other sleeping disorders[1]. You might say - well… Isn't that completely obvious? To that I answer - to an extent. You see, while most people understand that sleeplessness can directly correlate with insomnia, they also don't properly evaluate how much of those issues can be mitigated by a good mattress.
Mattress toppers fall into the same group. One of the more underrated features of a proper mattress topper is temperature neutrality - the Saatva Talalay natural latex mattress topper has got you covered there, too. Customers report that the product sleeps exceptionally cool.
What is the Price of the Saatva Mattress Topper?
Saatva's topper comes in three different options - graphite, foam and latex. Thankfully, they are all priced the same - from $195 up to $395, depending on the size of the topper in question.
Truth be told, that's one of the better pricing options you'll come across! Free shipping and a 120-night trial are also included in the price.
Ranks #2 out of 5 Mattresses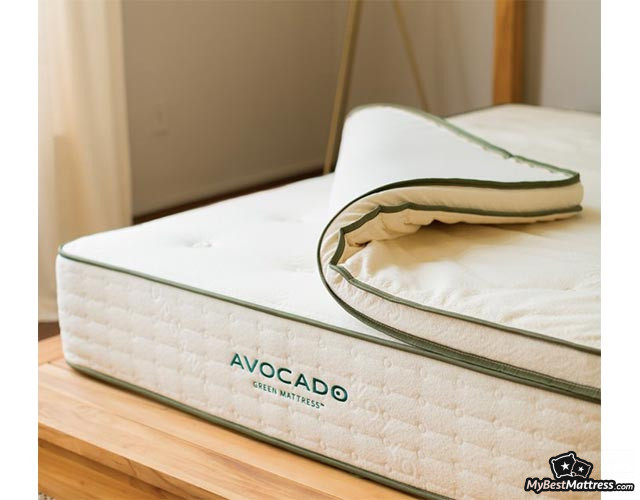 Things we liked:
+ Sleeps cool
+ Eco-friendly
+ 10-year warranty
Things we didn't like:
One of the two mattress industry giants in this list (Saatva being the other one), Avocado offers customers a 100% organic, eco-friendly mattress topper.
Avocado's topper is made out of Dunlop latex, with organic wool mixed into the construction. The topper also comes equipped with a cotton cover - if you know anything about sleep-oriented product materials, you can probably immediately tell that Avocado's topper is going to be one of the coolest-sleeping, most breathable products on this list.
In the same way as Saatva, Avocado's customer best latex mattress topper reviews emphasize how the product will suit most of the different types of sleepers out there. Apart from offering amazing moldability and responsiveness features, the main reason for this is because Avocado's topper comes in two different firmness options.
What is the Price of the Avocado Mattress Topper?
Allow me to be frank - the Avocado natural latex mattress topper isn't the most affordable product you'll come across. However, there's a redeeming quality - check it out:
The Avocado topper costs anywhere from $349 up to $549. However, it comes with an astonishing 10-year warranty! This warranty period is longer than those that you would get with many actual mattresses out there! It just goes to show that, while Avocado's topper might be a bigger investment at first, it's going to serve you for a very long time to come.
Ranks #3 out of 5 Mattresses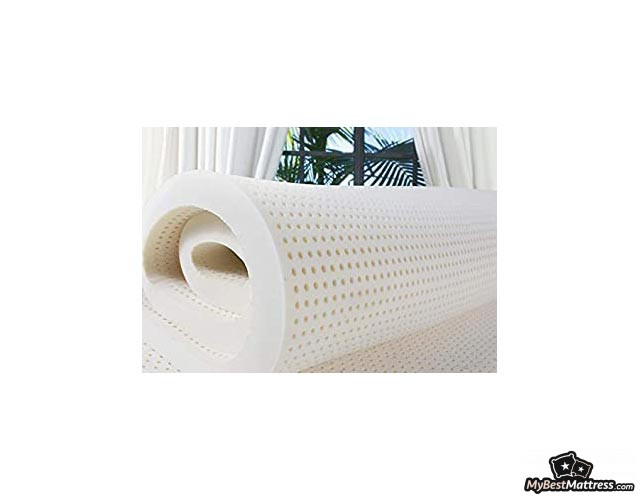 Things we liked:
+ Organic latex
+ Great for pressure point relief
Things we didn't like:
- Might sleep a bit warm for some
PlushBeds natural latex toppers are widely considered to be some of the best latex mattress toppers mostly because of one, single reason - these products provide top-tier pressure relief and body support.
The topper comes in a few different firmness options - this ensures that whichever position it is that you mostly sleep in, you should be able to find a topper option that will suit your own, personal preferences.
No matter which firmness option it is that you choose to go with, however, you can always expect the PlushBeds latex topper to be designed and built in a way that provides the most optimal pressure relief capabilities. The topper distributes your bodyweight all throughout its surface, thus eliminating painful spots on your body.
What is the Price of the Plushbeds Mattress Topper?
Same as some other toppers on this "best latex mattress topper" list (read: Avocado), the PlushBeds product isn't the cheapest option you can go with. It will cost you anywhere from $319 up to $704, depending on the size of the topper that you choose to go with. That said, you can expect free shipping, which is always nice!
Ranks #4 out of 5 Mattresses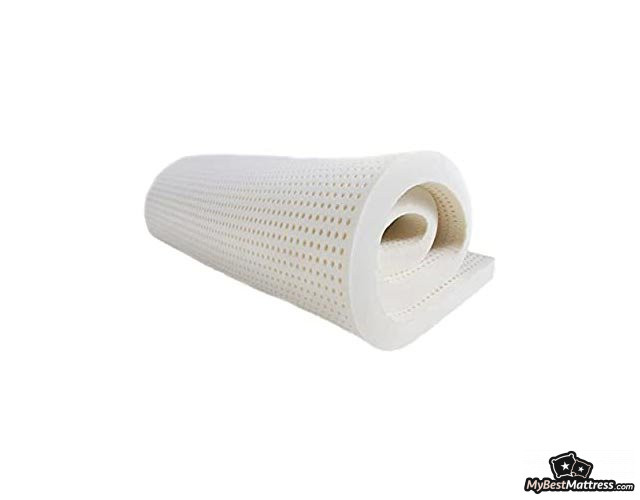 Things we liked:
+ Natural latex
+ Sleeps cool
+ Great for relieving pressure
Things we didn't like:
- Questionable durability
One of the less-talked-about features of the best latex mattress toppers is motion isolation. Well, sort of - it's still considered one of the main features that a proper topper (any type of topper) should have, but in all honesty, it does cater to a specific group of people.
What is that group? That would be couples, or other people who sleep in pairs (or more).
You see, motion isolation is going to be something that you'll truly start to appreciate only after you've slept with another person who has a tendency to toss and turn around during the night. If your mattress (or topper) isn't good at isolating that motion, well… You're in for one sleepless night, then.
Needless to say, a few nights like that, and you'll start feeling the effects in your daily life. There's research out there that shows the direct correlation between short sleep duration and mortality[2] - while that may sound grim, it's no news for anyone who knows the value of proper rest.
Apart from top-tier motion isolation, however, Latex for Less is also considered by many customers to be one of the best latex mattress toppers for side sleepers. The product is designed to alleviate pressure rather well, and should help side sleepers eliminate those painful spots at their hips and shoulders.
What is the Price of the Latex for Less Mattress Topper?
The Latex for Less mattress topper will cost you anywhere from $299 up to $589. The brand also provides customers with a rather generous 5-year warranty, and ships their products free within the US.
Ranks #5 out of 5 Mattresses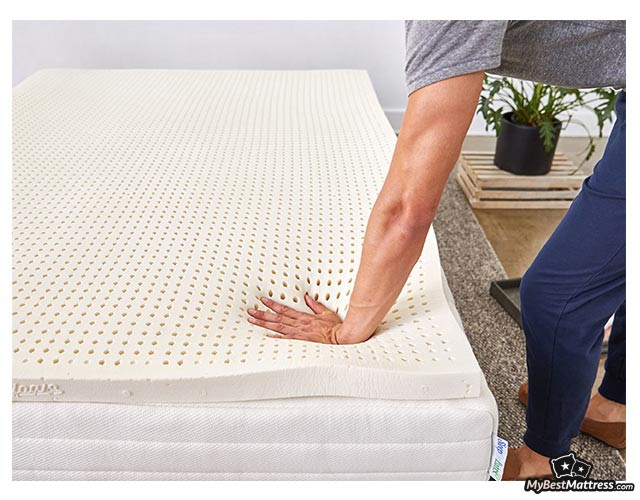 Things we liked:
+ Natural latex
+ Cool to sleep on
+ Great support
Things we didn't like:
- Questionable durability
Sleep on Latex is a brand that you'll likely encounter in many of the customer latex topper lists and reviews. The brand sells completely natural latex mattress toppers that are surprisingly bouncy - something that isn't necessarily always associated with latex products.
The really surprising thing about Sleep on Latex's products, however, is that they still seem to provide customers with some pretty good supportive features.
Furthermore, the great thing about this product is that you can fully customize it to fit your own, personal preferences - upon ordering, you can choose your preferred size, thickness and even firmness of the product.
What is the Price of the Sleep on Latex Mattress Topper?
In addition to being a fully-customizable, bouncy and supportive mattress topper, many customers point out that the price of this product is one that might blow your mind.
Depending on your preferences, the topper will cost you anywhere from $69 to $339. In addition to that, you may also choose to add a cover to your purchase, for $79.
As you can see for yourself, the lower end of the Sleep on Latex's pricing range is, well… Really low. That said, do keep in mind that this is the price of a Twin-sized, 1" thick and soft topper. If you're looking for the best latex mattress topper that would be bigger, thicker and firmer, the prices will increase, accordingly.
Conclusions
With time, latex products - whether it be the best latex mattress toppers, best latex mattresses, or else - are becoming more and more popular in the sleep-oriented industry. An increasing number of people are starting to recognize the benefits of latex, and are now comparing it to memory foam and innerspring products.
As far as toppers go, do make sure to really figure out if a latex mattress topper is really the thing that you need. The alternative to that, of course, would be a brand new mattress, altogether - since some latex toppers cost the same amount as a decent mattress, this is definitely something worth considering.
Also, don't forget - in order to maximize your sleep quality and be guaranteed proper sleeping conditions, you'll need proper pillows and blankets, too. While the best mattress and latex topper are a great start, there's still room for improvement.
All in all, if you do like your bed, but also want to sleep cooler and to expand on the "pressure relief" part, then the best latex mattress topper might, indeed, be the perfect product for you to try out. With that said, I hope that this list was useful to you, and wish you the best of luck in finding the best sleeping products for yourself. Cheers, and until next time!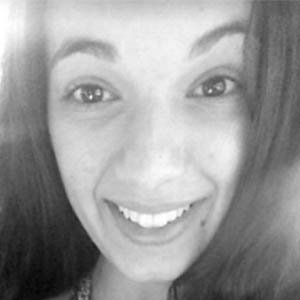 Brittany Ferri
Occupational Therapist, CPRP
Contributed By Brittany Ferri, Occupational Therapist, CPRP
As an occupational therapist, Brittany takes a client-centered approach to look at a person's environment, interactions, habits, and function to determine the best way to improve their health statu...
Read Full Bio...
Scientific References
Contributed by Brittany Ferri, Occupational Therapist, CPRP

1. Shih-Chieh Lin, MS, Chien-An Sun, ScD, San-Lin You, PhD, et al.: 'The Link of Self-Reported Insomnia Symptoms and Sleep Duration with Metabolic Syndrome: A Chinese Population-Based Study'

2. R. Nisha Aurora, MD, MHS, Ji Soo Kim, BA, Ciprian Crainiceanu, PhD, et al.: 'Habitual Sleep Duration and All-Cause Mortality in a General Community Sample'



Leave your honest Best Latex Mattress Topper review
Leave your genuine opinion & help thousands of people to choose the best mattress. All reviews, either positive or negative, are accepted as long as they're honest. We do not publish biased reviews or spam. So if you want to share your experience, opinion or give advice - the scene is yours!