Whether you're looking for something to keep you warm and cozy during the cold winter nights, or could cool you down in the summer, a duvet can be an amazing option.
Just like duvets, there's also a wide range of covers to pick from. However, it doesn't make your decision easier, only complicates it even more. For this reason, I've selected only the best duvet covers that sleepers evaluated as the most impressive options. Here they are:
So, are you looking for cool duvet covers? Soft duvet covers? Or maybe linen? Organic alternative? No matter what your personal preferences are, I'll provide you with the right options.
But before moving straight to the best duvet covers' reviews, there are a few aspects that you should be aware of to make the right decision.
Here is The Best Saatva Offer I Found:
UP TO $500 OFF
Limited-time Saatva Sale
We're sharing a limited-time Saatva mattress discount with our readers! Grab this deal & enjoy your new mattress with huge discounts.
Expiration date: 12/12/2023
4,042 People Used
Only 83 Left
Best Duvet Covers: Introduction
Let's begin with an introduction to duvets. In the United States, people also call them comforters but they're actually not the same thing, so, don't let yourself be mistaken.
A comforter is typically filled with synthetic fiber filler that's evenly distributed and sewn together. It's not only used to keep you warm and cozy but people tend to choose them for decorative purposes. Comforters usually come together with a built-in cover, and you can wash them in the machine.
A duvet, on the other hand, is usually filled with feathers, wool, down, or a synthetic alternative. It looks like a soft, flat bag. Differently from comforters, duvets require protectors. Since they tend to be quite expensive and are way more difficult to clean, a cover helps to maintain freshness. Most of them are easy to remove, so, no additional effort is needed.
Now, moving to covers, it's important to choose the right material for your protector. Most of the recommended options come in cotton, linen, sateen, or percale. However, cotton stays the most popular among them and still remains of great economic importance[1].
When it comes to the best duvet covers, I always recommend naturally-derived materials as they're known for thermoregulation properties.
Since each of the materials feels unique to your skin, you should pick the option based on your personal preferences. So, let's move to the list of the best duvet covers, and find the right choice.
Ranks #1 out of 7 Mattresses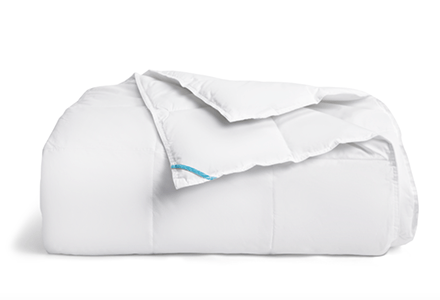 Things we liked:
+ Affordable
+ Multiple sizing options available
+ 300 thread-count
+ Sleeps cool
Things we didn't like:
- The return policy could be longer
Nectar is a brand that's been known for offering its customer some very affordable, yet still higher-quality sleep-related products. The duvet sold by the brand is sometimes presented as one of the best examples of this aspect.
The Nectar duvet features 300 thread-count, and is made from 100% cotton with a microfiber fill. Here, you can quickly determine two separate things.
First of all, the product is going to be durable, and should last you for a long time to come. This is further backed-up by the 1-year warranty that comes with the duvet.
Furthermore, the cotton and microfiber fill combination is going to guarantee that you sleep cool in the summer months, and are cozy during the cold season.
The Nectar duvet also comes in all of the main different sizing options. Meaning, no matter what size of a mattress it is that you sleep on, you should have no problem fitting your duvet to its measurements, too.
Finally, the Nectar duvet does not need any covers - that's why it's on this best duvet cover list, in the first place! The duvet is made in a way that does not require it to be covered for protection.
What is the Price of the Nectar Duvet?
The Nectar duvet pricing options are:
A very affordable duvet alternative!
Ranks #2 out of 7 Mattresses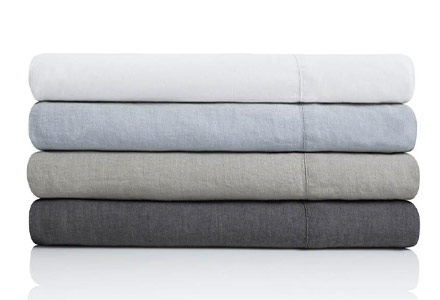 Things we liked:
+ Made from French linen
+ Top-tier quality
+ Very durable
+ 4 different colours available
Things we didn't like:
If you're looking for quality duvet covers, and one of your main criteria is for the product to be durable, you should look no further than PlushBeds.
The company in question is known for providing its customers some high-quality sleep-related products, in general. Their French Linen Duvet Covers aren't an exception in this regard, either.
As the name itself implies, the covers are made from 100% French linen. What this should tell you is that the covers are going to be of some exceptional quality, and are also going to hold up to the tests of time and wear pretty well.
Furthermore, the material also ensures that the duvet covers are comfortable and nice to the touch. On top of that, you can also be sure that PlushBeds' duvet covers will be an amazing addition to your bedroom, general aesthetics-wise - they look rather fancy and exquisite!
What is the Price of the PlushBeds Duvet Covers?
The PlushBeds duvet covers come in two different sizing options, but the prices for both of them are the same, as of writing this article on the best duvet covers. Originally, the Queen- and King-sized PlushBeds French linen duvet covers cost $749. With a discount, though, you might be able to grab them for $562!
While these covers are surely among the more-expensive options, do keep in mind that most customer reviews will tell you that the quality is quite worth it! They also come in four different colors - charcoal, flax, smoke, and white.
Ranks #3 out of 7 Mattresses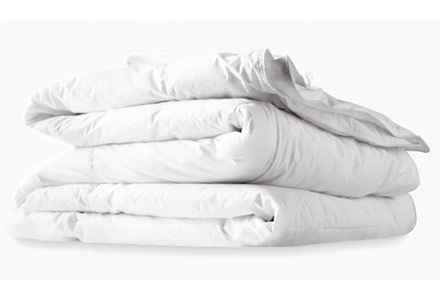 Things we liked:
+ 2 options for 2 different seasons
+ Affordable
+ Hypoallergenic
+ 1-year warranty
Things we didn't like:
- Some customers note that the lightweight duvet might still sleep warm
If you only have a single duvet, and live in a region where the cold and warm seasons are noticeably different, temperature-wise, you can probably understand why two separate duvets or comforters are preferable.
Well, Purple's got you covered - literally.
One of the most popular mattress companies in the US, Purple offers its customers two different types of duvets - one for the colder season, and one for the warmer. The warmer duvet is a heavyweight option filled with down alternative, so it's bound to keep you warm in the winter, while the cooler-sleeping duvet is lightweight.
The duvet that Purple offers is also hypoallergenic. What this means is that you don't need to worry about developing some allergic reactions to the product - it's completely allergen-free.
The duvet also comes with a 1-year warranty. Throughout the year, you should probably be able to see that the product is durable and well-made, and if something were to happen, you can always rely on the aforementioned warranty!
Finally, you might have also noticed that Purple's offering its customers a duvet, and not some duvet covers. That's because the Purple duvet itself does not require any covers, thanks to the way that it's manufactured and made.
What is the Price of the Purple Duvet?
The Purple duvet has these pricing and sizing options:
Lightweight:
All-season:
A very affordable duvet option!

Did you know?
Ranks #4 out of 7 Mattresses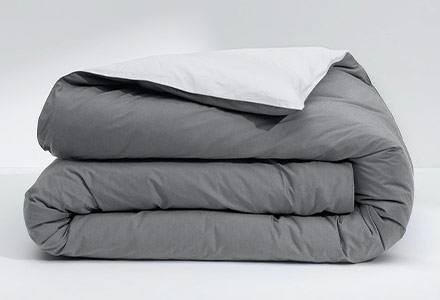 Things we liked:
+ Made of 100% Supima® cotton
+ Multiple colors
+ OEKO-TEX® certified for safety
Things we didn't like:
Casper offers one of the best cool duvet covers. It's made of 100% Supima® cotton that's OEKO-TEX® certified for safety. The 400 thread count percale weave makes sure the cover is super soft and breathable. You get to pick from three size options and multiple colors that you'll be able to match with your bedroom design.
What's important to remember is that higher thread count doesn't necessarily mean higher quality. More threads could actually mean that the sheets are heavier and less breathable.
Now, Casper Cool Supima Duvet is the perfect option for those who prefer sleeping cool. I'd say the best option is to use such cover throughout the summer when you need extra breathability and freshness.
Now, what's so special about it that Supima deserves to be called the best duvet cover? Supima is known for its endurance and superior comfort. It's even compared to Egyptian cotton that's finer, softer and lasts longer.
You should also remember that cover is not the only thing that influences how cool you sleep, mattress plays the hugest role as well. So, if you're willing to invest in the high-quality product, you can check out the best mattresses here, or take a look into the list of the beds that are known for the best temperature neutrality properties.
What is Casper Cool Supima Duvet Pricing?
I noticed that many people ask why bets duvet covers are so expensive. The answer is quite simple. They're breathable, made of quality, long-lasting, easy-care, and wrinkle-resistant materials. So, you pay for the quality you get.
Moving to the pricing of one of the best duvet covers - Casper Cool Supima Duvet, the pricing starts from $90 USD for Twin-Twin XL size and goes up to $140 USD for King/Cal King cover. Such price is offered at the moment of writing this "best duvet covers" article, so, remember that they might be slightly different by the time you'll be reading this.
By the way, you get a 100-night free-trial together with a 1-year limited warranty. Sice Casper believes in the quality of their products, they're not afraid to provide you with such an option.
Note that Casper offers various discounts and promotions regularly. We have manually selected all the best deals for you, and now you can easily find them all in one place - here.
Ranks #5 out of 7 Mattresses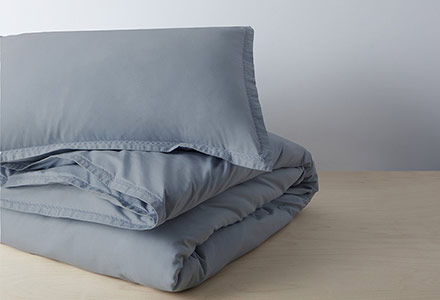 Things we liked:
+ Made of 100% organic cotton
+ 300 thread count percale
+ Super soft finnish
Things we didn't like:
Allswell offers one of the best soft duvet covers. It's made of 100% organic cotton, features in 300 thread count percale and offers super soft finish. Allswell Organic Duvet Cover offers exceptional luxury feeling as if sleeping on hotel bedding.
What is more, Allswell's Duvet Cover slightly wrinkles, however, it's all due to the fact that no chemical treatments were used. Also, you can simply wash it in the machine using cold temperatures while easily maintaining freshness. And, unlike other covers, it gets softer after each wash, so, you won't have to be worried about ruining the material.
What is Allswell Organic Garment Wash Percale Duvet Set Pricing?
Allswell's set pricing starts from $118 USD, which is definitely lower-than-average price range considering the fact that you get a full set. By the way, you get to try their products for 30 days completely risk-free. If for some reason Allswell's soft duvet covers are not what you expected, you can easily return them.
Therefore, it once again proves that you don't have to spend a fortune to purchase luxurious organic soft duvet covers.
Ranks #6 out of 7 Mattresses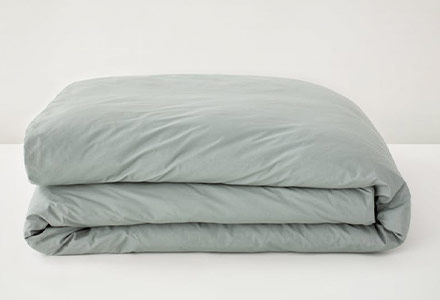 Things we liked:
+ Easy zipper closure
+ 100% cotton
+ Gets softer over time
Things we didn't like:
Just like Casper, Tuft & Needle is known for high-quality mattresses and bedding for lower-than-average price-range. Their percale duvet cover is great for those who hate to sleep hot - after all, no one likes to wake up from excessive sweating. Moreover, you get to pick from five different colors and three size options.
The Tuft & Needles duvet cover is made of 100% cotton sewn in a percale weave. This material is unique as it will get even softer throughout the time. The cover is slightly oversized to make it easier for you to remove & put it back on. Easy zipper closure also ensures a quick and simple cleaning process.
Even though some duvet covers are designed using certain chemicals that protect from them from wrinkling, Tuft & Needle cover comes in an all-natural finish. It means that some wrinkling will occur naturally.
Wrinkling may not be the most eye-appealing, however, ask yourself what's more important - safe materials or creasing? That's for you to decide, however, I'd always pick safer alternatives.
What is more, since T&N is considered one of the best duvet covers, it's clear that the majority of sleepers choose STANDARD 100 by OEKO-TEX® certified options rather than products that are using chemicals and make it look more attractive.
What is Tuft & Needle Percale Duvet Cover Pricing?
Tuft & Needle is in the "best duvet covers" list due to the amazing price-quality ratio. Without further ado, take a look into the T&N duvet cover pricing:
Note that this price list was provided when writing this "best duvet covers" article, so, it might be slightly different by the time you're reading it.
As you can see, high-quality products don't have to cost a fortune - Tuft and Needle is a great example. Additionally, you get a 100-night trial and 2-year limited warranty. So, feel free to try it, there are zero risks.
Ranks #7 out of 7 Mattresses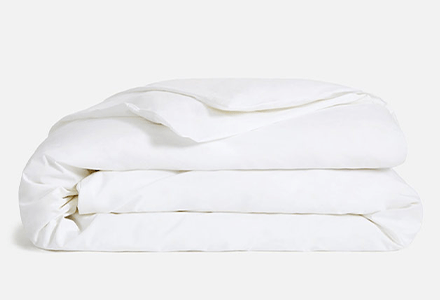 Things we liked:
+ 9 essential colors
+ Made of 100% long-staple cotton
+ Luxurious
Things we didn't like:
- Buttons instead of zipper
Brooklinen Duvet Cover is made of 100% long-staple cotton and is perfect for hot sleepers. As you've noticed all the best duvet covers feature in exceptional breathability. So, you should consider this aspect as a must when picking the best cover for yourself.
Moving to Brooklinen cover, it offers 9 essential and a few limited edition colors for you to pick from. The majority of the sleepers who decided to go with this product, claim that every night they feel as if sleeping in a hotel bedding. Who wouldn't want that?
The exceptional design featured 270 thread count is not only breathable and cool you down during summer but also offers warming qualities for when it gets cold. Temperature and insomnia correlate[2] with one another, so, to make sure you're getting enough sleep, cooling and warming properties are necessary.
What I didn't like about Brooklinen Classic Duvet Cover is that there's no zipper that allows us to remove and clean the cover without extra effort. Instead, Brooklinen is using buttons. Even though they're bigger and easier to undone, I still find it time-consuming.
What is Brooklinen Classic Duvet Cover Pricing?
Brooklinen does not feature in low pricing, however, it manages to maintain a great price-quality ratio that always comes first. Here's the full list for size and price options:
When purchasing Brooklinen products, including best duvet covers, you get a full satisfaction guarantee - return or exchange them within 365 days in case any flaws appear.
Here is The Best Saatva Offer I Found:
UP TO $500 OFF
Limited-time Saatva Sale
We're sharing a limited-time Saatva mattress discount with our readers! Grab this deal & enjoy your new mattress with huge discounts.
Expiration date: 12/12/2023
4,042 People Used
Only 83 Left
Conclusions
Therefore, there are various duvet protectors, however, as you've seen already, the most recommended products included cotton and linen duvet covers.
This has to do with the qualities and durability of the materials. Both linen and cotton will keep you warm when it's cold but will also provide you with breathability and cooling qualities when your temperature will rise too high.
As for the best duvet covers, my recommendation would be to go with Casper or T&N covers. Most sleepers found them super soft, plush, breathable and durable. So, if these qualities are important to you, both Casper and T&N will be a great option.
By the way, if you hate sleeping hot, cool duvet covers alone won't make you comfortable. You should also take a look into the best cooling mattresses and toppers for ultimate comfort.
I hope this article was helpful and you managed to find the right product for your personal needs.
---
Other Less Favoured Mattresses in This Category
Here are other mattresses related to the category but not as favoured by MyBestMattress readers yet. In my personal opinion, today there are much more optimal mattresses in the list with the higher rating that I'd recommend for the same price range or less.
Bedsure Linen/Cotton Duvet Set - Best Price-Quality Ratio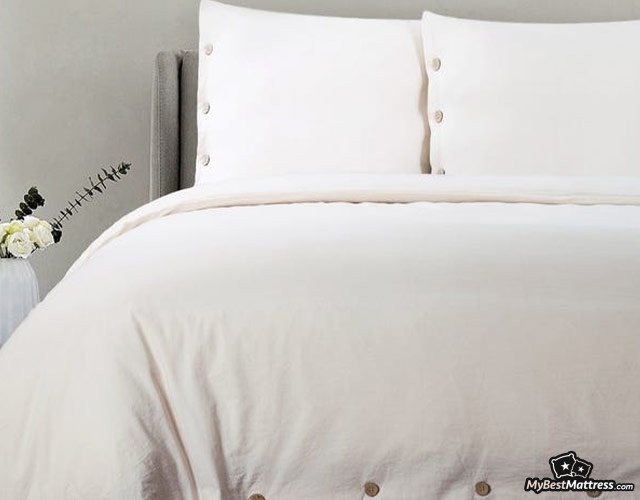 Things we liked:
+ Super breathable
+ Guards from dirt and dust
+ Low pricing
Things we didn't like:
Differently from the majority of other best duvet covers, Bedsure uses linen and cotton mixture to provide you with the most breathable, soft and smooth cover.
You get to pick from three sizes and colors. While the options are limited, Bedsure offers neutral colors that will look great in different interiors.
Bedsure Duvet cover guards your duvet from dust and dirt, and also ensures longevity. Even though I don't love the idea that they're using buttons instead of a zipper, the provider claims that it features strong durability.
Now, Bedsure encourages you to use duvet together with cover to maintain the warmth while ensuring breathability, however, when it's truly hot, you can use only duvet cover - linen and cotton mixture is perfect for hot nights.
What is Bedsure Linen/Cotton Duvet Cover Set Pricing?
Let me start by saying that the price can change everything. So, even though sleepers didn't evaluate Bedsure duvet cover as the most worthy, when comparing price and quality ratio, it should be considered as the best duvet cover of them all. Take a look:
Twin - $49.99 USD
Full/Queen - $59.99 USD
King - $68.99 USD
As you can see, at the moment of writing this "best duvet cover" article, the entire Bedsure's linen/cotton duvet set costs less than $70 USD. Even though prices can slightly vary, it would be challenging to find such a soothing product for similar pricing.
Bedsure also offers a 30-day risk-free trial for their best linen duvet covers and other products, so that you could try them out completely risk-free.
Scientific References
1. Rathore KS, Campbell LM, Sherwood S: 'Cotton (Gossypium hirsutum L.).'
2. Lack LC, Gradisar M, Van Someren EJ: 'The relationship between insomnia and body temperatures.'
Leave your honest Best Duvet Covers review
Leave your genuine opinion & help thousands of people to choose the best mattress. All reviews, either positive or negative, are accepted as long as they're honest. We do not publish biased reviews or spam. So if you want to share your experience, opinion or give advice - the scene is yours!