Hybrid mattresses are often seen as the "best of both worlds" options - people believe that these products combine all of the strengths of, say, innerspring and memory foam or latex beds, and come out with a real "keeper" of a mattress. Is that true? Well, that's what we'll try to find out in this "Best Hybrid Mattress 2020" review.
Before we get into the actual list, we'll talk about hybrid mattresses, in general. I'll tell you the pros and the cons of these products, what they're good for, and how you should find the top-rated hybrid mattresses out there.
The list of the best hybrid mattresses will look like this:
Best Hybrid Mattress: The Good, the Bad and the Why
So, let's begin by addressing the elephant in the room - why would anyone go out of their way to look for the best hybrid mattress out there?
Well, for starters, hybrid mattresses are truly able to combine some of the best features of, for example, innerspring and foam products. However, there are a few catches involved.
It's rather difficult to get a good mix of materials and thus avoid any and all possible cons of such a mixture. While hybrids really do have the potential to exceed in areas in which simple, one-material-based mattresses cannot, they might also screw things up and end up as the Frankensteins of the mattress industry.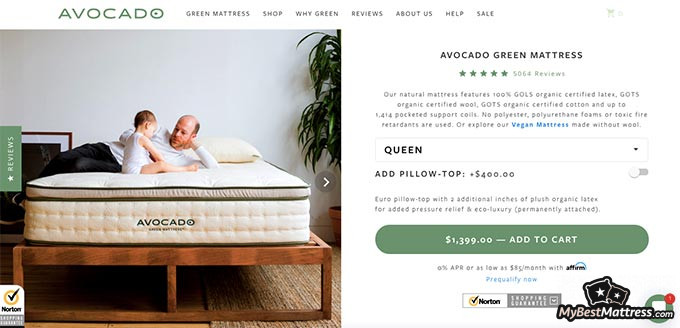 Hybrid mattresses also usually utilize what are known as "pocketed coils". These coils help the mattress to keep sturdy edges, manage some of that bounciness and find the perfect balance in firmness and temperature control. All of this is important to anyone who wants to get enough good night's worth of sleep[1].
On the other hand, latex and memory foam serve the purpose of keeping motion isolated while you sleep and aligning your spine on the mattress, in order to alleviate any and all back pain that you might have.
So, those are some of the more notable features that hybrid mattresses are known for. Now, having said all of that, it's probably safe to assume that the mattress providers in this "Best Hybrid Mattress 2020" list are the top-dogs of the industry, and come well-equipped and prepared to serve you the best products around.
Ranks #1 out of 7 Mattresses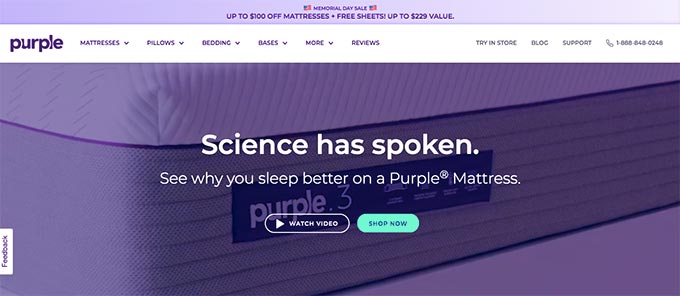 Things we liked:
+ Really good temperature neutrality
+ Firm, but not too much
+ Great motion isolation
Things we didn't like:
- Expensive
- Not the best edge support
The actual Purple mattress review on our site focuses on the older version of the Purple mattress, which is a foam-based product. Honestly, I'd have to say that it's one of the best mattresses that I've ever reviewed! Today, however, we'll be talking about the New Purple hybrid mattresses.
The New Purple series lives up to the hype and surpasses it, no questions asked - customers that have purchased these hybrid mattresses seem to enjoy it a lot!
The new mattresses, first and foremost, are amazing at keeping you cool at night. These beds actually have some of the best temperature neutrality features in the industry - this is thanks to the special technology that the company uses in order to keep the sleeper cool and comfortable throughout the night.
The hybrid mattresses have also managed to get the combination of bounciness and motion isolation pretty well - a rare sight to see, even as far as the best hybrid mattresses go! While you'll be able to sleep soundly on the mattress, it will also be very responsive when you need it for… other stuff.
What is the New Purple Mattress Price?
The pricing options for the New Purple are, as follows:
As you can probably see for yourself, the prices are indeed on the higher side of the spectrum. However, there's almost a universal agreement among Purple's customers that the mattresses are, indeed, worth the money.
$193 Savings on Purple
Purple Daylight Saving Sale
You cannot miss this Purple Daylight Saving Sale. Save up to $193 in FREE Puprle gifts now & enjoy the sweetest sleep ever!
Expiration date: 31/05/2020
935 People Used
Only 28 Left
Ranks #2 out of 7 Mattresses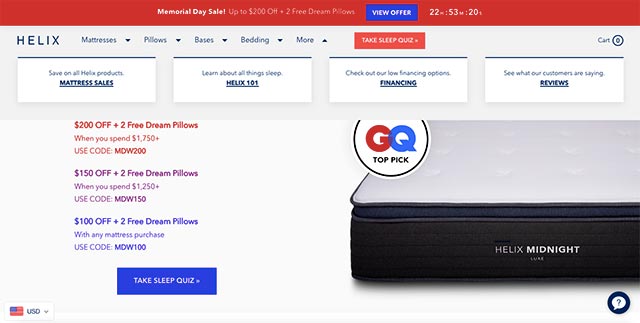 Things we liked:
+ Different levels of firmness
+ Responsive and bouncy
+ Good motion isolation
Things we didn't like:
- Somewhat noisy
- Some off-gassing involved
Helix is a bit of a unique entry on this list. How so? Well, the company offers customers 6 different base hybrid models to choose from.
All of the models are arranged according to their firmness. This means that, whichever type of a sleeper you are, you will always be able to choose a Helix model that will suit you, at least firmness-wise.
Helix mattresses isolate motion pretty well, and are good at conforming to your body (especially the softer models). The only noticeable issues that customers might have with Helix as the contender for the spot of the "best hybrid mattress" are off-gassing and slight noisiness. Still, these issues shouldn't really break the deal for you.
What is the Helix Mattress Price?
All of the Helix models are priced the same:
All of the Helix models cost the same - you don't need to worry about one mattress being more expensive than the other.
Ranks #3 out of 7 Mattresses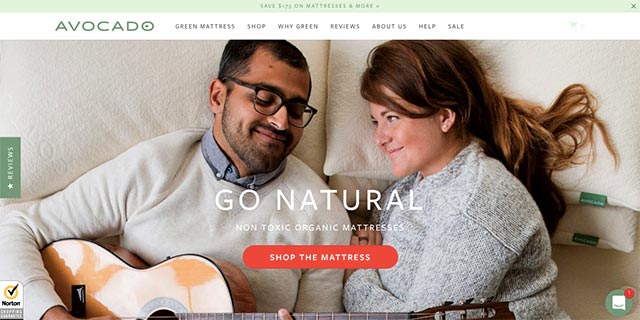 Things we liked:
+ Sleeps cool
+ Good for back and side sleepers
+ Durable
Things we didn't like:
- Not very responsive
- Lacks motion isolation
Let's continue this list with a great contender for the spot of the best hybrid mattress for side sleepers - Avocado Green.
Avocado is a natural mattress made out of organic latex and some pocketed coils. This type of design has some very notable benefits worth talking about, so let's just get to it.
First of all, Avocado is a very durable mattress. When you purchase a new bed, you should already have an ETA in your head on when the mattress will start wearing down and showing signs of age. For most mattresses, that number is around 5 years.
But don't forget - we're looking for the best hybrid mattress 2020! That means that all of the contenders on this list have to possess some exceptional qualities to become the top-rated hybrid mattress. That said, you can expect Avocado Green to serve you much longer than the standard 5-year period - if you take care of it, maybe even double that!
Latex isn't really all that well-known for having strong edge support. It's usually significantly better than that of memory foam, but it might still often leave a lot to be desired. Thanks to Avocado's pocketed coil design, however, the mattress has some amazing edge support!
Now, out of all the points that can be mentioned in best hybrid mattress reviews, why is edge support so important? Well, seeing as Avocado is considered by many to be the best hybrid mattress for side sleepers, edge support becomes an essential feature.
You see, many side sleepers tend to roll all around the bed throughout the night, and a lot of them even prefer to sleep on the actual side of the mattress. Without good edge support, these people face the risk of falling out of the bed, altogether!
What is the Avocado Mattress Price?
Now, let's talk pricing. Here's a list of Avocado Green's price options:
The prices are actually very approachable! The company also has a Vegan model of their bed - it is relatively similar to the Green model, and the only real, notable difference is that it's stuffed with cotton instead of wool. All in all, Avocado isn't only a good option as "the best hybrid mattress for side sleepers" - it's a great bed, overall!
Ranks #4 out of 7 Mattresses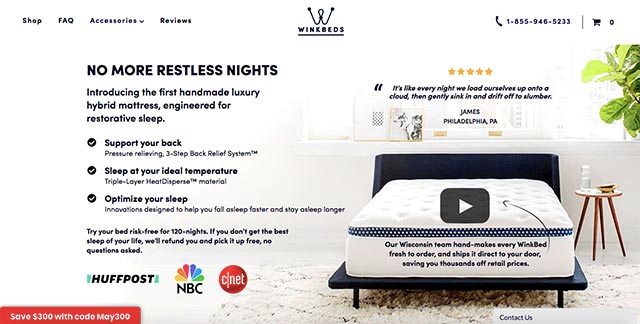 Things we liked:
+ Good noise and motion isolation
+ Bouncy
+ Great temperature neutrality
+ No off-gassing
Things we didn't like:
- 30-day break-in period
- Relatively new company
The WinkBeds is a hybrid mattress that focuses on the innerspring-vs-foam design. One look at user "best hybrid mattress" reviews online will reveal that people actually do love the product! Let's take a look at the reasons for why that's the case.
First of all, WinkBed has some great noise and motion isolation. This is thanks to the multiple layers of foam in the bed - not only will the mattress remain silent when bearing your body weight, but it's also going to absorb a good portion of the motion that you or your partner make throughout the night. Side sleepers are going to relate to his the most - they are the ones that tend to twist and turn around for a big portion of the night!
When it comes to the reason for why customer appreciates WinkBed the most, however, that would have to be the bounciness of the mattress. You see, the company behind the product focuses heavily on the "innerspring" part of the mattress - they aim to create a responsive mattress that would also avoid all of the usual coil-based mattress problems.
Admittedly, they've succeeded.
The responsiveness of the WinkBed will be much appreciated by anyone who's looking for the best hybrid mattress not only to sleep on it, but to also improve their sex life. Since the bed avoids the usual feeling of sinkage that's associated with all-foam products, it is viewed as being great for any bouncy activities.
What is the WinkBeds Mattress Price?
Here's a list of WinkBed's pricing options:
Admittedly, WinkBed is a pricier option as far as the best hybrid mattresses go. That being said, the company offers an extended 120-day sleep trial (the industry standard would be 100 days) and multiple firmness options that would suit the majority of sleepers out there. So, if you're in the lookout for good hybrid beds, consider the WinkBed as a viable choice!
Ranks #5 out of 7 Mattresses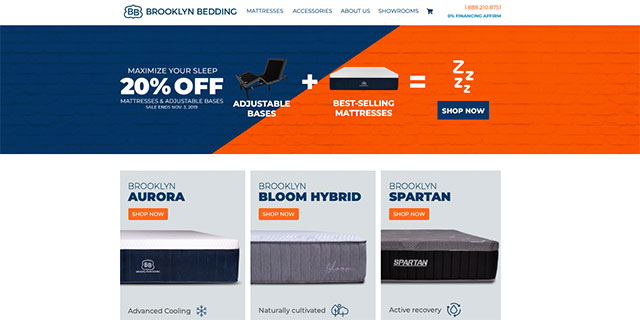 Things we liked:
+ Firmness Options
+ Six Different Models for Everyone
+ Free Shipping in the U.S
+ Lower Than Average Pricing
Things we didn't like:
- 30-Night Break-in Period for Free Trial
- Not All Mattresses Offer Similar Quality
Now, we have the Brooklyn Bedding's Bloom model. It's a hybrid mattress that comes with multiple firmness options, and some impressive life expectancy.
Other than being very durable, Bloom excels in being able to "keep it cool" during the night. It's great news for all the hot sleepers out there!
On the off-side of things, some customers state that Bloom might not be responsive enough for people who are looking for a bouncy mattress. So, if sex is your number one priority, then you should probably consider some other product as a better alternative.
What is the Brooklyn Bedding's Bloom Mattress Price?
Bloom's prices are:
While the Brooklyn Bedding's Bloom model is somewhat on the expensive side of things, the price does reflect the quality!
Visit Brooklyn Bedding
...or read our Brooklyn Bedding review
Ranks #6 out of 7 Mattresses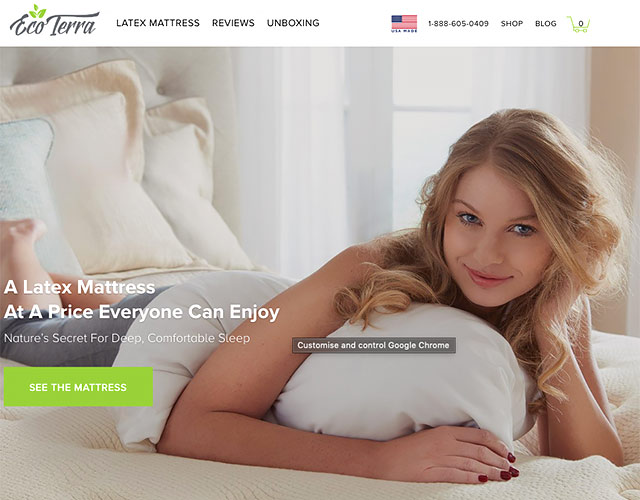 Things we liked:
+ Pressure Relief
+ Environment-Friendly
+ Below Average Price Point
Things we didn't like:
- 30-Days Break-in Period
- Not Great for Stomach Sleepers
- Only Two Firmness Options
Eco Terra is one out of few latex hybrid mattress options. It's designed from 100% natural Talalay latex, organic wool & cotton. If you ask what are the strongest qualities of this hybrid mattress, I would say that they are natural and organic materials, breathability / temperature neutrality and safety (no toxins). Each material is certified so you know it's really safe.
You can choose Eco Terra bed in two levels of firmness: medium and medium-firm; and it's 11" thick. And if you're worried about durability, there's no need. Since Eco Terra is designed from high-quality materials, it should serve you at least seven or eight years.
Now let's take a look into the qualities, which are important for couples. First of all, you won't hear or feel your partner moving during the night because the mattress provides amazing motion and sound isolation. Also, since it's a hybrid mattress, it has much stronger edge support than, for example, memory foam mattresses, so there will be no rolling out of the bed during the night.
Moving further, Eco Terra is quite responsive to pressure, which means that the bed is bouncy and great for sexual activities. It also offers good pain and pressure relief for you to relax after a long day at work. And, you won't have to be worried about sleeping hot because Eco Terra's coils add air circulation, which helps to maintain temperature neutrality.
What is the Eco Terra mattress price?
Let's take a look into the Eco Terra price options:
A decently-priced mattress!
Ranks #7 out of 7 Mattresses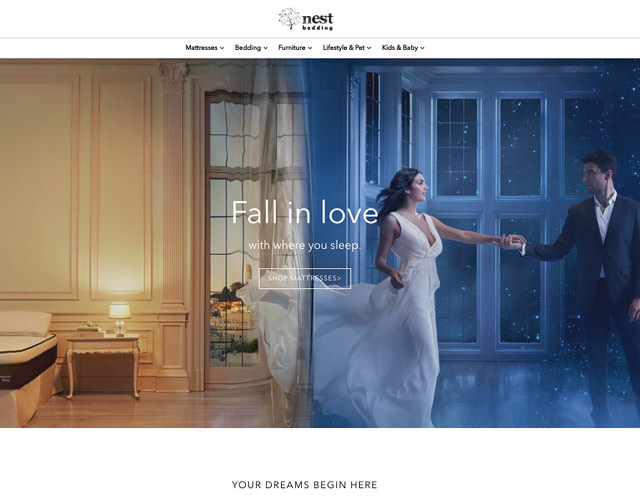 Things we liked:
+ Lifetime Warranty
+ Great Conforming
+ Options for Every Sleeper
Things we didn't like:
- 30-Night Break-in Period
- Poor Edge Support for Foam Mattresses
As far as the best hybrid mattress is concerned, the Alexander Signature hybrid mattress is designed from gel-infused memory foam, TitanChill Endurance foam, SmartFlow support foam, pocketed coils, and support foam. You can choose it in three levels of firmness: plush, medium and luxury firm.
Readers' reviews show that this bed has two amazing qualities that are expected from the best hybrid mattress. It has strong edges, which will protect you from rolling out off the bed. And, the best news for couples is that Alexander Hybrid is bouncy enough to have the most amazing sex life.
What is more, the bed provides great pain and pressure relief to get quality rest after a long time at work. It sleeps relatively cool and should serve you at least seven years. Therefore, Alexander Signature Hybrid has each of the qualities expected from the best hybrid mattress.
What is Alexander Signature Hybrid Mattress Pricing?
Now let's take a look into the Nest Bedding's product price. Here you can find the full pricing and size options for Alexander Signature Hybrid:
Not too shabby!
Conclusions
These were some of the best hybrid mattresses in the current industry. As you might have noticed, all of these mattress providers have their own, specific pros and cons, and all of them come with a certain set of benefits. Any of the beds mentioned on the list above should provide you with decent sleep, thus increasing your energy levels and helping you avoid potentially-dangerous diseases[2].
If you're having a hard time choosing the best hybrid bed for yourself, remember to read our full hybrid mattress reviews of each of the providers - this way, you'll get to know their strengths and weaknesses a tad bit better.
Finally, even if you purchase a mattress and then see that you've made a mistake, all of the companies on this list offer money-back guarantees and sleeping trials. With some significant timeframes to test the mattress out, choosing the right one becomes that much easier.
Best of luck finding the best hybrid mattress out there!
$193 Savings on Purple
Purple Daylight Saving Sale
You cannot miss this Purple Daylight Saving Sale. Save up to $193 in FREE Puprle gifts now & enjoy the sweetest sleep ever!
Expiration date: 31/05/2020
935 People Used
Only 28 Left
---
Other Less Favoured Mattresses in This Category
Here are other mattresses related to the category but not as favoured by MyBestMattress readers yet. In my personal opinion, today there are much more optimal mattresses in the list with the higher rating that I'd recommend for the same price range or less.
DreamCloud - Less Good Option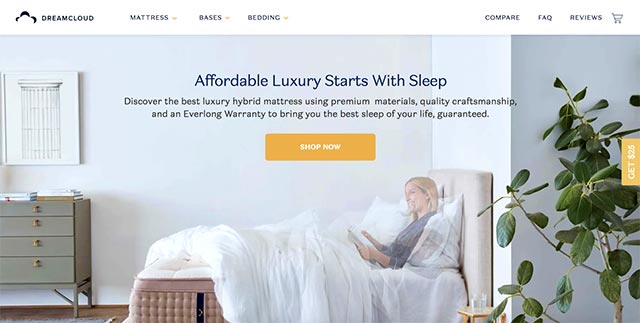 Things we liked:
+ Bouncy
+ Good motion isolation
+ No notable noise
Things we didn't like:
- Might be a bit too firm for some people
- Weak edge support
Next up on the top-rated hybrid mattress list, let's take a look at DreamCloud.
DreamCloud is an interesting mattress in that it comes equipped with 8 layers of different materials. Most mattresses are made out of 5 or 6 layers, so immediately, DC has some space to work with.
One of the more prominent features of this mattress is that it's very responsive. While this may be odd seeing that its construction mostly includes latex and memory foam (we'll get to that, too), it would seem that the company has managed to design the bed so that it is able to avoid any and all sinkage. While this may not be as impressive of a feature in a "best hybrid mattress" list, it's definitely not common for a hybrid bed to be this responsive.
Now, the "memory foam and latex" point. To tell you the truth, that's a rare combination to see! A lot of hybrid mattresses will focus on coils and latex, or coils and memory foam - the before-mentioned mix is one of the rarer sights to see. That said, this can be traced back to DreamCloud's 8 layer design.
So then, why is this so special? Well, since DreamCloud combines memory foam and latex, the company is able to provide a very good night's sleep for people who like to sleep on their backs. This is because the comfort layer of the mattress aligns your spine better, eliminating pressure points from your body.
What is DreamCloud mattress price?
So the, how does DreamCloud rank in the "Best Hybrid Mattress" list when it comes to the pricing of the mattress? Well, take a look for yourself:
Twin - $699
Twin XL - $899
Full - $1099
Queen - $1299
King - $1399
Cal King - $1399
The prices are very much in-line with the product! DreamCloud comes out to be a little bit cheaper than the Avocado Green model, but at the same time, it lacks in one area in which Avocado is great at - edge support. So, depending on how much you actually need some sturdy mattress edges, DC might still be a good choice when it comes to the best hybrid mattresses.
Casper Hybrid - Good Motion Isolation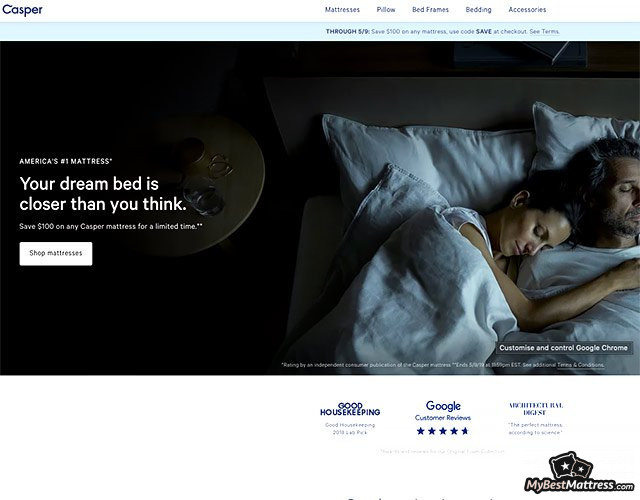 Things we liked:
+ Made of Quality Material
+ Casper is For Every Sleeper's Needs
+ Medium-Firm Level of Support that Works for Almost Everyone
+ 100-Nights Sleep Trial
+ Durable (Confirmed by Users' Reviews)
Things we didn't like:
- Only One Firmness Option
- Not so Great for Hot Sleepers
Finally, let's talk about the Casper Hybrid.
If you've been searching through various different mattress reviews for quite some time now, you might have noticed that Casper is a frequent entry on many of those lists and reviews. That's because the product provider has many different mattresses in stock - all designed for different wants and needs that people may have.
As far as the Casper Hybrid model is concerned, it offers sleepers some very good motion isolation and body-conforming features. This makes the mattress great for back and side sleepers.
Furthermore, it's a cool sleep-providing mattress - you shouldn't face any notable issues with the bed absorbing your body heat.
The only real "issue" that you might face with the Casper Hybrid is that it has rather weak edge support, especially when compared with some other mattresses on this list. However, if that's not really a problem for you, then all should be in order!
What is the Casper Mattress Price?
Casper Hybrid prices are:
Twin - $716
Twin XL - $806
Full - $1166
Queen - $1346
King - $1616
Cal King - $1616
All things considered, the price tags do seem to make sense!
1. Centers for Disease Control and Prevention: 'How Much Sleep Do I Need?'
2. Michael A. Grandner, PhD MTR, Pamela Alfonso-Miller, MD, Julio Fernandez-Mendoza, PhD, et al.: 'Sleep: Important Considerations for the Prevention of Cardiovascular Disease'
Leave your honest Best Hybrid Mattress review
Leave your genuine opinion & help thousands of people to choose the best mattress. All reviews, either positive or negative, are accepted as long as they're honest. We do not publish biased reviews or spam. So if you want to share your experience, opinion or give advice - the scene is yours!