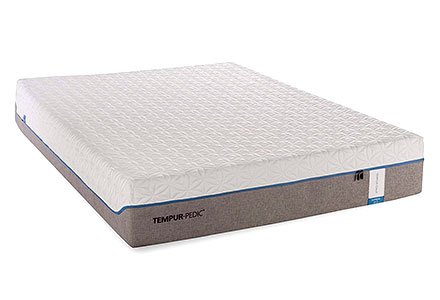 If you don't want to spend your time searching for different TempurPedic reviews, I got you. In this review, you will find everything there is to know about the current TempurPedic mattress collection.
Tempur-Pedic offers you different options and collections, each of them offers different firmness options, price, and other preferences. Today I will go through TEMPUR-ProAdapt, TEMPUR-LuxeAdapt, TEMPUR-Adapt and the newest series mattress TEMPUR-Breeze.
Note that these TempurPedic reviews are based on the most current lineup. If you're interested in no longer available collections, such as TEMPUR-Cloud, TEMPUR-Contour or TEMPUR-Flex, you are most likely to still find them on Amazon.
So, even if TEMPUR-Breeze is relatively new, there are some TempurPedic reviews to go into some assumptions. So, continue reading to find the best TempurPedic mattress option for yourself!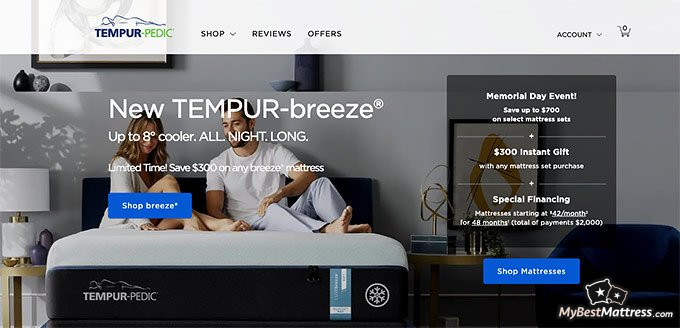 What are the main features of the TempurPedic mattresses?
Here are the main aspects that I will go through in my TempurPedic reviews:
Mattress type
Firmness option
Durability
Motion isolation
Temperature
Off-gassing
Best for back, stomach or side sleepers?
Price
Pros
You Can Choose From Different Firmness, Thickness and Construction Options
Zero-Motion and Amazing Sound Isolation
Very Durable (Customers Approved)
Great for All Sleepers
90-Nights Free Sleep
Cons
Minimal Off-Gassing
High-Price
30-Nights Break-in Period Required for Sleep Trial
Here's a quick overview of every TempurPedic mattress review.

What mattresses does Tempur-Pedic offer?
Thorough TempurPedic Reviews: Take a Look Closer
As I already mentioned these are the TempurPedic reviews of the collections that are currently on the market.
So, let's begin.
TEMPUR-ProAdapt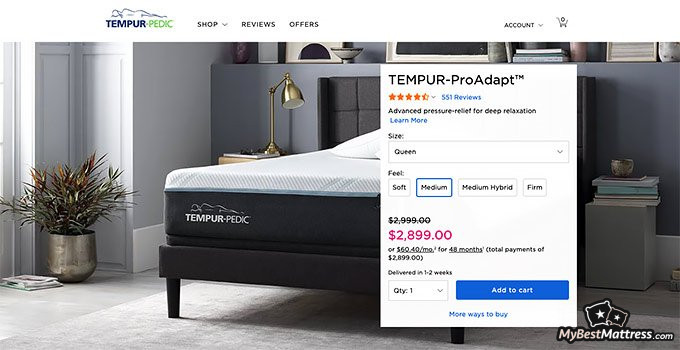 ProAdapt is created from all-foam material. You can choose from a few different firmness options: soft (3), medium(5) and firm (7).
You can choose either regular all-foam mattress or hybrid, which comes in medium firmness.
If you decide to buy a Tempur-Pedic mattress, then you get 90 nights of sleep trial and 10 years warranty. Therefore, if you see that it doesn't work for you for some reason, then there's always a possibility to return it.
What is more, when looking into different TempurPedic reviews, I came to the conclusion that both all-foam and hybrid mattresses will serve you at least 7 years.
I should say that TEMPUR-ProAdapt minimizes the motion transfer better than the hybrid one, but both of them work quite well at isolating movement, so nothing to worry about your partner waking you up in the middle of the night.
You probably know that all-foam mattresses are not that responsive to bounciness, so TEMPUR-ProAdapt is not the best option for sex. However, the hybrid model is much more responsive to pressure, so, it's notable better for your sexual activities.
Both of the mattresses come with SmartClimate dual cover system, which works fantastic at keeping your body temperature neutral, so, you won't have to worry about sleeping too hot.
Both Tempur-Pedic mattresses have minimal off-gassing, according to TempurPedic mattress reviews. But this is common to every new mattress, and the smell evaporates quite quickly.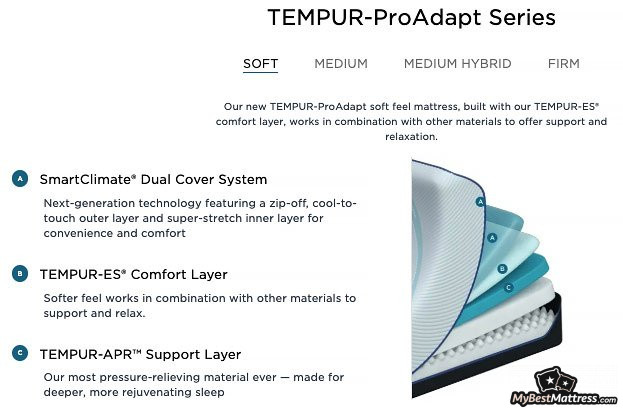 If you're looking for generous edge support, then I would recommend you to choose the hybrid version, it's more firm on the edges than the all-foam options. You should consider this fact if you're sleeping with your partner, there's definitely a difference.
Moving on to the sound. As every all-foam mattress, TempurPedic makes zero sound, however, some squeaks appear from the hybrid version.
Now, what about the sleeping position? Does it work for everyone? TEMPUR-ProAdapt is one of a few mattresses that work great for almost every sleeper. A number of TempurPedic mattress reviews stated that it's amazing for side and back sleepers, however, a few customers were not so satisfied with their experience sleeping on the stomach, so I would say it's only good for belly sleepers.
Finally, let's move to the pricing, after all, it's one of the most important aspects that matter when making a choice!
Unlike many other mattresses, Tempur-Pedic keeps the pricing the same to both all-foam mattress and the hybrid technology. The Twin size pricing starts from $2,399 up to $4,798 for Split CA King. Note that the provided pricing is with the current discount.
TEMPUR-LuxeAdapt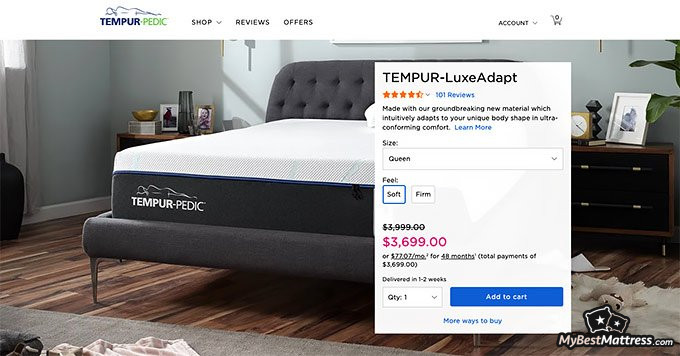 TEMPUR-LuxeAdapt is an all-foam mattress, which comes in soft (3) and firm (7) options.
It comes with a 90-night trial and 10 years limited warranty, which will cover any mattress defect.
Furthermore, when analyzing different TempurPedic reviews, I came to the conclusion that it has quite a long lifespan, usually from about 7 to 8 years and even longer.
Now, if you're concerned about the noise and motion isolation, there's no need. Both of those features are one of the strongest sides of TEMPUR-LuxeAdapt. There's zero motion transfer unless you're testing it while jumping on the bed like crazy. And, also, no sound, which is a quite common feature for all-foam mattresses.
On the same note, let's move to the comfortability for sex. Since it's all foam mattress, it's not very responsive to pressure, which makes it not the best option for some couples.
What is more, with TEMPUR-LuxeAdapt mattress, you won't need to worry about sleeping too hot. Just like ProAdapt, LuxeAdapt has the SmartClimate Dual Cover System that offers you cool-to-touch outer layer. So, if you're living in constant heat, it's a great choice to improve the quality of your sleep.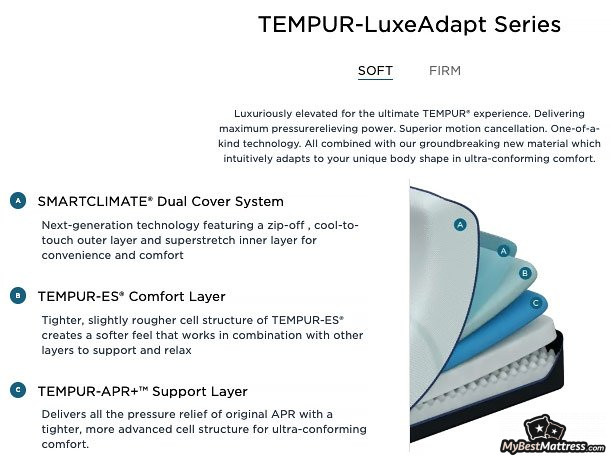 Now, off-gassing is not the strongest side of the TEMPUR-LuxeAdapt mattresses, they do offer a fair amount of off-gassing when completely new. However, as I already mentioned, it's a quite common problem and the smell evaporates in a few days or faster.
Which sleeper are you? Do you prefer to sleep on the back or side? Let me tell you without stalling, you will get the highest quality sleep in both of these cases.
However, if you usually sleep on your stomach, it may not be the very best option since according to a number of TempurPedic reviews, it wasn't the most comfortable position.
What about TempurPedic mattress price? Is it affordable? Well, TEMPUR-LuxeAdapt mattress is quite expensive. The pricing starts from $3,199 up to $6,398 with the current discount. So, it may not be affordable for everyone, however, you get what you pay for and the quality usually comes with the cost.
TEMPUR-Adapt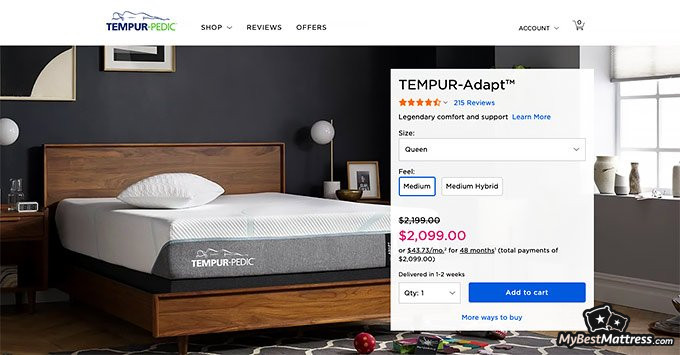 TEMPUR-Adapt comes with an all-foam mattress and the hybrid design and medium (5) firmness. That's the only option you get.
Both mattresses' options will serve you longer than the regular mattresses, at least 7 years. This fact was confirmed by not one TempurPedic mattress review but by a number of users' feedbacks. And, as with every other TempurPedic mattress, you get 90 nights free-trial.
If your partner sleeps loud and keeps waking you up at night, TEMPUR-Adapt can fix this problem. This mattress minimizes the motion transfer significantly, so even if your partner is a noisy sleeper, you won't have to deal with it ever again, simply because you won't feel it.
With the same note, let's discuss whether or not it's great for sex. You already know that foam mattresses are not usually responsive to the pressure, which makes them not so great for your sexual activity. Or at least it doesn't work for some couples.
If you don't think this mattress is worthy of your attention, then you should check our top mattress providers, they can offer you quality for money and so much more.
However, TEMPUR-Adapt has other great qualities that make up for the lack of bounciness. If you have kids or simply thin walls, you won't have to worry about the noise.
All-foam TEMPUR-Adapt isolates every sound, so there's no way anyone will hear you. The hybrid version, however, can produce some squeaks because of the colls in one of the layers.
Depending on which design you will choose, the traditional or hybrid version of TEMPUR-Adapt, the temperature will differ. If you like to sleep warmer then you should choose the conventional option, however, if you prefer the cooling effect, the hybrid mattress will be a better choice. On the other hand, both of the mattresses come with a cool-to-touch dual-layer cooling cover, which will make sure to keep your body temperature neutral throughout the night.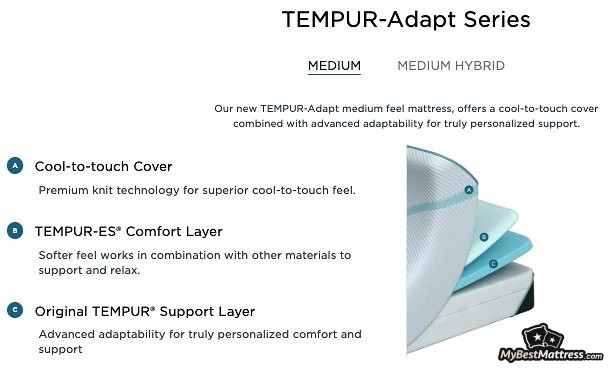 The only sleepers who may not be that satisfied with the feeling are the ones who like to sleep hot; they may find those cooling layers too cool.
Off-gassing is similar to other mattresses, according to TempurPedic mattress reviews. There's a slight smell, which tends to evaporate in a few days. But don't worry, it's entirely normal for almost all new mattresses.
What about the position? Is it for everyone? Since my experiences can be quite subjective, I analyzed TempurPedic reviews. I can say that all sleepers were satisfied with their experience, side and back sleepers claimed it was "very good", while stomach sleepers said it was "good". So, it's safe to say there were no disappointed clients.
Now, finally. Let's take a look into the TempurPedic mattress price. TEMPUR-Adapt is the most friendly for those who cannot afford costly mattresses. Its pricing starts from $1,599 for the Twin bed and goes up to $3,198 for the Split CA King. It's currently on discount.
TEMPUR-Breeze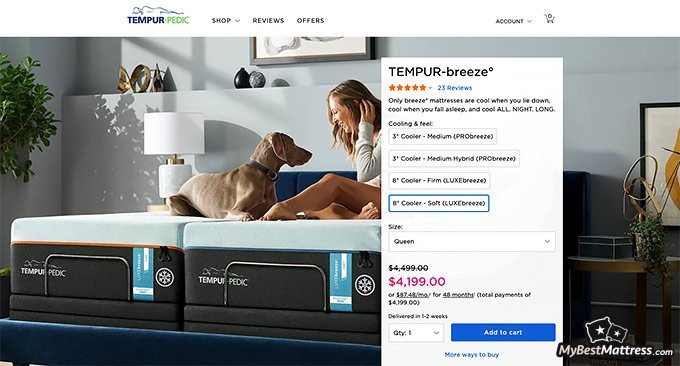 TEMPUR-Breeze is the newest model in the market. It's available in multiple firmness options: soft (3), medium (5) and firm (7).
What is unique in these mattresses is that you can also choose from different cooling options: 3° or 8° cooler. However only with PRObreeze, you will get medium firmness and with LUXEbreeze only firm or soft options.
Since TEMPUR-Breeze is still a new mattress, it can be very difficult to evaluate its durability. However, it does have 10 years warranty and 90-night free trial. So, it should be as quality as every other TempurPedic mattress.
Moving to TempurPedic mattress price, I would have to say, it's not the cheapest alternative, however, TEMPUR-Breeze design is one of a kind. So, if you're willing to pay the price for your comfort, it's a great choice!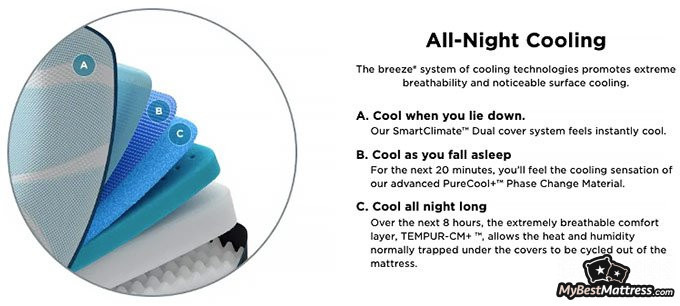 The PRObreeze pricing starts from $2,999 and goes up to $5,998. And, the LUXEbreeze pricing varies from $3,699 to $7,398. So, as I said, it's not the cheapest mattress, however, you always have to pay for the quality. And, at the moment they have great discounts, so check it out.
Now, I have to say, there are not enough customers' reviews about their experience, sleeping positions or bounciness, so I cannot yet give you that information. However, when there will be enough TempurPedic reviews, this article will be updated.
Conclusion
Overall, I would say, that Tempur-Pedic offers excellent quality, durability and a variety of firmness options. It can be quite expensive depending on which collection you choose. But, it's safe to say that the price is worth the quality.
I couldn't tell which is the best TempurPedic mattress because it's entirely subjective. Each collection offers different firmness, price, and design options.
So, even if there cannot be only one answer which is the best TempurPedic mattress, I hope this review was helpful to decide which option is closest to your expectations
If you don't feel like this mattress is going to suit you, don't worry - there are a few alternatives you can choose from. Take a look at the "Best Mattress" list that we've comprised, and who knows - maybe you'll find something that'll catch your interest.
Leave your honest TempurPedic review
Leave your genuine opinion & help thousands of people to choose the best mattress. All reviews, either positive or negative, are accepted as long as they're honest. We do not publish biased reviews or spam. So if you want to share your experience, opinion or give advice - the scene is yours!