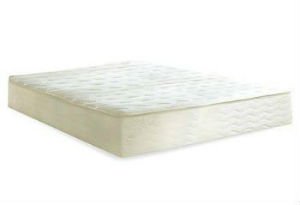 If you're all about the eco-friendliness, then I can give you good news. In this review, we will go through PlushBeds Botanical Bliss mattress - the most popular among the sleepers who are just as conscious as you and always look for natural alternatives!
PlushBeds Botanical Bliss is made from 100% organic materials, which is not so easy to find! If you don't want to trust only my word, know that orthopedic specialists and chiropractors recommend it as well!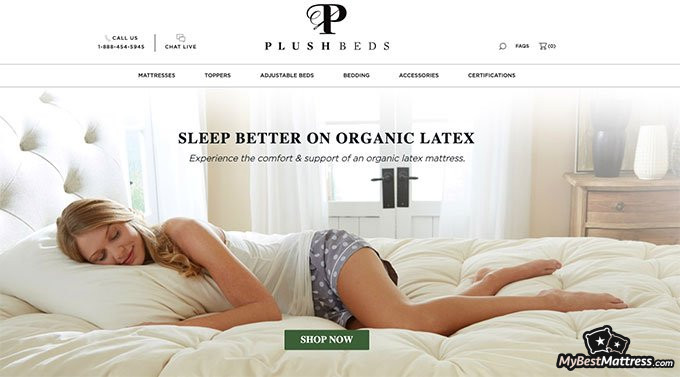 Before moving to the PlushBeds reviews, you should know why natural choices are better:
Organic latex is anti-microbial, mold and mildew proof, which are great for allergic people.
PlushBeds Botanical Bliss is dust mite resistant, which not only impacts your sleep but you decreases allergens in your house.
No unpleasant smells.
No toxins, including cyanide, chloroform, which could be dangerous to your health. Remember that conventional mattresses are most likely to include them.
What is more, based on the study that compared latex and polyurethane mattresses, the latex mattress showed way better results - managed to reduce peak body pressure, and distributed your weight more evenly[1] throughout the bed surface.
Now that you're aware of the benefits you can get together with this mattress, let's move further into the PlushBeds reviews!
The verdict at a glance:
PlushBeds Botanical Bliss mattress is created from high-quality, all-natural materials that are great for allergic sleepers. It has different firmness, height options, and sizes for everyone. Botanical Bliss doesn't produce any unpleasant smells and is excellent for every position!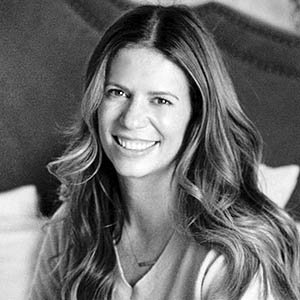 Kelly Murray
Certified Pediatric & Adult Sleep Consultant
What are the top 3 things that contribute to the quality of our sleep?
It would be our stress levels, our sleep hygiene, and having a balanced body. When it comes to body imbalances, if your hormone levels are imbalanced or your thyroid levels are inappropriate or, say, your gut microbiome is not ideal, that can contribute to sleep issues. Our body is like a finely oiled machine, and if there's an issue with a component of our body, it can throw an entire system off and cause interrupted sleep or sleep challenges.
Pros
High-Quality Materials
Variety of Options
Motion and Noise Isolation
Maintains Body Temperature
Cons
Not that Great Edge Support
Minimal Body Contouring
PlushBeds Reviews: Why is it so Good?
As always, let me introduce you to the benefits PlushBeds Botanical Bliss has to offer.
Only Natural Materials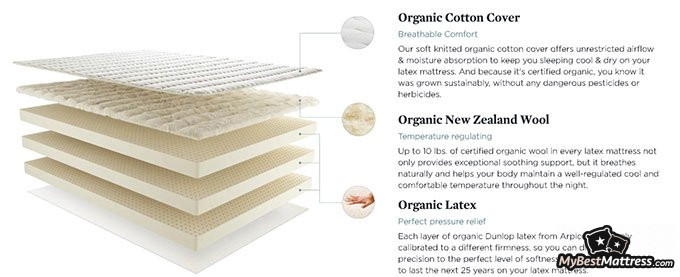 Latest PlushBeds Coupon Found:
GET UP TO $1,250 OFF
WinkBeds Limited-Time Offer
WinkBeds sale is here! Receive an impressive $1,250 discount for WinkBeds mattresses and sleep accessories!
Expiration date: 29/09/2023
3,044 People Used
Only 56 Left
What is the PlushBeds Botanical Bliss mattress made of?
Botanical Bliss is made from 3 layers of high-quality materials:
Organic cotton cover - created to give you the unrestricted airflow & moisture absorption to maintain your neutral body temperature throughout the night. It's especially great for those who tend to sleep hot during the night. Also, since it's made from all-natural materials, you can be assured to sleep on a cover, which is grown sustainably.
Organic New Zealand wool - this layer consists of up to 10 lbs. Of certified organic wool, which ensures comfortable and pleasant sleep by keeping your body temperature neutral through the night.
Organic Latex - gives you perfect softness and support. This layer is designed from three different layers of organic Dunlop mattress, which combined give you that feeling of ideal support and pressure relief.

Did you know?
Different Size, Firmness, and Height Options to Fit Everyone's Needs
What's amazing about the Botanical Bliss is that it offers different options, which will serve almost every sleeper's needs.
What are PlushBeds Botanical Bliss mattress size options?
You can choose from different size options, here they are:
Therefore, not only people who like to have space while sleeping but also tall individuals have options to choose from!
Now, all PlushBeds reviews should mention that they have height options, which is not something every mattress provider offers. So, here are the Botanical Bliss heigh options:
9 inches
10 inches
12 inches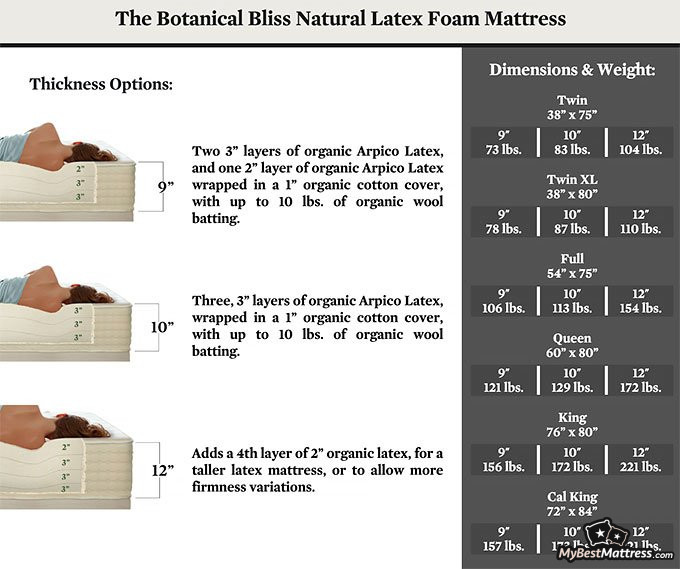 Of course, depending on your choices, pricing also varies. You can find all the information related to pricing at the very end of this article.
Works For Every Sleeper
You might know by now that even your sleeping position matters when choosing the right mattress. For that reason, together with my team, we performed a thorough PlushBeds reviews analysis to get unbiased information about Botanical Bliss mattress.
I have to say, the overall results are pretty great. According to the back sleepers, the mattress was super comfortable. Back sleepers claimed that while sleeping, they didn't feel any tension in problematic areas, their spine was straight, and they felt a pressure relief in their neck area.
Back sleepers who experience aches tend to pick a medium-firm option, or at least they should that. Research by the Kovacs Foundation presented that the firmer the mattress, the better[2] when talking about back issues.
Table: PlushBeds pressure point relief.
Side sleepers claimed that they felt perfect pressure relief and zero tension at their shoulders and hips. So that is pretty great.
Stomach sleepers had a little different experience. Even though the majority of them said it was comfortable, some reviews revealed that the problem might appear because hips can sink out of alignment with shoulders, causing a slight pressure.
However, you should always have in mind that Botanical Bliss mattress comes in two firmness options: medium (5) and firm (7). For that reason, you should always consider your sleeping position and your weight.

If you're heavier sleeper (over 230 LBS), then you should choose firmness mattress, and if you're a lightweight or regular sleeper, then softer mattress should be a better option. On the other hand, always consider your sleeping position and choose wisely.
(Almost) Zero Off-Gassing
A widespread problem with new mattresses is that they ten to have this unpleasant smell when just opened, which is called off-gassing. However, according to PlushBeds reviews, it tends to have very minimal or zero off-gassings at all- great news!
The main reason it has zero unpleasant smell is that Botanical Bliss is made out of 100% natural materials, growth without any chemicals, pesticides, or herbicides!
Motion and Noise Isolation
You know that feeling when every slight movement your partner makes wakes you up during the night. To avoid that you should choose a quality mattress that manages to reduce not only motion transfer but also noise.
I can tell you with all my confidence that Botanical bliss will make sure you and your partner get all the sleep you need. According to a number of PlushBeds reviews, Botanical Bliss mattress has perfect noise isolation - there's simply none!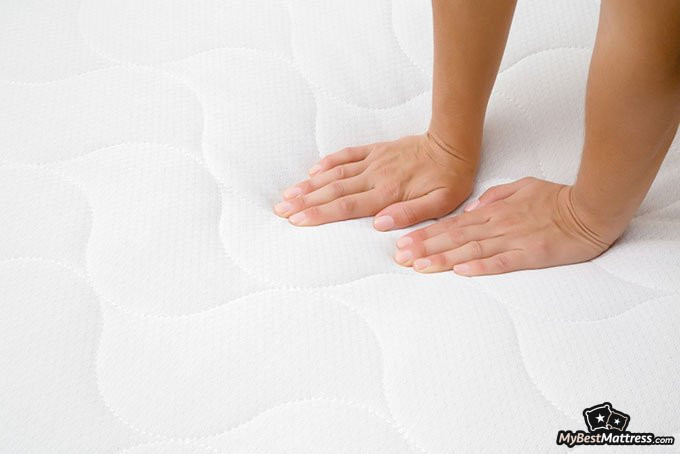 Moving to the motion reduction, a number of customers claim that it minimizes the motion transfer to a significant extent, which means that you can sometimes feel when your partner is having a nightmare, but it does improve the quality of your sleep noticeably.
Keeps Your Body Pleasantly Cool During the Night
Temperature neutrality is one of the most critical factors when evaluating the quality of your sleep. It is said that the Botanical Bliss mattress has a perfect temperature regulation because of the organic wool used in the second layer.
Organic New Zealand wool breathes naturally and maintains your body temperature cool during the night.
However, you cannot always take the manufacturer's word for real if real-life customer's reviews do not justify it. For that reason, we performed a thorough analysis of PlushBeds reviews to make sure it's true.
And, what do you know, reviews were terrific. Majority of sleepers claimed that the Botanical Bliss absorbed their body heat noticeably and they felt a significant temperature difference comparing to their old mattress. Of course, not all PlushBeds reviews were great, some of the sleepers did say they haven't noticed a big difference.
Therefore, considering the majority of users' reviews, I could affirm you that it does work like a charm at keeping your body cool during the night.
What about sex?
It's one of the most relevant aspects to discuss in PlushBeds review. You may have heard that latex mattresses are often not responsive enough to pressure and it does affect your sexual interactions.
However, Botanical Bliss mattress is different, to say the least. Majority of PlushBeds reviews claimed that it was quite responsive and bouncy, which is excellent for sexual activities.
Of course, as always, some people had a different experience, claiming that it was not responsive enough.
Nonetheless, considering that the majority of partners claimed that Botanical Bliss is responsive enough and great for sex, I would rate it as a good option for you and your partner!
PlushBeds Reviews: What is the Mattress Missing?
It's rarely all good, so as Botanical Bliss, it does have some flaws you should be aware of.
Not that Great Edge Support - Some Sinkage
Edge support is especially vital for those who sleep with a partner because then body weight usually concentrates on the edges of a mattress.
According to the majority of Plush Beds reviews, it does not have solid edge support. Sleepers said that while laying on the very edge of the mattress they didn't feel as if felling out of the bed, but they also didn't feel any firmness.
Not a Lot of Body Contouring
One of the major disadvantages to mention in this PlushBed review is that it doesn't give you that body contouring experience. It might be a big drawback for those who love deep pressure relief.
On the other hand, Plush Beds reviews claimed that the mattress feels soft, comfortable, and relaxing.
Now, that's about it about the specific Botanical bliss features, so, let's move to the more general information and discuss what wasn't mentioned yet.
Here is The Best PlushBeds Offer I Found:
GET UP TO $1,250 OFF
WinkBeds Limited-Time Offer
WinkBeds sale is here! Receive an impressive $1,250 discount for WinkBeds mattresses and sleep accessories!
Expiration date: 29/09/2023
3,044 People Used
Only 56 Left
General Information
100 Nights Free-Trial and 25-Year Warranty

100 nights free-trial may not seem like a big deal; after all, many providers offer similar possibilities. On the other hand, I consider a free trial as a must for every mattress provider; for that reason, this information has to be mentioned in PlushBeds reviews.
There's just one catch, you have to sleep on the mattress for at least 30 days in order for the mattress to adjust to your body curves and allow you to feel all of the benefits.
Another fantastic fact about the PlushBeds is that they offer a 25-year warranty, which is one of the most extended guarantees I've ever seen. However, I would recommend you to read warranty conditions, there's always a catch.
Table: PlushBeds trial, warranty, and shipping.
Let's take a look into the PlushBeds warranty. First of all, you should know about manufacturing defects. Only if they occur within the first 10 years of using your mattress, it will be repaired or replaced. Of course, the word 'only' may be used to harshly here. After all, many mattresses do not even serve you 10 years!
There are many other details that matter and if you really consider this mattress, then take a look into their official page - you will find every small detail about the terms of the warranty.
Pricing Details
Without the need to go into other PlushBeds reviews, I want to give you all the pricing options here. Needless to say, the price varies depending on your size and height options. The more materials are used, the more expensive it gets.
What is the PlushBeds Botanical Bliss mattress price?
Without further ado, here are the PlushBeds Botanical Bliss pricing options:
Quick & Free Shipping
Your products will be delivered right to your door if you live in the contiguous United States. Your order will be placed within 7-9 work days, and you will get a tracking number, using which you will be able to track your mattress or any other product from PlushBeds.
Other Options PlushBeds Provides You With
Even though this PlushBeds review was focused on Botanical Bliss mattress, they have other options too. Here's the list:
Therefore, it's incredible how many options PlushBeds has to offer!
Conclusions
To conclude everything, I would like to say that choosing a mattress from natural materials is worth consideration. Botanical Bliss mattress is great for allergic people, it has no toxic substances, which is beneficial to your health and home environment.
What is more, Botanical Bliss offers broad size, firmness, and height options. It is also comfortable for every sleeper and couples. Moreover, this mattress provides sound and movement isolation, which will increase the quality of your sleep.
Therefore, if you're looking for a high-quality mattress, I would say this is a great natural option, which will offer you 25 years warranty!
Here's our general evaluation of the Botanical Bliss mattress:
Table: PlushBeds mattress features.
By the way, you can take advantage of the comparison tool to find out which mattress offers the best qualities.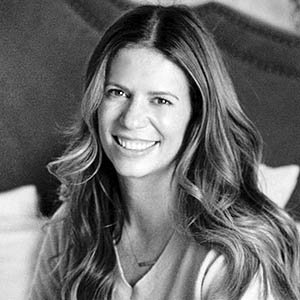 Kelly Murray
Certified Pediatric & Adult Sleep Consultant
Contributed By Kelly Murray, Certified Pediatric & Adult Sleep Consultant
Kelly Murray is a sleep coach for busy and ambitious professionals who are trying to do it all... if only they could get some sleep.
With her previous professional background in a Big 5 Consul...
Read Full Bio...
Scientific References
Contributed by
Kelly Murray
, Certified Pediatric & Adult Sleep Consultant
1. Fan-Zhe Low, Matthew Chin-Heng Chua, Pan-Yin Lim: Effects of Mattress Material on Body Pressure Profiles in Different Sleeping Postures'
2. Laird Harrison: 'What's the Best Mattress for Back Pain?'
Leave your honest PlushBeds review
Leave your genuine opinion & help thousands of people to choose the best mattress. All reviews, either positive or negative, are accepted as long as they're honest. We do not publish biased reviews or spam. So if you want to share your experience, opinion or give advice - the scene is yours!