If you were to look at some of the most popular pillows of today's market, chances are that you would find quite a few latex products among the "top 10" or "top 20" lists. Oftentimes, the only thing that weighs the reputation of latex pillows down is the price tag - these pillows tend to be a bit more expensive than, say, their foam counterparts.
That being said, though, there are many benefits that latex pillows do have over other, similar products. We'll talk a bit about that in this latex pillows review, and then I'll tell you about the top 5 best ones that are currently around.
The list will look something like this:
Top Latex Pillows: Why Choose a Latex Product?
Latex products, by popular opinion, are considered to be some of the best sleep accessories that you can purchase within the sleep industry. At the same time, however, many people still don't really know why latex pillows and mattresses are as hyped as they are - you see it everywhere around, but there's rarely an explanation for their success.
Truth be told, reading some of the more popular customer latex pillow reviews, you'll be able to find quite a few reasons for why people do love these products. The main one, however, most commonly revolves around comfort.
Firm, Yet Comfortable
There are a few different kinds of latex pillows that you might encounter while shopping for new sleeping products. While some features do differ, most of the best latex pillows have specific features in common - they are somewhat firm, yet still comfortable.
Let's break that statement down, shall we?
A good way to analyze latex pillows is by comparing them to the other very popular type of pillows - memory foam ones. Depending on the customer latex pillows review that you'll read, you'll notice that there are basically two big groups of people out there - ones that support latex products, and others that advocate the benefits of memory foam.
Memory foam is famous for being very moldable. That said, the main issue lies in the fact that it also tends to be somewhat sinky - lying on a memory foam pillow, you might feel your head "sinking" down. This could cause your neck to strain, which isn't an ideal scenario.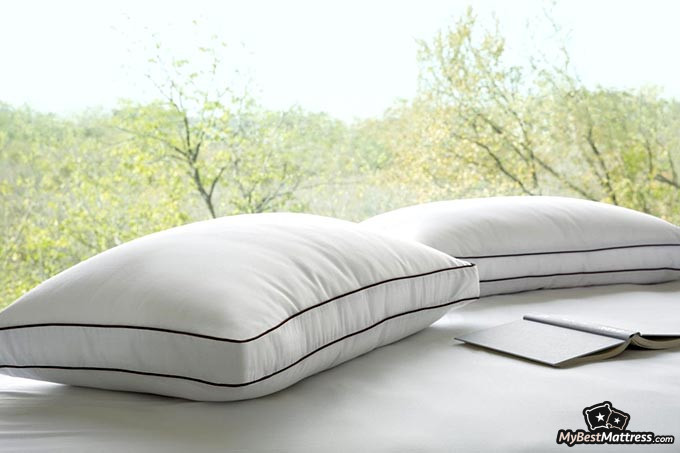 Latex pillows help you avoid that. Memory foam fans usually claim that even the best latex pillows are too firm for comfort. That said, however, it does kind of depend on your own, personal preferences - most sleep experts would tend to agree.
One thing that's worth noting here, however, is that the majority of the before-mentioned sleep experts do also advocate that it's worth sacrificing a little bit of comfort if that means that you'll receive some health benefits in return. In a study done by Fan-Zhe Low and colleagues, it is revealed that latex mattresses do a great job of reducing pressure on the sleepers' bodies.
The same can be said about the best latex pillows, too.
While a latex pillow is traditionally going to be firmer than a memory foam counterpart, the majority of people should still appreciate the health benefits that such a product will provide (i.e. spine alignment, neck support, and so on).
Extended Lifespan
Another popular benefit that you'll notice while browsing through some latex pillow reviews is that these products tend to have a longer lifespan than, say, their memory foam counterparts.
That's probably not that surprising, is it?
In general, whether you're talking about latex pillows or mattresses, this material is considered to be the "superior" option for your sleep quality. Naturally, there are many different things that add up towards that superiority - lifespan is one of them.
On average, the optimal lifespan for a high-end memory foam pillow is considered to be around 2-3 years. That's not bad, but latex pillows take it a step further - many best latex pillow providers are going to guarantee 4 or 5 years of optimal pillow use.
Pricing - A Controversial Topic?
It would be impossible to talk about latex pillow benefits and shortcomings without mentioning the pricing aspect of these products.
Let me be the first one to say - when you compare a top-tier memory pillow with a top-tier latex pillow, the pricing is most commonly going to differ by quite a bit. Some of the most notable negative customer latex pillow reviews complain about the high pricing points of these products.
That said, you shouldn't let this aspect ruin your opinion about the latex product industry.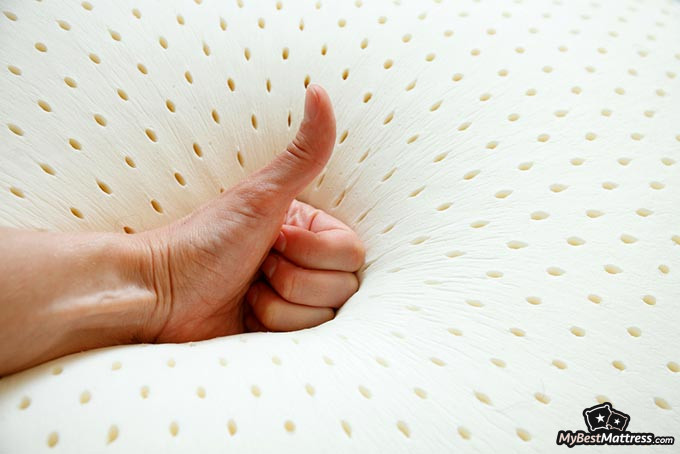 While latex pillows and mattresses, as a general rule, are going to be more expensive than memory foam ones, the price tags are usually justified by the extra health and sleep benefits that you'll receive.
In general, using a latex pillow is bound to better your sleep quality, allow you to sleep the required amount of time during the night and help you avoid morning neck and back pains. The higher price tags are likely going to result in all of those benefits, plus an extended lifespan of the pillow - many customer latex pillow reviews note that it's well worth it!
With all of that said, let's briefly talk about the 5 top latex pillows that you may encounter within the current sleep product industry.
Ranks #1 out of 5 Mattresses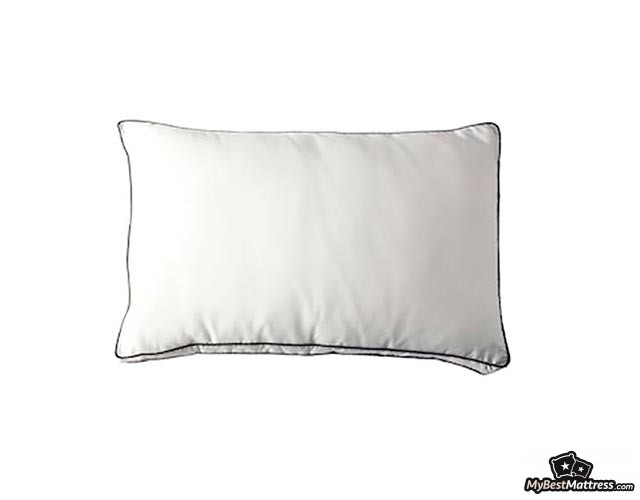 Things we liked:
+ Adjustable loft
+ Changeable insert
+ Great shape retention
Things we didn't like:
- Expensive
- Unsuitable for stomach sleepers
- Too soft for some customers
Saatva is a very popular and well-known company within the sleep product world. It has built a very stable reputation by offering its customers some luxurious innerspring mattresses, and in the same way as many other bed providers out there, Saatva now provides some top-tier pillow products, too - the Saatva Dreams pillows.
The Saatva Dreams pillow is made of two distinct layers of materials, with a cotton cover on top. While the outer layer of the pillow is cotton-based, the very core of the product is filled with Talalay latex - a very supportive and responsive material.
One of the best features of the pillow is that it's customizable - depending on your personal preferences, you can add or remove one of the two layers of the pillow, thus adjusting the height of the loft and the firmness of the pillow.
In addition to sleeping exceptionally cool (that's thanks to the breathable cotton cover), the Saatva Dreams pillow is going to best suit side and back sleepers. Stomach sleepers, however, might find the pillow a bit difficult to work with - even though you can change the height of the product's loft, it might still feel awkward trying to sleep on this pillow while on your stomach.
What is the Price of the Saatva Dreams Pillow?
Notably, the Saatva Dreams pillow isn't the most affordable product around. As far as the best latex pillows are concerned, it's actually one of the more expensive options available.
The pricing options for the Saatva Dreams pillows are:
Even with these higher price tags, most customers seem to appreciate the extensive benefits that the latex pillow provides. Given that it's one of the best products in this field of sleep accessories, that should talk for itself!
Ranks #2 out of 5 Mattresses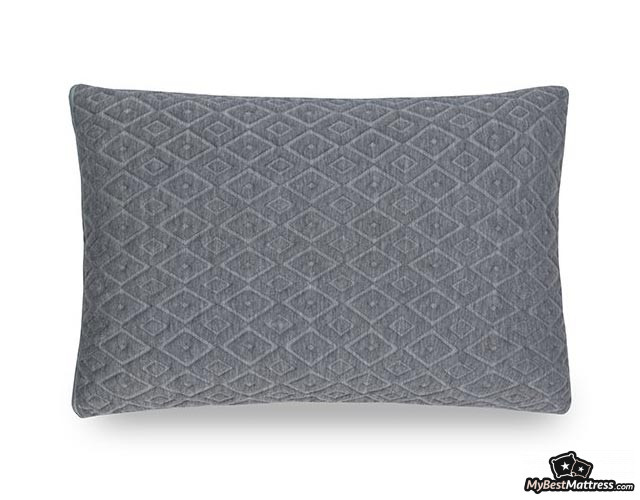 Things we liked:
+ Affordable prices
+ Good breathability and coolness
+ Best for side and back sleepers, but suitable for stomach ones, too
Things we didn't like:
- Initial odor
- The loft might be too high for some (latex)
The Brooklyn Bedding Talalay latex pillow is quite an interesting product, as far as latex pillows go.
Why, you may ask?
Well, it's pretty simple - the pillow is going to be optimal for all types of sleepers.
It's no secret that latex pillows tend to be somewhat unfit for stomach sleepers. That's mostly because of the loft height of these products - while some companies allow you to adjust the loft, it's usually not enough to satisfy a traditional stomach sleeper.
Brooklyn Bedding seems to be the one exception.
The company offers a pillow that is available in two different loft height options - high and low. This, in turn, makes it a very approachable latex pillow for all types of sleepers, stomach ones included.
The Brooklyn Bedding Talalay latex pillow is also breathable and responsive - everything that you would expect out of the best latex sleep product.
What is the Price of the Brooklyn Bedding Talalay Latex Pillow?
The pricing options for the Brooklyn Bedding latex pillow are:
The height fo the loft does not influence the price, whatsoever.
As you can probably see by yourself, the Brooklyn Bedding Talalay latex pillow is definitely one of the more affordable latex pillows around.
Visit Brooklyn Bedding Pillow
...or read our Brooklyn Bedding Pillow review
Ranks #3 out of 5 Mattresses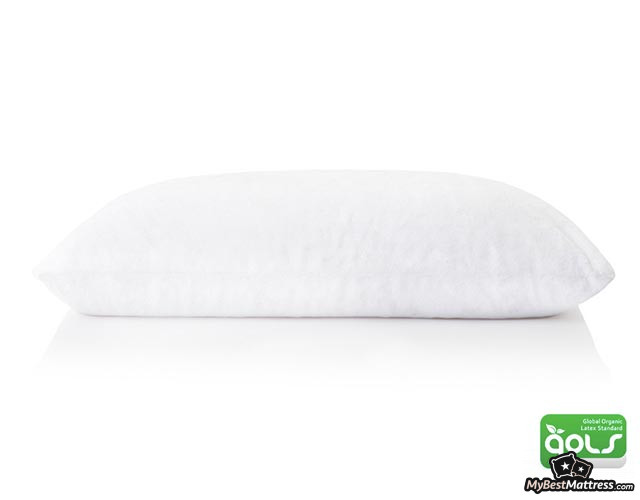 Things we liked:
+ Responsive
+ Shredded organic latex
+ Breathable
Things we didn't like:
- Might be too soft for some
- Difficult-to-contact customer support
PlushBeds - a popular and well-known mattress provider - offers its customers some amazing latex pillows, in addition to their customer-beloved mattresses.
Depending on the latex pillows review that you'll read, you may find that, while the PlushBeds latex pillow has all of the usual, latex-related benefits of this type of a product (responsiveness, sinking-avoidance, breathability), it's also a product made out of organic latex.
This fact alone means that the PlushBeds pillow is going to not only be hypoallergenic, but that the materials used to fill the pillow are going to be of top-tier quality, too.
Furthermore, reading through customer reviews and opinion articles, it would seem that PlushBeds shredded latex pillow is also one of the few products that suit most types of sleepers, stomach ones included - that's great!
What is the Price of the PlushBeds Shredded Latex Pillow?
One of the main, great things about the PlushBeds latex pillow is that it's one of the more affordable latex options on the market. Take a look for yourself:
To add to that, the company does also offer free shipping options - that's a great deal!
Ranks #4 out of 5 Mattresses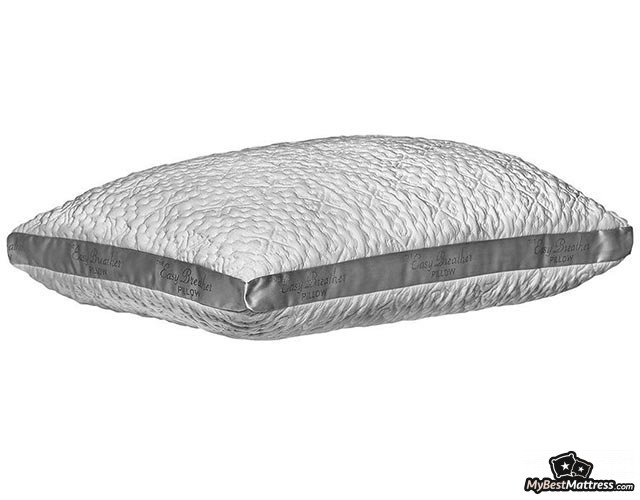 Things we liked:
+ One of the softer latex pillow on the market
+ Great "comfort VS firmness" ratio
+ Good breathability
Things we didn't like:
- A bit pricey
- Might not be ideal for stomach sleepers
Now, the term "soft" isn't something that you'll see all that often when it comes to latex pillows. However, it's a quality that the Nest Bedding Oeko Tex certified latex pillow does have.
The special type of latex, covered around by a natural cotton cover, makes the pillow out to be a rather soft alternative as far as the best latex pillows are concerned. Since latex, as a material, tends to be on the firmer side of the spectrum (especially when compared with memory foam), it's a pretty interesting option indeed!
Furthermore, both side sleepers and back sleepers should find the Nest Bedding Natural pillow to be a great option for their sleep experiences. The pillow might, however, feel a bit awkward for stomach sleepers - just something to keep in mind!
What is the Price of the Nest Bedding Natural Pillow?
The price tags for the Nest Bedding pillow are:
While it's definitely not the most affordable latex pillow around, the eco-friendly product is still seen as one of the best alternatives if you're looking to improve your sleeping experience.
Ranks #5 out of 5 Mattresses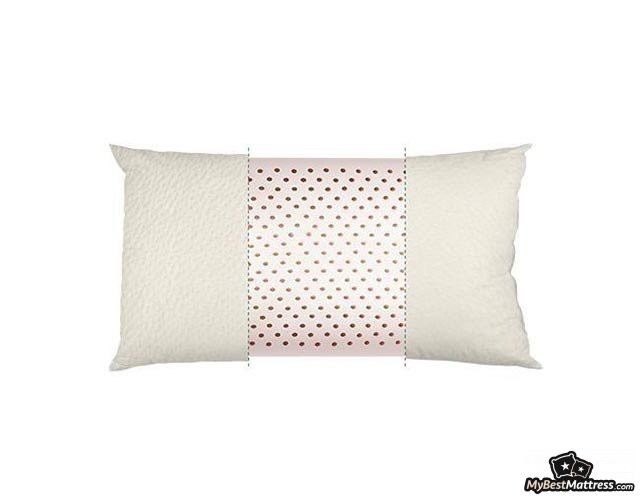 Things we liked:
+ Two types of of latex pillows
+ Great comfort and firmness
+ Both pillows are breathable
Things we didn't like:
- A little bit on the pricey side of things
Latex for Less offers its customers two very interesting pillow products - one of them is made out of shredded natural latex, while the other is a solid natural latex option.
In all honesty, this is a great feature to have! You see, you are able to choose the product that would suit your preferences better, but still have a reliable latex pillow at the very end.
The shredded latex pillow is going to be softer and more moldable - something that people who are used to the feeling of memory foam will appreciate. The solid pillow, however, is the more responsive, supportive option - it's firmer, but also provides better neck and shoulder support.
What is the Price of the Latex for Less Pillow?
Both of the Latex for Less pillows come with the same price tags. That said, while you might find latex pillows reviews that talk about discounted prices, the price tags below are given without the discount:
If you choose to purchase the Latex for Less pillow, you'll also receive a 5-year warranty - neat!
Conclusions
It's clear that latex pillows do have significant advantages over their counterparts. If you don't mind the usually-firmer feeling of latex, and are willing to pay a bit more money for your pillow product, you should definitely consider getting yourself a latex pillow.
That being said, I thank you for reading, and wish you good luck in your search for the best latex pillow out there!
Leave your honest Best Latex Pillow review
Leave your genuine opinion & help thousands of people to choose the best mattress. All reviews, either positive or negative, are accepted as long as they're honest. We do not publish biased reviews or spam. So if you want to share your experience, opinion or give advice - the scene is yours!