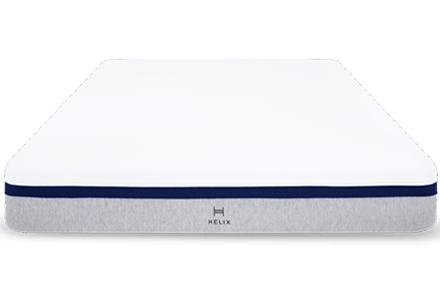 Helix is a company that offers a wide assortment of mattresses for, seemingly, every type of a sleeper out there. In this Helix review, we'll be looking at real Helix mattress reviews and seeing what the actual customers of this company have to say about their experience with the products.
We'll be focusing on the six main types of the Helix bed - Sunset, Moonlight, Midnight, Dusk, Twilight and Dawn. Basically, I'll present you with six small Helix mattress reviews - each with its own pros and cons, pricing, and so on.
We'll try to keep things short and to the point with each one of the Helix reviews, so that you would be able to get the essential information as soon as possible.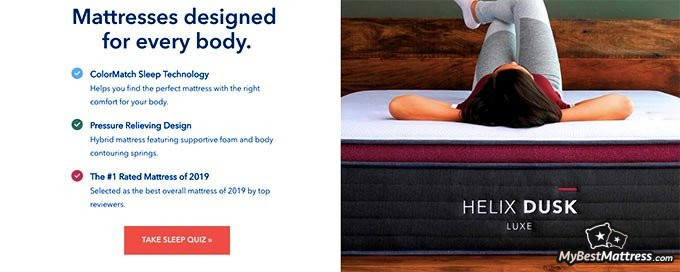 At the very end, we'll have a short summary of all the Helix bed reviews and try to figure out whether or not the company is worth checking out. And if you want to check out their Luxe models, you can read our review on those as well. Stay tuned, and read on!
TL;DR: The Helix mattresses are great for all types of sleepers. Whether you seek a firm and bouncy mattress, or a soft one that would isolate motion - you are bound to find a model that will suit your wants and needs.
Pros
Different levels of firmness
Responsive and bouncy
Good motion isolation
Cons
Somewhat noisy
Some off-gassing involved
Helix Mattress Reviews: Sunset
Let's start off by talking about the Sunset model - one of the softer and more-conforming mattresses that the company offers.
Sunset Pros
When you take a look at the customer Sunset Helix mattress reviews online, you'll immediately notice one thing - the mattress is beloved by side sleepers that appreciate the softer feel of the memory foam.
Now, it's important to mention that all 6 of the models are hybrid mattresses - this means that they have both memory foam and metal coils in their construction. However, the ratio differs with each one.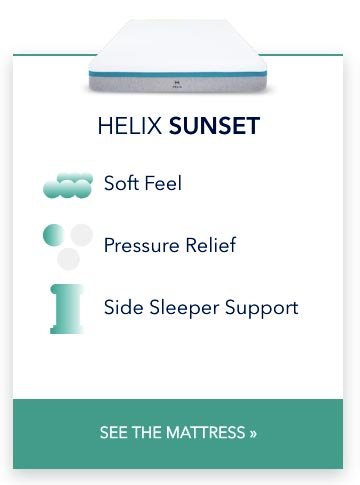 The Sunset Helix bed reviews all (well, most) agree on a few different factors - Sunset is superb when it comes to keeping you cool at night, it conforms very well and has great edge support. This might seem rather odd given that it's a soft bed, but don't forget the coils - it's a hybrid mattress, after all.
Latest Helix Coupon Found:
SAVE UP TO 25%
+ 2 FREE Pillows - Helix Sale
Special Helix mattress coupon: get 25% off your mattress purchase together with 2 amazing Dream pillows completely for free. Hurry up to use this offer before it expires.
Expiration date: 12/06/2023
1,925 People Used
Only 5 Left
Sunset Cons
While there aren't all that many customer Sunset Helix mattress reviews that would put forth a lot of problems associated with the mattress, it would seem that some users do experience a little bit of noise. This is to be expected, though, and the coils are at fault here.
Also, when it comes to off-gassing, there's a possibility that you might smell a little bit of odor coming from the bed - there are Helix reviews that do point that out. Still, in the grand scheme of things, this should be minimal.
What is the Helix Sunset mattress price?
The Sunset Helix mattress prices are, as follows:
The majority of customer Sunset Helix mattress reviews seem to agree that while the prices for the Queen and King sizes are somewhat bigger, the Sunset mattress is worth the price.
Helix Mattress Reviews: Moonlight
Next up, we have Moonlight Helix mattress reviews - a model that is also really soft, yet is more suitable to back and stomach sleepers, as opposed to side-ones.

Did you know?
Moonlight Pros
One of the main features that the Moonlight model is notable for is temperature control. Sleeping on this mattress, there's little to no possibility that you'll ever be woken up from a heatwave - the hybrid design allows the Moonlight model to stay cool throughout the night.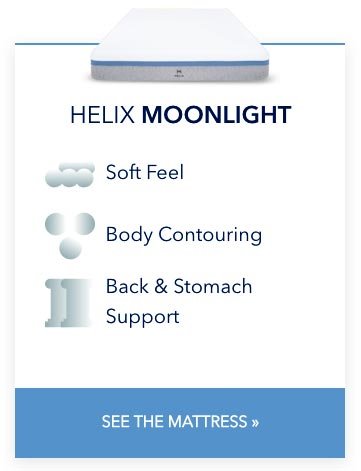 Furthermore, same as the Sunset model, Helix mattress reviews seem to agree that Moonlight has some really sturdy edges. Whether you like to sleep on the edge of the mattress or keep some heavier items on it, Moonlight's edges should hold up pretty well.
Also, Moonlight Helix bed reviews claim that the model is one of the better ones for sex. A lot of couples report that, while it may not be the most responsive mattress that they've ever owned, Moonlight still gets the job done is provides some good levels of bounciness.
Moonlight Cons
Somewhat similar to the Sunset model, Moonlight might have some issues with off-gassing. Helix mattress reviews report some smell as soon as the mattress is unpacked, but from the looks of things, it's definitely not a game-breaker - the smell dissipates rather soon.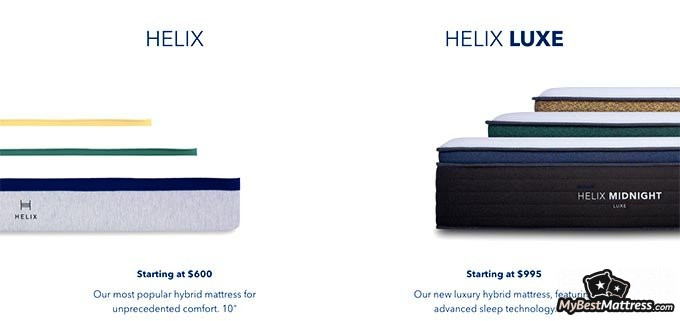 Also, noise. Same as with Sunset, Moonlight might let out a few creaks here and there because of its coil-possessing hybrid design. This should be a seldom occurrence, however, since both of these models concentrate on the memory foam part of their construction.
What is the Helix Moonlight mattress price?
The pricing options for Moonlight:
The price tags for Moonlight are the same as the Sunset Helix mattress prices. To put a lot of the Helix bed reviews short, both of these models are rather similar, but Sunset is better for side sleepers, while Moonlight is more approachable for back and stomach ones.
Helix Mattress Reviews: Midnight
According to their official website (and to quite a few of the customer Helix mattress reviews), the Midnight model is the most popular one that Helix has in stock. Let's see why that might be the case.
Midnight Pros
Straight off the bat, Midnight is on the firmer side of things, especially when compared to Sunset and Moonlight (that's a sentence I never thought I'd say before). In that, it is great for people who have back problems[1], yet like to sleep on their side (though a lot of Helix mattress reviews argue that it's great for back sleepers, too). With it being a firmer option of the hybrid, Midnight does offer perfect edge support.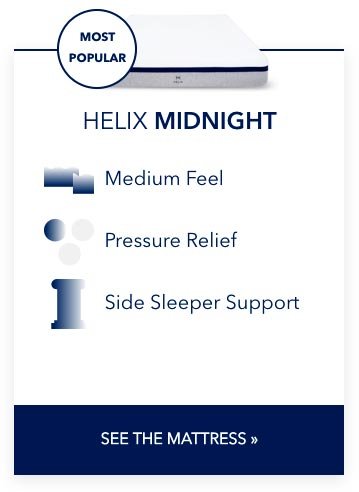 In addition to that, however, the model is also famous for having the best motion isolation out of the whole lot. If you sleep with your partner, this is something that you'll definitely be able to appreciate, big time. To add to the hype, it's actually something that a lot of hybrid mattresses struggle with achieving - it can be hard to nail down the perfect balance between the coils and the memory foam.
Midnight Cons
When it comes to the negative Midnight Helix mattress reviews, there are very few and they are far and wide in between. Honestly, the majority of users seem to love the product - that's a rare sight to see!
The only thing which might be worth mentioning is that Midnight might not be the best mattress for sex. It has a rather thick layer of foam - this means that there's some sinkage involved. Not something that would be a game-breaker, but as some Helix bed reviews have stated, not exactly ideal, either.
What is the Helix Midnight mattress price?
The pricing option of Midnight:
Surprisingly, the Midnight Helix mattress price is the same as the two other models, even though it's the most popular one that the company has. It's rare that some Helix mattress reviews would mention this - it's a pretty big deal!
If you want to read more about the Helix Midnight, do check out our in-depth review of this mattress!
Helix Mattress Reviews: Dusk
Yet another option from the "Medium Feel" category, the Dusk model of the Helix mattress specializes (if you can put it that way) in contouring to your body, and is thus great for back and stomach sleepers.
Dusk Pros
The Dusk mattress is famous for three big reasons - durability, temperature neutrality, and motion isolation. First and foremost, the mattress has a better-than-average expected lifespan (the average is about 5 years). Combine that with a 10-year warranty, and you have yourself a great deal!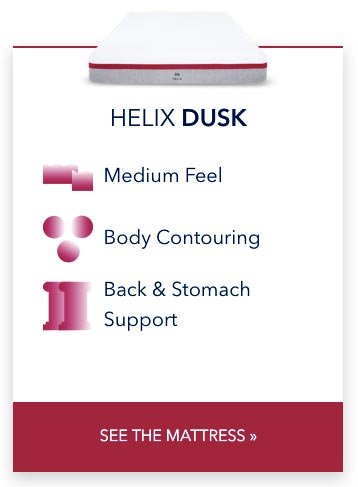 As far as temperature neutrality is concerned, the Dusk model utilizes the layer that's responsible for the coolness of the mattress, thus allowing you to sleep without having to wake up all drenched in sweat. This is an especially cool (no pun intended) feature in the hot seasons of the year.
Finally, motion isolation. Same as its colleague-models, Dusk's comfort layer is made out of a specific kind of dynamic foam. This foam absorbs the movement that you or your partner will make throughout the night, providing you with that much more quality sleep.
Dusk Cons
A few Helix mattress reviews claim that Dusk isn't the best-conforming mattress they've ever slept on. While some Helix mattress models don't seem to have this problem, Dusk is - apparently - one of the exceptions.

Another point worth mentioning is that Dusk falls prey for the same issue that the rest of the models have - every once in a while, you might encounter some squeakiness. This doesn't seem to be a frequent occurrence, but it can still be rather bothersome if a completely silent mattress is what you desire.
Table: Saatva VS Helix comparison
If you want to find something better than this mattress, take a look into Saatva or Nectar reviews. They're not only durable but also give the perfect conforming, motion and sound isolation, and other amazing features.
What is the Helix Dusk mattress price?
Here's a list of the pricing options for the Dusk mattress:
Same price tags as with the other models - good to know!
Helix Mattress Reviews: Twilight
Now we've entered the final category of the Helix mattress reviews - the "Firm Feel". Both of the mattresses in this category are rather firm, and thus are good for back sleepers and people with lower back problems or back pain, in general.
Twilight Pros
Being a firm mattress has its pros. One of the more notable ones - great responsiveness. This mattress is most suitable for couples that value their sex life and want to do everything to make it as enjoyable as possible. While it's still a hybrid mattress, the coil support core of the product gives it that extra bounce.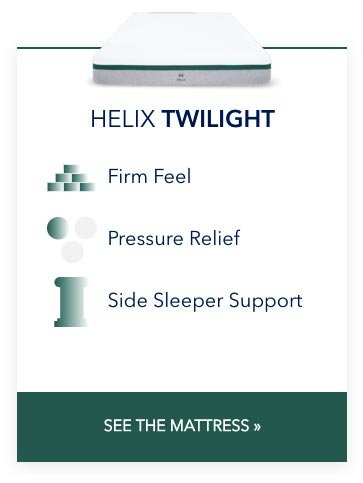 Twilight is also great in the field of temperature neutrality. I think it's safe to say at this point that most of the mattresses that Helix offers are at the top when it comes to this topic - that's just a feature of a well-designed hybrid mattress.
Twilight Cons
The firmer the mattress, the more noise it will make. Twilight is no exception to this rule - perhaps not noticeable at first, some user Helix mattress reviews do claim that an occasional squeak might occur.
Off-gassing seems to be a common trend with Helix products, too. It's nowhere close to being bothersome or even annoying, but the initial odor of the product is a thing.
What is the Helix Twilight mattress price?
The Twilight model is priced at exactly the same prices as the other models of the company:
Great price tags indeed!
Helix Mattress Reviews: Dawn
Finally, the Dawn model - the most responsive and temperature-neutral mattress from Helix.
Dawn Pros
As I've stated in Dawn's introduction, it is, without a doubt, the most responsive mattress that Helix sells. It's great for sex, great for having a bounce off or a pillow fight, and great for any other activity that requires a responsive mattress.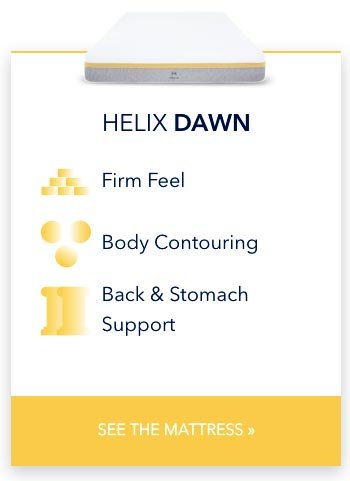 Dawn sleeps cool, has great edge support, and is durable. Great features indeed!
Dawn Cons
The only con that some Helix mattress reviews mention concerning Dawn is the lack of conforming that the product provides. If you're a lighter person, Dawn might not conform to your body at all - just something to keep in mind!
What is the Helix Dawn mattress price?
The price of the Dawn model is - you've guessed it - the same as with all of the other models:
As you've probably noticed, all of the Helix mattresses are priced exactly the same - and the price tags are truly affordable!
Here is The Best Helix Offer I Found:
SAVE UP TO 25%
+ 2 FREE Pillows - Helix Sale
Special Helix mattress coupon: get 25% off your mattress purchase together with 2 amazing Dream pillows completely for free. Hurry up to use this offer before it expires.
Expiration date: 12/06/2023
1,925 People Used
Only 5 Left
Conclusions
These were all of the six main models that you can choose to purchase from Helix. We've looked over some of the more notable and trustworthy customer Helix mattress reviews, and have mentioned the pros and cons of each model. All that's left to do is to answer one question:
Is Helix worth checking out?
It is.
Table: Brief summary of the Helix mattress review
The company has an option for frankly everybody - whether you're a back or side sleeper, a lighter or a heavier person, sleep alone or with someone, and so on, you should be able to find a Helix mattress that will suit your preferences nicely.
In addition, they even have Luxe models, which essentially are a more updated version of their regular mattress options.
Helix also offers a 100-night sleep trial with all of their products, and is able to ship the products for free if you're located in the US. The fact that there's a 10-year warranty that comes along with your new mattress is definitely reassuring!
Please remember, though, that all of the prices of the Helix models might change with time - make sure to double-check!
Scientific References
1. Kovacs FM, Abraira V, Pena A, et al.: 'Effect of firmness of mattress on chronic non-specific low-back pain: randomised, double-blind, controlled, multicentre trial.'
Leave your honest Helix review
Leave your genuine opinion & help thousands of people to choose the best mattress. All reviews, either positive or negative, are accepted as long as they're honest. We do not publish biased reviews or spam. So if you want to share your experience, opinion or give advice - the scene is yours!