When we think about mattresses, we imagine the modern, comfortable beds that increase our blood stimulation, reduce the pain, and have other positive factors on our bodies.
However, this industry is way more interesting than that. Have you thought about the very beginning of the mattresses and the timing when people came up with this refinement? The very first mattresses (as far as it's known) go 77,000 years back. Could you imagine that?
Archaeologists discovered mattresses that are made out of rushes and reeds (marginal pond plants) at the Sibudu Cave site in KwaZulu-Natal (South Africa).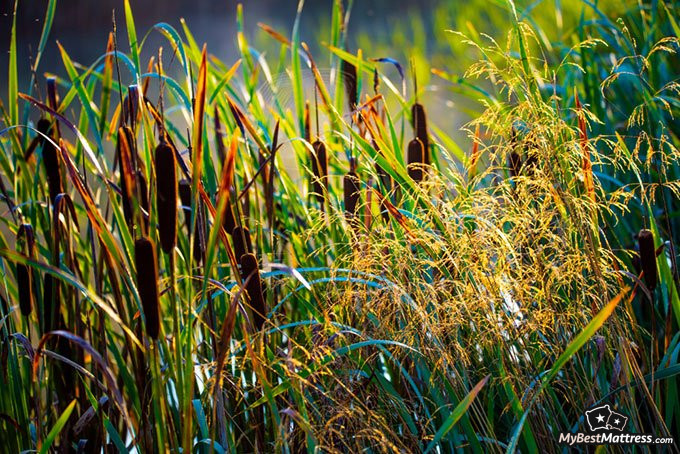 As you can presume, people did everything they could to improve the habitat and quality of their sleep. It means that individuals already knew about the importance of sleep 770 centuries ago!
Nowadays, the need for quality sleep is acknowledged more than ever, but with so many options, how can you know what mattress types are the best? That's the question that I will gladly answer in this article.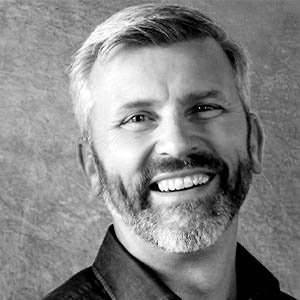 Keith Poorbaugh
Physical Therapist, Owner of Northern Edge Physical Therapy
How can a mattress that we sleep on affect our health?
There is scant evidence to justify one type of mattress as being the best for sleep. The most important feature of any support system, whether it's shoes or a mattress, is comfort. Finding the most comfortable mattress to meet your individual preferences is the ideal way to improve your sleep.
Introduction to Mattress Types
There are more than 15 types of mattresses in the market today. Each of these mattresses has distinct qualities, perks, and quirks, and are made of different materials.
It's not worth talking about all 15 mattress types - sleepers already proved that they're not worthy of your attention. Thus, here are the most popular mattress types in the market today:
Memory foam
Innerspring
Hybrid
Latex
Without further ado, let's get into the details.
The Most Popular Mattress Types 2023
Every sleeper is unique and prefers different mattress qualities, including firmness, support, materials, and so on. That being said, it would be impossible to say which is the best type of mattress for you. Thus, I will simply go from the most popular beds and tell you everything there is to know about them: support, firmness, sleeping position that it's best for, and even more.
Memory Foam
Foam mattresses are one of the most popular mattresses in the market. They're known for the ability to adapt to your body curves and "memorize" it. When sleeping on such a bed, you will feel more "in the mattress" rather than "on the mattress".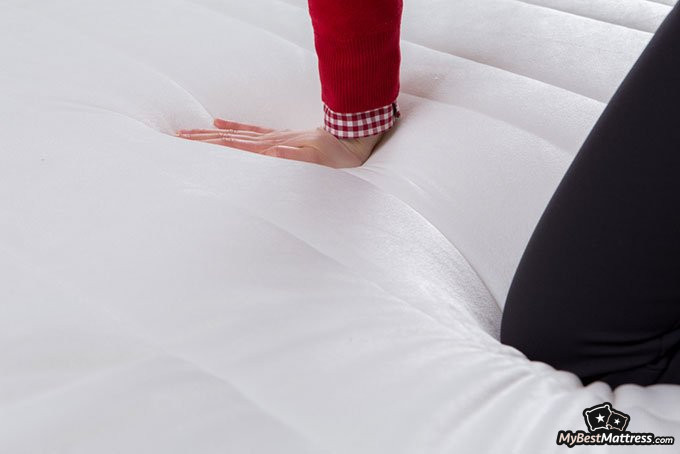 Each of the memory foam mattresses is designed out of different chemicals, meaning that there's no traditional option - it all depends on the manufacturer. On the other hand, almost all of the memory foam mattresses feel the same, so, it would be very tricky to set them apart.
Memory foam mattresses come in different firmness options, from the softest to the firmest ones. The mattress firmness is determined by density. It means that the firmer mattress you want, the higher the density you should choose.
Even if memory foam mattresses tend to adapt to your body and offer perfect pressure relief, some people say that they sleep really hot. Since it's a crucial problem, manufacturers came up with the idea and created a new option - gel-infused memory foam mattress.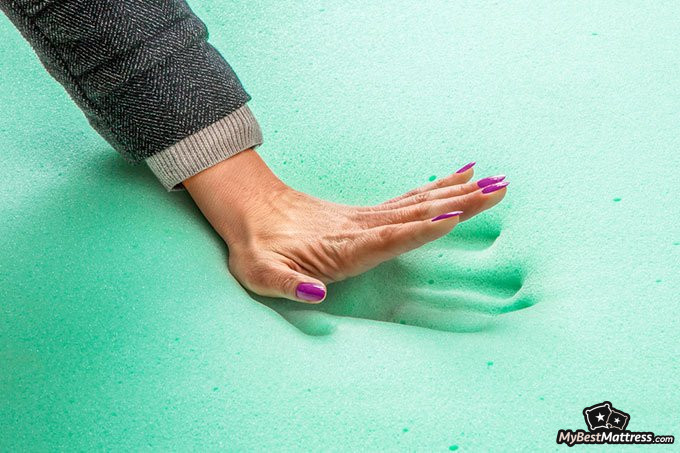 This material came into the market in 2011. Gel-infused memory foam mattresses tend to have cooling properties and more support than the original version[1]. Therefore, it's also better for heavy people and a good option for those who like to feel like sleeping "on the mattress".
Overall, the main benefits of memory foam mattresses include:
Reduction of the motion transfer
Pain and pressure relief
Maintains your spine in a healthy position
Fewer dust mites and other allergens
Thus, even if many consider memory foam beds as the number one choice, it all boils down to your personal preferences. If you think that this is the best type of mattress for you, check out some of the most favored options here.
Latest Saatva Coupon Found:
UP TO $500 OFF
Limited-time Saatva Sale
We're sharing a limited-time Saatva mattress discount with our readers! Grab this deal & enjoy your new mattress with huge discounts.
Expiration date: 13/06/2023
4,042 People Used
Only 83 Left
Innerspring
Interesting fact. In the middle of the nineteenth-century coil springs were used for chair seats. They weren't utilized in the bed design until 1865. However, innerspring mattresses became more popular only since 1930.
Once you hear the term "innerspring mattress", you might be imagining an old squeaky bed that used the steel coils support system. But don't be fooled, today technology has changed completely and it became one of the best mattress types for people who need more support and bounciness.
Differently from memory foam mattresses, you will feel like sleeping "on the mattress" rather than sinking in. Innerspring mattresses are the best option for back sleepers because they provide perfect support[2] and spine alignment.
Coil springs mattresses are also one of the best mattress types for those who love to sleep cool due to the airflow in the springs and less foam that tends to trap heat. And they're way more bouncy than the memory foam beds, meaning that this is the perfect option for couples.
Each of the innerspring mattresses is different, the only similarity is the coil or innerspring construction that all of them have. Here are their main types:
Continuous coils - formed from a single piece of wire.
Bonnell - the oldest type, made of steel wire coil, knotted, round-top, hourglass shape.
Offset - cylindrical or columnar shape, created with the main purpose to adjust to your body shape.
Marshall Or Pocket Coil - barrel-shaped, thin-gauge, knotless coils separately encased in fabric pockets. Pocket spring mattresses are the most popular in the market today.
Therefore, today innerspring mattresses are completely different than in the 1930s. Many sleepers who prefer the qualities of such beds say that it's the best type of mattress. However, it all depends on the qualities that you're looking for in the bed. You can find some of the most recommended coil springs mattresses in the market here.

Did you know?
Hybrid
Hybrid mattresses tend to have at least 2 inches of the memory foam or latex in the comfort layers. They also have the pocketed coil base layers. The most popular Hybrid mattress types are:
Innerspring latex hybrid
Innerspring memory foam hybrid
The innerspring latex mattress is the best option for those who have allergies. Mattresses with natural latex tend to trap less heat compared to the traditional memory foam mattresses, are more bouncy and provide you with better support.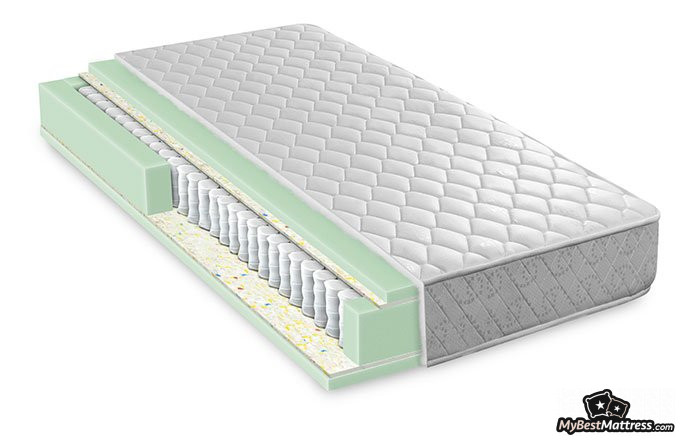 The innerspring memory foam hybrids tend to be in the middle of the perfect softness and firmness. They're way better for nighttime activities than the traditional memory foam mattresses that are not responsive at all. An innerspring mattress is a perfect option for those who love to sleep cool.
Primarily, the main idea of the hybrid mattresses was to create a mixture of the memory foam/latex and innerspring mattresses while connecting the best of their qualities altogether.
It means that hybrid mattress types tend to be conforming, pressure-relieving and are able to minimize the motion transfer. At the same time, they provide you with support and bounciness, and have cooling properties.
Overall, hybrids seem like the best type of mattress for those who want to have it all. If you want to see some of the best options for the hybrid mattress types, you can check them here.
Latex
About 80% of latex mattress owners are satisfied with their bed. Needless to say, that's quite a high number, and it remained almost the same for the past few years.
Now, latex mattresses are becoming more and more popular due to their natural recourse. The only thing that's surprising is the pricing that's very affordable. Similar to other types of mattresses, latex beds are not all the same. However, this time, it's not their structure that's different, but the distinct types of latex processing that have a huge impact on the final product.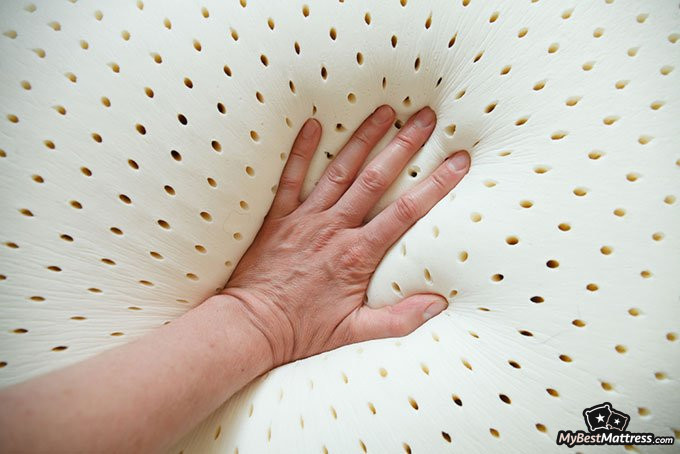 The major difference between the Dunlop and Talalay mattress processing is the bounciness. Talalay mattresses are better for couples, however, based on the sleepers' reviews, the Dunlop process works better for more individuals.
Here are the most beneficial qualities of the latex mattresses:
Pain relief
Allergen-free
Environmentally friendly
Perfect spine alignment
Dust mites and mold resistant
Therefore, natural latex mattresses are all about the environment and work perfectly for allergic people.
Recommendations
I've introduced you to different types of mattresses. As you've seen all of them have unique qualities, perks, and quirks. However, before deciding on which mattress you want to choose, I want to give you some recommendations that, I believe, are highly beneficial.
Make Sure the Mattress is Hypoallergenic
Did you know that a mattress can have up to 10 million dust mites in it? Shocking, right? This problem is mostly related to the traditional innerspring mattress types that are no longer popular in 2023. Dust mites have a lot of space to roam and reproduce in the areas between the springs.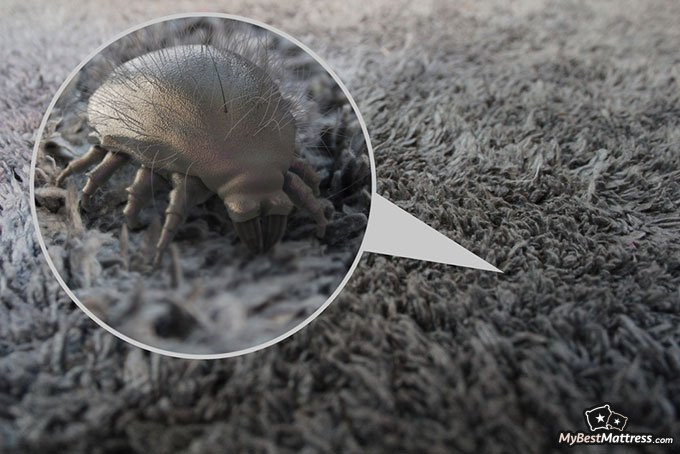 To avoid this problem, you should make sure that the mattress is hypoallergenic. The best option for sensitive and allergic people is a natural latex mattress that's dust mites and mold resistant.
Based on the studies[3], the best conditions for the dust mites to breed are humidity, lack of ventilation, and dirt. So, keep your mattress clean and always use a mattress foundation!
Make Sure the Mattress is not Flammable
If you want to save money and buy a cheap and suspicious mattress, please don't - rather use the mattress coupon codes to minimize the pricing. Let me explain why.
Based on the US Federal Law, mattresses that are sold in the US must withstand the flames for more than 30 seconds for your own safety. The best-known mattresses in the market tend to be regularly tested and safety approved.
On the contrary, by buying a shady mattress, you can get into serious trouble. Not because it's uncomfortable and contains millions of dust mites, but because it can be super flammable. Thus, make sure not to make the wrong decision.
Recycle Your Old Mattress
When it's time to change your mattress, don't throw it away - it's harmful to the environment.
Instead of throwing out your old mattress, think about recycling it. Simply look for the nearest recycle center and bring the old mattress there.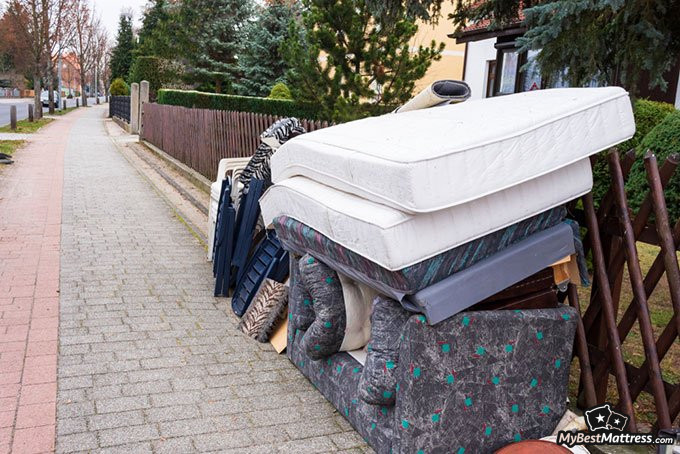 If your mattress is still in good condition, think about a donation. There are many charities that will pick your mattress for free. Here are some of the charities you should consider:
Thus, before thinking about different types of mattresses, remember to do something good for others too.
Choose the Correct Mattress Size
Choosing the correct mattress size is as important as picking the right bed type.
If you're sleeping with your partner and want to have extra space for yourself, then choose the king-size bed. If you like to feel close to one another, then the queen size is the best option. It's also the most popular mattress size in the US.
The full-size bed can also work for couples, but you might miss some personal space. Then, there's a twin-size bed. It's not the best option for couples unless you like to sleep super close to one another. Typically, this size is perfect for teenagers.
Thus, consider your wants and needs, and choose the most suitable size for yourself.
Fun fact. The largest bed in the world was recorded in the Netherlands, in 2011. It was over 86 feet long and more than 53 feet wide.
Choose the Perfect Firmness
Similar to different types of mattresses and size preferences, mattress firmness is one of the most important aspects to consider. To get the best level of support based on your weight and sleeping position, you should be aware of the measures for different sleepers.
Light people (less than 130 pounds) should choose soft mattresses, while heavy (over 230 pounds) should consider the firmest alternatives. If you're between 130 and 230 pounds then medium firm (4-6) mattress is the best pick.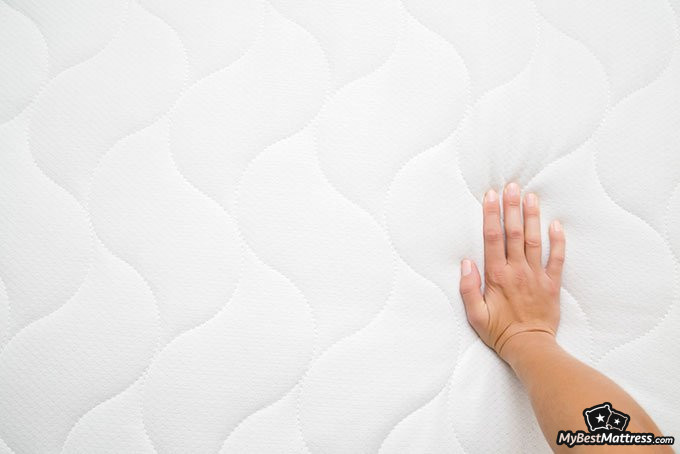 Talking about sleeping positions, side sleepers say that the best option for them is from soft to medium-firm mattress. Back sleepers tend to choose from medium to medium-firm bed. And the most popular among stomach sleepers is the medium bed.
Thus consider all the aspects and choose not only the best type of mattress for yourself but also the needed level of support.
Conclusions
As promised in the very beginning, I introduced you to different types of mattresses. While each of the mattresses has different qualities, you should listen to your personal demands and pick a perfect bed for yourself.
Shortly, memory foam mattresses are known for their perfect support, pain and pressure relief. And even if some of them sleep too hot, gel-infused memory foam mattresses should fix this problem.
Innerspring beds are a perfect option for sleepers who require more support and bounciness. It's a perfect alternative for couples. Latex mattresses are hypoallergenic and environmentally friendly. And hybrids tend to have all of the most vital qualities.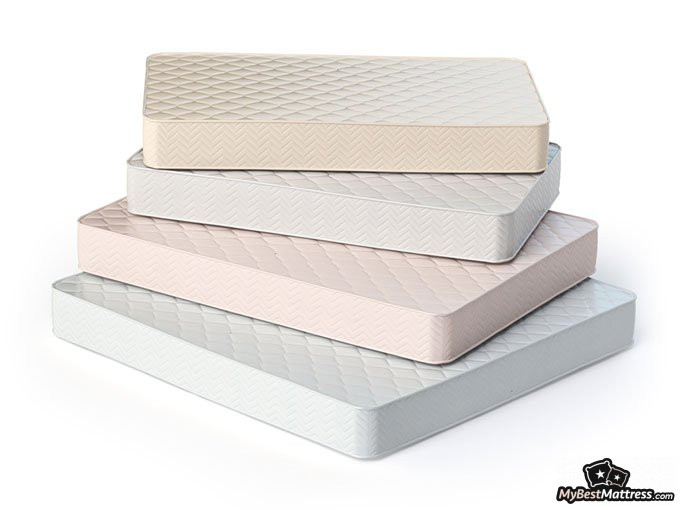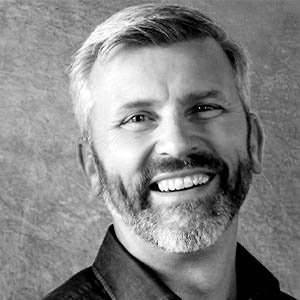 Keith Poorbaugh
Physical Therapist, Owner of Northern Edge Physical Therapy
Scientific References
Contributed by
Keith Poorbaugh
, Physical Therapist, Owner of Northern Edge Physical Therapy
1. National Institute for Health and Care Excellence (UK): 'The Prevention and Management of Pressure Ulcers in Primary and Secondary Care.'
2. Bert H. Jacobson, Ali Boolani, and Doug B. Smith: 'Changes in back pain, sleep quality, and perceived stress after introduction of new bedding systems'
3. Schei MA, Hessen JO, Lund E: 'House-dust mites and mattresses.'
Leave your honest feedback
Leave your genuine opinion & help thousands of people to choose the best mattress. All feedback, either positive or negative, are accepted as long as they're honest. We do not publish biased feedback or spam. So if you want to share your experience, opinion or give advice - the scene is yours!