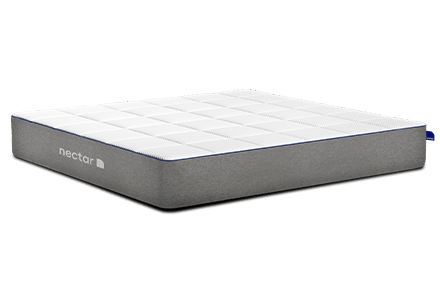 Finding a decent mattress can be really difficult these days. It's often something that we don't think about until we actually need a new mattress - that said, with such a huge product selection out there, it can get really hectic trying to find the right one. Don't worry, though - in this Nectar mattress review, we'll be covering one of the top mattress providers in the game.
Perhaps a bit different than most of the technical stuff-based Nectar mattress reviews out there, we won't go too in-depth into the numbers. Instead, this review focuses on the things that will actually matter to the average consumer - bounciness, temperature control, softness, firmness, motion transfer, and so on.
We'll start off by talking about the pros and cons of the Nectar bed. After that, we'll take a look at the available pricing options for the mattress, and finally, I'll conclude this Nectar mattress review with a short summary.
TL;DR: Nectar is a great mattress for all types of sleepers. While it may be relatively firm for some, the mattress does offer great motion and noise isolation. As many Nectar mattress reviews point out, the 4-layered design of the product makes it stand out of the crowd.
Pros
Ultimate comfort for all sleepers
100% risk-free 365-night trial
Pressure point relief for any body type
Unique 4-layer design
Cons
Might be a bit too firm for some people
Some customers report that the mattress is a tad bit too warm
Nectar Mattress Review: PROS
Let's begin the pro section by talking about the types of people that will find this Nectar mattress review most helpful.
Suitable for Every Type of Sleeper
As you may or may not know, there are actually a few different kinds of "sleepers".
Some people tend to spend the night on their backs, while others couldn't imagine sleeping in any other way than on their side. As the majority of customer Nectar mattress reviews show, this is actually a very important aspect when choosing a mattress - the various features of the bed will determine which type of sleepers will feel best while sleeping on it.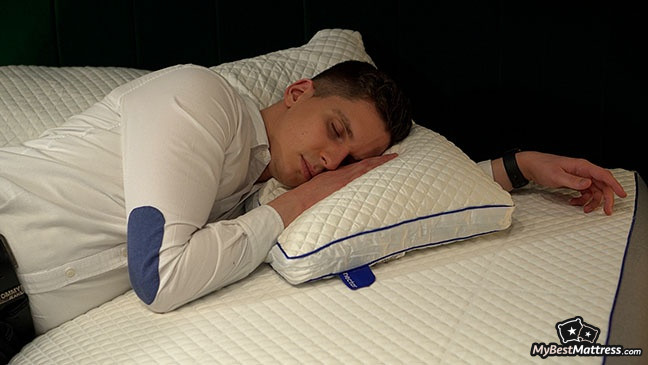 The cool thing about the Nectar bed is that it's actually almost universally loved by all types of sleepers. The vast majority of people who like to sleep on their backs are bound to find Nectar the most likable, while side and stomach sleepers should also find their experience enjoyable.
The comfort of your sleeping position is mostly dependant on the type of mattress in question. Nectar's flagship product - the mattress - has a layer of memory foam within it. Memory foam allows your body weight to spread out equally throughout the mattress, reducing the risk of developing the so-called "painful spots" on your body while you sleep.
Latest Nectar Coupon Found:
33% OFF
Nectar Special Offer
With the current Nectar mattress sale you can save up to 33%. Get one of the biggest discounts on mattresses when using this special Nectar mattress coupon.
Expiration date: 29/09/2023
3,101 People Used
Only 99 Left
5 Different Layers
Different mattresses are made up of various different layers of special material. The Nectar bed mattress is no different - as many different Nectar reviews have pointed out, the mattress is comprised of 5 different foams and other types of layers.
At the very bottom, you have the base of the mattress. It's a "breathable base" - this means that the mattress will be able to "breathe" and won't trap heat within itself. On top of the base, there lies the before-mentioned memory foam - it serves the purpose of supporting your body and giving the mattress that bounciness feature.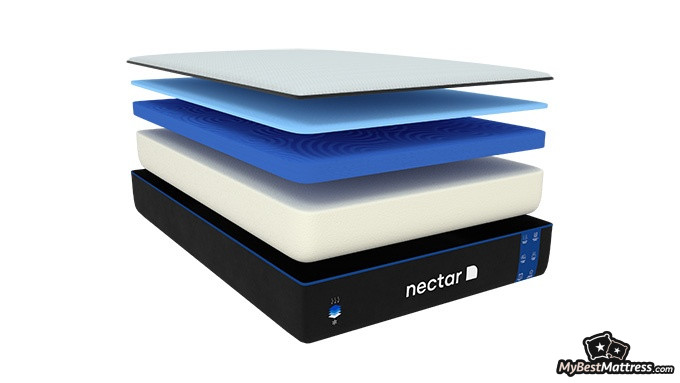 Then we have the gel memory foam - it serves the purpose of distributing your body weight and adjusting the temperature of the mattress. On top of it, there are the quilted gel memory foam and a cooling cover - both provide air circulation and manage the heat that the mattress absorbs from your body while you sleep.
All of these layers combined make up the Nectar mattress. Honestly, that's just about as technical as this Nectar mattress review will get - now that you know what the mattress is actually made of, you can understand how it is able to provide the various features that it does.

Did you know?
No More Twisting and Turning
A lot of people tend to turn around from side to side while they sleep - that's a pretty well-known fact. What isn't that well-known, however, is that your mattress has a lot to do with this - the notion is further proven by multiple different online Nectar mattress reviews.
People report that, once they've started using the Nectar mattress, they have noticed a considerably lower amount of nighttime twisting and turning. This is actually a very important aspect of the Nectar reviews!

The thing is that people often either wake themselves up by constantly turning around, or wake up in the morning not feeling rested at all. This can gravely impact your quality of sleep, which will then take a toll on the rest of your day.
As I've mentioned earlier, the memory foam "feature" within the Nectar mattress is responsible for the distribution of your body weight while you're laying on the mattress itself. However, it also serves the purpose of adjusting to your body and eliminating the need to turn aimlessly while you sleep.
No More Heat Waves
If there's one thing that can drive you absolutely nuts, it's when you wake up in the middle of the night drenched in sweat, even though you sleep with your windows open and it's the middle of Autumn. While the fabric of your blankets and your pillow also play a big part in this, more often than not, your mattress is the main suspect to blame.
A whole lot of Nectar mattress reviews tend to agree with me on the fact that middle-of-the-night heat waves are one of the first things that can ruin a good night's sleep.

Fortunately, though, Nectar has got you covered on this end, too - since the mattress is comprised out of multiple layers of foam that are there to provide breathability and temperature control, heat waves shouldn't be a problem anymore.
Admittedly, the mattress does sleep rather warm when compared to some other competitors in the industry, but it's definitely not a game breaker and is a whole lot better than the vast majority of the consumer-grade mattresses out there.
No More Noise
What would be a Nectar mattress review if we weren't to mention the noise topic, eh?
I don't say that without a reason, either. While this may be somewhat of a follow-up to the earlier-covered topic of turning and waking yourself up, the noise of the mattress can actually have a huge impact on the quality of your sleep.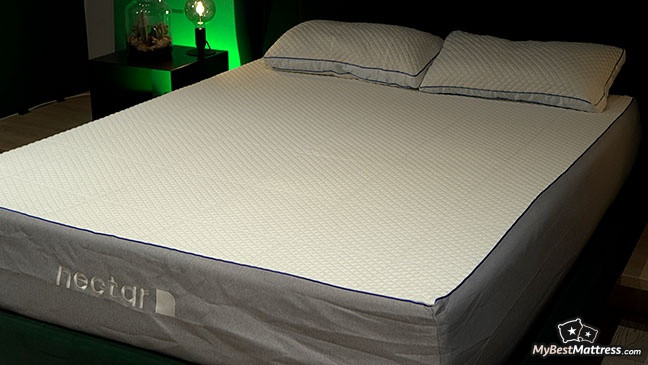 Think of it this way - a lot of the times that you find yourself awake in the middle of the night, it's not necessarily because you were turning around - it's because you made a lot of noise doing so. Noise can become a very damaging factor for your sleep, and it's not something that you should take lightly.
This is also the topic where Nectar shines the brightest, though.
Nectar Mattress Review - My HONEST All-Foam Mattress Experience 2021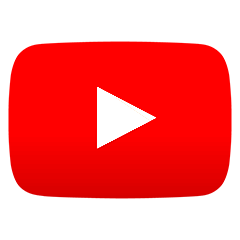 As it stands today (and a lot of the Nectar mattress reviews would probably tend to agree with me), Nectar is one of the most silent, noise-free mattresses in the industry. Because of the way that it's built, you'll hardly hear the mattress at all, whether you're sleeping or bouncing on it.
Speaking of which…
The zero-noise thing that the mattress has going on for it isn't only important for sleep, but also for… Other bed-related activities, too. While Nectar might not have the best bounciness out of all mattresses out there, it's certainly not a deal-breaker for couples that don't mind a mildly firm, yet super-silent mattress.
Edge Support
One of the less-talked-about pros in the many different Nectar mattress reviews, edge support is also super important, especially for the people who like to either lay on these edges, or sit on the edge of the bed frequently.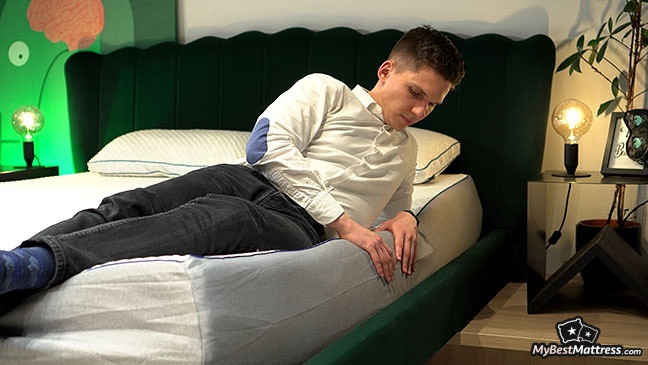 Well, this probably won't come as too big of a surprise for you, but Nectar has some great statistics with this feature, too. While you're sitting on the edge of the bed, you can comfortably place items near to you - the surface remains flat and undisturbed. The same applies when you're laying on the edge, too.
This, yet again, can be attributed to the memory foam that's part of the mattress. It allows both your body and the items on the bed to be distributed equally on the surface (weight-wise), which eliminates the possibility of "dents".
Nectar Mattress Review: CONS
So, then - Nectar has a lot of pros. By this point, reading most of the Nectar reviews, that's somewhat already established. Now, let's make a 180-degree turn and take a look at some of the more notable Nectar mattress complaints.
Too Firm?
Out of all of the Nectar mattress complaints out there, the one that probably sticks out the most is the mattress being too firm.
Needless to say, that's definitely debatable.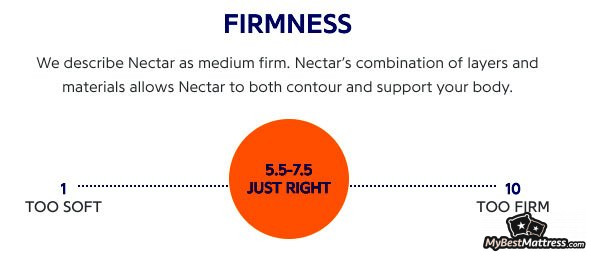 To be fair, though, the company (on their official website) states that their mattress offers "just the right level of firmness" - it's neither too firm, nor too soft. Being in the middle surely has its advantages… and disadvantages.
Table: The firmness and thickness of the Nectar mattress
There are always going to be somewhat negative Nectar mattress reviews that are left by people who find the bed being too firm. Not everyone likes a firm mattress - while it's definitely considered to be better for your back and general health[1], arguably the majority of the population would choose a soft and cushion-like mattress over the firm one at any given day.
Too Hot?
Yet another popular type of Nectar mattress complaints, the temperature that the mattress upholds can still be a problem for some people.
If you remember from the "pro" section of the Nectar mattress review, we've discussed that the mattress has a pretty good balance of temperature control and cooling, and that you aren't likely to experience any "heat waves" in the middle of the night or wake up in the morning all drenched in sweat. That being said, the mattress is still on the warmer side of the spectrum.
While warmth might be a good feature for some (especially during winter time), it can also definitely bug other customers, especially those that prefer complete coolness while they sleep. That said, it's obvious that, while the mattress might be rather cool, people who sleep really hot are going to find it to be relatively warm. It all kind of depends on which type of a person you are!
What is Nectar mattress price?
With both the pros and cons of the Nectar mattress review out of the way, the last thing that's still left to discuss is the Nectar mattress price.
As of writing this Nectar mattress review, there are six size and pricing options available:
Do keep in mind that this is the original pricing, however, at the moment Nectar has a sale that will save you $100 OFF any mattress and add 2 PREMIUM pillows with every purchase! Also, the price tags are subject to change at any given time - the ones above reflect the current situation, as of writing this article.
Furthermore, if you want, there are extra stuff that you can add to your order:
The company goes on to state that their mattress works with all frames, has a "forever" warranty (wow!) and offers free shipping and free returns. To add to that, you get 365 days to test the mattress out (that's their money-back period). In addition to the more-than-acceptable Nectar mattress prices, this does actually look like a great deal!
Here is The Best Nectar Offer I Found:
33% OFF
Nectar Special Offer
With the current Nectar mattress sale you can save up to 33%. Get one of the biggest discounts on mattresses when using this special Nectar mattress coupon.
Expiration date: 29/09/2023
3,101 People Used
Only 99 Left
Conclusion
So, then… Is Nectar worth it?
Without a doubt, it definitely is.
Table: Nectar mattress overview
In the short amount of time that it exists (the company launched back in 2017), Nectar has managed to become one of the leading industry giants when it comes to choosing the right mattress for yourself.
Quite apparently, this isn't without a solid reason, either - while the mattress can be somewhat firm and on the warmer side, it's 4-layer construction provides almost everything that you might want from a mattress.
It's actually comparatively cool, is made out of layers of memory foam, has a sturdy and ventilating base, and is great for all types of sleepers out there.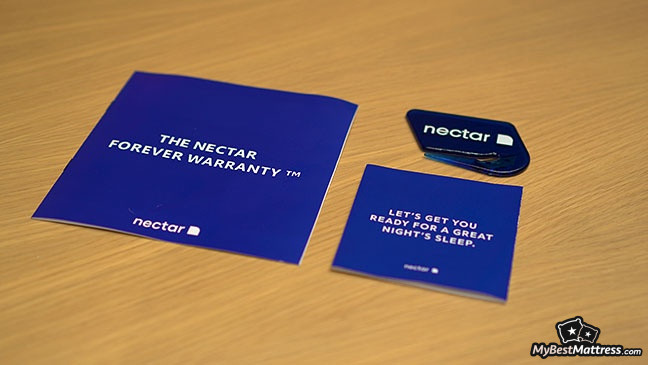 You can't really know for sure until you try it out yourself, now can you? Well, even though the Nectar mattress price is far from being "too high", you can always use the company's provided 1-year money-back guarantee if you're not satisfied with the service.
All in all, Nectar is a very strong player in the mattress industry, and it's definitely an option to consider when you're looking for a brand new bed to sleep on.
Scientific References
1. Radwan A, Fess P, James D, et al.: 'Effect of different mattress designs on promoting sleep quality, pain reduction, and spinal alignment in adults with or without back pain; systematic review of controlled trials.'
Leave your honest Nectar review
Leave your genuine opinion & help thousands of people to choose the best mattress. All reviews, either positive or negative, are accepted as long as they're honest. We do not publish biased reviews or spam. So if you want to share your experience, opinion or give advice - the scene is yours!