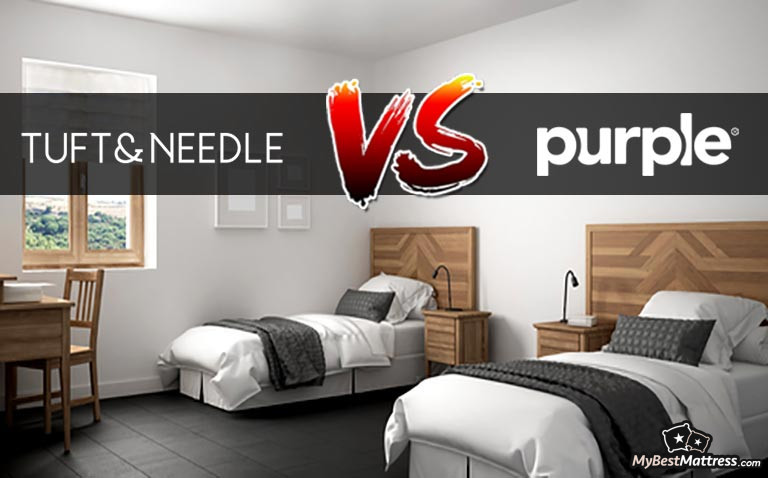 A hybrid mattress against an all-foam one… Who would have thought?
In all seriousness, there are actually quite a few people wondering which of the two Tuft and Needle VS Purple mattresses is better. That is exactly what we'll aim to answer in this comparison article.
Before we begin, though, I'd like to invite you to check out our more-technical, side-by-side Tuft and Needle VS Purple comparison, first. This guide is going to be more in-depth, so it would be great if you had some background information beforehand.
Table: Tuft and Needle and Purple mattress introduction
That said, if you don't feel like going anywhere and just want to keep on reading, worry not - I'mma keep things as simple and to-the-point as possible.
Tuft and Needle VS Purple: The Essential Features of a Good Mattress
All of the mattresses that you'll encounter while browsing and searching for your dream bed are going to fall into certain, specific categories - some will be made out of foam, others - latex, and so on. However, all of them are going to have to meet certain criteria in order to be considered "good" - this Tuft and Needle VS Purple is no exception.
While your idea of a "good" mattress might differ from that of your friend or colleague, the essential and most important features are the same for everyone. It's like buying a car - while you might choose different colors or even transmission types, you probably don't even think about the car having wheels - that's a given.
However, some wheels are better than others - the same applies to both of our Tuft and Needle VS Purple mattresses, too.
Table: Tuft and Needle and Purple mattress features and benefits
In the table above, you can see some of the more important mattress features to pay attention to. I'll elaborate on five of them - durability, firmness, motion isolation, cooling and responsiveness.
Durability. Durable beds aren't all that difficult to come by - if you're looking at the top mattress providers of the industry, that is. That being said, while most of such beds (Tuft and Needle VS Purple included) are going to be more or less durable, this criterion might still vary, depending on a few different factors - build quality, materials used, and so on. So, if you want the most durable bed possible, pay close attention to the Purple bed VS Tuft and Needle comparison!
Firmness. While mattress firmness shouldn't necessarily be a difficult topic to discuss, it actually kind of is. That's mostly because it can be really hard to find a bed that would not only be comfortable and cozy, but would also provide proper support for your back and hips. That said, when in doubt (whether in this Purple mattress VS Tuft and Needle comparison, or else), always choose to go with the firmer option - your lower back health should be much more important than minor discomfort.
Motion isolation. Some beds are great at isolating motion, others… Not so much. This is mostly an issue if you sleep with your partner - them turning around at night can even wake you up and prevent you from getting enough sleep. That said, if your bed does, indeed, lack motion isolation and is, in fact, noisy, this can make your sexual experiences that less exciting and comfortable.
Cooling. This is actually a pretty funny topic, since, according to research done by A. Radwan and colleagues, it would seem like a warm-sleeping bed is actually best for optimal comfort and sleep quality. Now, with that being said, the term "warm" likely mostly implies to the cozy feeling you get when you tuck into your sheets. Cool mattresses are still important, nonetheless, since when you start getting hot instead of comfortably-warm, this is when things become less-than-ideal.
Responsiveness. A responsive bed is going to adapt to you body, without sinking down or feeling firm as a rock. You lie on the bed - responsiveness. You stand up - the bed goes back into its original shape. Many customer Tuft and Needle VS Purple reviews also note that this is beneficial for sex, too, since responsive beds tend to be somewhat bouncy and on the firmer side of things.
Choosing the best mattress for yourself out of the two Tuft and Needle VS Purple beds, you should pay close attention to all of the things that are most important to you, but these 5 essential features should act as the leading points in your decision.
Tuft and Needle VS Purple: The Comparison
To start off our Purple VS Tuft and Needle comparison, let's follow the same train of thought as we did while discussing the essential features of a proper mattress, starting off with durability.
Durability
The Purple mattress is comprised out of three distinct layers of materials. It's a hybrid mattress, which means that it mixes elastic polymer with polyfoam and buckling gel - while each hybrid bed is going to have a different combination of materials inside of it, this is the path that Purple chose to go.
As for our second contender of the Purple bed VS Tuft and Needle, T&N is made out of two layers, with memory foam being the core ingredient.
So… Which one of them is the better choice durability-wise?

Truth be told, both Tuft and Needle VS Purple beds are actually quite similar in this case. Purple is commonly seen as the better-built and longer-lasting alternative, which is mostly thanks to its special elastic polymer technology.
That being said, however, for a foam mattress, the classic Tuft and Needle is actually very durable. Memory foam (and foam, in general) doesn't have a tendency to age well, which, in turn, has granted the material the reputation of being a less-durable and trustworthy option. Whatever the case might be, though, this isn't an issue in this Purple bed VS Tuft and Needle comparison.
Latest Saatva Coupon Found:
UP TO $500 OFF
Limited-time Saatva Sale
We're sharing a limited-time Saatva mattress discount with our readers! Grab this deal & enjoy your new mattress with huge discounts.
Expiration date: 05/12/2023
4,042 People Used
Only 83 Left
Firmness
One of the more commonly-referenced articles that talk about the optimal level of firmness of a mattress is that written by F. M. Kovacs and colleagues. In that article, the conclusion is made that medium-firm beds are actually some of the best options for people who suffer from back pain. The earlier-mentioned study performed by Radwan and colleagues actually seconds that notion.
So - medium-firm is the way to go. While it seems rather simple at first glance, there are actually many more intricacies involved, with the main one being customer preferences.
Many people simply prefer sleeping soft. Yes, that's not ideal. Yes, a soft mattress can break your spine alignment and cause various types of morning pains. Even so, firmness is still a pretty contested topic.
Table: Tuft and Needle and Purple firmness and thickness options
As chance would have it, however, there isn't much contest between Tuft and Needle VS Purple. That's because both beds are considered to be above-average as far as firmness goes.
What does "above-average" mean when it comes to firmness? Well, to put it short, both beds are going to be rather firm.
If you were searching for optimal softness, sure - that might not be the greatest news in the world. That being said, though, choosing either of the Purple VS Tuft and Needle beds, your lower back will eventually thank you.

Did you know?
Motion Isolation
In the same way how both Purple and Tuft and Needle were great at providing the customer with long-term durability, both of the beds in question are also really good motion isolation-wise.
This is pretty substantial, since this means that, whichever mattress it is that you pick, you are going to be able to sleep at peace, even if your fellow sleeper is a "tosser and turner" during nighttime.

Keeping in line with how we discussed the motion isolation feature earlier on in the Purple mattress VS Tuft and Needle comparison, it's worth noting that both beds are actually very silent, too. Combine that with proper motion isolation, and you have yourself two great options for silent and incognito-like sex.
Cooling
The effect of a "cool mattress" can be achieved by various different means - it's up to the brand to decide what method works best for them, keeping the type of the mattress and its layering in mind.
In any case, though, this does not change the fact that sleeping cool is important - whether we're talking about the Purple VS Tuft and Needle, or else. Yet again, however, I must admit - it is a draw, since both beds are seen as being "relatively-cool to sleep on".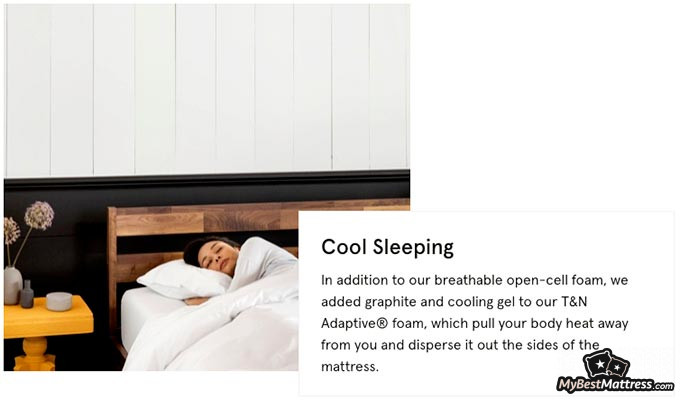 The surprising part here is that Tuft and Needle is able to keep up with Purple in breathability. You see, Purple's elastic polymer is extremely breathable - one of the most breathable materials on the market, for sure -, while T&N is a FOAM mattress.
Foam, as you probably know, tends to sleep rather hot.
Whatever the case might be, it would seem that this Tuft and Needle VS Purple comparison is quite a surprising one - pretty awesome!
Responsiveness
As I've noted earlier on in the Tuft and Needle VS Purple comparison, responsiveness refers to a mattress being able to adapt to your body and offer proper support. This can then, in turn, translate into bounciness, since these two features often (not always!) go hand-in-hand with one another.
Likely not surprisingly, the Purple bed is quite responsive. Once again, this is almost exclusively thanks to the "Smart Comfort Grid" design - the elastic polymer.

Tuft and Needle, on the other hand, isn't responsive at all. The mattress actually tends to be a bit sinky in this regard, which can then break the sleeper's spine alignment and cause a whole lot of trouble.
Sleeping Position
With all of the main features discussed and figured out, there's one more thing that we need to examine before moving on to the "pricing" part of our Purple mattress VS Tuft and Needle comparison - the sleeping positions that the two mattresses in question are going to be best for.
In general, there are three main sleeping positions into which most people around the globe fall into - stomach, side and back. Each one of these positions is going to require some different mattress features and parameters in order for that person to sleep comfortably.
Table: Tuft and Needle and Purple mattress sleeping positions
That being said, there are beds that "get it right" and are almost universally loved by most types of sleepers out there. Tuft and Needle is one such bed.
Purple, on the other hand, is going to mostly suit side sleepers. While some customer Tuft and Needle VS Purple comparisons note that the original Purple mattress is actually "pretty OK" for back sleepers, too, stomach sleepers are going to be the people that are likely to have the most difficulties with the bed.
Price
So, then - with all of that said and done, let's discuss the pricing options, warranties and trials of this Tuft and Needle VS Purple comparison.
Table: Tuft and Needle and Purple mattress pricing and sizing options
Tuft and Needle's pricing options look something like this:
Purpler's prices are:
Needless to say, Tuft and Needle is definitely quite a bit more affordable than Purple!
Table: Shipping, warranty and trial information for the Tuft and Needle and Purple mattresses
To add to that, both of the mattresses in question offer 100-night sleep trials and 10-year warranties. Also, Purple ships its products internationally - Tuft and Needle do not.
Conclusions
So, with the Tuft and Needle VS Purple comparison all done and discussed, one question remains unanswered: which of these two beds should you pick?
While both of the mattresses in this article are considered to be top-tier, I would most definitely go with Purple. Sure, it's a more expensive option, but the additional features that the mattress provides are definitely worth the price you'd pay.
Tuft and Needle, however, is also an option for anyone who prefers memory foam products and likes a universal bed that will fit most sleeping positions out there.
Still not sure? You can either check our side-by-side Tuft and Needle VS Purple comparison, or even go through the list of the best mattresses of the year, if you'd like to find a completely different bed, in general.
Purple Deal Active Right Now:
Purple Black Friday Deal
Up To $800 OFF
Don't miss a chance to purchase Purple mattresses with an impressive $800 discount. You deserve to enjoy this Purple Black Friday Sale!
Expiration date: 05/12/2023
2,089 People Used
Only 72 Left
Leave your honest feedback
Leave your genuine opinion & help thousands of people to choose the best mattress. All feedback, either positive or negative, are accepted as long as they're honest. We do not publish biased feedback or spam. So if you want to share your experience, opinion or give advice - the scene is yours!