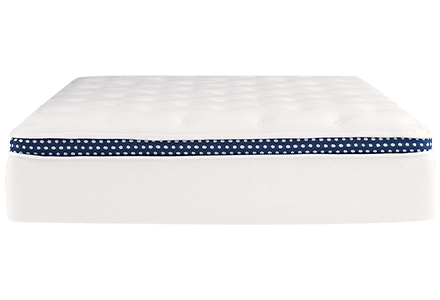 Finding a suitable mattress for yourself (and perhaps even your partner?) can be a challenging task. There are many mattress providers that offer great products with some seemingly unparallel features - how should you choose the right one? Well, WinkBed reviews are here to help.
Today, we'll be discussing the Wink mattress and everything around it. We'll take a look at some of the most unbiased and well-crafted WinkBeds reviews, and see whether or not we can draw a solid conclusion on the question is WinkBeds good or not.
Table: WinkBeds mattress introduction.
The way that we'll do this is by talking about both the pros and the WinkBeds complaints that might be noticeable with the mattress. After that, we'll take a look at the price and, finally, we'll try to draw a conclusion on whether or not the Wink mattress is worth paying attention to.
TL;DR: As you might notice from the multiple customer WinkBed reviews, this innerspring mattress is a great choice for anyone that values sex and hates heat waves. WinkBed suits all types of sleepers, and although is rather expensive, the quality of the product is worth the money.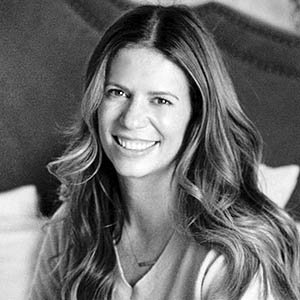 Kelly Murray
Certified Pediatric & Adult Sleep Consultant
What are the top 3 things that contribute to the quality of our sleep?
It would be our stress levels, our sleep hygiene, and having a balanced body. When it comes to stress levels, whenever we're stressed, our body produces cortisol - the alert hormone that keeps us awake during the day. If our levels are elevated and we don't lower them before bed, it's going to be hard for us to fall asleep and stay asleep. That's why I recommend all of my clients to perform some kind of relaxation exercises before bed, such as, for example, meditation.
Pros
Good noise and motion isolation
Bouncy
Great temperature neutrality
No off-gassing
Cons
30-day break-in period
Relatively new company
WinkBeds Reviews: PROS
So then, let's start off by talking about the pros of the mattress. And there are actually quite a few of them to cover!
A Very Durable Mattress
If you're in the market for a new mattress, durability and longevity should be the two features that are on the top of your list of criteria. I mean, honestly - what's the point of purchasing a mattress that seems to have every single aspect except this one down, just so that you would have to throw it away later on?
Wink is likely to pass this test, however - according to the majority of customer WinkBed reviews, it would seem as though the mattress is much more durable than you would come to expect! This means that, while the average life expectancy in the mattress industry varies at around 5 years or so, the WinkBed mattress should go past that.

Do keep in mind, however, that your actions are also a big part of the equation. Do you change the sheets periodically? Or perhaps even replace the out-of-date springs? Or do you not care for the mattress at all and just leave it for fate to decide, seemingly the same way that the writers of Game of Thrones left season 8 (I'm not salty, you're salty!)?
Latest WinkBeds Coupon Found:
$300 OFF
WinkBeds Limited-Time Sale
WinkBeds is running special promotion and offers up to $300 off top-tier mattresses. Don't miss this chance to save!
Expiration date: 12/12/2023
3,135 People Used
Only 48 Left
Good for All Types of Sleepers, Best for Side Ones
Another big factor that you should take into consideration while choosing the appropriate mattress for yourself is the sleeping positions that it's best for.
If you didn't know, there are actually three major sleeping positions that mattress providers (and WinkBed reviews) take into consideration. These would be the side, back and stomach sleepers.
Believe it or not, but all of these types of sleepers usually require rather different types of mattresses! Side sleepers are considered to be the easiest group to please - it seems like these people could sleep on a pile of rocks and still say it's comfortable (where my fellow side sleepers at?).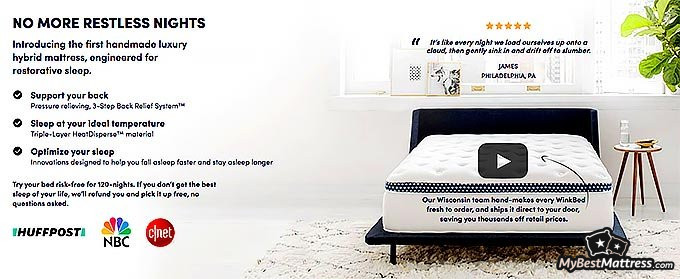 The same cannot be said about stomach sleepers - it takes some special mattress designs to please these guys and gals. That said, however, you'd be surprised at what the WinkBed reviews have to say about it. Discounting outside factors that can influence your sleep quality[1], WinkBed seems to provide good comfort, nonetheless.
Table: WinkBed's thickness and firmness
Analyzing many different WinkBeds reviews, it would seem as if the mattress is actually universally liked by all three types of sleepers! Naturally, there are exceptions (of course), but the general consensus seems to be that the company has actually managed to nail down the perfect combination of firmness levels and overall construction.
Top-Tier Responsiveness and Very Little Noise
Now, that's a combination that you won't see all that often.
But yup, you've read that right - the Wink mattress offers people absolutely amazing responsiveness (a feature that goes hand-in-hand with bounciness) with very little noise involved (at least that's what the majority of WinkBed reviews claim).
Without a doubt, this is essential for one single aspect - sex. A mattress that's ideal for sex usually has to have only two criteria in place - no sinkage and no noise. The "no sinkage" part is also going to be beneficial if you want to get enough sleep[2]. Apparently, the WinkBed mattress is great at that!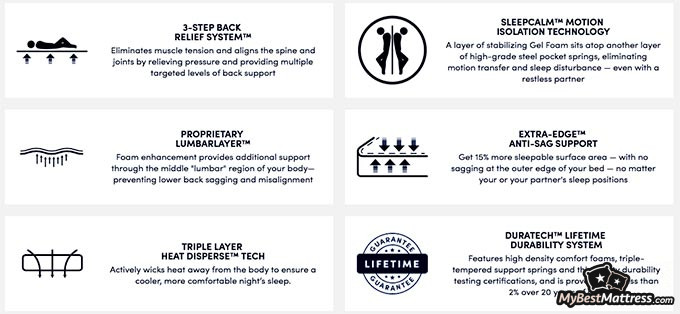 Now, the "great responsiveness" part isn't surprising at all. Why? Well, the WinkBed is an innerspring-based mattress. This means that inside-construction of the mattress is made out of metal coils, as opposed to the current industry standard all-foam mattresses.
This, however, has its pros and cons.
Innerspring mattresses are famous for being very bouncy - if sex is your primary concern, then this is something that you'll definitely appreciate. That being said, they are usually lackluster when it comes to noise and motion isolation.
It would seem that WinkBed reviews would beg to differ, though.
WinkBed does give out some noise, but if you compare it to the rest of the general population of innerspring mattresses, Wink becomes very silent. A great feature indeed!

Did you know?
Excellent Edge Support and Temperature Neutrality
Innerspring mattresses aren't only great for bounciness, though. Edge support and temperature neutrality are also aspects in which this type of a mattress exceeds in.
Edge support, frankly, has two main uses - so that you could place heavier items on the edge of your bed, and that you yourself wouldn't fall out of it while sleeping. As it stands today, all-foam mattresses tend to have less-than-desirable edge support, mostly because of their construction.
With the WinkBed mattress being an innerspring one, it does not possess this type of a problem.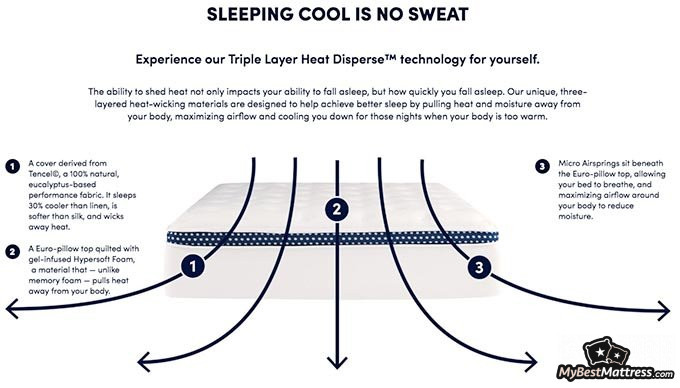 Not only does WinkBed come with great edge support, but it's also one of the cooler mattresses out there. Yes, I'm talking about the temperature.
Since the base of the mattress is coil-based, this allows for the rest of the product to be rather cool - you won't have to worry about middle-of-the-night heat waves.
Above-Average Motion Isolation
As I've mentioned earlier, motion isolation often tends to be the area in which innerspring-based mattresses flunk. Well, yet again, customer WinkBed reviews would beg to differ.
You see, the fact that WinkBed is coil-based does not mean that it does not have other layers that would be comprised of foam - it does.
While it might be rather difficult to get it right sometimes, WinkBed seems to have succeeded in striking a good balance of bounciness and motion isolation - it's still far off from what all-foam mattresses can do, but it's much better than the majority of other innerspring products.
WinkBed Reviews: CONS
By now, it would seem that all of the WinkBed reviews found online are nothing but positive, right? Well, while the trend is definitely that, there are still some more notable WinkBeds complaints that we should look into and discuss.
New Company
While this isn't really a direct form of "WinkBeds complaints", it's still something that tends to come up every once in a while, so it should probably be mentioned.
Wink is a relatively new company. While this isn't a "bad" thing per se, the fact that they don't really have any proven track record can be somewhat concerning for a lot of customers.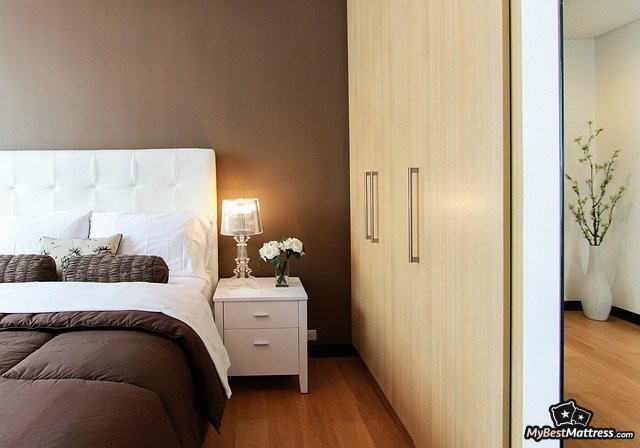 You see, the company charges a hefty amount of money for their products (we'll talk about the price later, but it's worth mentioning some things here, too). Since the price tags are considerably higher than average, it would make sense that potential customers would want to get all of the guarantees possible.
WinkBed reviews do further that notion.
One of the best guarantees that a company could offer its customers is a long history of providing top-quality products. This is something that Wink can't really do, at least for now.
If you don't feel like this mattress is going to suit you, don't worry - there are a few alternatives you can choose from. Take a look at the "Best Mattress" list that we've comprised, and who knows - maybe you'll find something that'll catch your interest.
Table: WinkBeds company information
Surely, this isn't the company's fault - I mean, you can't really get older faster, now can you? However, in the same way that Wink can't age more quickly, potential customers can't really fully trust the product, either.
With that said, though, it is still worth acknowledging that this matters only to a portion of the most dedicated WinkBed review - the majority of customers don't really think about it.
Mandatory Break-In Period
No, this does not mean that the mattress is going to break into your house. Or does it..?
On a serious note, though, this is something that a lot of the customer WinkBed reviews point out as a huge con. You see, when you purchase the mattress, you receive a 120-night trial period. If you're not happy with the product, you can then turn it back in and receive a full refund.
There's a catch, however.
If you've slept on the mattress for a few nights and now feel that it simply does not suit you, you won't be able to refund it… At least for 30 days.

This does kind of make sense from the company's perspective - it's tough to "get a feel" for the mattress in a few days, and some people really do jump the bullet, so to speak. Perhaps if you were to give the mattress some more time to settle in, your experience would actually be good?
While there are some exceptions (like the above-mentioned one), this still does not satisfy the majority of customers. Imagine having to hold a huge item that you really don't need for 30 days! Maybe you live in a small flat and lack the space? Or perhaps something's come up and you need to move?
Situations like these aren't really all that common, but it can still be a huge nuisance for a lot of people. Again, if this wasn't the case, it wouldn't be constantly coming up in the various WinkBed reviews.
Price
Now, we've come to the point in the WinkBeds review where we should talk about the price. And let me warn you - it ain't gonna be cheap.
Do note, though, that the majority of WinkBed reviews agree that the price does match the product. It is rare to find anyone that would be outright unhappy with the "price VS quality" ratio that Wink provides.
That said, not everyone can afford to throw huge amounts of money into their mattresses. Sure, it's a long-term investment, but this doesn't mean that there aren't other areas in life that need such "long-term investments".
OK, enough blabbering - let's talk numbers.
What is the WinkBeds mattress price?
Here's the list of prices and available options that you'll find on WinkBeds. Do keep in mind that the prices are subject to change, though:
Ya… Not the cheapest options in town.
With any of the pricing options, you can also choose from four different levels of firmness - Softer, Luxury Firm, Firmer, and Plus. This is cool, since not everyone enjoys firm mattresses, and it's nice to be able to choose from some softer options.
In addition to all of that, Wink also offers its customers the before-mentioned 120-night sleep trial and free shipping and returns. Not a bad deal!
Here is The Best WinkBeds Offer I Found:
$300 OFF
WinkBeds Limited-Time Sale
WinkBeds is running special promotion and offers up to $300 off top-tier mattresses. Don't miss this chance to save!
Expiration date: 12/12/2023
3,135 People Used
Only 48 Left
Conclusions
So - we've reached the very end of our article.
We've talked about Wink form all kinds of perspectives - the pros and cons of the mattress, areas in which it exceeds in and other ones in which it lacks, we've discussed the cumbersome break-in period and some other things that are found in a lot of WinkBed reviews.
Only one question remains unanswered - would I recommend trying Wink out?
Yup.
It's rather simple, really. Sure, it's a new company, and the refund policy is a tad bit tiresome, but you shouldn't forget the huge section of pros that we've covered in this article. The mattress is responsive, has great noise and motion isolation, good edge support, and fits all types of sleepers! Furthermore, you can even choose the firmness level that you want!
The only thing that might truly sway potential customers away is the price - it's far from being an "easily affordable" mattress. That being said, I should again mention that clients of the company don't really complain all that much about it - the price tag matches the quality!
To top it all off, you still have the 3-month refund option. Sure, you might have to hold on to the mattress for a month, but if you REALLY don't like it, they'll pick it up for you and give you a full refund. Not. Too. Shabby.
If you want to find something better than this mattress, take a look into our top mattresses. They're not only durable but also give the perfect conforming, motion and sound isolation, and other amazing features.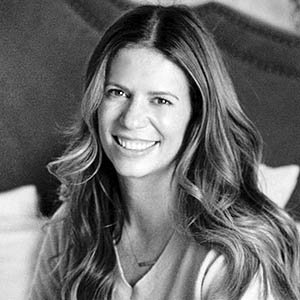 Kelly Murray
Certified Pediatric & Adult Sleep Consultant
Contributed By Kelly Murray, Certified Pediatric & Adult Sleep Consultant
Kelly Murray is a sleep coach for busy and ambitious professionals who are trying to do it all... if only they could get some sleep.
With her previous professional background in a Big 5 Consul...
Read Full Bio...
Scientific References
Contributed by
Kelly Murray
, Certified Pediatric & Adult Sleep Consultant
1. Luke Gupta, Kevin Morgan, and Sarah Gilchrist: 'Does Elite Sport Degrade Sleep Quality? A Systematic Review'
2. CDC: 'How Much Sleep Do I Need?'
Leave your honest WinkBeds review
Leave your genuine opinion & help thousands of people to choose the best mattress. All reviews, either positive or negative, are accepted as long as they're honest. We do not publish biased reviews or spam. So if you want to share your experience, opinion or give advice - the scene is yours!