Latex mattresses aren't as well-known as, say, memory foam or innerspring ones. However, there are quite a few people that are looking for the best latex mattresses - this means that there's definitely something to the product!
Today, in this list, we'll be looking at the top 8 latex mattress brands and will try to find the best latex mattress out there. Before we jump into the list, however, we'll discuss the pros and benefits that latex-based mattresses have over their counterparts.
The latex (and some latex hybrid) mattresses that we'll be talking about in this list are, as follows:
Here is The Best Saatva Offer I Found:
UP TO $500 OFF
Limited-time Saatva Sale
We're sharing a limited-time Saatva mattress discount with our readers! Grab this deal & enjoy your new mattress with huge discounts.
Expiration date: 08/12/2023
4,042 People Used
Only 83 Left
Why Search for the Best Latex Mattress?
Now, before we get into the actual best latex mattress brands list, we should get something out of the way - why would you search for latex mattresses, in the first place?
Admittedly, this is a question that seems to bug quite a few people. A simple Google search will reveal that memory foam is far more popular when it comes to bed choices - what's the deal with latex, then?
Well, first of all, latex is much better for people who like to sleep cool. Temperature control is often labeled as the ultimate enemy of all-foam mattresses - they tend to absorb the sleeper's body heat, and become really hot throughout the night. Latex, however, has much better breathability - there's a constant airflow through the material, so it doesn't get as warm as, say, memory foam.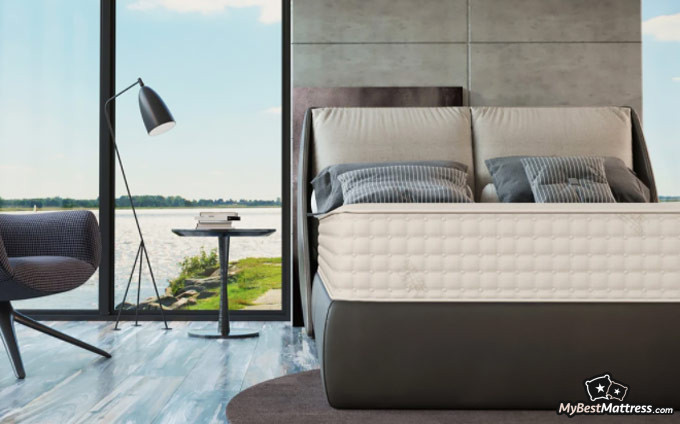 Another big factor is bounciness. Couples will almost always choose the best natural latex mattress over a memory foam one - if they want to improve their sex life, that is.
You see, memory foam tends to sink your body once you lay down on it. That's neither ideal for the "toss-and-turners" who like to move through the bed at night, nor for couples who'd appreciate a responsive mattress.
Finally, latex seems to offer some better spine (and overall back) support than foam[1]. This is going to be a point that's important to anyone who has back, neck or shoulder pain, and would like to alleviate it. You see, sometimes, a proper mattress is all you need! And latex mattresses are some of the best products to help you with that.
Now, with the reasons for looking for the best latex mattress reviews out of the way, let's jump straight into the list.
Ranks #1 out of 8 Mattresses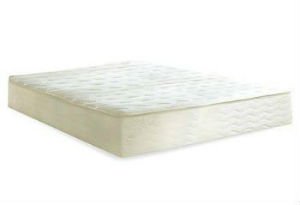 Things we liked:
+ High-Quality Materials
+ Variety of Options
+ Motion and Noise Isolation
+ Maintains Body Temperature
Things we didn't like:
- Not that Great Edge Support
- Minimal Body Contouring
GET UP TO $1,250 OFF
WinkBeds Limited-Time Offer
WinkBeds sale is here! Receive an impressive $1,250 discount for WinkBeds mattresses and sleep accessories!
Expiration date: 08/12/2023
3044 People Used
Only 56Left
PlusBeds offers its customers three distinct mattress types to choose from. Today, however, we'll be looking at the "Natural Bliss" model.
Natural Bliss comes equipped with four - yes, four - firmness options. Immediately, you know that it will be great for most types of sleepers out there - everyone from the people who love it when their bed swallows them, all the way to those who prefer sleeping on a rock.
The model is also very well-known for the materials out of which it is built. It has a latex core, and comes with an organic cotton cover. Depending on the thickness of the mattress that you'd prefer, there are also extra comfort layers made out of high-tier latex available.
Good quality materials aren't just a gimmick for PlushBeds. The mattress is reportedly very durable, and does not have any initial odor once it's set up.
If you're suffering from excessive back pains, however, and are looking for a bed that will help to alleviate these pains, Natural Bliss might not really be the mattress for you. While it does conform to the sleeper's body and offers various degrees of firmness, other latex mattresses seem to be better for back pain relief.
What is the PlushBeds Natural Bliss Mattress Price?
The prices for Natural Bliss are, as follows:
The Natural Bliss model is somewhere in the middle as far as the price tags are concerned. Fair pricing options indeed!
Ranks #2 out of 8 Mattresses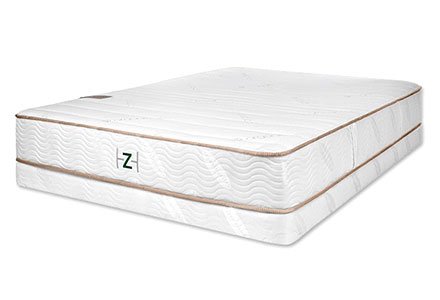 Things we liked:
+ Multiple firmness options
+ No noise
+ Good movement isolation
Things we didn't like:
Zenhaven is a popular mattress provider that frequents a lot of the "Best Latex Mattress" lists nowadays.
The company offers customers a rather interesting product - a luxury, two-sided latex mattress. It's "two sides" thing has to do with the firmness of the mattress - depending on your preferences and the type of a sleeper that you are, you may flip the mattress and choose a firmness level that's comfortable to you.
Now, this opens up a whole lot of possibilities…
The biggest topic in which Zenhaven exceeds because of this feature is the fact that it becomes universally loved and appreciated by all the different types of sleepers. Yes, that's a broad generalization, but the sentiment still stands! You see, the biggest problem that people who sleep in different positions face is the firmness of the mattress.
If only they were able to adjust it… Oh wait.
The other area in which Zenhaven is great is noise reduction. While you can use all of the fanciest gadgets in the world to track your sleep time and quality[2], if your mattress is noisy, there will be nothing to track. The best latex mattresses, in general, tend to let out little-to-no noticeable noise when sat or laid upon. Zenhaven, however, takes this to the next level - the mattress is basically completely silent!
What is the Zenhaven Mattress Price?
The pricing options for Zenhaven are:
Ya… Well, I think it's safe to say that Zenhaven is definitely one of the more expensive mattresses out there. However, don't forget that it is a "luxury" product, after all - it shouldn't only live up to the hype, but is likely to serve you for a long, long time to come.
Ranks #3 out of 8 Mattresses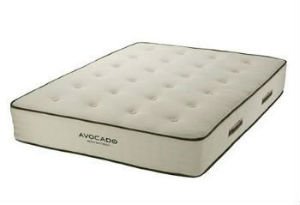 Things we liked:
+ Sleeps cool
+ Good for back and side sleepers
+ Durable
Things we didn't like:
- Not very responsive
- Lacks motion isolation
10% OFF SITEWIDE
Avocado Mattress Coupon
Enjoy this special Avocado mattress promo code and get your new mattress with a 10% discount. Offer is valid for a limited time period only, so hurry up!
Expiration date: 08/12/2023
2459 People Used
Only 172Left
Avocado Green is a latex hybrid mattress (latex with coil base support), and is often referenced as being one of the best natural latex mattresses in the industry.
The "natural" part is actually rather important here - Avocado offers customers two mattress options to choose from, with both of them being made out of 100% natural, organic materials. If you wouldn't find Avocado to be the best latex mattress in the world, at least you'd know that you would be sleeping on a completely natural product.
As far as latex mattresses go, the Avocado Green comes equipped with some of the essential features that a proper bed should possess. It has amazing edge support, "breathes" to keep you cool at night, doesn't have that initial, new mattress smell and is very durable.
When it comes to edge support and durability, it really is a no-brainer - I mean, you would probably expect a contender for the spot of the "best latex mattress" to have all of the features associated with latex products in check. The "initial, new mattress smell" part, however, is a really nice added bonus.
You see, since Avocado is an organic product, even if it were to come with some "off-gassing" to be had, it wouldn't at all be intrusive. Some mattresses (even latex ones!) have such severe and smelly "break-in" periods that it becomes impossible to even stay in the same room, not to mention sleeping on them. Avocado, however, is the opposite.
What is the Avocado Green Mattress Price?
Here are all of the pricing and sizing lists of the Avocado Green mattress:
As you can probably see for yourself, the mattress isn't really the cheapest option, but if you were to listen to some of the "best latex mattress" reviews, the price is definitely representative of the quality.
On top of all that, you'll receive a 100-night sleep trial, and a 25-year warranty. Not bad!

Did you know?
Ranks #4 out of 8 Mattresses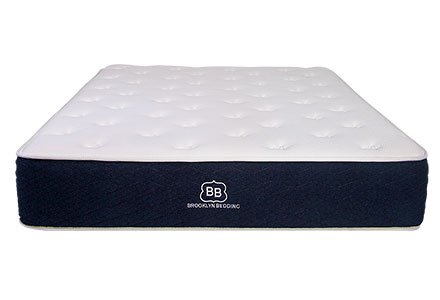 Things we liked:
+ Firmness Options
+ Six Different Models for Everyone
+ Free Shipping in the U.S
+ Lower Than Average Pricing
Things we didn't like:
- 30-Night Break-in Period for Free Trial
- Not All Mattresses Offer Similar Quality
GET 30% DISCOUNT
On Brooklyn Bedding Mattresses
Right now you can purchase your selected Brooklyn Bedding mattress for 30% less than usual. This offer is valid only for a limited time so be sure to use it!
Expiration date: 08/12/2023
4902 People Used
Only 19Left
Brooklyn Bedding is known to offer a few different products to the average customer, but today, we'll be talking about the Bloom model - a latex hybrid with multiple firmness options.
First of all, let's get the obvious out of the way - Bloom comes with some amazing cooling features and an expected lifespan of up to 10 whole years. Now, while the best latex mattresses are known for being durable, Bloom seems to take it to a whole new level!
What's really cool about this mattress is that it will be very approachable by all types of sleepers - this is, yet again, because of the fact that the company offers multiple firmness options with the product. That being said, it would seem that side and back sleepers are still going to be the ones that appreciate this mattress the most.
Speaking of side and back sleepers, Bloom is also really good for back pain relief and spine alignment (the firmer options of the mattress, at least). So, if you're having some issues with your back, do keep this in mind.
As for the issues with Bloom, well… There aren't really any notable ones that would "break the deal", so to speak. Some customers report that they hear creaking noises while lying on the mattress. Since it is a hybrid bed, it possesses metal coils inside of it, so it's no big wonder that a small amount of noise might be present. It shouldn't however, be that big of an issue.
What is the Brooklyn Bedding's Bloom Mattress Price?
As for the price options for Bloom, here they are:
Admittedly, Bloom is on the more expensive side of things. However, if you don't mind investing a little bit more money into your bed, and are looking for the best latex mattress around, it might just be a good option to consider!
Visit Brooklyn Bedding
...or read our Brooklyn Bedding review
Ranks #5 out of 8 Mattresses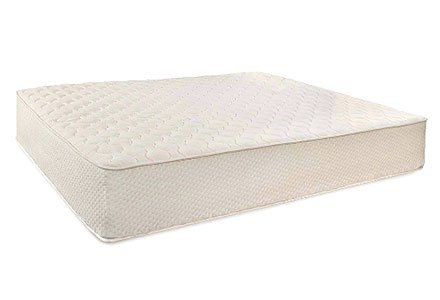 Things we liked:
+ Affordable
+ Flippable design
+ Good motion isolation
Things we didn't like:
- Slight off-gassing
- Weak edge support
Latex For Less is an amazing environment-friendly mattress, which offers two firmness options in one bed. You can easily change the mattress firmness simply by flipping the bed. One side is a medium-firm (6) and another one is firm (7.5). There's also a possibility to choose from two levels of thickness: 7" and 9".
The Latex For Less mattress is designed from 100% natural latex, organic cotton, and pure natural wool. You can be sure that the materials used have the highest quality because they are certified by GOTS, Oeko-Tex Standard 100 and Eco-Institut.
Now, what do bed owners say about it? According to the Bed For Less sleeper, there were no major flaws that they noticed. The strongest sides of this mattress were motion, sound isolation and perfect conforming together with pain and pressure relief, which is one of the most crucial qualities if you ask me.
What is more, you can expect this mattress to serve you at least seven years, trap less body heat to allow you to sleep cooler and provide you with bounciness to improve your sex life.
What is the Latex For Less Mattress Price?
Here's a list of size and price options available for the Latex for Less mattress:
Plenty of mattress options to choose from!
Ranks #6 out of 8 Mattresses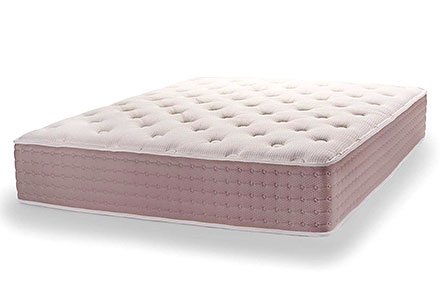 Things we liked:
+ Pressure Relief
+ Environment-Friendly
+ Below Average Price Point
Things we didn't like:
- 30-Days Break-in Period
- Not Great for Stomach Sleepers
- Only Two Firmness Options
Eco Terra is an organic mattress. It is a latex hybrid, with some sturdy pocketed coils to hold the mattress together.
While Eco Terra doesn't really "specialize" in any single way, shape or form, it's simply an all-around well-designed bed. The mattress has good edge support, is sturdy and does a great job in isolating your movement while you sleep.
The only noticeable con that's worth pointing out in this "Best Latex Mattress" list is the fact that, in a similar fashion to other latex models, Eco Terra might sleep rather warm. The pocketed coils are there to minimize this risk, but the potential is still there.
What is the Eco Terra Mattress Price?
Eco Terra's pricing:
The mattress is very affordable, especially when compared to some other high-tier latex beds on this list.
Ranks #7 out of 8 Mattresses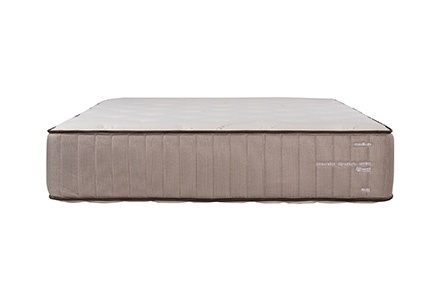 Things we liked:
+ Lifetime Warranty
+ Great Conforming
+ Options for Every Sleeper
Things we didn't like:
- 30-Night Break-in Period
- Poor Edge Support for Foam Mattresses
GET UP TO 50% OFF
Nest Bedding Black Friday Sale
Nest Bedding Black Friday Sale is here: hurry up to save on your favourite Nest Bedding mattreses - get up to 50% OFF!
Expiration date: 08/12/2023
3827 People Used
Only 82Left
Nest Bedding comes with a selection of a few different mattresses, and among them, there's the "Hybrid Latex" model.
The model is, well, rather self-explanatory. It's a hybrid that consists of layers of memory foam and latex. Nest Bedding has managed to create a pretty solid and well-rounded latex hybrid - not an easy task at all!
The mattress is rather responsive, and will thus be suited for people who are purchasing a new bed for sex, just as much as for a good night's sleep. Furthermore, the hybrid model is sturdy - not only will the bed serve you for years to come, but it also has some pretty good edge support, especially when compared to other hybrid latex models.
What is the Nest Bedding's Hybrid Latex Mattress Price?
Nest Bedding's latex hybrid's pricing:
Nest Bedding is one of those companies that offer many mattress sizing options to the average customer - convenient!
Ranks #8 out of 8 Mattresses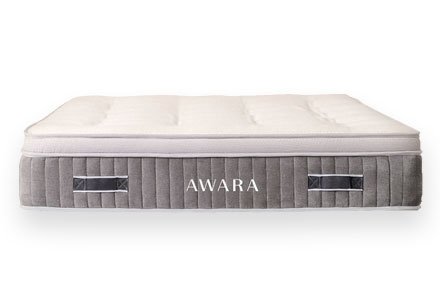 Things we liked:
+ Eco-Friendly
+ Durable
+ Almost None Off-gassing
+ Amazing Cooling Properties
Things we didn't like:
- Only One Firmness Option
Awara offers customers a hybrid, latex-based mattress - same as Avocado, Awara is a likely contender for the spot of the "best natural latex mattress".
All that it takes is a single look at some of the customer Awara mattress reviews online to understand that this company isn't playing any games, and is out to create the best possible product.
For starters, Awara's responsiveness is unmatched, at least as far as latex mattresses go. Because of the bed's construction, Awara is able to provide some of the best bounciness features in the entire latex mattress industry - which, in turn, makes it a great mattress for sex.
Yet another area in which Awara is similar to Avocado is durability. Both of the natural mattress providers offer beds that are expected to last for quite a long time - significantly longer than the average expected lifespans of latex and latex-based mattresses.
What is the Awara mattress price?
Here are the prices for the Awara mattress:
While Avocado is a little more expensive, the price tags for both of the mattress providers are rather similar. So, if you're looking for the best latex mattresses, do keep Awara in mind!
Here is The Best Saatva Offer I Found:
UP TO $500 OFF
Limited-time Saatva Sale
We're sharing a limited-time Saatva mattress discount with our readers! Grab this deal & enjoy your new mattress with huge discounts.
Expiration date: 08/12/2023
4,042 People Used
Only 83 Left
Conclusions
So, this concludes the list of the best latex mattresses of 2023. All of the product providers mentioned on this list have their own pros and cons, and the ultimate choice really does depend on your own personal wants and needs.
Furthermore, keep in mind the fact that all of the mattresses mentioned in this list come with sleep trials and money-back guarantees. You'll have months and months of time to experience the mattress, test it out sleeping and sex-wise, give it some time to adjust to your body and - finally - make the decision whether or not the product meets your expectations.
I do hope that this list helped you in deciding which of the best latex mattress providers would be best for you (and your partner). If you're still not certain, make sure to read the full reviews of the above-mentioned beds - you'll have a much better understanding of both the brands and the products that they provide!
Scientific References
1. Kovacs FM, Abraira V, Peña A, et al.: 'Effect of firmness of mattress on chronic non-specific low-back pain: randomised, double-blind, controlled, multicentre trial.'
2. Miguel Marino, PhD, Yi Li, PhD, Michael N. Rueschman, MPH, et al.: 'Measuring Sleep: Accuracy, Sensitivity, and Specificity of Wrist Actigraphy Compared to Polysomnography'
Leave your honest Best Latex Mattress review
Leave your genuine opinion & help thousands of people to choose the best mattress. All reviews, either positive or negative, are accepted as long as they're honest. We do not publish biased reviews or spam. So if you want to share your experience, opinion or give advice - the scene is yours!