It's not really a secret that memory foam is one of the most popular materials as far as sleep products are concerned. People often search for the best memory foam pillow or mattress - today, we'll be talking about the former.
While there are differing opinions about just how effective memory foam actually is, the majority of people still appreciate the features of this material. That's evident from a lot of customer memory foam pillow reviews - it does depend on the brand in question, but there are quite a few memory foam-based pillow brands at the top of the game.
Our list is going to include:
Best Memory Foam Pillow: What to Look Out For?
Initially, you might be thinking - I want the best memory foam pillow, that's pretty easy to find, right?
Well, I'm sorry to say this, but no, that's not always the case. Let me explain.
As with any other product out there, there are good memory foam pillows… And then there are those which you should most definitely ignore. While knowing that you have a memory foam preference narrows down the choice pool quite well, there are still many more features to keep in mind.
For example, given that even the best memory foam pillows are prone to sleeping hot, it's important to find a product that would actually tackle this issue. Most of the time, this issue would be approached with a special pillow cover or some sort of mixture of materials to complement the memory foam insert.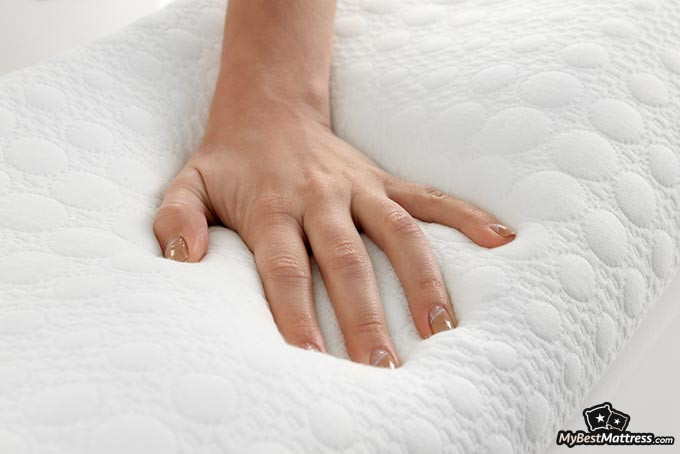 Also, you should pay close attention to whether or not the pillow that you're interested in is customizable or not. Customizable pillows are those that allow you - the sleeper - to add or remove portions of stuffing. This is mostly important for one, single reason - loft height.
Depending on your preferred sleeping position, a certain specific pillow might be almost perfect for you, except for one, single detail - the height of the loft. If the pillow allows you to play around with the insert, that's not a problem. However, if the loft height is fixed, chances are that it's going to be pretty difficult to make the pillow out to be a "comfortable choice".
Now, with all of that said, let's move on and talk about some of the best memory foam pillows.
Ranks #1 out of 4 Mattresses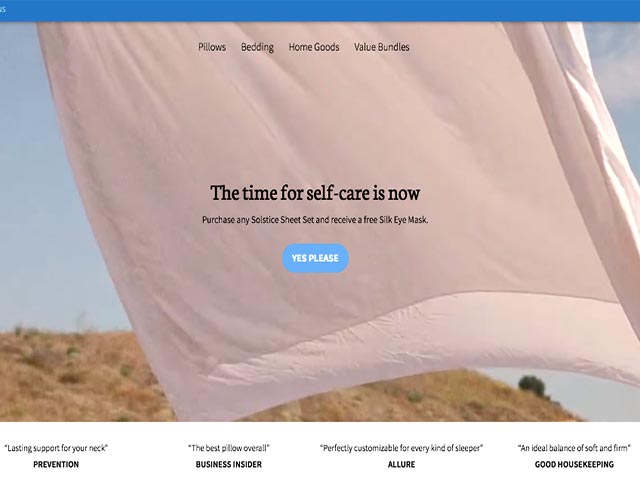 Things we liked:
+ Sleeps cool
+ Stuffed with shredded memory foam
+ Multiple firmness options
Things we didn't like:
- Some initial odor might be present
- Poor shape retention
Funnily enough, Coop Home Goods is a brand that'll actually show up on our list of best memory foam pillows more than once. That should be a pretty good indication of just how good the brands' products are.
Admittedly, Coop is one of the most commonly-encountered brands in the "top pillow" lists. That's not without good reason, either - the company has not only managed to create an amazing pillow, but also follow up with a product just as good as the original.
This product would be the Coop Eden.
The Eden pillow is, naturally, a memory foam product. However, the shredded memory foam that the pillow is made from is infused with a special type of cooling gel. This, in turn, makes the pillow exceptionally cool to sleep on - it's a great way to tackle the earlier-mentioned "memory foam heat" problem.
Furthermore, Eden is a completely adjustable pillow. That means that you will be able to add or remove as much stuffing as you'd like, making the product the best memory foam pillow for yourself.
All of that being said, it would be impossible to mention the customization features of Eden and not talk about the fact that, according to customer Coop reviews, the pillow is actually suitable for most types of sleepers out there.
Needless to say, that's one of the best, most-difficult to achieve features that a pillow could have.
You see, most pillows (even the best memory foam pillows) are going to be suitable and comfortable for one or two types of sleepers. It's very difficult to create a product that would be loved and appreciated by, say, both side and stomach sleepers. Even if the pillow is adjustable, there's still the question of firmness - it's not that easy!
However, Eden seems to have managed to get it right - that's definitely something worth keeping in mind while looking for the best memory foam pillow!
What is the Price of the Coop Home Goods Eden Pillow?
While the average prices for top-tier pillow products are constantly up for debate within the community, the general consensus seems to be that if you can grab yourself the best memory foam pillow for up to $100 bucks, you've struck a pretty good deal.
Well, if that's actually the case, then you'll be pretty happy once you see the price tags for the Coop Eden pillow:
Considering the popularity of the pillow and the reputation of the brand itself, the price tags for the Eden pillow are more than appropriate.
Coop Home Goods Original Pillow
At this point, Coop probably needs no further introduction - given the fact that the company does actually appear on this "best memory foam pillow" list twice, it's definitely one of the most appreciated pillow brands out there.
Coop's Eden pillow is a soft and cool product. However, that's one the pillow that skyrocketed the brand's name into the mainstream - instead, that would have to be the Coop Home Goods Original pillow.
The Coop Original is a firmer pillow with a completely adjustable loft. The fact that the product is actually so easily customizable was one of the main things that brought it into the spotlight, too.
While some customers do note that the pillow doesn't really have good shape retention, that's not too big of a surprise, given that it's a very moldable pillow. Oftentimes, it can be pretty difficult to put out a product that would be both moldable and shape-retaining.
What is the Price of the Coop Home Goods Original Pillow?
One of the main topics surrounding Coop Original as the best memory foam pillow revolves around the actual price of the product. I'm not even going to say anything more about it - just take a look for yourself:
No, your eyes aren't playing any tricks on you - those are the actual pricing option for the Coop Original pillow. You can actually get one of the most beloved and talked-about pillows of the sleep product industry for $60 - that's an insane deal!
Ranks #2 out of 4 Mattresses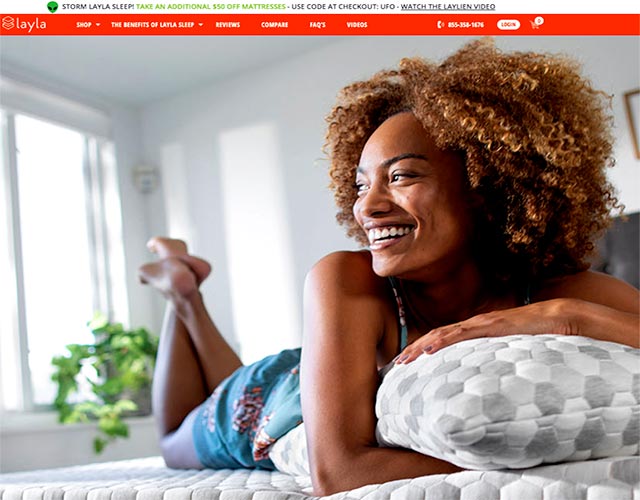 Things we liked:
+ Sleeps rather cool
+ Designed to be comfortable for most sleeping positions
+ Good breathability
Things we didn't like:
- A hassle to clean
- Loft might be too high for some people
Layla - a brand best-known for its mattress products - is one of the top-tier bed companies that have expanded their business ventures deeper into the sleep industry. The Layla pillow is a great example of that - and, truth be told, judging by the multiple customer reviews, people are genuinely happy that it did.
The Layla pillow is probably most loved for the fact that, while it's filled with shredded memory foam, it sleeps really cool, especially when compared to the majority of memory foam pillows on the market.
The breathability of the pillow is mostly due to its cover. It's made out of a blend of Lycra spandex, polyester and viscose. Furthermore, this mixture is then infused with copper - all of that provides superb temperature neutrality.
Another great feature of the Layla pillow is moldability. Truth be told, if you're looking for the best memory foam pillows, chances are that this isn't news to you - memory foam, especially when it absorbs some of the heat from your body, tends to become exceptionally moldable.
How is moldability important, you may ask? Well, in all honesty, stomach and side sleepers are the two groups of people that are probably going to appreciate a moldable pillow the most. You know the feeling when you wake up in the middle of the night just to tuck your pillow around, in that one, specific position that's oh-so-comfortable?
Ya - that's where moldability comes in. Essentially, if a pillow is moldable, that's going to be something that you'll be able to do. If not, however, well… You might have a pretty difficult time trying to bend your "best memory foam pillow" into a position you want it to be in.
What is the Price of the Layla Pillow?
According to customer Layla pillow reviews, the product is priced somewhere in the very middle - it's neither too cheap, nor the most expensive pillow out there. Take a look for yourself:
While some customers do seem to consider the pillow a bit on the expensive side of the spectrum, the general opinion is that the product's price tags are in line with the quality of the pillow.
Ranks #3 out of 4 Mattresses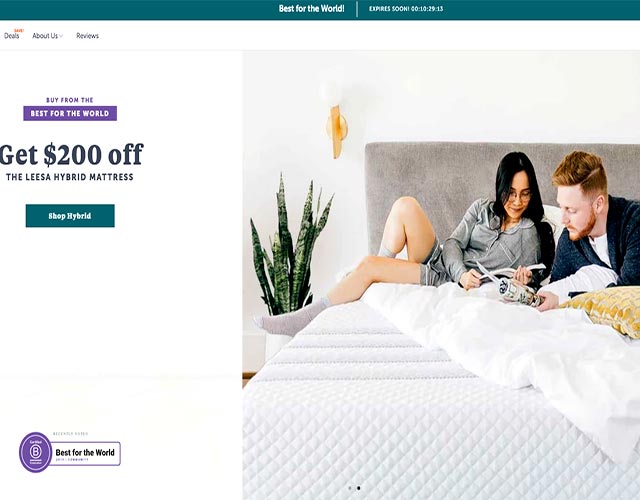 Things we liked:
+ Sleeps cool
+ Loft height suitable for most sleepers
+ Removable insert
+ Easy to take care of
Things we didn't like:
- Some initial odors might be present
- Might be a bit too heavy for some people
Leesa is a very interesting contender for the spot of the best memory foam pillow, mostly because it's a flippable hybrid pillow.
What's a flippable pillow? Well, it's basically a product that you can turn around in order to access a different firmness setting. This makes the pillow suitable and attractive to different types of sleepers - not an easy thing to do!
One side of the Leesa pillow is based out of quilted pockets, while the other has gel-insert within it. No matter which of the two sides you choose to sleep on, you should be able to have a pretty cool sleeping experience and avoid any and all heat waves in the middle of the night.
What is the Price of the Leesa Pillow?
The Leesa pillow comes in two different pricing and sizing options:
On top of being rather adequately-priced, Leesa also offers customers a 100-night sleep trial and a 3-year warranty. That's definitely a decent deal, given the pillow's unique design! Furthermore, customer memory foam pillow reviews note that, if you reside within the US, you can also expect free shipping, too.
Ranks #4 out of 4 Mattresses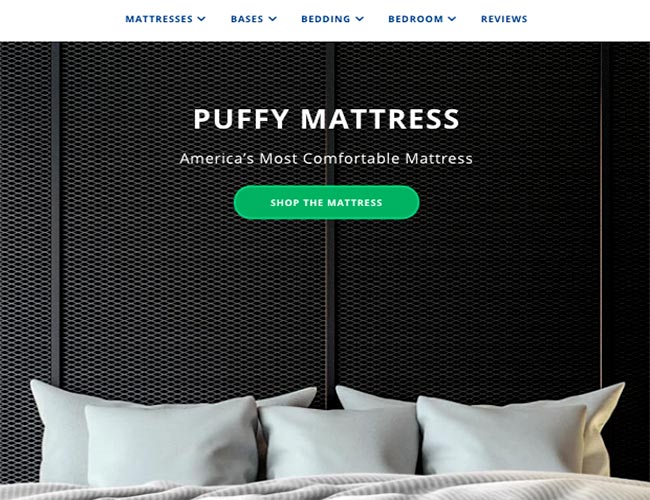 Things we liked:
+ Cool to sleep on
+ Good moldability
+ Best for back and side sleepers
Things we didn't like:
- Not the best shape retention
- Might not suit some stomach sleepers
While Puffy isn't exactly the most well-known pillow provider out there, it's still a product worth mentioning in a "best memory foam pillow" list.
In a rather similar way as other pillow products on this list, Puffy offers a pretty cool sleeping experience for customers that choose to purchase the brand's pillow. This is thanks to the pillow's "Cooling Cloud" cover - it's made out of bamboo rayon, a material that's known for offering some of the best breathability possible.
While some memory foam pillow reviews note that the Puffy pillow might lack some shape retention, it makes up by being moldable - a feature that's likely to be appreciated by most types of sleepers that decide to go with this product.
What is the Price of the Puffy Pillow?
Pricing-wise, the Puffy pillow isn't all that expensive - take a look:
While it might be more expensive than Coop's Original pillow and some other, high-tier products out there, it's still quite affordable. If you want the best memory foam pillow that would help you get a good night's sleep and avoid developing sleep issues, Puffy is one of the better options out there.
Conclusions
It's quite obvious that good memory foam pillows aren't too difficult to find - all that you need to do is dedicate some time for figuring out what types of preference you have, which type of a sleeping position is your dominant one (perhaps you're a combination sleeper?) and then simply pick a product that fits those preferences.
All of that said, do keep in mind that, in order to get enough sleep and keep your overall health intact, the best memory foam pillow isn't going to be enough. In addition to maintaining a healthy diet and reducing stress, you should really look into some of the best mattresses of the industry - a proper mattress can change your sleeping experience completely.
With that, I thank you for reading this list of the best memory foam pillows on the current market, and hope that you managed to find one that would suit your wants and needs. Good luck, and until next time!
Leave your honest Best Memory Foam Pillow review
Leave your genuine opinion & help thousands of people to choose the best mattress. All reviews, either positive or negative, are accepted as long as they're honest. We do not publish biased reviews or spam. So if you want to share your experience, opinion or give advice - the scene is yours!