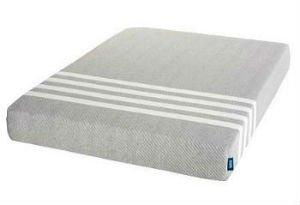 Leesa is one of the top providers in terms of the popularity of online mattresses. It's a relatively young company that was established in 2014, only five years ago but it's growing steadily leaving no chances for the majority of other mattress providers.
I was happy to find out that they donate 1 mattress for every 10 purchases. By the time of writing Leesa mattress review, they've donated more than 30,000 beds!
In this Leesa mattress review, I will go through each of the aspects that should be important to everyone who wants to have quality sleep. I will not only discuss Leesa Memory Foam Mattress but will also have a quick touch on Leesa Hybrid mattress.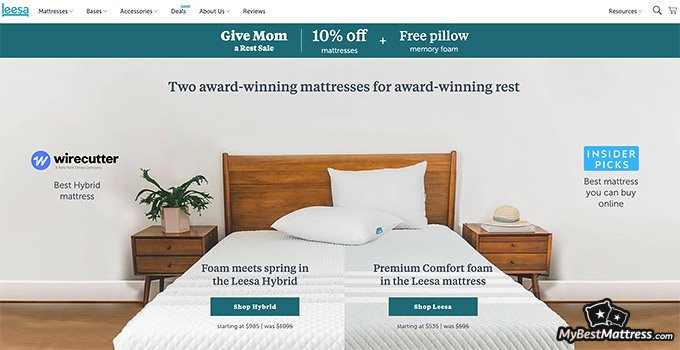 Verdict at a glance
Leesa mattress is created from three high-quality layers that ensure your comfort during the night. It has both traditional and hybrid options. There are only slight motion transfer and minimal sound. What is more, it's great for sex due to its responsiveness to pressure. And, there's only an insignificant odor that evaporates quickly. Also, if you want to try it first, there's a 100-nights risk-free trial.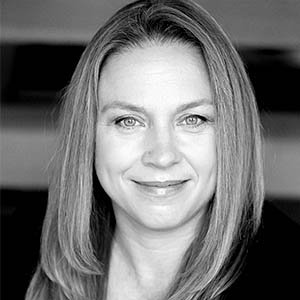 Amy Landolt
Licensed Acupuncturist
What should be done every day to ensure good sleeping patterns?
In Chinese medicine, we talk about qi stagnation. If your qi doesn't flow smoothly, it impacts the quality of your sleep. When you aren't able to manage your stress well, it can cause qi stagnation. Therefore, you should spend time every day doing activities that reduce your stress - listening to music, meditating, going for a walk, journaling, doing breathing exercises, spending time laughing, doing yoga or qi gong or tai chi, gardening, or exercising. Also, repressing your emotions or prolonging them through obsessive thoughts causes qi stagnation. So it's essential to find healthy ways to express and feel your emotions freely.
Pros
High-Quality Layers
Medium Firmness - Almost for Every Sleeper
Almost For Everyone
Minimal Off-Gassing
Cons
Not Perfect for Side-Sleepers
Not Great for Cool Sleepers
Here are a Few Things to Consider Before Moving to Leesa Mattress Reviews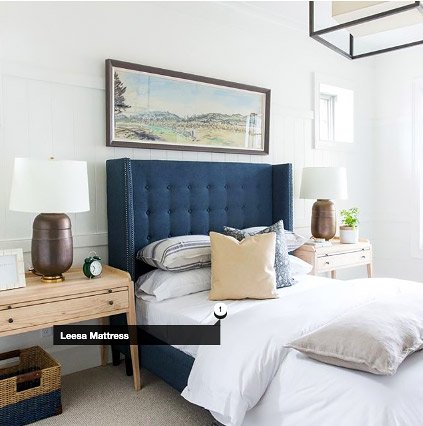 It's not as simple as it seems; one mattress cannot fit everyone's needs. There are a few aspects you should consider.
First of all, your weight. If you're a very light sleeper then you should softer bed, if you're a heavy sleeper, then take into account firmer mattresses. Do you think it doesn't matter? Trust me, I'm speaking from my own experience, if you want to feel all the advantages that quality mattress gives you, always think about the firmness.
Secondly, mattresses have a different structure, so it also matters if you're a back, side or stomach sleeper.
I will discuss each of the aspects in my Leesa mattress review, so don't worry.
Now let's begin with its pros!
Leesa mattress reviews: PROS
As always, let's begin with the PROS list first.
What kind of layers does Leesa have?
Leesa mattress is designed from 3 layers:
Comfort Layer
Recovery Layer
Support Layer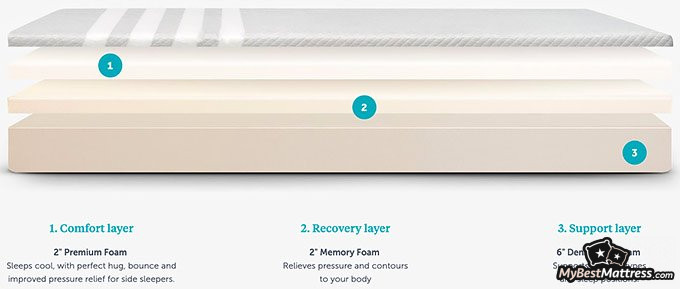 Each of the layers has different functions.
Comfort Layer - 2 inches of Premium Foam, which is a latex-like alternative - LSA 200 foam and creates the bouncy feeling, gives you pressure relief. It's also the cooling layer that ensures you're not sleeping too hot.
Recovery Layer - 2 inches of Memory Foam that adapts to your body shape and contours your curves. You will get the feeling that the mattress is made specifically for you. Different from the comfort layer, it responds slower to the pressure and is firmer.
Support Layer - 6 inches of Dence Core Foam, which is also often called the foundation layer because it gives the Leesa bed support and stability by holding the above layers.
Leesa mattress also comes with the cover that is made from a thick polyester blend that is very soft and nice-to-feel.
Leesa Hybrid mattress has a bit different structure. The first two layers are similar to the original Leesa; however, the third layer consists of 6 inches individually-wrapped Pocket Springs, which creates enhanced edge support.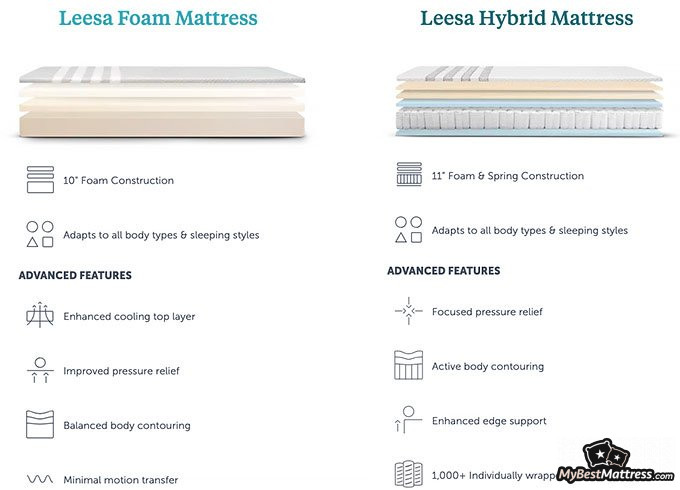 Latest Leesa Coupon Found:
SAVE UP TO $978
Limited-time Leesa Mattress Coupon
Special offer: use this Leesa mattress coupon and get up to $978 off your mattress purchase. Sounds too good to be true? See for yourself!
Expiration date: 05/12/2023
2,474 People Used
Only 56 Left
Medium Firmness - Almost for Every Sleeper
Leesa has a medium firmness - 5 out of 10.
Note that firmness is an entirely subjective matter. As I already mentioned in this Leesa mattress review, your weight is one of the most important aspects since heavier sleepers might think the Leesa bed is softer than it actually is, and to lighter individuals, it might seem much firmer.
However, even if the weight matters, Leesa is medium firm, which means it's in the middle of the scale and should be great for the majority of sleepers. Have a look into the firmness measurements below:
Table: Leesa mattress firmness.
If you love the mattress that is more firm or if you're a heavier sleeper, then I would recommend you Leesa Hybrid mattress, it's about 6,5 in the firmness scale and gives you more support.

Did you know?
Side, Back or Stomach Sleepers - it's Almost For Everyone
We all sleep in different positions, some of us always sleep on the back, others on the stomach, and that's great!
Since you're in this Leesa mattress review, I should tell that it doesn't matter what position you prefer because Leesa will be a good option for you and your partner, and maybe even a pet.
Now, let's get into more details in this Leesa mattress review and go through each position.
Many users affirmed that when laying on their side, their shoulders felt quite firm and that was a little bit too much. Others said that it was the perfect firmness, just the way you like. However, I would say that if you prefer a softer texture, Leesa could be too firm for you.
This is because side sleepers often need softer beds to avoid unnecessary pressure on their shoulders. The majority of adults are side sleepers[1].
It is the most comfortable position laying on Leesa bed. It gives the right amount of firmness to the shoulders and hips. There's a slight sinkage - daptation to the body lines. Therefore, if you're back-sleeper, I'd strongly recommend you to buy Leesa mattress.
Stomach-sleepers need different support than side-sleepers. Majority of users agree that they had a different experience when laying on their belly than on the side. It is firm enough to keep the straight spine meaning that it's not only comfortable but also healthy for your body.
Therefore, from this part of Leesa mattress review, I could claim that it's fantastic for stomach and back sleepers, and suitable for side sleepers if you prefer it a little bit firmer. Otherwise, it might not be that comfortable.
Motion Transfer - You Might Feel Some Movement
I would lie by saying that Leesa has zero motion transfer because that is not true. If you would read other Leesa mattress reviews, you would get similar information.
Aside from everything I already discussed, motion transfer and edge support are one of the most important things you should consider.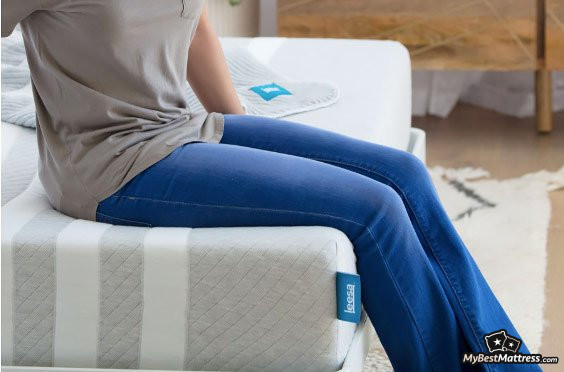 If you're sleeping alone, it may not seem that important; however, if you're sleeping with your partner, you know the feeling of feeling every motion during the night that might interfere with your quality sleep, especially if you're a sensitive sleeper.
Leesa mattress does a pretty good job isolating movement. Since its first layer is created from a latex-like alternative - LSA 200 foam, it isolates the motion transfer. Some users wrote the Leesa mattress review after doing the jump test.
Based on the research performed by the Perceptual and Motor Skills, sleepers who experienced nighttime disruptions get more stage 1 sleep and less stage 3 and 4 sleep[2].
They laid on the mattress, and their friend/partner jumped on the other side of the bed. They did say there was some movement. However, it's not like your partner is jumping on the bed when sleeping.
Now, let's move to another aspect that couples should be concerned about.
Great for Sex
There are a few reasons mentioned in a number of Leesa mattress reviews why it is great for sex.
First of all, bounciness. The first layer of premium foam is created in a way to not only adapt to your body shape but also creates a bouncy feeling because of LSA 200 foam, which quickly responds to the pressure. Therefore, the material gives you two benefits at once.
Secondly, Leesa spreads zero sound, so, even if some of the movement can be transferred to your partner, there's no way anyone will hear you, which make it perfect for your sexual activity, especially if you not only live with your partner but also have kids.
Therefore, you won't have to worry about anything else and have a quality time with your partner. You know what I'm talking about.
Minimal Off-Gassing
One of the problems with the new mattresses is off-gassing. However, it seems not to be a problem with Leesa since the majority of Leesa mattress reviews claim that there was no off-gassing or very minimal smell that evaporated within a few days.
Take a look into the table provided below to see the level of Leesa mattress of gassing:
Table: Leesa mattress off-gassing.
Therefore, I would say it's quite normal considering the fact that all of the mattresses in the market tend to have at least an insignificant odor.
Leesa Mattress Reviews: Cons
Not Perfect for Side-Sleepers
Even though Leesa is perfect for stomach and back sleepers, it may not feel that great for side-sleepers.
Since Leesa is quite firm near your neckline and the hips, it's excellent at keeping your spine straight. However, if you're a side-sleeper and you don't like a too firm mattress, then you may not like Leesa that much.
On the other hand, considering a number of Leesa mattress reviews, there were various feedback and different options. So, as I said, it depends on your personal preferences and sleeping habits.
Not Great for Cool Sleepers
If you like to sleep cold, it may not be the perfect option for you. While analyzing a number of Leesa mattress reviews, I've found more people who claimed Leesa was hot to sleep in.
On the other hand, Leesa is relatively cool compared to many competing foam-based mattresses.

Once again I will repeat myself. Even though many Leesa reviews claim it's for hot sleepers, there's also a part of the customers that believed oppositely. So, the best way to know for sure is to simply test it yourself. After all, it has a 100-nights money-back guarantee.
Additional Information
Leesa Mattress Price and Order Details
Leesa pricing starts from $535, while Leesa Hybrid Mattress starts from $985. That's quite a difference.
Here's the full Leesa mattress price list:
And here's the Leesa Hybrid mattress pricing:
Note that the pricing is provided at the time of writing Leesa mattress review.
At the moment of writing Leesa mattress reviews, Leesa offers a 10% discount, so the pricing that I provide is a little bit lower than regular.
I know that Leesa Hybrid might seem too expensive to the majority of Leesa mattress reviews readers, however, traditional Leesa offers fantastic pricing and quality ratio. And, the cost is lower than the average mattress price.
Moving on. You will get a 100-night risk-free trial, so you can try before you buy. There's only one catch, you should try it for at least 30 nights so that your body would have time to adjust to a new mattress.

Moreover, there are no additional shipping or return taxes, you will get everything for free. Only if you're Alaska or Hawaii customer, you will need to pay a $100 fee if you decide to return the mattress.
Also, Leesa comes with in-home delivery and setup. So, you simply buy Leesa mattress and everything else will be taken care of.
Leesa offers 10 years limited warranty. So, if your mattress has some sort of defect, it will be immediately replaced with a completely new mattress. But note that the warranty is only valid if you're the original buyer.
Don't have time to wait? No worry, once you place the order, it takes only 2-3 days to deliver, you will get tracking details, so you will be able to see when your order is nearby.
Size Options
Needless to say, when deciding which mattress to choose, you should not only pay attention to quality, material, firmness and motion transfer but also size.
One of the most common problems tends to be the length. If you're a tall person, you will know the struggle.
However, Leesa offers a Cal King bed, which is created especially for tall people. It's not as wide as the King-size bed but 4 inches longer making it the best option for tall sleepers.
What are Leesa size options?
Take a look into the Leesa size options, there's a choice for everyone, I'm sure of that.
Twin — 39″ x 75″
Twin XL — 39″ x 80″
Full — 53″ x 75″
Queen — 60″ x 80″
King — 76″ x 80″
Cal King — 72″ x 84″
Here is The Best Leesa Offer I Found:
SAVE UP TO $978
Limited-time Leesa Mattress Coupon
Special offer: use this Leesa mattress coupon and get up to $978 off your mattress purchase. Sounds too good to be true? See for yourself!
Expiration date: 05/12/2023
2,474 People Used
Only 56 Left
Conclusion
Leesa mattress consists of high-quality layers, which combined together work really well. It is a medium-firm mattress, which means it works almost for everyone, except for sleepers who like more firm or more soft mattresses than regularly.
It's perfect for back and stomach sleepers (many Leesa reviews confirmed that). However, if you're a side sleeper, it might be too firm.
Leesa has almost zero motion transfer and it's great if your partner is a noisy sleeper. What is more, it quickly reacts to the pressure and creates that bounciness, which is beneficial to your sex life.
And, finally, there's almost none off-gassing. A number of Leesa reviews confirmed that there was either none or very minimal smell that evaporates in a few days.
Overall, I would recommend Leesa mattresses almost for everyone because of the high-quality materials, customers' recommendations and durability/usability. So, simply try it, what is there to lose?
By the way, you can take advantage of the comparison tool to find out which mattress offers the best qualities.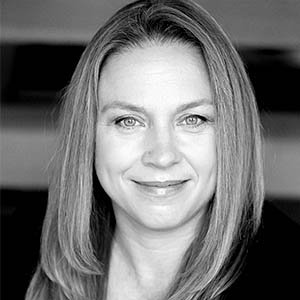 Amy Landolt
Licensed Acupuncturist
Contributed By Amy Landolt, Licensed Acupuncturist
Amy Landolt is an acupuncture sleep specialist who graduated from the Midwest College of Oriental Medicine. Her thesis was on the treatment of insomnia using Chinese medicine. She is a board licens...
Read Full Bio...
Scientific References
Contributed by
Amy Landolt
, Licensed Acupuncturist
1. Eivind Schjelderup Skarpsno, Paul Jarle Mork, Tom Ivar Lund Nilsen, et al.: 'Sleep positions and nocturnal body movements based on free-living accelerometer recordings: association with demographics, lifestyle, and insomnia symptoms'
2. Wellman JJ, Bohannon M, Vogel GW: 'Influence of lateral motion transfer on sleep'
Leave your honest Leesa review
Leave your genuine opinion & help thousands of people to choose the best mattress. All reviews, either positive or negative, are accepted as long as they're honest. We do not publish biased reviews or spam. So if you want to share your experience, opinion or give advice - the scene is yours!