While mattress toppers can be some really beneficial products for anyone who's looking to improve their sleep, it's important to know your preferences and what exactly it is that you want from you topper. In this article, we'll be looking at some of the more prominent customer best memory foam mattress topper reviews.
Memory foam toppers do have their distinct pros and cons - we'll talk about that first. Once you're all knowledgeable and ready to go, I'll tell you about 5 great options as far as the best memory foam toppers go, and we'll take a closer look at what it is that makes these products special.
The five mattress toppers are:
Best Memory Foam Mattress Topper: Why Purchase a Mattress Topper?
Well, then - why even look for and purchase the best memory foam mattress topper, in the first place?
Let's address toppers, in general, first. Mattress toppers are extra layers that go on your mattress - they can be made from many different materials, but the two most common types of toppers are going to be latex and, of course, foam ones.
A topper can be beneficial for a few different reasons. These sleep-related products are usually scouted out and purchased whenever people aren't ready (or simply don't want to) buy a new mattress. You see, a topper can help you get around a few of the more-common shortcomings that many mattresses have.
A good example of this would be motion isolation. Many of the high-end beds provide some optimal motion absorption, but there are also quite a few that lack this feature. While customer best memory foam mattress topper reviews note that most toppers are designed to sleep alone, there are also those that'll work for pairs, and absorb motion rather well.
Also, temperature neutrality. While this is an iffy topic concerning foam products, the best memory foam mattress toppers can actually provide some rather significant cooling capabilities. Given that no one likes to sleep hot, this is actually pretty cool (pun intended).
Finally, the best foam mattress toppers will provide some optimal pressure relief features. If your bed is almost "everything you've dreamt of", yet the only thing bugging you still is the painful spots it leaves on your body, a proper topper might solve this problem.
Now, when it comes to memory foam, it is a material that's very well-known for its moldability features. That said, it's also one that's infamous for sleeping really hot - depends on what your sources are. If you do care about your sleep quality, though, and want to make conscious decisions to improve it[1], a cool-sleeping memory foam mattress topper is one way to do so.
How can a foam topper sleep cool? Well, read on and find out.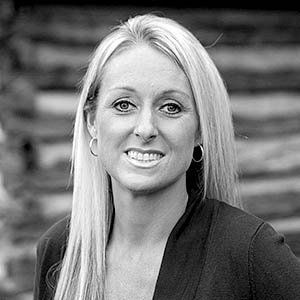 Kelley Thompson
Certified Pediatric Sleep Consultant
What should be done every day to ensure good sleeping patterns?
It is important to make sure you are hydrating yourself, eating nutritious foods, implementing daily rituals to lower your stress, implementing a simple bedtime routine and removing electronic devices leading up to bedtime each day. Also, if you are struggling to sleep, reach out to a sleep specialist as there may be underlying health issues taking place that are keeping you from having a full night's rest.
Ranks #1 out of 5 Mattresses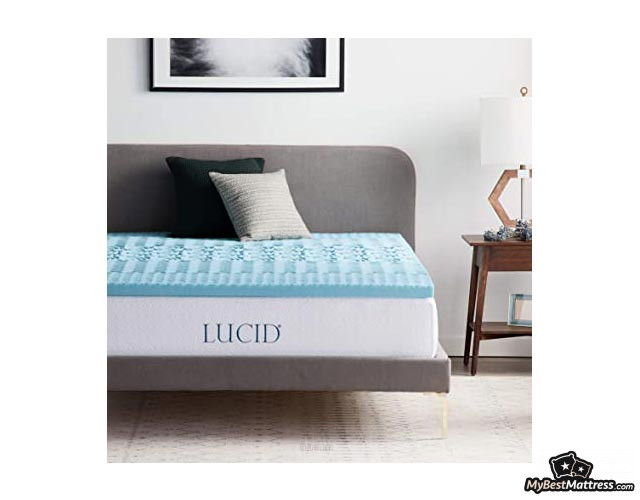 Things we liked:
+ Suitable for all sleeping positions
+ Great for hot sleepers
+ 3-year warranty
Things we didn't like:
- Might lack some motion isolation
Lucid offers its potential customers many different types of mattress toppers, but today, we'll be taking a look at a special one - a topper infused with cooling gel.
Depending on where it is that you look, Lucid can be considered to be the best memory foam mattress topper in the market. It does a (mostly) great job of absorbing sleeper's movements throughout the night, which will allow you and your partner to sleep soundly and not fear that tossing and turning around might wake the other person up.
The most notable feature of this topper, however, is the fact that it actually sleeps really cool. Customer best memory foam mattress topper reviews point to the cooling gel - as mentioned above, Lucid's foam topper is infused with a special type of cooling gel in the middle. This eliminates the "foam = heat" problem, altogether.
Customers do also note that Lucid will be great for all of the different types of sleepers out there. That's actually really important.
You see, in the same way how different types of sleepers tend to need different types of mattresses, the same can be said about even the best memory foam mattress toppers. In both categories, however, there are universal products - Lucid's memory foam topper is one of them.
What is the Price of the Lucid Memory Foam Mattress Topper?
Now, we've already established that, when it comes to the best memory foam mattress toppers, Lucid is pretty high up there. Well, its price is actually the cherry on top.
You can purchase the Lucid mattress topper on Amazon, for around $94,99. If you're new to the bed topper industry, let me just tell you right now - that's one of the lowest price tags you'll see. The fact that it's attached to a top-tier product makes it all the better.
On top of a great price, Lucid also provides customers with free shipping and a 3-year warranty.
Ranks #2 out of 5 Mattresses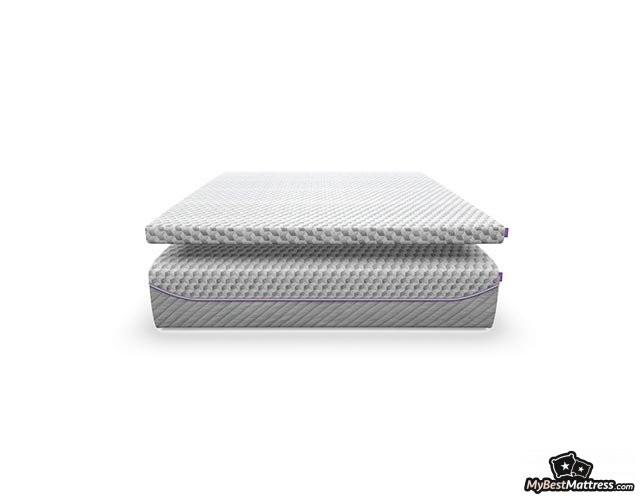 Things we liked:
+ Lifetime warranty
+ Great at isolating motion
+ Superb pressure relief
Things we didn't like:
- Sleeps a bit warm for some
Primarily being a mattress-oriented brand, Layla also deals in some of the more well-known and loved foam mattress toppers.
The thing that gets Layla into this list of the best memory foam mattress toppers of the year is that it's one of the best products for pressure relief.
You see, some beds tend to concentrate the pressure that your body applies to their surface into a single or a couple of spots. This is usually the case with mattresses that are prone to sinking, and more often than not, these spots are going to be your lower back, hips or shoulders.
Now, while a proper pillow might help fix some of these issues, it's not going to remove those painful spots from your body. What you need is the best memory foam mattress topper that would distribute the pressure evenly all throughout its diameter, thus allowing your spine to remain properly aligned and removing pressure points.
As noted earlier, Layla is amazing at providing customers with some of the highest-level pressure relief that you'd get from a mattress topper. That said, you should note that some customer best memory foam topper reviews do point out the fact that Layla is going to sleep a bit on the warmer side of the spectrum.
What is the Price of the Layla Memory Foam Mattress Topper?
If pressure relief, to you, is one of the most important aspects when it comes to sleep quality, and you're not too concerned about the "might sleep warm" part, then you could purchase the Layla mattress topper anywhere from $199 to $299, depending on the size and other criteria of the product.
Also, you'll receive a 120-night sleep trial, a 5-year warranty and free shipping - a pretty good deal!
Ranks #3 out of 5 Mattresses
Things we liked:
+ Good cooling
+ Good motion isolation
Things we didn't like:
- Some customers question the durability of the topper
ViscoSoft claims to provide customers with some amazingly-comfortable mattress toppers.
Is there any truth to those claims?
Well, yes. Mostly.
You shouldn't let the brand name confuse you, though - while its toppers can definitely be considered comfortable, they aren't exactly the softest around. Customer best memory foam mattress topper reviews place them somewhere in the middle as far as firmness and softness are concerned.
That said, softer mattress toppers can really help boost your sleep quality… When combined with a firmer mattress, that is. Sleeping on a softer surface might reduce some of the stress that you feel throughout the day, which will, in turn, improve your sleep[2].
That being said, firmer surfaces are still going to be better for your back, since they'll provide more optimal support and keep your body in a stable position during the night. ViscoSoft, however, doesn't face the problem of being "too soft" - the brand is able to provide some high-tier comfort, while also selling a product that isn't too "sinky".
What is the Price of the ViscoSoft Memory Foam Mattress Topper?
If ViscoSoft's "comfort" aspect has managed to grip your attention, and you're actually thinking that this might be the best memory foam topper for you, then you'll also be happy to hear that the price tags for the product really aren't out of this world.
As of writing this article, the ViscoSoft mattress topper is priced at anywhere from $119,99 up to $189,99, depending on the size of the product. Purchasing the ViscoSoft memory foam mattress topper, you'll also get a 60-day money-back guarantee, and free shipping and returns.
Ranks #4 out of 5 Mattresses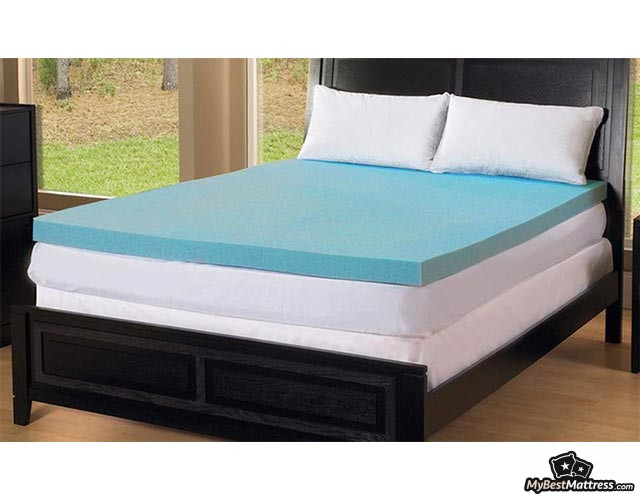 Things we liked:
+ Optimal thickness
+ Good pressure point alleviation
Things we didn't like:
Admittedly, Simmons Curv might not be the most well-known mattress topper-selling brand on this "best memory foam mattress topper" list. That being the case, it doesn't mean that it's not worth paying attention to.
One of the more apparent features that you're likely to notice rather quickly when it comes to Simmons Curv is that it's a 4" mattress topper. That's quite rare, at least as far as the best mattress toppers go! Most of these products range from around 2" to 3" - 4" is actually pretty thick!
Being this thick does have its advantages, however, with the main one being pressure relief. Customer best memory foam topper reviews often talk about how well the topper alleviates aches and pains caused by sleeping on a surface that's not designed for relieving pressure.
On top of that, other customers point out that the Simmons Curv mattress topper is also great for couples - apparently, the product works really well as far as motion isolation is concerned.
What is the Price of the Simmons Curv Memory Foam Mattress Topper?
Taking a look at the pricing options for the product in question, you might notice that while it's not the cheapest topper around, it's very far from being the most expensive one, too.
Retailing through Amazon, the Simmons Curv mattress topper costs $270.
Ranks #5 out of 5 Mattresses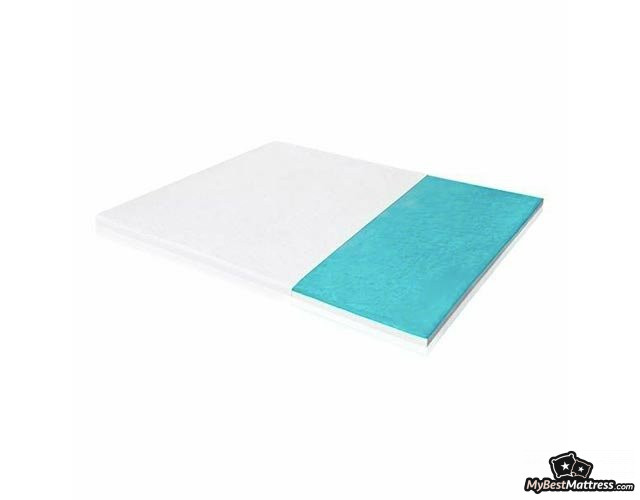 Things we liked:
+ Good breathability
+ Durable
+ Soft
Things we didn't like:
- Might have an initial smell when first unpacked
Remember when, at the beginning of this best foam mattress topper list, we've talked about the main features of a decent mattress topper? Well, while most toppers out there are going to have some specific strengths, Isolus is a bit different - it is widely considered to be an all-around well-built mattress topper.
While you could go on and make the "jack of all trades, master of none" argument, Isolus actually does a pretty good job at keeping the sleeper cool at night, while also providing optimal comfort and motion isolation.
That said, one thing that you should note before going out and buying the Isolus mattress topper is that it's actually really soft - if that's not really your thing, and you tend to prefer firmer options that are also better for your lower back, then Isolus might not be the best option for you.
What is the Price of the Isolus Memory Foam Mattress Topper?
As far as the best foam mattress toppers go, Isolus can be considered in the middle, at least pricing-wise.
If you were to purchase the topper from the brand's official website, it would cost you around $299 for the Queen-sized variant.
Conclusions
As you've probably noticed for yourself, there are many different products to pick from when searching for the best memory foam mattress topper. Truth be told, each and every one of the toppers that we've discussed on this list are going to have their own sets of pros and cons, and no two toppers will suit the same person in the same way.
That said, please keep in mind that while a mattress topper might alleviate some certain issues that you might be having with your bed, it's not going to solve them completely. To do so, you'll have to look for a brand new bed, altogether - luckily, though, there's a pretty long list to choose from.
Also, if you're having trouble choosing the mattress that might suit you, you could also check out our comparison tool for some side-by-side comparisons - perhaps that'll make things clearer?
All in all, I hope that this list of the best memory foam mattress toppers of the year has helped you find at least one good option for yourself. I thank you for reading, and wish you the best of luck on the journey of improving your sleep quality!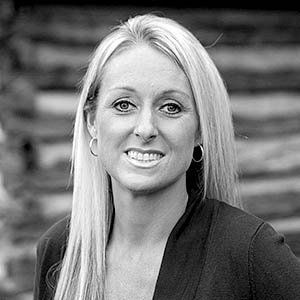 Kelley Thompson
Certified Pediatric Sleep Consultant
Contributed By Kelley Thompson, Certified Pediatric Sleep Consultant
Kelley Thompson, the owner of Serenity Sleepers, is a certified pediatric sleep consultant, who has been helping families all over the world for more than 5 years to safe, healthy, and proper sleep...
Read Full Bio...
Scientific References

Contributed by Kelley Thompson, Certified Pediatric Sleep Consultant

1. Fatanah Ramlee, MHSc, Adam N. Sanborn, PhD, and Nicole K. Y. Tang, DPhil: 'What Sways People's Judgment of Sleep Quality? A Quantitative Choice-Making Study With Good and Poor Sleepers'

2. Dayna A. Johnson, PhD, MPH, MSW, MS, Lynda Lisabeth, PhD, Tené T. Lewis, PhD, et al.: 'The Contribution of Psychosocial Stressors to Sleep among African Americans in the Jackson Heart Study'



Leave your honest Best Memory Foam Mattress Topper review
Leave your genuine opinion & help thousands of people to choose the best mattress. All reviews, either positive or negative, are accepted as long as they're honest. We do not publish biased reviews or spam. So if you want to share your experience, opinion or give advice - the scene is yours!