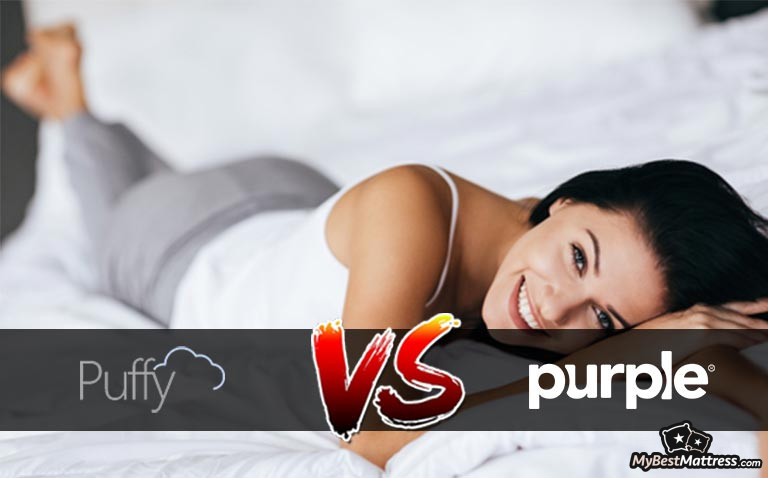 When choosing a mattress, a situation might arise where you narrow your choice pool down to two very different options - how to pick the right one? That is exactly the case in this Puffy VS Purple mattress comparison. Don't worry, though - that's precisely what I'm here to help you do.
Table: Puffy and Purple mattress introduction
Yes, both Puffy and Purple offer some very different products - in more ways than one. With the help of some trusty customer Purple VS Puffy reviews, and a couple of expert opinions, we'll be able to distinguish both the core differences of the two beds in question, and the target audiences that these products are going to be best for.
Also, do check out our side-by-side comparison of both of the mattresses in question!
Let's start off with the "core difference" part, shall we?
Puffy VS Purple: Preparing the Foundation
If you've read any of my other mattress comparison articles (yes, there are more!), you probably know that, while there are quite a few mattress features that are going to be important while choosing a new bed, some things are more important than others.
The same is true in this Puffy VS Purple comparison, too.
Choosing a proper mattress can not only save you a lot of frustration in the long run, but will also help you improve the quality of your sleep and avoid dangerous sleep issues [1]that could lead to severe problems if ignored for too long.
Table: Puffy and Purple mattress features and benefits
Above, you can see a list of some of the benefits and features that we'll talk about in this Puffy VS Purple comparison. That said, we'll mainly focus on 5 of them - durability, firmness, motion isolation, cooling and responsiveness. Let's elaborate on these a bit further.
Durability. Durability doesn't only refer to how long your bed is going to stand in place without crashing down - rather, it also references the time it will take for some signs of wear to start showing, too. Whether it's this Purple VS Puffy article or any else, durability should always be the core criterion from which you start analyzing a mattress. The reasoning behind this is pretty simple - if a bed isn't durable, then nothing else matters, now does it?
Firmness. Do you like to sleep soft? Or perhaps you prefer firmer beds that are also going to be better for your lower back? Whatever the case might be, firmness is always going to be one of the most important aspects to figure out when purchasing a new mattress, Puffy VS Purple comparison included. While everyone has their own preferences, it is scientifically proven that some options are better than others - something to take note of!
Motion isolation. A bed that's good at isolating motion isn't going to be fully appreciated up until the point when you get to sleep with someone else who isn't exactly the most peaceful and calm of sleepers out there. While this feature might admittedly not be all that important to anyone who sleeps alone, it becomes essential if you do sleep with a partner.
Cooling. Since no one likes to sleep hot, mattress brands think of various different ways of how they can make their products as cool to sleep on as possible - both of the beds in this Puffy VS Purple comparison are no different. That being said, no two products are going to have the same level of success cooling feature-wise - that's why it's worth taking a closer look at each product individually.
Responsiveness. Finally, responsiveness is going to be important for anyone who wants a bed that would not only be comfortable to lie on, but also provide proper support and alleviate certain pressure points all throughout your body. If you're someone who's constantly struggling with painful spots (lower back, hips, shoulders, neck) in the morning, a combination of the right pillow and a responsive mattress can usually help you solve that problem pretty effectively.
Those are the five big features that we'll try to focus on and cover in this Puffy VS Purple mattress comparison. While some other aspects are important, too, the above-discussed features should be the ones you pay the closest attention to.
Puffy VS Purple: The Comparison
Now, in order to remain consistent and for this Puffy mattress VS Purple comparison to make sense, let's follow the same order as we did above and start analyzing this Puffy VS Purple mattress debate from the durability aspect.
Durability
One of the main criteria that are going to determine whether a product is durable or not (or, at least, how durable it actually is) is going to be the materials from which the mattress is made of. Some materials are sturdier than others, and hold up better - that said, it does also depend on the way a mattress is built, too.
Now, Puffy is a foam bed. Multiple customer Puffy VS Purple reviews will tell you that the bed is made out of memory foam and polyfoam. On the other hand, Purple is a hybrid bed - it's comprised of three layers of polyfoam, polymer and buckled column gel.
So… Which one of the Purple mattress VS Puffy bed is more durable?

Well, logically speaking, Purple should be the more durable option - hybrid beds tend to be made rather well (as long as we're talking about the top providers of the industry, of course), while foam mattresses don't really have a good track record of being, well… Durable.
That said, both Puffy and Purple are actually reported to be on the same level, durability-wise! That is mostly thanks to both of the companies taking extra care in their production processes, and using only the highest quality of materials out there.
Latest Saatva Coupon Found:
UP TO $500 OFF
Limited-time Saatva Sale
We're sharing a limited-time Saatva mattress discount with our readers! Grab this deal & enjoy your new mattress with huge discounts.
Expiration date: 05/12/2023
4,042 People Used
Only 83 Left
Firmness
Truth be told, the durability aspect is probably where the similarities of the Puffy VS Purple comparison end - this can be very clearly observed when it comes to firmness.
Puffy isn't exactly a soft mattress - at least not as soft as you would expect out of a foam bed. That said, many customer Purple mattress VS Puffy reviews still note that the bed should be somewhere in the middle of the firmness scale, leaning slightly to the softer side of things.
Table: Puffy and Purple mattress firmness and thickness options
Purple, on the other hand, is quite a bit firmer than Puffy. It's likely not the firmest bed that you'd find online, but when compared to Puffy, it might sleep like a rock for some people. That's thanks to Purple's elastic polymer-based design - it makes the mattress rather firm, and thus very suitable for anyone who isn't afraid to sacrifice some comfort for proper back support.

Did you know?
Motion Isolation
As I've mentioned in the introductory part of this Puffy VS Purple comparison, motion isolation is something that's mostly going to be appreciated by couples and other people who sleep in two or more.
Basically, if your bed is bad at isolating motion, you are likely going to feel every single movement that your partner makes. If you're a lighter sleeper and are usually woken up rather easily, another restless sleeper by your side can really mess up your sleep cycle, which is going to result in you waking up feeling just as tired (if not more) then when you went to sleep.

Customer Puffy VS Purple comparisons note that Puffy is probably one of the best beds you'll come across as far as motion isolation is concerned. That does make sense, given that it's a foam bed, in the first place.
The same cannot be said about Purple, however - while it's somewhat OK at isolating motion, it's nowhere near as good as Puffy.
Cooling
As mentioned earlier on in this Purple VS Puffy article, many different mattress providers out there are going to have many different ways of how they make their beds sleep cool.
Puffy aims to combat the hotness with cooling gel that's infused in the memory foam layer of the mattress. Is the brand successful in doing so?

Well… Not really. This shouldn't come as a surprise, though - making an all-foam bed sleep cool isn't easy.
Purple, on the other hand, utilizes the earlier-talked-about elastic polymer - this is likely one of the most breathable and air circulation-promoting materials that you'll come across! With the help of this special technology, Purple has managed to create a really cool-sleeping mattress.
Responsiveness
While a proper diet and an adequate lifestyle are going to help you promote your sleep quality[2], these things are not really going to help you eliminate most of the painful spots that are caused by an unresponsive bed.
Table: Puffy and Purple mattress pressure points
Multiple Puffy mattress VS Purple customer comparisons note how responsive mattresses aren't only going to help alleviate painful pressure points, but also help keep your spine and neck aligned properly all throughout the night. That's nothing to scoff at!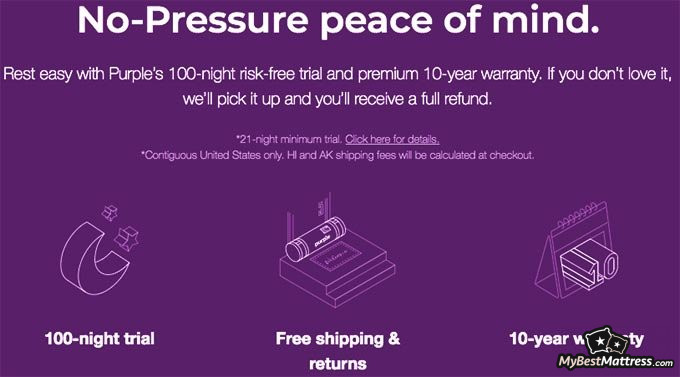 Unfortunately, Puffy isn't seen as the most responsive mattress in the world. Some customers even report the bed being a little bit too sinky - that's some really bad news if you're looking for an item that's good at alleviating pressure.
Purple, on the other hand, is much better on this account. The bed is quite responsive, which is, yet again, thanks to the elastic polymer-based design.
Sleeping Position
Now, with all of the five major mattress features covered and elaborated on, there's still something that we have to talk about before moving on to the pricing section of this Purple mattress VS Puffy comparison - sleeping positions.
As you've probably noticed, I've left this topic out of the "5 major mattress features", and have dedicated a separate section to it, altogether. This was intentional - it's way too important of a feature to not emphasize appropriately!
There are three main sleeping positions that most people fall into - stomach, back, and side. All three of these positions are going to require different features and mattress specifications - for example, stomach sleepers tend to need firm and breathable beds, while side sleepers love responsive mattresses that have great edge support.
Table: Puffy and Purple mattress sleep positions
Believe it or not, but Puffy is actually considered to be universally great for most of the different types of sleepers out there! Many customers who sleep in various positions throughout the night have pointed this out in their Puffy mattress VS Puffy reviews.
Purple, on the other hand, is going to be best for side sleepers. While other types of sleepers might also find the bed comfortable, that's going to be a shot in the dark for most.
Note, though, that this is only the most popular and widely-spread opinion - it's not a universal rule, and a stomach sleeper might perfectly well love Purple as much as they'd dislike Puffy.
Price
Finally, to finish this Puffy VS Purple comparison off, let's talk about the prices of both of the mattresses.
Please keep in mind, though, that all of the prices provided in the lists below are subject to change at any given time - the ones shown here represent the situation that's present as of writing this article.
Table: Puffy and Purple mattress pricing and sizing options
Puffy's prices are:
Purple is priced like this:
While Puffy isn't much pricier than Purple, it's still a bit more expensive.
Table: Puffy and Purple mattress shipping, warranty and trial information
Furthermore, Puffy offers its customers a 101-night sleep trial and a LIFETIME warranty! Purple offers 100 nights of trial, with a 10-year warranty. Both brands ship free in the US, but only Purple ships their products internationally, too.
Conclusions
So, then - which bed out of the Puffy VS Purple debate is the better option?
Well, given that both of the beds are very different from one another, they are also going to suit different people, too. If you like the feeling of foam, don't mind sleeping a bit warm, yet want a very silent and motion-absorbing bed, then Puffy is a good choice for you.
That said, however, if you're more into the "hybrid mattress scene", and value sleeping cool, then Purple is the best responsive alternative.
If neither of the beds seem to suit you, well… You can check out our simpler and more straight-forward Puffy VS Purple comparison, and if you're still not convinced... There are always other options to pick from.
Cheers, and thanks for reading!
Puffy Deal Active Right Now:
UP TO $1,350 OFF
Puffy Mattresses & Other Products
Take advantage of Puffy season sale & explore discounts up to $1,350 off for Puffy mattresses and other products. Hurry up to get this limited deal!
Expiration date: 05/12/2023
1,985 People Used
Only 15 Left
Scientific References
1. Suzanne M Bertisch, Benjamin D Pollock, Murray A Mittleman, et al.: 'Insomnia with objective short sleep duration and risk of incident cardiovascular disease and all-cause mortality: Sleep Heart Health Study'
2. Andrea M. Spaeth, PhD, David F. Dinges, PhD, Namni Goel, PhD: 'Objective Measurements of Energy Balance Are Associated With Sleep Architecture in Healthy Adults'
Leave your honest feedback
Leave your genuine opinion & help thousands of people to choose the best mattress. All feedback, either positive or negative, are accepted as long as they're honest. We do not publish biased feedback or spam. So if you want to share your experience, opinion or give advice - the scene is yours!