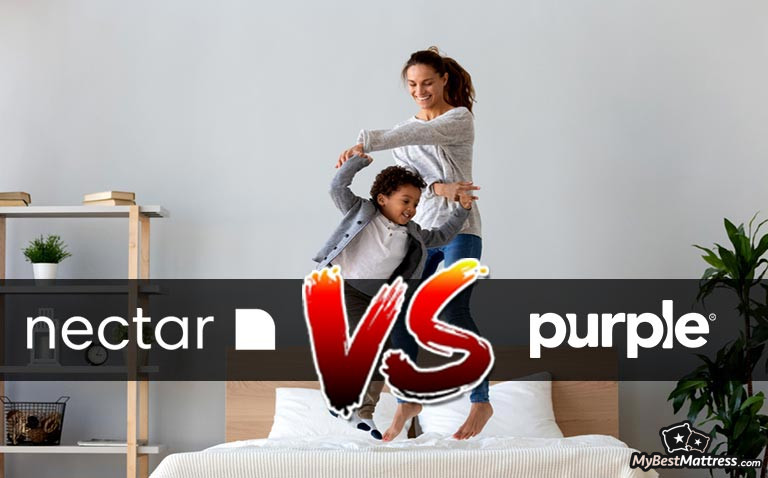 Nectar and Purple are two of the mattress industry giants. Both companies are very well-known, and both have huge and supportive fanbases. That said, today we'll try to figure out which one of the two Nectar VS Purple mattresses will suit you better.
What you're reading now is an in-depth comparison. If, after or before reading it, you would like to see a clear and concise side-by-side comparison, you'll be able to find one here.
Table: Nectar and Purple mattress short introduction
Now, before jumping straight into the Purple VS Nectar mattress article, we should first take a look at some of the most important aspects of choosing a new bed.
Nectar VS Purple: Top 5 Things to Look Out For
No matter what mattress it is that you're trying to purchase, you're bound to always notice (and look out for) a few distinct features. Of course, to each their own, but there are some things that are going to be universally important - the Nectar VS Purple comparison is no different.
In the table below, you should be able to see both contenders of the "Purple mattress VS Nectar" debate analyzed and evaluated from a few different aspects. Out of all of those aspects, there are 5 big ones that we are going to focus on in this article - durability, firmness, motion transfer, temperature neutrality and bounciness.
Table: Nectar and Purple mattress features
Yes, edge support is important. Yes, off-gassing can be annoying. Yes, the weight of the mattress matters, too. That said, more often than not, these mattress-choosing aspects are rather clear - reading through some customer Nectar VS Purple comparisons, however, you're bound to see that that's not really the case with the five mentioned above.
Durability. More often than not, when you're reading through Purple mattress VS Nectar comparisons, durability is going to be one of the first things that you'll look out for. Well, at least it should be - no matter how cool or affordable a mattress is, if it's not durable, you won't really have all that much time to enjoy it - it will simply break down without even serving you for a year.
Firmness. Firmness, as a mattress feature, is usually seen as being completely preferential - some people like firmer beds, others prefer softer ones. The same is true for potential customers looking at Purple VS Nectar mattress comparisons. That being said, firmer beds are generally seen as being much better for the health of your lower back - and there's science to back it up.
Motion transfer. Do you remember that one party where you had to sleep with your friend in one bed, because space was tight? Remember how they would keep on tossing and turning, with you feeling every single thing, and thus staying wide awake? Ya, that's a pretty good example of what a bed that's bad at isolating motion looks like - an important feature that we'll discuss later on in the Nectar mattress VS Purple comparison.
Temperature neutrality. It might be difficult to truly appreciate a cool mattress up until the point where you sleep on a warm one while also having a fever. I bet more than half of the people reading this Nectar VS Purple comparison just cringed - if you've been there at any point in your life, you know the dread. And that is exactly why sleeping on a temperature-neutral mattress is important.
Bounciness. Bouncy beds are cool for a couple of reasons. If you're a heavier sleeper, you'll definitely appreciate the fact that bouncy and responsive mattresses aren't really prone to sinking, and thus provide more comfort and stability while you sleep. On top of that, you will truly start appreciating a bouncy mattress once you notice how responsive it is during sex - if you're reading this with your significant other, take notes!
So - those are the five essential features that we'll be focusing on in this Nectar VS Purple comparison. There's one more feature that I've left out intentionally, though, and we'll talk about it at the end of the article - read on and find out!
Nectar VS Purple: The Comparison
With the fundamental groundwork laid out and leading the way, let's move on with the Purple VS Nectar mattress comparison - we'll start out with durability.
Durability
One of the key, essential points that determine a bed's durability are the materials from which that bed is made. Sure, production processes are also important, but more often than not, you're going to want to look at the material side of things.
Nectar is a memory foam-based mattress. It's rather unique in that it features 4 different layers in its design - all of them serve different purposes, but they can be rounded down to comfort, firmness and cooling.

Purple, on the other hand, is a hybrid - it's made out of a special type of elastic polymer (this is where Purple's "Smart Comfort Grid" technology comes in), polyfoam and buckling column gel.
Many people reading this Nectar VS Purple comparison might immediately side with Purple as far as durability is concerned - after all, memory foam products don't really have a good track record of being durable, right?
Well… Not really.
Truth be told, it would seem that both the original Purple and Nectar mattress are almost equally durable - Nectar has managed to maintain high-tier durability with some high-quality design choices, which is definitely noteworthy!
Latest Saatva Coupon Found:
UP TO $500 OFF
Limited-time Saatva Sale
We're sharing a limited-time Saatva mattress discount with our readers! Grab this deal & enjoy your new mattress with huge discounts.
Expiration date: 13/06/2023
4,042 People Used
Only 83 Left
Firmness
As I've mentioned at the beginning of this Nectar VS Purple comparison, different people are going to have very different mattress firmness preferences.
That said, even if you do tend to prioritize comfort over everything else, you should at least know the benefits of a firmer mattress, with the main one being proper support.
Table: Firmness and thickness options for the Nectar and Purple mattresses
You see, firm mattresses are going to do a better job at supporting your body and keeping your spine aligned. This, in turn, doesn't only help you alleviate existing lower back and hip pains, but also prevent new ones from forming.
Firmness-wise, both of the competitors of this Nectar mattress VS Purple comparison are actually pretty similar. Customers report that both beds offer above-average firmness, even stepping into the "quite firm" category for some.
Again - while this might not suit everybody, it's actually a huge benefit in disguise. If you can manage to feel good while sleeping on a firmer mattress, your back will eventually thank you.

Did you know?
Motion Transfer
Truth be told, motion transfer might not be a nuisance if you sleep alone, but as soon as there's another person lying right beside you, you'll understand the significance of this feature.
A mattress that has good motion isolation (spoiler alert - that would be both of the beds in this Nectar VS Purple article) is going to negate the motion that the other person makes while they sleep. Now, naturally, you might still feel them turning around or adjusting their blankets, but it's certainly going to be minimal.

By comparison, mattresses that are poor at isolating motion are going to feel super-sensitive - you'll be afraid to even sigh, with the fear that this will cause to much motion and wake your partner up.
As mentioned earlier, both Nectar and Purple have good motion isolation. With Nectar, this is because of its unique 4-layer design. Purple, on the other hand, is made up of three layers, but the fact that it's a hybrid bed still helps it isolate motion rather well.
Temperature Neutrality
Out of all of the different types of mattresses out there, foam beds have the hardest time with "keeping it cool" throughout the night. Customer Nectar mattress VS Purple reviews note how memory foam (or another type of foam) beds have been the hottest they've ever slept on.
Now, different mattress companies have found different ways to combat this. Some offer cooling gel fillings, other focus on making the covers breathable (whether from cotton, bamboo rayon, or else). Not all are successful, however - it's truly a case-by-case scenario.

Purple sleeps cool - that shouldn't be too surprising. The elastic polymer that's at the core of its design is breathable and cool, making Purple a temperature-neutral bed to sleep on.
That being said, however, out of all of the surprises that you might encounter in this Nectar VS Purple article, this upcoming one is probably going to be the biggest - customer claim that Nectar is actually one of the coolest-sleeping beds on the market.
How has a memory foam-based product managed to retain such awesome temperature neutrality? Simple - a mixture of a cooling cover, a gel memory foam layer and a breathable base.
So, it's pretty obvious - if temperature neutrality is the most important aspect of a mattress for you, then Nectar is a great option.
Bounciness
Bouncy and responsive mattresses are going to be great for anyone who needs some extra support from their bed. Since these mattresses are usually on the firmer side of things (this Nectar VS Purple comparison is no exception), the extra support can help you keep your body properly aligned throughout the night.

That said, there's also the topic of sex. Bouncy beds will make your sexual life a whole lot easier, providing that extra kick that many other simply mattresses lack.
Well, whatever the case might be, multiple customer Purple mattress VS Nectar reviews note how both of the beds discussed in this article are rather similar bounciness-wise - they are not the most responsive mattresses that you'd be able to find, but still provide some decent bounciness, nonetheless.
Sleeping Position
With the core five features of a proper mattress discussed and out of the way, it's time to reveal the "secret feature" that I've left a mystery at the beginning of this Nectar VS Purple comparison article - sleeping positions.
The reason why I'm dedicating an entirely different section to sleeping positions is because it's too important of a topic to just quickly skim through, and I want to emphasize its importance by paying closer attention to it.
In total, there are three (four) sleeping positions that you should be aware of - side, back and stomach. There are also combination sleepers - people who have more than one dominant sleeping position - but they are still going to fall into either one of the three major categories, in one way or another.
NECTAR
PURPLE

Ultimate comfort for all sleepers
100% risk-free 365-night trial
Pressure point relief for any body type
Unique 4-layer design

Really good temperature neutrality
Firm, but not too much
Great motion isolation

Might be a bit too firm for some people
Some customers report that the mattress is a tad bit too warm

Expensive
Not the best edge support

Visit site
Read Review
See TOP10 Brands
Read Review
Table: Nectar and Purple mattress optimal sleep positions
Each of the above-mentioned sleeping positions is going to require different mattress parameters and specifications. Manufacturers know this, and so try to cater their products around the specific customer wants and needs.
According to multiple customer Nectar VS Purple reviews, Purple is going to be best for people who prefer sleeping on their side. Back sleepers might also enjoy their experience with the mattress, and stomach sleepers might have the most difficult time adapting to the bed.
Nectar, on the other hand, is one of the more universal beds out there - by popular opinion, it's going to suit all of the major types of sleepers pretty well. Something worth keeping in mind!
Price
Now, to finish off our Nectar VS Purple comparison, let's take a look at the pricing and sizing options of both of the beds in question.
Table: Pricing options for the Nectar and Purple mattresses
Nectar's prices are:
The Purple mattress is priced, as follows:
As you can probably see for yourself, Nectar is actually quite a bit more affordable than Purple, especially if you're opting to purchase the bigger-sized version of the bed.
Table: Nectar and Purple mattress trial and warranty information
On top of all of that, Nectar does also offer a 365-night sleep trial, while Purple only offers 100 nights. Furthermore, Nectar provides customers with a lifetime warranty - a lifetime! -, whereas Purple gives you the standard 10 years. That said, Nectar doesn't ship internationally, while Purple does. Both companies offer free shipping in the US, though.
Conclusions
So, to put it short, if you want a really cool-sleeping mattress that's based out of memory foam, Nectar is your best bet. It's super-affordable, provides customers with a lifetime warranty and is seen as one of the best mattresses in the industry, overall.
If, however, you want an equally decent bed that's also a hybrid (instead of being fully foam-based, that is), you should go with Purple.
Also, don't forget to check out our side-by-side comparison of both of the beds of the "Nectar VS Purple" duel. Thanks for reading, and best of luck!
Nectar Deal Active Right Now:
33% OFF
Nectar Special Offer
With the current Nectar mattress sale you can save up to 33%. Get one of the biggest discounts on mattresses when using this special Nectar mattress coupon.
Expiration date: 13/06/2023
3,101 People Used
Only 99 Left
Leave your honest feedback
Leave your genuine opinion & help thousands of people to choose the best mattress. All feedback, either positive or negative, are accepted as long as they're honest. We do not publish biased feedback or spam. So if you want to share your experience, opinion or give advice - the scene is yours!