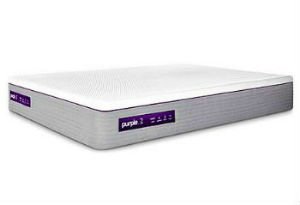 If you're tired of your old mattress making you weep, the Purple mattress is going to make you sleep..!
OK, I'll admit - that was bad.
Allow me to redeem myself by offering you a thorough and comprehensive Purple mattress review. Just like you (and probably the vast majority of people in the world), I value my sleep. To get the best out of it though, one needs to use the best mattress in the game. And, well… Purple is a pretty good contender.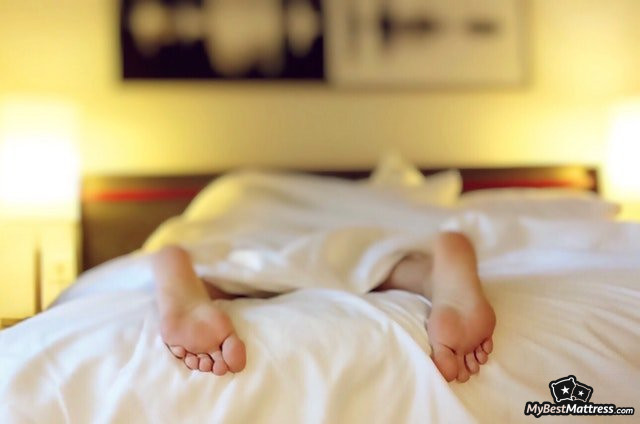 If you came here for some technical stuff, I'm sorry to disappoint - you ain't gonna find much of that. I'll tell you some general information that's essential for anyone looking for informative Purple mattress reviews, but we'll mostly focus on the experience that the mattress provides, and not the numbers or industry-specific slang.
To start thing's off, we'll take a look at some of the most notable pros that the Purple mattress has in store. After that, we'll talk about the cons, the Purple mattress cost and then I'll give you a brief summary at the very end.
TL;DR: The Purple mattress is a great product all-around - it's of the perfect firmness, offer good noise reduction and motion isolation, is relatively bouncy and suits back and side sleepers best. While it may be on the pricier side of the mattress industry, the quality of the product is on par.
Pros
Really good temperature neutrality
Firm, but not too much
Great motion isolation
Cons
Expensive
Not the best edge support
Purple Mattress Review: PROS
There are many different features that the Purple mattress offers to the average user, but (as I've already mentioned earlier) let's focus on the main, down-to-earth benefits first.
Great for Side and Back Sleepers
If you're reading this Purple mattress review, there's a pretty good chance that you're either a side or a back sleeper. It's rather rare to come across someone who primarily sleeps on their stomach! Most people spend the night either turning from side to side, or completely out cold on just one side of their body. This is where the Purple mattress comes in.
As soon as people receive their Purple mattresses, the very first thing that they tend to do is to test the bounciness, pressure and everything in between (we'll talk about that soon enough). After that, however, comes the sleeping part - this is when you find out whether or not the mattress is actually fit for you.

The majority of people who write Purple mattress reviews seem to be side sleepers. At first, they are usually very skeptical about the mattress, and think that they will blast the company's promoted "No Pressure Mattress" technology in the Purple bed reviews.
You see, the company behind the mattress states that this is the "world's first No pressure Mattress" - this means that it does not create the so-called "painful points" on your body, and evens out the pressure throughout the whole mattress. However, customers don't really seem to buy it.
That said, they soon change their minds.
I'm glad that I can write this Purple mattress review and firmly state that the technology does work. Users don't really feel the difference the first night, but after a few days, they notice that their body isn't sore in the morning (which had been the case for quite a few years for some of them).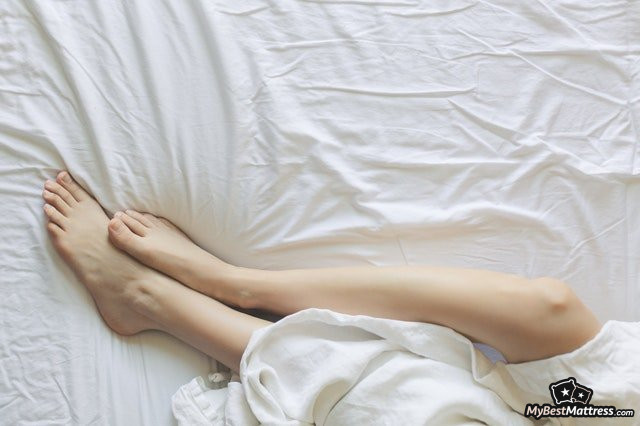 From what I gather from these Purple customers (surprisingly, a lot of them are back sleepers), most of them had a similar experience - the effect is even better felt while you're sleeping on your back!
The majority of online user Purple mattress reviews just furthered this notion. While it's rather difficult to notice the first few nights, after a while, you can definitely tell the difference from the general feeling in the morning as you get out of bed. So, the Purple reviews weren't lying!
Latest Purple Coupon Found:
Free Product
With a Mattress Purchase
Use this exclusive Purple promo code to get a free product up to $129 value with a mattress purchase. Pick from free sheets, pillows, mattress protectors & more.
Expiration date: 10/10/2019
3,012 People Used
Only 88 Left
Cool (Both Visually and in Temperature)
Let me just say this before we continue with the Purple mattress review - heat is my personal pet peeve. I absolutely despise the (quote on quote) "hot" feeling that the majority of mattresses give off as you sleep. There's literally nothing worse than waking up in the morning drenched in your own sweat - if you also happen to have a fewer, you're in for a ride.
Purple mattress is advertised as being a "cool" mattress - it "breathes and promotes airflow", which means that you shouldn't find yourself in a scenario like the one I described above. And, well, this turned out to be true, too.

The mattress is made in a way that promotes ventilation. This means that, while you sleep, the air isn't trapped around your body, but rather flows outwards and helps in keeping the temperature at a perfect level - "not too hot, and not too cold".
Admittedly, this was one of the main features that I wanted to find out for this Purple mattress review (it being my pet peeve and all of that). Low and behold, this came out to be true, too - the majority of the Purple mattress users were very pleasantly surprised by how "unintrusive" the temperature was while sleeping on the Purple mattress.
Naturally, you have to make the right decisions with your blanket and so on (a cotton sleeping blanket in the middle of summer might not be the best idea, even with Purple in place), but if you've got that figured out, then you're golden.
Thickness and Firmness (We're Still Talking about the Mattress, Mind You)
A lot of Purple mattress reviews have claimed that the original product is rather firm. This is actually a topic where a lot of people have very different experiences - some do indeed find Purple to be very firm, but others feel the opposite way. So, I did a bit of digging, and soon enough, it all made sense.
You see, the people that find the mattress firm average at around 170 lbs in the weight department. Needless to say, they are waaaaay on the thinner side. Since their body weight is so low, the mattress did feel firm to them. It's not necessarily a bad thing, though - if you yourself have some lower back problems, firm mattresses are the way to go.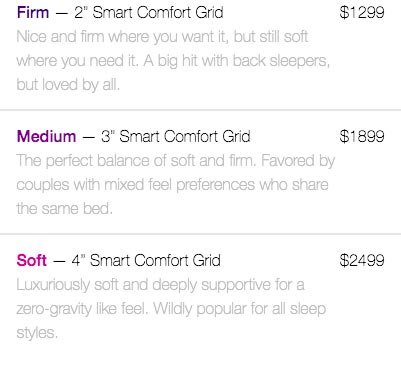 Other Purple customers, however, are 180 lbs and above. It would seem that this rather small difference in weight was what changed their experiences.
One thing can be agreed on, though - the firmness is always just right. If you are a lighter person, do keep in mind that Purple might feel rather firm. However, heavier people won't notice that as much - that said, there's no "sinking and drowning in your mattress" involved either way.
Less Night Time Turning and No Noise (Still Bouncy, Though!)
Night time turning (from side to side) is a very common problem that people have, especially in the 21st century. Stress, diet and (of course) the surface on which you sleep can all heavily impact the quality of your rest.
It is also natural that, by turning, people make some noises - the extent of these noises, yet again, depend on the mattress in question. With some mattresses out there, you could be constantly waking you simply from the noise that you cause while twisting around at night!
A shared opinion among the majority of the Purple mattress reviews found online is that Purple does, indeed, minimize the times that you turn while sleeping. While this is rather difficult to test out, the general feeling shared among most of the Purple mattress reviews is the same.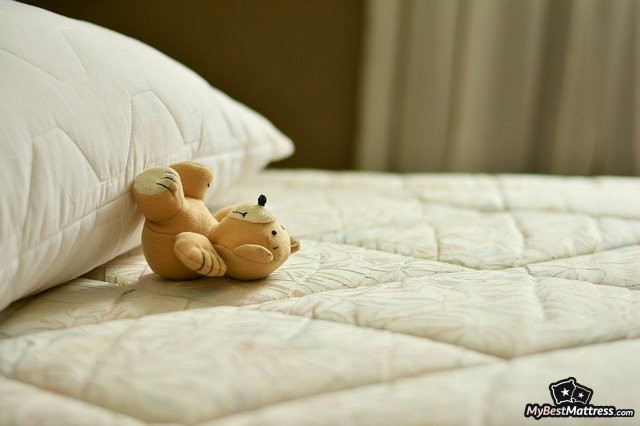 The whole "no noise" thing also has some other… Uses. Imagine trying to sneak in some ye olde sexeroo with your significant other when your roommates are next door.
You would probably want to make as little sound as humanly possible, right? Well, Purple is a pretty good option here, too - not only does the mattress' ventilation feature come in handy here (that came out wrong, didn't it?), but the amount of noise that it gives off won't even be that noticeable.
Also, while the original Purple isn't as bouncy, the new version of the mattress will blow your mind away (don't even go there).
Purple Mattress Review: CONS
Now, with the main pros of Purple reviews out of the way, let's transition this Purple bed review and talk about some of the more notable cons that the mattresses have. Mind you, however, that all of these cons are only applicable to the original Purple mattress, and are fixed (adjusted) in the "New" version of the product (unless stated otherwise).
Not so Good for Stomach Sleepers
Remember when I mentioned at the beginning of the Purple bed review how both side and back sleepers will find the mattress to be great? Well, the only people that don't really have all that good of a time are the stomach sleepers.
Truth be told, it's rather rare to find a person who would be constantly sleeping on their stomach. The most common scenario here is that people do so either when they have a sunburn on their back, or a fresh tattoo that needs to heal up before you can lay on it.
However, for the few people reading this that are constant belly sleepers, do be informed that Purple might not be the most comfortable mattress. According to some online Purple reviews, it's far from being outright "bad", but it still leaves some things to be desired.
Heavy
While this isn't necessarily a con by itself, it's still a significant nuisance, especially when you just purchase the Purple mattress.
The Purple mattress weighs around 110 lbs. For a mattress, that's quite a lot. You won't really care about this when it's already fixed into your bed frame, but the actual process of getting it there might be a tricky one.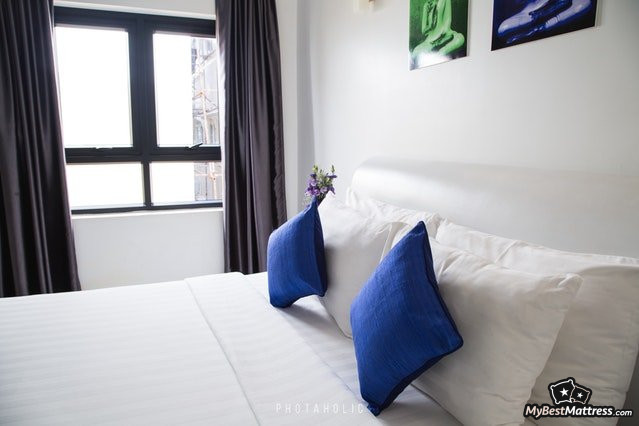 A lot of the modern mattresses weigh a small portion of that, and so you might be a bit flabbergasted by Purple. Just keep in mind that, if you need to take it to the 13th floor or something, you might want to sneak a few extra workouts before doing so.
Price + Two Big Choices
Now that we've got all of that covered and done, let's talk about the Purple mattress price.
Let's get one thing straight - the Purple mattress cost isn't a small one. This is especially true if you decide to go with their brand new series "The New Purple". However, all things considered (especially the prices of other mattresses out there), the amount of money that you pay does actually reflect the quality of the product pretty well.
Even though we haven't touched much on the newer version of the Purple mattresses in this review, it is worth knowing that it takes all of the good features of the original Purple and pushes them even further, while simultaneously fixing some of the major issues that the older version had. Honestly, the "New Purple" deserves a review of its own!
What is the original Purple mattress price?
Now, let's take a look at the original Purple mattress prices:
What is the new Purple mattress price?
According to the majority of online user Purple mattress reviews, the most popular options would be the Twin, Full and Queen ones. The Purple mattress prices do range by quite a bit, but wait till you see the new version ones:
Furthermore, the new Purple mattress cost will also range from the default price of the selected size all the way up to $3499 USD, depending on the "level of comfort" that you choose. The firm version comes with a 2" Smart Comfort Grid, the Medium one has 3", and the Soft version has 4".

Also, remember that you have a 100-day money-back guarantee! The company also offers free shipping in the US.
Here is The Best Purple Offer I Found:
Free Product
With a Mattress Purchase
Use this exclusive Purple promo code to get a free product up to $129 value with a mattress purchase. Pick from free sheets, pillows, mattress protectors & more.
Expiration date: 10/10/2019
3,012 People Used
Only 88 Left
Conclusion
Now, with all of that out of the way, only one question remains unanswered - would I recommend using the Purple mattress?
Yes, I would. The majority of the Purple mattress reviews would also tend to agree with me.
In this Purple mattress review, we've discussed many different aspects of the product. It's firm (but not too firm!), relatively bouncy (even more so when it comes to the newer version!) and has some awesome ventilation and weight distribution features. Furthermore, while the Purple mattress price might be a bit high, it does match the quality of the product in question.
Since you'll have 3 whole months to test the product out, you should definitely be able to make your mind up and return the mattress if you find it unsatisfactory. I hope this Purple mattress review was useful to you, and until next time!
Leave your honest Purple review
Leave your genuine opinion & help thousands of people to choose the best mattress. All reviews, either positive or negative, are accepted as long as they're honest. We do not publish biased reviews or spam. So if you want to share your experience, opinion or give advice - the scene is yours!