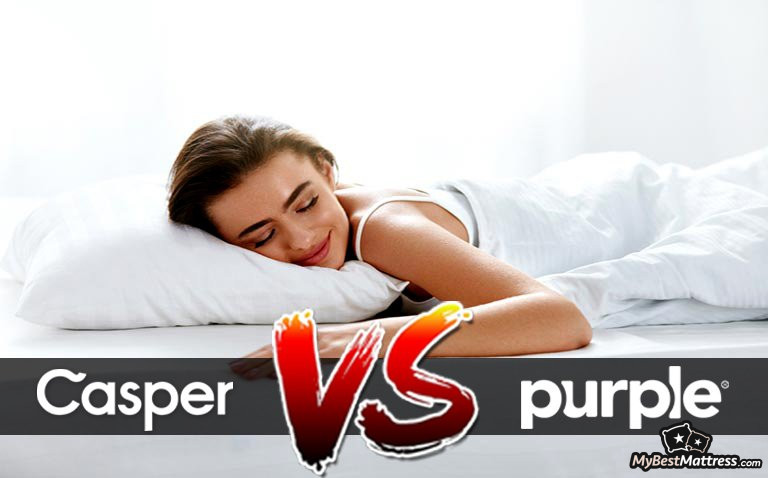 So… You've gone through our list of the best mattresses of the current year, and have decided that the ultimate choice for you lies between Casper VS Purple. What's next? How do you pick the better mattress for yourself?
Well, let me help you do just that.
Table: Casper and Purple short introductions
You see, while both of the beds in question are very well-known and respected within the mattress industry, they are both still very different. Going through each of the main, essential features of a proper mattress, you'll be able to see which of the contenders of the "Casper mattress VS Purple mattress" duel fits your wants and expectations better.
Also, do visit our side-by-side comparison of the two beds in question, in order to get a batter understanding of how they differ from each other.
Casper VS Purple: Laying the Groundwork
If you've ever tried looking at some various customer Casper VS Purple comparisons online, you might have noticed that many of them are, well… All over the place.
I mean, that's not too surprising - it can be difficult to jampack a lot of interesting and useful information into a single, limited online customer review.
Table: The main features and benefits of Casper and Purple
Worry not, however - with the help of some trusty visuals, I'll guide you through the process of figuring out which of the two Casper VS Purple mattresses will suit you best. Before that, however, we need to lay down some groundwork - in other words, figure out the key, essential features that we'll be looking at while comparing the two beds.
In total, I've extracted five most commonly-referenced mattress features that need to be discussed and elaborated on as far as the Casper VS Purple comparison goes:
Durability. While durability can be seen as an overarching topic, it's actually mostly related to the material from which a mattress is made of. Depending on this factor, you might be looking at a very durable bed… Or one that will serve you for an extremely limited time.
Firmness. Some people like firmer beds, others prefer softness and coziness. Sleepers looking at Casper VS Purple comparisons are no different - the firmness of the bed isn't only important from a personal preference point of view, but for your health, also.
Motion transfer. Do you sleep alone? If so, motion isolation might not be too big of a deal. If you're looking at this "Purple VS Casper" article with your significant other, however, then motion transfer is going to be a significant point when shopping for a new bed.
Temperature neutrality. If you're anything like the 99% of the rest of the world, you aren't going to feel particularly happy sleeping hot. Truth be told, your mattress has a lot to do with that - some beds sleep rather cool, while others are actually ovens in disguise.
Responsiveness / Bounciness. While bounciness isn't particularly useful if all that you do in your bed is sleep, it might come in handy with other, less sleep-related activities, i.e. sex. Even despite that, however, no one wants to sink into their mattress while they sleep - this is where responsiveness comes in.
Now, with the main features of this Casper VS Purple comparison out of the way, let's get straight to the meat and potatoes of things.
Casper VS Purple: The Comparison
Let's talk about the essential features of a proper mattress in the same order as presented above, shall we?
Durability
Straight off the bat, let me tell you - while both of the beds of the Casper VS Purple comparison are rather durable, the Purple mattress should be your go-to choice if durability is actually your main concern.
You see, the Casper mattress is made out of memory foam, while Purple is a hybrid - the bed features the company's "Smart Comfort Grid" technology with some elastic polymer, and a couple of layers of polyfoam with buckling column gel on top.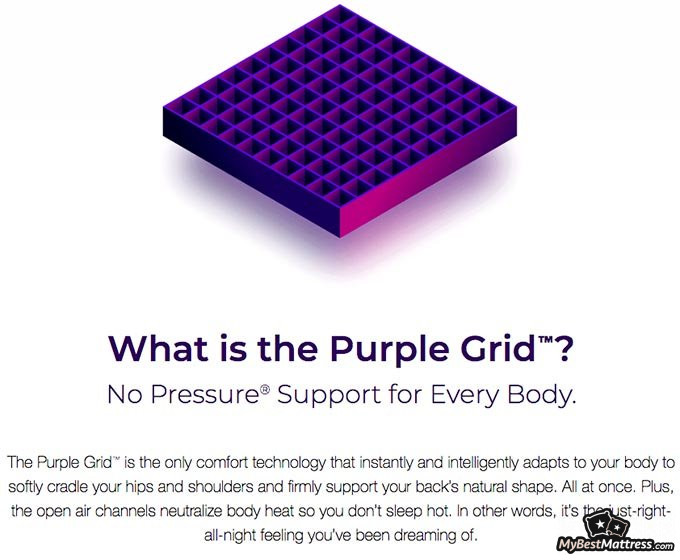 Breaking that all down, memory foam isn't considered to be one of the most durable materials for mattresses, in general. While Casper has managed to make their mattress rather sturdy, that's all on them being professionals - if this wasn't a "Casper mattress VS Purple mattress" comparison, and it would be some other memory foam bed, things might be different.
Hybrid mattresses, however, do have a reputation of being both sturdy and reliable, in the long run. Customer Purple reviews strengthen that notion - people claim that they have no issues with the mattresses, even after a few years of sleeping on it.
Latest Saatva Coupon Found:
UP TO $500 OFF
Limited-time Saatva Sale
We're sharing a limited-time Saatva mattress discount with our readers! Grab this deal & enjoy your new mattress with huge discounts.
Expiration date: 12/12/2023
4,042 People Used
Only 83 Left
Firmness
According to research done by Kovacs and colleagues, medium-firm beds are going to be best for anyone suffering from chronic lower back pains and other, similar issues. If that's actually the case, and you can indeed relate with the "back pain" part, then Casper might actually be the better choice for you, as far as the Casper VS Purple comparison goes.
Table: Firmness options of Casper and Purple
You see, most customers claim that Casper is actually in the very middle of the spectrum, as far as firmness goes. As opposed to that, Purple is often regarded as being a firmer option - while firmer mattresses are often going to be better for you than soft ones, some sleepers claim that Purple might even be too firm.
Combined with a proper pillow, however, Casper should be able to provide most average-weight sleepers with some optimal comfort parameters. So, if you're into softer beds, but still care for the health of your shoulder, back and hip areas, then Casper might be the better choice of the two.

Did you know?
Motion Transfer
As I've mentioned earlier, if you're reading this Casper VS Purple comparison together with your significant other, chances are that motion isolation is going to be a big deal for you.
You see, a mattress that is bad at isolating motion won't let you get a good night's sleep if there's another person who likes to twist and turn in their sleep lying beside you. Basically, you'll feel every single movement, which will end up in you waking up every so often, without a clue of what's going on.
Not ideal.

As far as motion transfer is concerned, however, Purple is the clear winner of the "Purple mattress VS Casper" duel. Casper's memory foam-based design is rather sinky, and it doesn't isolate motion all that well.
The Purple hybrid mattress, however, is great at it - customers report that they are able to get a great night's worth of sleep, even if their partner dreams that they are on the front lines of World War III on the other side of the bed. So, if you're easily woken up, do consider Purple as the better alternative here!
Temperature Neutrality
Whether it's this Casper VS Purple comparison or any other, similar mattress comparison out there, temperature neutrality is always going to be an important topic. That's mostly because of the fact that, while there are many different aspects that go into you staying cool and refreshed all throughout the night, your mattress is going to be among the main ones.
Different types of mattress materials are going to do a different job at absorbing and keeping heat away from your body. In all honesty, memory foam is one of the worst materials at this job - while many different mattress providers try various tricks to keep their memory foam beds cool, they will almost never sleep as cool as, say, innerspring ones.

The same is true with this Casper VS Purple comparison, too. Casper, while not being exceptionally hot to sleep on, is still a whole lot warmer than Purple's hybrid mattress.
If temperature neutrality isn't too big of a topic for you, then sure - Casper might be fine. However, if you absolutely despise sleeping hot, and have come to this Purple VS Casper article to find the coolest-sleeping bed in the industry, then Purple is a much better choice.
Responsiveness / Bounciness
Bounciness is a bit of a niche feature as far as the "main" aspects of this Casper mattress VS Purple mattress article is concerned. That said, it's still important for a couple of reasons.
The most notable of these reasons will most definitely be sex. If you sleep with your partner, and want to improve the sexual side of your life, then a bouncy mattress is one of the best starting methods to do so.
Many customer Casper VS Purple mattress reviews note that a bouncy bed will take some of the physical effort away from such activities, making them much more enjoyable and, well… Smooth. Responsiveness is similar, too - a responsive mattress will contour to your body, and not sink down one you lie on it.

That being said, the same Purple mattress VS Casper reviews also note that neither of these two beds is going to be perfect for the job. When it comes to Casper, it's pretty self-explanatory - memory foam has a proclivity to sink, and making this type of a product responsive is one hell of a job.
Purple is actually kind of the same in this regard, too. While the newer version of the mattress performs better when it comes to responsiveness, the original Purple just isn't responsive or bouncy enough for most customers' wants and needs.
Sleeping Positions
Before we move on and talk about the actual pricing options for both of the beds, there's still one more thing left to address - what are the sleeping positions that both Casper and Purple are going to be best for?
In total, there are three main sleeping positions that you should be aware of - stomach, side and back. Each of these types of sleepers are going to require different conditions in order to rest comfortably.
PURPLE
CASPER

Really good temperature neutrality
Firm, but not too much
Great motion isolation

Made of Quality Material
Casper is For Every Sleeper's Needs
Medium-Firm Level of Support that Works for Almost Everyone
100-Nights Sleep Trial
Durable (Confirmed by Users' Reviews)

Expensive
Not the best edge support

Only One Firmness Option
Not so Great for Hot Sleepers

See TOP10 Brands
Read Review
See TOP10 Brands
Read Review
Table: The best sleeping positions for Casper and Purple mattresses
The general consensus of most customer Casper reviews is that the mattress is going to, more or less, suit all of the three types of sleepers mentioned above. That's pretty rare! Sure, some people will find the bed more comfortable than others, but if you were to paint things with broad brush strokes, Casper does seem pretty universally-accepted.
Purple, however, seems to be most suitable for side and back sleepers. Stomach sleepers are going to be the group of people that might not be too happy with the bed in question. That being said, it's worth mentioning that this is only the case with the original Purple - if you were to look at the new Purple Hybrid Premier model, the story seems quite a bit different.
Pricing
Now, with all of that out of the way, let's take a look at the pricing options of the Purple mattress VS Casper comparison.
Table: Casper and Purple pricing options
The price tags for the original Purple mattress are, as follows:
Casper's pricing and sizing options are:
As you can probably see for yourself, both of the mattresses are priced similarly. That being said, if you're opting to go with a smaller bed, then Casper is going to be the more affordable choice. As the sizes go up, however, Purple becomes the cheaper alternative.
Table: Casper and Purple shipping options, warranties and trials
Even when it comes to purchasing perks and guarantees, both of the beds in this Purple VS Casper comparison are, yet again, very similar. Both of the companies offer 100 nights for you to test the bed out, and both provide 10-year warranties. Furthermore, if you're worried about free or international shipping, you can rest assured - those are included, too.
Conclusions
So… Which of the Casper VS Purple mattresses should you pick?
Look, it's pretty simple - of you prefer the feeling of memory foam, like a mattress that conforms to your body and are looking for the "perfect firmness" option, then Casper is the mattress for you.
That said, if you're an avid side or back sleeper that doesn't only care about their sleep quality and temperature neutrality, but also wants a mattress that is responsive and firm, Purple will suit you much better.
All in all, both mattresses are quite affordable, and both offer the same great guarantees and trial periods. The ultimate choice depends solemnly on your own, personal preferences, wants and needs.
With that being said, I hope that this Casper VS Purple comparison was useful to you, and that you have managed to pick the better option for yourself. If you're still not sure, do check out the full, technical comparison, or our list of the best mattresses in the current industry - perhaps you'll find the bed of your dreams there?
Purple Deal Active Right Now:
Purple Black Friday Deal
Up To $800 OFF
Don't miss a chance to purchase Purple mattresses with an impressive $800 discount. You deserve to enjoy this Purple Black Friday Sale!
Expiration date: 12/12/2023
2,089 People Used
Only 72 Left
Leave your honest feedback
Leave your genuine opinion & help thousands of people to choose the best mattress. All feedback, either positive or negative, are accepted as long as they're honest. We do not publish biased feedback or spam. So if you want to share your experience, opinion or give advice - the scene is yours!