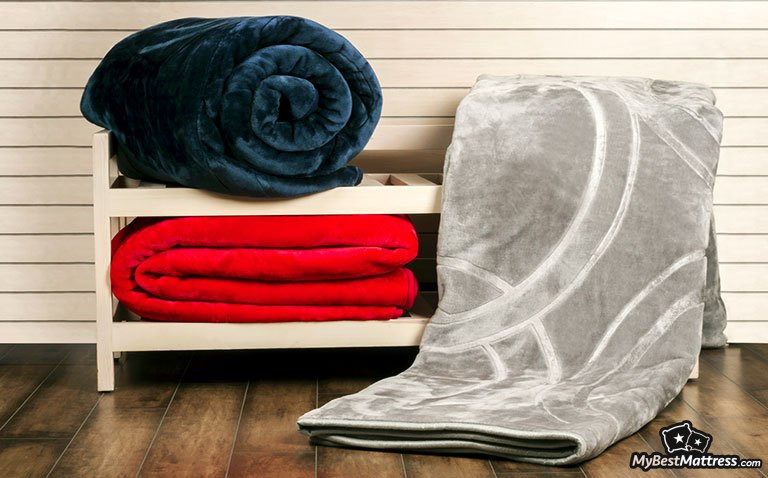 If you haven't been scrolling through the latest sleep-related trends, the concept of a weighted blanket might sound a little weird to you. But these blankets are now favored by many people across the globe. So, everyone seems to be looking for one or looking up how to make a weighted blanket.
If you're one of these people and you don't really want to spend hundreds on a weighted blanket just yet, not knowing if sleeping with one suits you, this tutorial is for you.
Keep on reading to learn how to make a DIY weighted blanket and find out the benefits of it.
What Is a Weighted Blanket?
First things first, before you try to learn how to make a weighted blanket, you have to understand what a weighted blanket is. If you prefer to sleep with a thicker and heavier blanket, you might already see the appeal of a weighted blanket. But weighted blankets are a little different from the regular heavier ones.
Weighted blankets usually include the same fabrics as the conventional ones, but also have pouches filled with heavy weights. This way they produce the calming even pressure effect.
The main purpose of a weighted blanket is a soothing effect. Using a weighted blanket is known to increase serotonin's and melatonin's production. Both of these hormones help with getting a night of good quality deep sleep[1] and calming us down.
Although they're also known for having positive effects on children or even adults who have autism, ADHD, or anxiety disorder. They may also help to treat insomnia and prevent tossing and turning.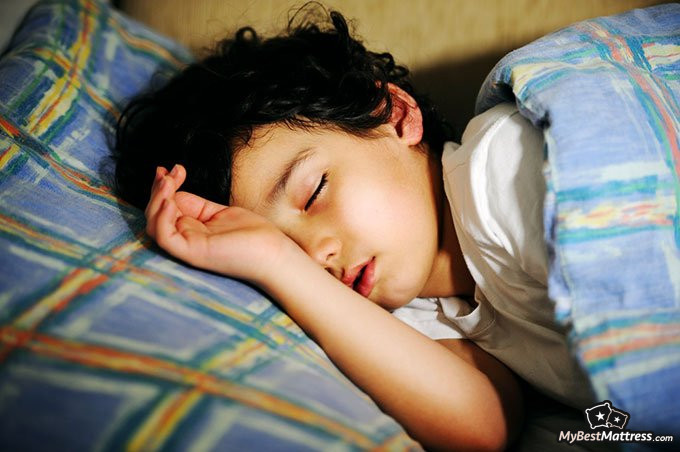 If having read all these benefits, you can't wait to get started on making a weighted blanket, keep on reading to learn how to do it!
How to Make a Weighted Blanket
Now that you what a weighted blanket is what it's used for, it's time to learn how to make a weighted blanket!
Choose Your Material
The first thing you have to do if you want to know how to make a weighted blanket, is find the right material.
When choosing the fabric you should consider your preferences and needs. If you're looking breathable material, you're best off picking cotton or rayon from bamboo. If you want softness and for it to be warm, your best option would be polyester.
Another option you have is silk. It works well for people with mental disorders such as autism who may have a sensitivity to some materials. It's also very breathable, but might be a little harder to clean. So, consider all these options you have and choose the fabric that suits you best.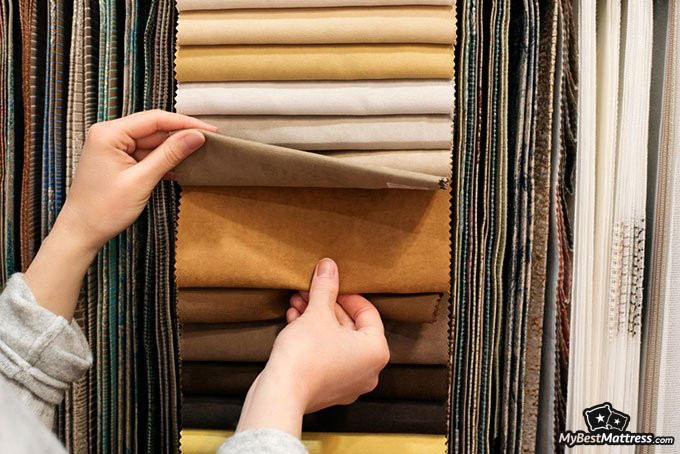 If you're not that into taking fabric, cutting it, sewing it and making it into a blanket, you might as well take an already made blanket and add the weights to it. It might be a little harder and not as customizable though. And you will also have to disassemble the blanket to add the weights.
Latest Saatva Coupon Found:
UP TO $500 OFF
Limited-time Saatva Sale
We're sharing a limited-time Saatva mattress discount with our readers! Grab this deal & enjoy your new mattress with huge discounts.
Expiration date: 08/12/2023
4,042 People Used
Only 83 Left
Choose Your Weighted Filling
Another thing that's important when it comes to learning how to make a weighted blanket is choosing the filling. The filling of the blanket is just as important as the fabric of the blanket is. So let's see the options you have when choosing the weights, as they're really important if you want to make your own weighted blanket
Plastic Polypropylene pellets
If you've already done a little research on how to make a weighted blanket, you must've already come across this type of filling. Plastic Polypropylene pellets are the most popular weight and they're often used by huge companies manufacturing weighted blankets.
It would be one of the best options if you have the means to get it. They usually look like small pebbles and the best thing about them is that they're machine washable. You could try searching for them in the local craft stores and if the search is unsuccessful, you'll surely find them online.
Micro glass beads
Another popular option you might find if you looked up how to make a weighted blanket is micro-glass beads. These glass beads are even smaller than plastic polypropylene pellets and come in handy when you're looking for equal weight distribution. Although they might be a little harder to come across.
You will most likely not find them in your local crafts store though. But if you're able to get some, it's one of the best options for making a weighted blanket.
Stones
When it comes to budget options in making a weighted blanket, one that you have that's among the cheapest ones is using pebbles or stones. You could get aquarium stones and use them as a filling for a DIY weighted blanket.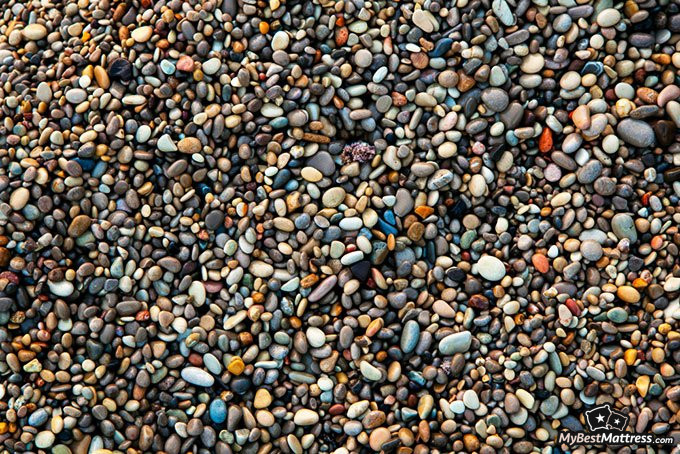 Although the downside is that it makes the whole blanket not machine-washable. But you may still use pebbles if you want to make your own weighted blanket.
Dried Beans or Grains
One more budget option that you will most probably find at home is using grains or dried beans. Just like specifically bought materials, these will work just fine in adding some weight to your blanket.
Although the major downside when it comes to using food products is that they may rot or attract bugs. Also, definitely stay away from using rice as it's most likely to rot and ruin your weighted blanket. Furthermore, these materials are not good to be washed in a washing machine.
It's still one of the alternatives, but I'd suggest sticking to other options.

Did you know?
Determine the Ideal Weight
Now that you've chosen the materials if you want to know how to make a weighted blanket you have to determine the ideal weight of it. It shouldn't be too heavy so you feel paralyzed under it, nor too light so you don't feel the effects of the weighted blanket.
The rule of thumb is that it should be 10% of your body weight. Then you should add 1-2 pounds if the blanket is made for a child or 2-3 pounds if the blanket is made for an adult. For example, if you weight 150 lbs, the blanket should be 17-18lbs.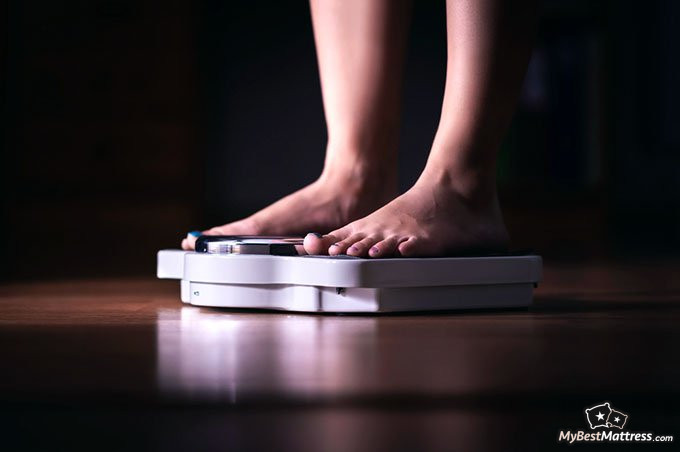 You should keep in mind your personal preferences and might even start off with a lighter blanket, adding some more weight gradually. Also, if it's made for a person with special needs, you might first need to consult a doctor to determine the correct weight.
Decide on the Size
One more important factor is the size of the blanket. The size depends on what you're going to use it for. If it's for sleeping, you might just make it the size of the bed.
But if you're making one for snuggling up on a couch, you might change the dimensions of it accordingly. You don't want your blanket draping to the ground while watching a movie. So think it all trough and decide on the size of the blanket you're going to make.
Start Constructing
Now we're getting to the fun part of the "How to Make a Weighted Blanket" guide. This is the part when you start sewing.
Stitch the Fabric Pieces Together
The first thing you have to do is stitch the two materials together. You should sew the sides and the bottom of the blanket. Having done that you'll get a big pouch the size of the blanket. To ease the process you should take the two pieces of fabric, align them perfectly, pin the corners, and only then start sewing.
Make the Columns
What you have to do now following the "How to Make a Weighted Blanket Guide" is start making the columns. You should make each 3-5 inches wide. First, you have to measure them, mark them and only then start sewing.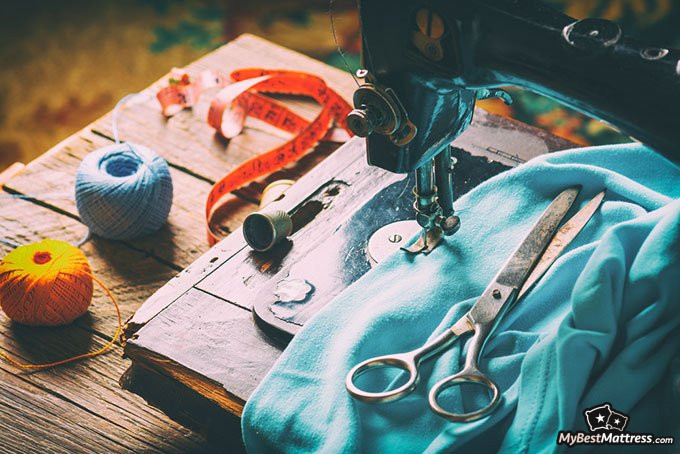 It's important that these end up equal so that the weight is distributed equally. You may now start thinking about how many squares there's going to be.
Measure the Weights
Remember to calculate the weight depending on your body weight. Then you should weigh it using scales. Having done that, you should distribute the weight depending on how many square compartments you're going to make.
If you want to have 16 squares, you should divide the weight by 16 to figure out how much of the weighted filling you'll need for a square.
Fill the Columns
And now you should fill the compartments. Add your preferred type of filling and triple stitch the compartments to minimize the risk of contents spilling out. Continue filling up each row of the compartments and stitching them up until you're done with the whole blanket.
Finalize Your DIY Weighted Blanket
After filling the last row stitch up the top of the blanket. Having done that, you should examine whether all the stitches are done correctly and no contents are going to spill.
Benefits of Using a Weighted Blanket
Knowing how to make a weighted blanket, you might now want to know the benefits of using one. So let's talk about a few of them.
Helps to Fight Insomnia
If you're one of the around 30% of unfortunate people who have to deal with insomnia[2], you know how infuriating it can be. Tossing and turning all through the night can drive a person mad. Luckily there are ways to ease the symptoms of insomnia. And this "How to Make a Weighted Blanket" guide might help.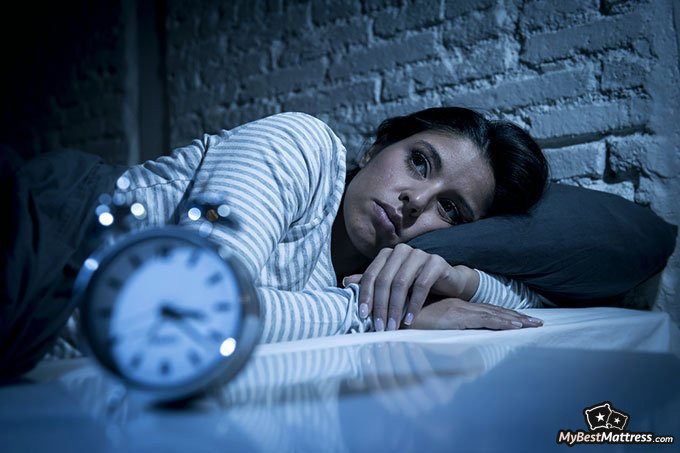 One of the ways to treat it is by using a weighted blanket. They're known to help with melatonin and serotonin production, hormones that ease you into sleep. So if you're dealing with insomnia you should definitely try out the weighted blanket.
Reduces Anxiety
Weighted blankets help many people achieve a relaxed state. They ground your body by pushing it down. This process is known to produce a calming effect. Also, studies show that weighted blankets can help lower cortisol production.
Cortisol is a stress hormone that elicits fight or flight response. It's produced when your body thinks you're in danger.
So if you're looking for ways to treat anxiety, instead of going to a doctor's to get drugs, that might have unwanted side effects, you could try this natural method first.
Improves Sleep Quality
Another benefit of sleeping with a weighted blanket is that it improves sleep quality. Sleep quality has a lot to do with anxiety and insomnia and easing those irritating illnesses, you fall asleep more easily and sleep better.
But that's not the only positive effect on sleep quality. As you already know weighted blankets stimulate melatonin production. A hormone that helps with falling asleep and also regulating your sleep cycle.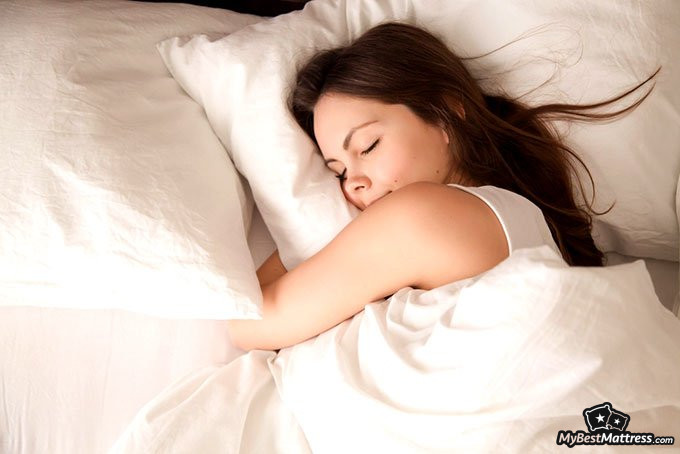 So if you're looking for improvements in your sleep quality, a weighted blanket is a great thing to try out. You may make your own weighted blanket or buy one.
Another thing you shouldn't overlook when it comes to sleep quality is your mattress. It has to be suitable as it's one of the most important factors determining your sleep quality. So, if you're looking for a mattress upgrade, you should check out our best mattress review.
Conclusions
If you're wondering how to make a weighted blanket, it's not that hard to do. What you have to take care of are the fabric, the weighted filling, and also determining the size of what the blanket will be. Then you have to get to the actual sewing and filling the blanket part.
It's also not as complicated as it may seem at first. You should simply make columns, fill them with the weighted filling, stitch up the row and repeat it as many times as needed. Then you have to make sure the blanket is tightly stitched and then you can already start using it.
And using it you can notice the benefits it has. These include anxiety reduction, helping with dealing with insomnia and improving your sleep quality overall. All these aspects are extremely important for your sleep quality and general health.
Although making your own weighted blanket might not be for everyone. If you're doubting your sewing skills or simply don't want to go through the hassle of gathering the materials and spending a long time sewing, after reading all the benefits, you might consider buying one.
Buying one can be quite an investment if you're eyeing pricier options, so you might want to put some thought into it. So if you're having a hard time choosing one, check out our extensive guide on best weighted blankets available to help you choose the one that suits you best.
Scientific References
1. Portas C., Bjorvatn B., Ursin R. 'Serotonin and the sleep/wake cycle: special emphasis on microdialysis studies'
2. Bhaskar S., Hemavathy D., Prasad S. 'Prevalence of chronic insomnia in adult patients and its correlation with medical comorbidities'
Leave your honest feedback
Leave your genuine opinion & help thousands of people to choose the best mattress. All feedback, either positive or negative, are accepted as long as they're honest. We do not publish biased feedback or spam. So if you want to share your experience, opinion or give advice - the scene is yours!