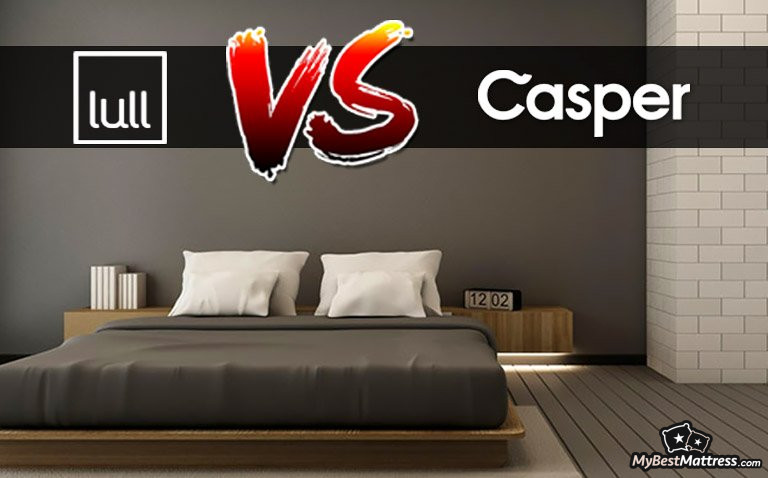 We all know that choosing the right mattress can be challenging. However, this Lull VS Casper comparison review will help you to make a decision.
Both Casper and Lull are memory foam mattresses, however, they're unique and come with its perks and quirks. While Lull offers only one mattress design, you should note that Casper has two additional models to their original bed - Casper Essential and Casper Wave.
In this Casper VS Lull comparison, I'll discuss each of the most crucial features of both beds, pricing, and, in the end, will help you to decide which product to pick.
To make it even easier, you can check out all the technical Lull VS Casper characteristics here, and then move further into the details.
Lull VS Casper: Aspects that You Should Pay Attention to
Even though there are many different aspects to consider, there are a few measures that you wouldn't want to imagine your mattress without, or, at least, you shouldn't.
So let me introduce you to Lull VS Casper measurements that I'll be using to evaluate each of the beds:
Durability. It's quite obvious that mattress durability mostly depends on its structure. Even though both beds are still relatively new (4-5 years in the market), it's possible to evaluate them based on how good they look like after a few years of usage. What is more, I will check out each of their designs to see whether Casper or Lull serve longer.
Firmness. While we pick a mattress not only based on what it feels like but also considering such aspects as health issues, it's important to have the ability to pick different levels of support.
Edge support. This measurement is crucial for couples. Some beds create this feeling as if you are falling when laying on the side of your bed. If you know this feeling, then your current bed lacks edge support.
Cooling. No one likes to wake up in the middle of the night all soaked up in a sweat. So, one of the most crucial qualities that every good bed should offer is the ability to maintain neutral temperature throughout the night.
Motion and noise isolation. Getting quality sleep without interruptions is crucial. However, if your mattress not only transfers motion but also produces various sounds when you toss and turn, then it's pretty clear why you wake up tired.
Suitability for sex. Mattress's bounciness and responsiveness to pressure are the two qualities that can show how good a bed is for sex. We'll see which one of the two Lull VS Casper is the winner at this point.
Best sleeping position. Not all mattresses are great for combo sleepers that the majority of us are. So, when picking a bed, this is also a crucial aspect to be considered.
Now that we got each of the most crucial aspects that should be considered when picking a bed based on your needs, let's move to the actual Lull VS Casper comparison and find out which one of them is better.
Lull VS Casper: The Comparison
Just as I introduced you to the main factors, I'll go through each of them one by one to make sure that this Lull mattress VS Casper comparison is not only detailed but also clear to each of you. But before rushing into it, check out the general evaluation of both mattresses:
Table: Lull VS Casper general comparison.
At first, they both might seem similarly good but you'll that there are some major distinctions.
Durability/Structure
What's important to understand is that even though there are so many memory foam mattresses in the market, each of them is unique - manufacturers use different techniques and foam density to create products.
So, talking about Lull VS Casper, let's take a look into their structure first. Casper Mattress is designed of four individual layers:
1.5" Latex Foam
1.5" Memory Foam
1.5" Polyfoam/Polyurethane Foam
5" HD Polyfoam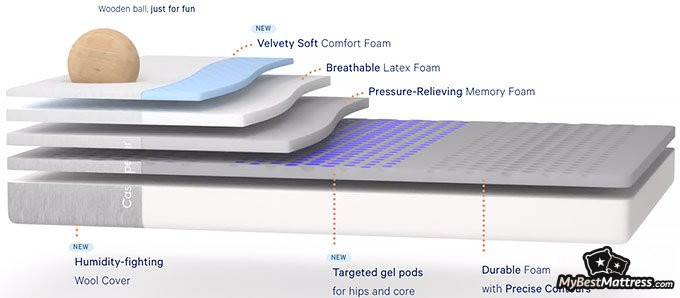 And here's how the Lull mattress is designed:
1.5" Memory Foam
1.5" Polyfoam/Polyurethane Foam
7" Support Layer
So, the main difference between the two Lull VS Casper mattresses is that Casper has an additional latex layer. Since latex is natural rubber, it might be a better alternative for those who are looking for more natural alternatives.
All things considered, both beds are designed quite similarly, using durable materials. Now, based on the sleepers' reviews, there's no visible sagging or deterioration after using the mattresses for at least 3-4 years.
What is more, it's crucial to mention the fact that both are completely sure about the quality of their products and offer a 10-year warranty. Needless to say, you can be sure to sleep on your new bed for at least this long. In case any manufacturing flaws appear, the providers promise to change your mattress to the new one.
Table: Lull VS Casper: shipping, trial, and money-back guarantee.
Therefore, it can be difficult to say which one of the two Lull VS Casper offers a longer lifespan. However, I personally, tend to trust Casper mattress better due to its design that incorporates an additional latex layer.
Latest Saatva Coupon Found:
UP TO $500 OFF
Limited-time Saatva Sale
We're sharing a limited-time Saatva mattress discount with our readers! Grab this deal & enjoy your new mattress with huge discounts.
Expiration date: 12/12/2023
4,042 People Used
Only 83 Left
Firmness
You probably know already that picking the right mattress firmness is truly important. While lightweight sleepers should pick a bed that's softer in order to feel the benefits of pressure point relief, heavier individuals should consider mattresses that are firmer and more supportive. This way, they won't sink too much into the bed and the sagging will be much less noticeable.
So, let's compare Lull mattress VS Casper firmness. Both beds come in only one mattress firmness option. Casper is medium - 5.5 out of 10 on the mattress firmness scale, and Lull is medium-firm - 6.5.
Considering the fact that average weight sleepers tend to pick a bed that's about 5-6 on the firmness scale, it's pretty clear that Casper can fit more individuals than Lull bed that can be slightly too firm.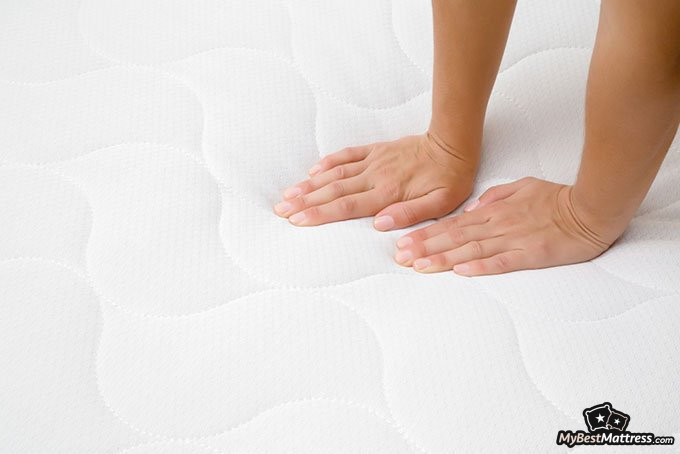 However, if considering different sleeping positions, one research revealed[1] that back sleepers, especially those who suffer from aches, find firmer alternatives, such as Lull, way more beneficial.
On the other hand, since the majority of us like to sleep on the side, we usually need medium options that can hug our shoulders while keeping our spine in a straight position. So, when comparing Lull VS Casper suitability for side sleepers, it's pretty clear that Lull mattress can be too firm for some of us.
So, as you can probably guess, I would recommend choosing Casper. Even though both beds offer only one firmness option, Casper is a suitable alternative for more sleepers.

Did you know?
Edge Support
Not all beds provide enough resistance around the corners. You might experience this issue more often when sleeping with your partner rather than alone. What is more, sitting on your bed could also be not the greatest experience as you might feel trapped.
The lack of edge support is often associated with memory foam mattresses. Since both Casper VS Lull beds are made of foam, it might be a serious issue. So, let's find out whatever the case is with these two beds.
It seems that Casper managed to find a way to deal with this obstacle. Compared to the majority of memory foam mattresses, it will support you pretty well. I believe it has to do with a fact that it uses a latex layer that assists pretty well.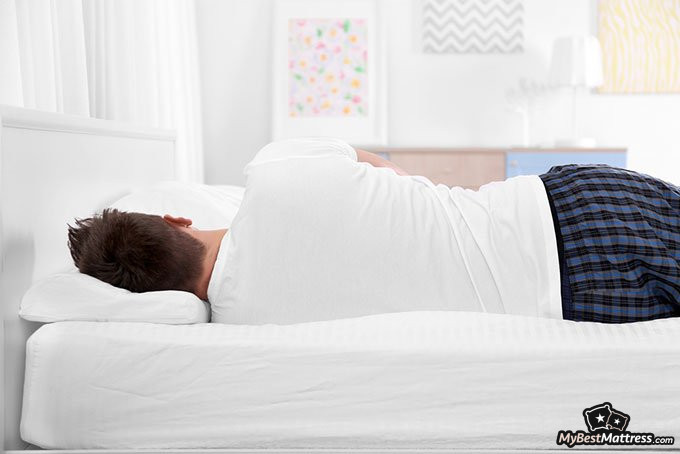 Now, Lull didn't surprise me. Even though it doesn't trap much heat, it performs averagely. But I doubt that anyone wants and "average" product rather than looking for the best.
Therefore, the Lull VS Casper battle for the best edge support wins Casper - it will make you feel safe, even when sleeping on the edge of your bed.
Cooling
Mattress's ability to maintain the neutral body temperature is crucial due to the fact that we sleep way better in the neutral environment rather than a hot and cold one. What is more, when heat exposure was compared to coolness, the results revealed[2] that we sleep better in a cooler environment.
Now, even though many people claim that memory foam mattresses "hug" us and sleep rather hot, it's necessary to compare Lull VS Casper to find out which one of them can cool your body better.
Since Casper has a latex layer, I was hoping that it helps this memory foam mattress to sleep cooler. However, the sleepers' reviews showed that the bed does trap some heat. So, even though Casper performs averagely, I was expecting better results.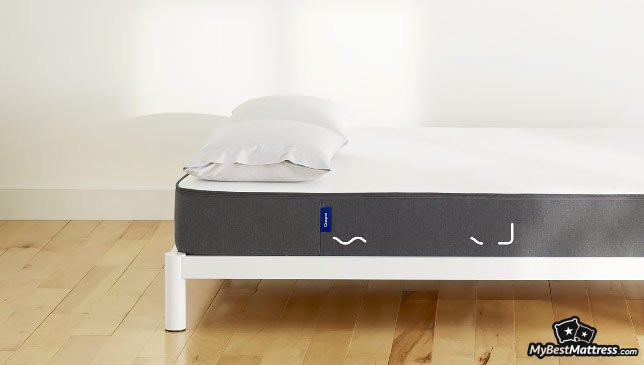 Lull mattress, on the other hand, surprised me by providing great thermoregulation. Even though it seems like a regular memory foam mattress, the fact that it's firmer than the average bed makes all the difference - it creates less sinkage than Casper mattress and you will feel like sleeping "on the mattress" rather than "in" it, feeling way cooler.
So, the Lull mattress VS Casper temperature neutrality competition wins the Lull memory foam mattress.
Motion and Noise Isolation
Sleeping with a partner who keeps dreaming nightmares and moves throughout the night, can be truly disturbing. Most of the couples know that. So, instead of sleeping on the couch, you should get a mattress with minimal motion transfer and great noise isolation.
Without further ado, it became pretty clear when comparing Casper VS Lull that they're silent when bearing weight due to the memory foam structure. However, when talking about motion transfer, only Lull performed as expected and transferred very minimal movement.
Now, Casper did a pretty mediocre job. Due to the latex layer, it's more responsive to pressure, however, also transfers more movement.
On the same note, let's continue further.
Suitability for Sex
Two main aspects that show how good a mattress is for sex are responsiveness and bounciness. Even though memory foam mattresses tend to lack such qualities, you already know that Casper is quite responsive to pressure. Lull, on the other hand, is not that fast at reacting.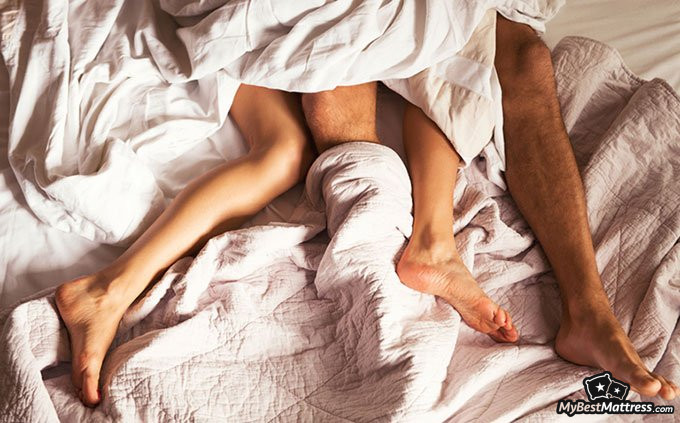 Sadly, it seems that the lack of bounciness in both beds doesn't make them the best option for sex. However, if choosing from the two Lull VS Casper, I would go with Casper mattress as it offers better responsiveness that's not only great for the private time but also allows the mattress to adapt to different sleeping positions quickly.
Pricing
Just like every measurement that I provided you before, mattress pricing can also make a difference when deciding which bed to choose.
In the table provided below, you can see Casper mattress VS Lull pricing:
Table: Lull Vs Casper price comparison.
Here are the Casper mattress price and size options:
And here's how much the Lull mattress costs:
Note that this is the current pricing. It means that by the time you're reading this review they might be slightly different.
As you can see, both providers offer a queen size bed for less than $1,000, which is definitely lower than the average price range. When comparing Lull Vs Casper, it's quite easy to see that their price difference doesn't even reach $100.
What is more, if you want to spare additional savings then you should check out our coupon page or grab the most attractive deal provided below.
Casper Deal Active Right Now:
Verified
100-night
Sleep Trial For Casper Mattress
Grab this Casper coupon and enjoy 100-night sleep trial when you purchase a new Casper mattress. If it won't work out, returns are free & easy.

Expiration date: 08/12/2023

3,091 People Used

Only 9 Left
Do not hesitate to take advantage of the offers that are waiting there for you to notice.
Conclusions
All things considered, both Lull and Casper are quite great options, however, the results showed that Casper is a better option for average weight sleepers. What is more, it has better responsiveness and edge support that many memory foam mattresses lack.
Even though Lull offers a few factors that are better than Casper's, it does lack pressure relief that is crucial to every sleeper. I would only recommend Lull bed for heavier individuals and those who prefer sleeping on their back.
Here's our general evaluation of the Casper mattress VS Lull.
CASPER
LULL

Made of Quality Material
Casper is For Every Sleeper's Needs
Medium-Firm Level of Support that Works for Almost Everyone
100-Nights Sleep Trial
Durable (Confirmed by Users' Reviews)

Good movement isolation
No noise
Balanced pricing

Only One Firmness Option
Not so Great for Hot Sleepers

Might sleep warm
Weak edge support
Not particularly suited for stomach sleepers

See TOP10 Brands
Read Review
See TOP10 Brands
Read Review
Table: Casper and Lull pros, and cons.
As you can see, Casper is evaluated better by the bed owners. So, you wouldn't go wrong by picking this provider. However, if you want to compare more mattresses, you can do that using our tool.
Scientific References
1. Francisco M Kovacs PhD, Víctor Abraira PhD, Andrés Peña MD, et al.: 'Effect of firmness of mattress on chronic non-specific low-back pain: randomised, double-blind, controlled, multicentre trial'
2. Kazue Okamoto-Mizuno, Koh Mizuno: 'Effects of thermal environment on sleep and circadian rhythm'
Leave your honest feedback
Leave your genuine opinion & help thousands of people to choose the best mattress. All feedback, either positive or negative, are accepted as long as they're honest. We do not publish biased feedback or spam. So if you want to share your experience, opinion or give advice - the scene is yours!