A good mattress isn't only going to be amazing to sleep on - it should also have other usages as well. One of the main of such usages would be sex - that's why in this list, we'll try to find the best mattress for sex.
Find a decent sex mattress isn't easy - there are a lot of criteria to be met. That's why, in the beginning, I'll go over each of these criteria, and tell you why they're important.
After that, we'll take a look at 7 contenders for the spot of the best bed for a sexually active couple. This is what the list will look like:
What Does the Best Mattress for Sex Look Like?
As with all things concerning well-made beds, the best mattress for sex is going to have to meet some specific requirements.
First of all - bounciness. This is almost a no brainer. Most couples around the world would probably prefer not to be swollen whole by the mattress while doing their thing - to avoid this, one should look for a bouncy mattress.
Most of the time, responsive mattresses are going to be ones that have an innerspring design, or are coil-based hybrids. There are a few exceptions where an all-foam mattress is great at being bouncy, but that's very rare.
Next, the best mattresses for sex are going to have to have some pretty good cooling conditions. Proper airflow isn't only useful when you're sleeping - if the mattress doesn't have proper airflow, you're bound to get a heat attack before you even finish undressing.
Finally, the overall quality of the mattress has to be up-to-par[1]. And yes, I know what you're thinking - wow, that's so objective! But hear me out.
When I say "overall quality", I'm talking about the actual quality of the materials, the design of the bed and the way that it's put together. Since sex is an activity that involves a lot of movement and, well… Bouncing, a cheap one-off mattress is going to break real fast.
So, with all of that said, now let's finally move on to the actual list and see if we can find the best mattress for sex.
Ranks #1 out of 7 Mattresses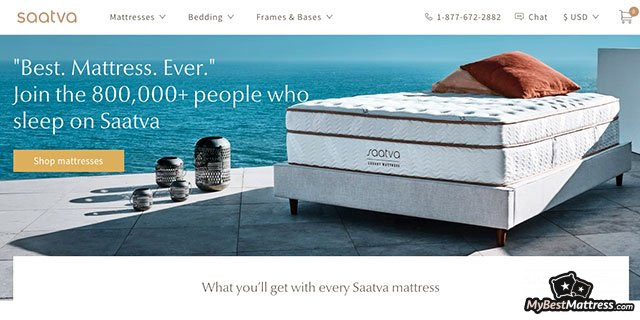 Things we liked:
+ Very bouncy and reponsive
+ Cool (temperature AND visual-wise)
+ Top-tier edge support
+ Handcrafted in the US from ECO materials
Things we didn't like:
Saatva is one of the most commonly-encountered bed providers as far as "best mattress for sex" lists are concerned.
The company frequently dominates the top of such lists - and with good reason, too. The mattress is designed and built in a traditional, innerspring mattress way - it is basically the definition of bounciness.
With a coil-on-coil design, the Saatva bed becomes a great example of just how cool a mattress should be. And I'm not talking about the style or the aesthetic appeal - no, what I mean is temperature. Saatva is often labeled to be one of the best beds for hot sleepers - this just goes to show that it's a great option to become the best mattress for sex, too.
The bed is built well, has some rather strong edge design and is expected to withstand a whole lot of bounciness and movement. Admittedly, it's not the best option if you want to NOT feel any movement - Saatva doesn't really absorb motion all that well.
That said, noise also shouldn't be an issue. That's actually a really important factor when it comes to the best mattresses for sex, too - you'll probably want your bed to make as little sound as possible. And although innerspring mattresses do tend to get noisier with time, there aren't many customer complaints addressing this issue with Saatva.
What is the Price of the Saatva Mattress?
The pricing and sizing options for the Saatva bed are, as follows:
Saatva is definitely in the middle when it comes to the prices of the best sex mattresses out there. It's not all that cheap, but is also definitely still affordable. Do check the mattress provider out!
Ranks #2 out of 7 Mattresses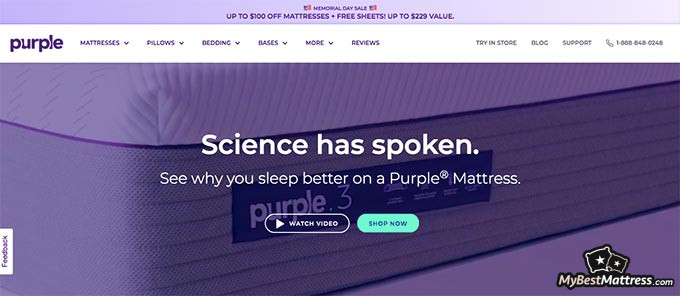 Things we liked:
+ Really good temperature neutrality
+ Firm, but not too much
+ Great motion isolation
Things we didn't like:
- Expensive
- Not the best edge support
I swear, every time I get to talk about the New Purple, I get so excited without no apparent reason.
Purple is a company that had primarily offered a single, all-foam mattress to the general public - the Original Purple. However, with time, they've come out with the New Purple - a hybrid that isn't only often seen as the best mattress for sexually active couple, but as one of the best mattresses ever made, in general.
Ya, I know - that's a bold statement to be making. Is it even close to being true?
Yes, actually, by the looks of things, it is.
So, what makes the New Purple that special? Well, it mostly has to do with two big things - the company's original and fun approach to their mattress… and the bed's universality.
The New Purple can be seen as one of the best mattresses for sex because it's super-responsive, doesn't make any squeaky noises while being… Hm… Bounced upon, and is expected to hold up pretty well in the years to come.
The crème de la crème of the bed, however, is temperature neutrality.
If we were to believe customer New Purple reviews, it is the best-anti-hot mattres in the world. How? Two words - special technology.
The company has made the New Purple with some special technology that does not only guarantee a sturdy and reliable mattress, but also unmatched temperature neutrality - you'll never encounter any heat wawes while either sleeping or having sex on the bed.
What is the Price of the New Purple Mattress?
Admittedly, with so much praise, the New Purple mattress comes with a bit of a bigger price tag. Take a look yourself:
Not too expensive, but not too cheap, either - fair pricing options, considering the fame of this contender for the best mattress for sex!
Ranks #3 out of 7 Mattresses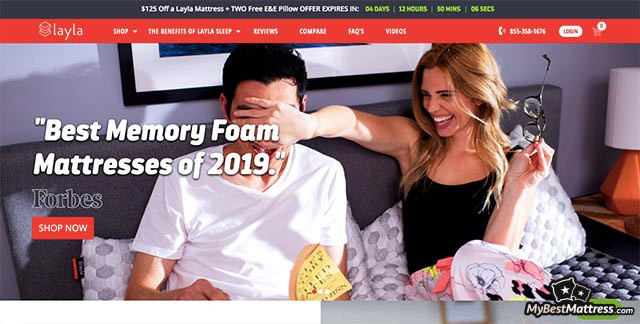 Things we liked:
+ Lower Than Average Pricing
+ Flippable
+ Pressure Releaf
+ Cooling Properties
Things we didn't like:
- Fair Edge Support
- 2-Week-Break-In-Period
Now, let's continue this "best mattress for sex" list with Layla - a unique mattress when it comes to the best mattresses for sex.
Layla is a flippable foam mattress. Depending on your firmness preferences, you can simply flip the bed and voila! - you practically have a new mattress.
It's an interesting concept, and it has many different usages. As far as sex is concerned, admittedly, there are better options in the market - at least if you're someone who's strictly interested in the best mattress for sex.
If you would also like the bed to be comfortable and nice to sleep in, then Layla becomes a pretty good option. It's silent when laid upon, isolates motion very well, and is an all-around reliable mattress.
What is the Price of the Layla Mattress?
The pricing options for the Layla mattress are:
Layla is one of the more affordable mattresses around - great news for anyone looking for the best mattress for sex!
Ranks #4 out of 7 Mattresses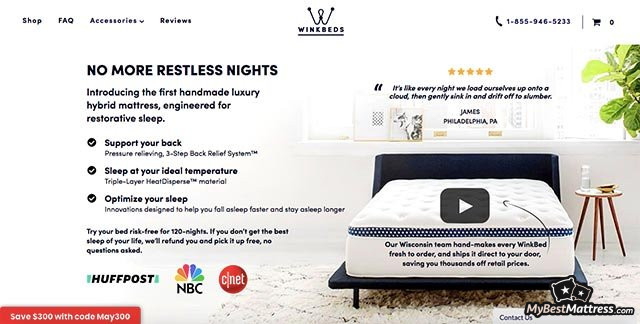 Things we liked:
+ Good noise and motion isolation
+ Bouncy
+ Great temperature neutrality
+ No off-gassing
Things we didn't like:
- 30-day break-in period
- Relatively new company
The WinkBed is another innerspring mattress that comes equipped with multiple firmness options.
Immediately, this means that you'll be able to purchase the best bed for sex and also choose the amount of firmness that you prefer. Contrary to some people's beliefs, the firmness of a mattress isn't only relevant when talking about sleeping - it's important for sex, too.
As far as the best bed for sexually active couple is concerned, WinkBed has it all - since it's an innerspring product, it's really bouncy and cool. The metal springs inside don't allow you to either sink into the mattress or drown in sweat while doing your business.
While the WinkBed isn't too good at isolating motion, it does come with top-level edge sturdiness and support. Since the action might travel from the middle of the bed onto the sides and edges, you'd probably want them to actually hold - Winkbed has you covered.
Finally, WinkBeds uses high-quality materials for their beds - this makes the mattresses even more durable than most high-tier innerspring products are, and that's definitely some good news to be had!
What is the Price of the WinkBeds Mattress?
Here are the pricing options for WinkBeds:
For a contender for the spot of the best mattress for sex, WinkBeds actually has some decent pricing options. It might not be the cheapest mattress in the industry, but it's definitely a worthwhile investment.
Ranks #5 out of 7 Mattresses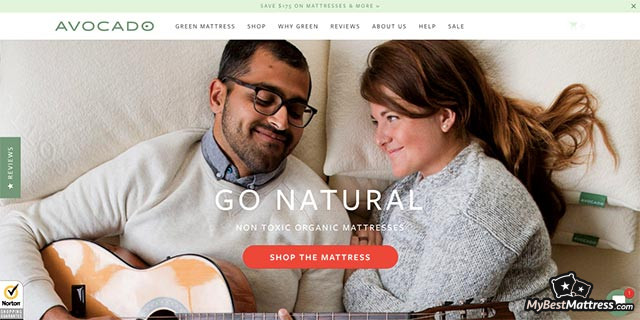 Things we liked:
+ Sleeps cool
+ Good for back and side sleepers
+ Durable
Things we didn't like:
- Not very responsive
- Lacks motion isolation
Avocado is an organic latex hybrid mattress. It's one of the best-known companies as far as eco-friendly mattresses are concerned.
Avocado being a green company isn't just some sort of a gimmick, though. They actually prove this with their mattress design - it's as sturdy and well-made as they come.
Is Avocado the best bed for sex? Well, it depends - if you're strictly looking for a sex mattress, then maybe not. But if you also want a product that sleeps cool and is made with huge levels of care, then Avocado might be a good option for you.
What is the Avocado Mattress Price?
Avocado is priced like this:
In addition to some nice pricing options, Avocado also comes in two different models - Green and Vegan. The main difference - the Green model uses wool, while the Vegan model utilizes organic cotton within its construction.
Ranks #6 out of 7 Mattresses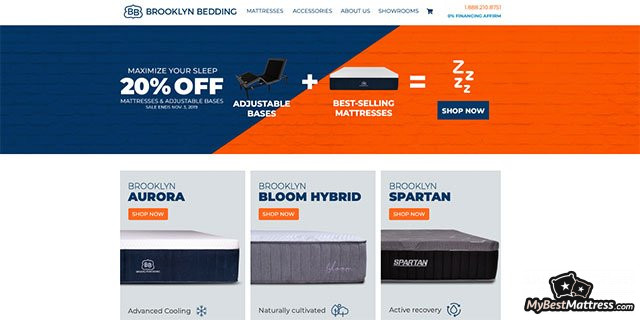 Things we liked:
+ Firmness Options
+ Six Different Models for Everyone
+ Free Shipping in the U.S
+ Lower Than Average Pricing
Things we didn't like:
- 30-Night Break-in Period for Free Trial
- Not All Mattresses Offer Similar Quality
Brooklyn Bedding has a few different, pretty well-known mattresses to offer to their customers. Today, however, we'll be looking at their Signature model.
The Signature is a hybrid mattress - it's mostly made out of polyfoam, with some pocketed coils at the support layer of the bed. As a foam hybrid, it's rather surprising that Brooklyn Bedding's Signature has managed to become one of the best mattresses for sex - that does seem to be the case, however.
The mattress is very responsive, sleeps and feels cool and comes in three different firmness options. Some users report that Signature might not really hold up to time as well as some other foam hybrids, and that the mattress might let out an occasional squeak. However, I would be lying if I told you that there were many of such opinions.
What is the Brooklyn Bedding's Signature Mattress Price?
Signature's prices are:
The Signature is one of the most affordable mattresses on this list! So, if you're still looking for the best mattress for sex, keep this in mind!
Visit Brooklyn Bedding
...or read our Brooklyn Bedding review
Ranks #7 out of 7 Mattresses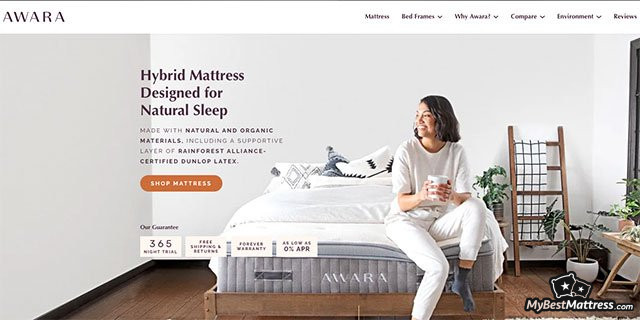 Things we liked:
+ Eco-Friendly
+ Durable
+ Almost None Off-gassing
+ Amazing Cooling Properties
Things we didn't like:
- Only One Firmness Option
Awara is a fully organic latex hybrid mattress. As far as the best mattress for sex goes, customers claim that it's one of the better options on the market. Let's take a look at why that's the case.
Awara is built as a bed that should withstand a lot of action. It's designed to sleep best for heavier people, and is thus very sturdy and reliable, with expected above-average longevity.
While many latex hybrids struggle with providing the sleeper (sexer..? I'm sorry, I couldn't resist) with proper bounciness, Awara blows them out of the water. The mattress is one of the most (if not THE most) bouncy and responsive latex hybrids out there.
This does come with a cost, though. If you like a mattress that conforms to your body and isolates motion well, Awara might not really be the best choice for you then. It does, however, compensate that with providing superb edge support and temperature neutrality.
What is the Price of the Awara Mattress?
The pricing and sizing options for Awara are:
As of writing this "Best Mattress for Sex" list, though, there's a promotion going on - all of the sizes come with an additional $200 discount. That's pretty cool!
Conclusions
Bad sleeping habbits are often associated with various health conditions and bad dietary decisions[2]. That's why it's important to find the best mattress not only for sex, but also for good, top-quality sleep, too.
That said, these were the contenders for the spot of the best mattress for sex. I hope that you've been able to find a mattress that would suit your wants and needs!
Table: The top 3 mattresses for sex
1. Fan-Zhe Low, BEng, Matthew Chin-Heng Chua, PhD, Pan-Yin Lim, BEng, and Chen-Hua Yeow, PhD: 'Effects of Mattress Material on Body Pressure Profiles in Different Sleeping Postures'
2. Hassan S Dashti, Frank AJL Scheer, Paul F Jacques, et al.: 'Short Sleep Duration and Dietary Intake: Epidemiologic Evidence, Mechanisms, and Health Implications'
Leave your honest Best Mattress for Sex review
Leave your genuine opinion & help thousands of people to choose the best mattress. All reviews, either positive or negative, are accepted as long as they're honest. We do not publish biased reviews or spam. So if you want to share your experience, opinion or give advice - the scene is yours!