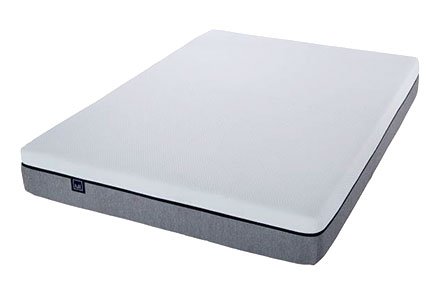 Looking for a new mattress doesn't have to be a tedious task. If you're in the market for a foam mattress, chances are that you've already read some Lull mattress reviews. Today, however, I want to tell you what the company's customers think - the good, the bad and everything in between.
The way that we'll go about this is pretty straightforward - we'll look at the most trustworthy and reliable Lull reviews, and try to figure out what this mattress brings to the table - both the good and the bad things, respectively.
Once that's covered, we'll take a look at the pricing and sizing options, and then I'll tell you my own, personal opinion on whether Lull is worth taking a look at or not.
TL;DR: The Lull mattress is good for back sleepers, since the foam out of which it is made of is able to eliminate pressure points. The mattress isn't very responsive, though, and might sleep too hot for a lot of people.
Pros
Good movement isolation
No noise
Balanced pricing
Cons
Might sleep warm
Weak edge support
Not particularly suited for stomach sleepers
Lull Mattress Reviews: PROS
A single look at some of the more prominent Lull mattress reviews online will reveal the fact that people are actually rather divided on this mattress. There are a lot of those who like the product, but there are also some Lull mattress complaints to be talked about, too.
Let's start with the positive stuff, shall we?
Durable Construction
The Lull bed is made out of a few different layers of foam. This would include polyfoam and memory foam.
Why is this important?
Well, it becomes very interesting information once you know that a lot of Lull mattress reviews claim the bed to be very durable.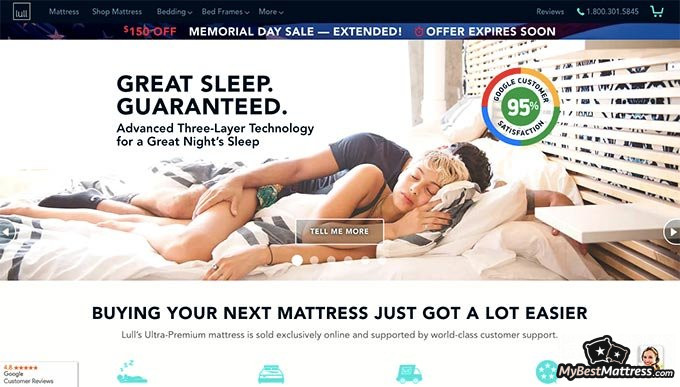 If you didn't know, all-foam-based mattresses aren't that well-known for being the most durable products around. This is actually where innerspring mattresses tend to shine - since they have a base made out of metal coils, it makes sense that metal will last longer and be sturdier than foam (that's not EXACTLY how it works, but you get the idea).
Lull, though, has seemingly managed to avoid the cliche of foam mattresses not aging all that well. And, since this is one of the more important aspects when looking through Lull mattress reviews, it's definitely a good start!
Latest Saatva Coupon Found:
UP TO $500 OFF
Limited-time Saatva Sale
We're sharing a limited-time Saatva mattress discount with our readers! Grab this deal & enjoy your new mattress with huge discounts.
Expiration date: 05/12/2023
4,042 People Used
Only 83 Left
Great at Absorbing Motion
Motion absorption is something that foam mattresses all have in common - at least when it comes to the best ones, that is.
Foam has a tendency to sink and conform to objects that are placed on it. However, if the foam is of the cheaper kind, the area of sinkage is going to rather large, and if you place an object on one side of the mattress, another object on the other side might move.
We are not talking about cheap foam, however.

As Lull mattress reviews do state, the polyfoam-memory foam mix that Lull uses is absolutely great at absorbing motion. If you're a lone sleeper, this might not be as important of an aspect for you as for someone who sleeps with their partner. That being said, motion isolation is still useful for people who sleep alone, nonetheless.
Why is that, you might ask?
Very simple! If you go through some of the Lull bed reviews online, you'll find stories of how people placed a glass of water on the mattress, forgot about it, and then turned around on the bed, only to see the glass stay in place. Imagine if Lull didn't have good motion isolation - you'd have a water-based bed in no time!

Did you know?
Best for Back Sleepers
The vast majority of Lull mattress reviews can't lie - the bed is best suited for back sleepers.
Back sleepers are people who primarily sleep on their backs. Naturally, we tend to twist and turn throughout the night - other than the factors of stress or too big of a meal getting involved, it's in our human nature, even though some people do think that they get more sleep than they actually do[1]. However, you can find out what type of sleeper you are by observing which sleeping position is the most comfortable for you.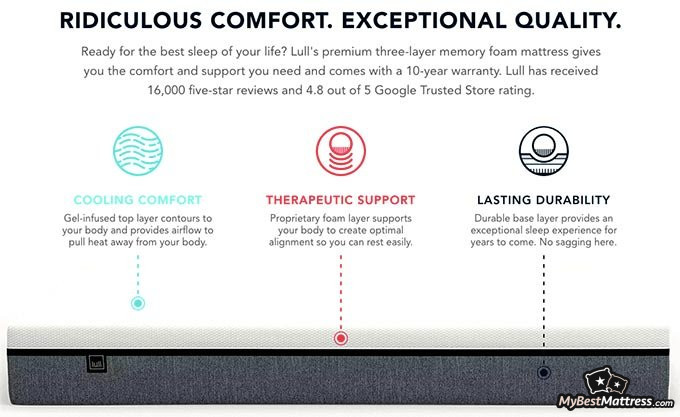 Going back to the back sleepers (hehe), it is a group of people who do require some specific mattress designs. You see, when you sleep on your back, you are most vulnerable at developing certain pressure points throughout the body (other sleepers are prone to this too, but perhaps not as much). A good mattress will help you alleviate the pain, and align your spine while you sleep[2].
Table: Lull mattress pressure point alleviation score
Lull mattress reviews do claim that Lull is one of such mattresses. Memory foam has a lot to do with this - since the mattress is relatively firm for an all-foam product, you will find that many Lull reviews emphasize how good the bed is at curing chronic back pain.
Not a Single Sound
Sound is something that can get really irritating, especially when we're talking about a mattress - the vast majority of people would prefer their bed to be as silent as possible. That is often not the case, however, since a lot of it depends on the mattress design - if it has metal coils inside of it, chances are that you'll hear some noise every once in a while.
As a lot of the Lull mattress reviews state, though, Lull isn't a coil-based mattress. It's an all-foam one.
In itself, foam doesn't really make much sound. Plenty of all-foam (and even hybrid) mattresses advertise this feature all throughout - the products tend to be practically silent. Lull is no exception to that rule - glancing at the Lull bed reviews, it's obvious that customers are happy with the non-existence of noise with this mattress.

Now, it's important to mention that, with time, most mattresses will start making some noise. Foam mattresses have it better here than their innerspring counterparts - metal grinding and spring suspension noises can get really annoying. However, give it enough time, and the majority of beds will crack - this is normal!
When I (and a lot of the Lull bed reviews) talk about the whole "no noise" thing, the reference here is aimed at the mattress when it's brand new. Just something to keep in mind!
Lull Mattress Reviews: CONS
We've established the fact that, according to many of the Lull mattress reviews, the bed has a lot of benefits to offer to the average customer (especially back sleepers). Now, let's take a look at some of the more commonly-referenced Lull mattress complaints.
Not Responsive Enough
This has got to be the most (or at least one of the most) common Lull mattress complaints that people have.
Remember when I talked about Lull being an all-foam mattress that does not possess any type of metal coil inside of it? Well, while this type of a product does have its advantages, there are also quite a few cons that come with it.
Lack of responsiveness is one of them.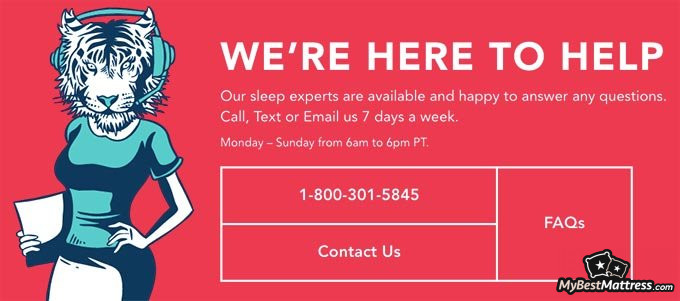 Lull mattress reviews claim that the bed isn't at all responsive. This is nothing strange for a foam mattress, though - these products tend to sacrifice a lot of bounce due to their construction for some other benefits (ones we've already discussed earlier).
Why would you need bounciness in the first place? Well, while there are a few reasons, the main one would have to be sex. A lot of couples prefer not to sink into the mattress while they're occupied in their own, personal business.
Might Be Too Warm for Some People
Heat is the last thing you'd want while you're sleeping - Lull reviews seem to agree with this sentiment.
You see, your mattress has the tendency to absorb your body heat while you sleep. All mattresses do so - it's just a question of how much. While, yet again, innerspring products are able to minimize the amount of heat absorbed, foam mattresses are the opposite - unless some sort of special technology is put into place, you're going to have a hot time (and not in a good way).
Lull does not have any "special technology" heat-wise (except perhaps a gel-based foam layer) - while the mattress doesn't appear to be too hot, it's still on the warmer side of things. How big of an issue is this, really? Well, it's going to depend on each individual case - some people don't mind a little heat, while others might go berzerk from the mere thought of waking up hot.
Lack of Edge Support
Edge support is a feature that's important for anyone who tends to toss and turn throughout the night. If the edges of the mattress are weak and give in easily, there's always the possibility of you falling out of the bed - not ideal.
Furthermore, many people don't have a lot of room in their apartments (this is especially true to students and younger folk, in general). That is why these people keep some things on their beds throughout the day. Yet again, if the edges of the bed are weak, the things that you place on them might suddenly manifest on the ground.
If you don't think Lull is worthy of your attention, then you should check our top mattress providers, they can offer you quality for money and so much more.

Foam mattresses - reading through Lull mattress reviews, this brand is no exception - have a tendency to possess weaker edge support. Once more, this is because there aren't any coils or springs that would reinforce the bed.
Another disclaimer that's probably worth mentioning here is that edges tend to get weaker with time, especially if you have a tendency to sit on them. This is true for all types of mattresses, but especially so for foam ones. So, if you want to preserve the little edge support that Lull has, avoid sitting on the edge of the bed when not necessary.
Might Not Suit Stomach Sleepers
Note the keyword in that headline - might.
This assumption is based entirely on online Lull mattress reviews. People claim that it's not the most comfortable bed for stomach sleepers, especially if you're lightweight.
In general, stomach sleepers seem to have the hardest time trying to find a mattress that would suit them best. A lot of the times, this would have to be a well-balanced innerspring or hybrid model - not too firm, but also not too soft. Since Lull is an all-foam bed that leans slightly towards the firmer side of things, it might not be your cup of tea if you like sleeping on your stomach.
What is the Lull mattress price?
Now that we've covered all of the main pros and cons of the Lull mattress, let's move on to the final section of the Lull mattress reviews - the pricing of the different sizes of the Lull bed.
The price tags are, as follows:
Those are some very attractive prices indeed! As of writing this review, Lull has got a promotion going on - the same price tags might be up to $150 lower than they're displayed here! Given all of that, it's probably safe to say that the mattress has definitely got the pricing stuff sorted out. Well, at least for now - as mentioned above, the prices might change at any given time, at the sole discretion of the company.
Here is The Best Saatva Offer I Found:
UP TO $500 OFF
Limited-time Saatva Sale
We're sharing a limited-time Saatva mattress discount with our readers! Grab this deal & enjoy your new mattress with huge discounts.
Expiration date: 05/12/2023
4,042 People Used
Only 83 Left
Conclusions
With the pros, prices and Lull mattress complaints out of the way, only one question remains - is the mattress worth trying out?
Yes, but only for some people.
Lull is a good mattress provider, especially if you're a back sleeper that likes to sleep an on an all-foam bed. That being said, there are also a lot of nuisances to be addressed - the mattress might sleep rather warm, isn't bouncy and has weak edge support. This means that if you're looking for a bed that would either be great for sex or any other activity besides sleeping, you might end up disappointed.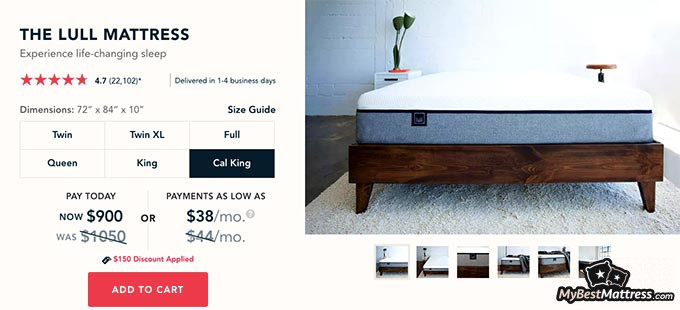 Furthermore, Lull comes with a 100-night sleep trial - you can test the mattress for more than 3 months, and decide for yourself whether or not the product is worth keeping. 100 nights is a pretty standard duration for a trial period (at least as far as the mainstream mattress provider industry is concerned), so it's cool to see a less-known brand offer it.
Also, they offer free shipping in the US and a 10-year warranty - while these might not be the deciding factors that sway your opinion on whether or not Lull is worth paying attention to, it's still something to keep in mind!
If you don't feel like this mattress is going to suit you, don't worry - there are a few alternatives you can choose from. Take a look at the "Best Mattress" list that we've comprised, and who knows - maybe you'll find something that'll catch your interest?
Scientific References
1. Chandra L Jackson, Sanjay R Patel, W Braxton Jackson, II, et al.: 'Agreement between self-reported and objectively measured sleep duration among white, black, Hispanic, and Chinese adults in the United States: Multi-Ethnic Study of Atherosclerosis'
2. Radwan A, Fess P, James D, et al.: 'Effect of different mattress designs on promoting sleep quality, pain reduction, and spinal alignment in adults with or without back pain; systematic review of controlled trials.'
Leave your honest Lull review
Leave your genuine opinion & help thousands of people to choose the best mattress. All reviews, either positive or negative, are accepted as long as they're honest. We do not publish biased reviews or spam. So if you want to share your experience, opinion or give advice - the scene is yours!