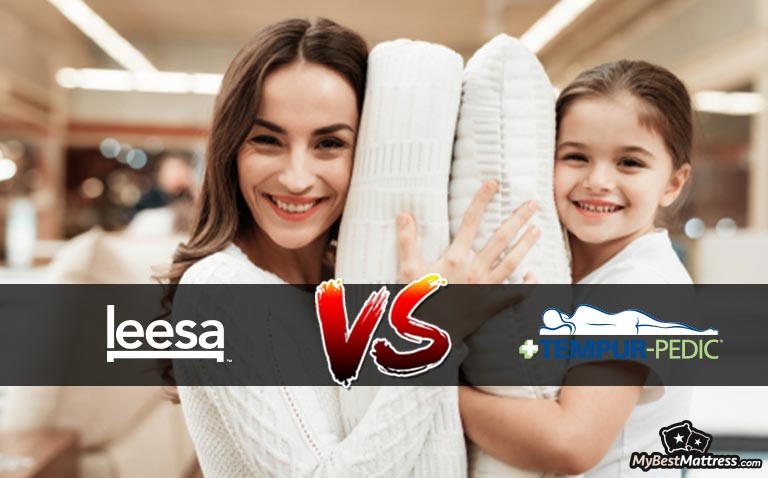 With every year that passes, there's more and more emphasis put on the effects of sleep and sleep health from the scientific communities worldwide. You will find that the absolute majority of researchers agree that proper, quality sleep is an essential part of your overall health[1].
In this Leesa VS Tempur-Pedic mattress comparison, we'll take a look at two great products that can aid you in getting some proper sleep. You can also check our quick comparison of both of the beds in question here.
Table: Leesa and TempurPedic, side-by-side
Before we can begin diving deep into the Leesa mattress VS TempurPedic comparison, though, we should take a closer look at some of the essential features that any top-tier mattress should have.
Leesa VS TempurPedic: The 5 Cornerstones of Any High-End Mattress
I tend to mention this in all of the comparison articles that I write (seemingly, this Leesa VS TempurPedic comparison is no exception, either), but while everyone is going to have their own wants and needs out of a specific mattress, there are always going to be some universal features that should be found within every single bed that's labeled as "good".
Table: Features and benefits of Leesa and TempurPedic
In the table above, you can see some of those features. Admittedly, though, not all of them are (quote, unquote) "essential", and some are more preferential or situation-dependent.
With that said, I want to briefly discuss 5 big features that we'll mostly be referencing in this article. They are, as follows: durability, firmness, motion isolation, temperature neutrality and responsiveness.
Durability. Have you ever had a bed collapse into itself while you're lying on it? I have - not the best of feelings, for sure. While this is a rather extreme example, it does illustrate the point rather well - durability is the key feature that you should first look for in a bed. Even though you probably won't encounter a scenario like that in any of the Leesa VS TempurPedic Cloud, Pro or ProAdapt comparisons, mattress durability can still differ - do keep that in mind!
Firmness. While firm mattresses aren't always "the center of attention", they might as well be for anyone who cares about not developing a sore lower back. Sure, (mostly) everyone likes to tuck in a soft and fluffy bed, but if you sleep in one for a prolonged period of time, this can have a grave impact on how you feel in the morning. This is actually one of the more important topics in this Leesa VS TempurPedic comparison - we'll dive into it soon enough.
Motion isolation. Mattresses that are good at isolating motion aren't really that difficult to find. That being said, many people to this day don't really pay motion isolation enough attention - until they do. Multiple TempurPedic VS Lessa customer reviews note how a mattress' motion isolation can be the deciding factor between you getting enough good sleep… And waking up completely tired. All it takes is a single restless co-sleeper.
Temperature neutrality. Do you like sleeping how? What about warm? If you're anything like the majority of sleepers out there, you probably said "hell no!" to the first question, and stopped to think for a moment with the second one. While sleeping warm isn't necessarily an issue (studies actually show that it's even beneficial, in some ways), there's a very fine line between being "comfortably warm" and "way to hot" - and that line is often crossed!
Responsiveness. Lying down on a mattress only for it to almost-swallow you whole isn't that nice of a concept to think of. This is called "sinking" - it's the opposite of what a responsive mattress should do. Responsive beds (whether it's those in a Leesa VS TempurPedic, or else) are going to mold around your body, but still provide that firm support that'll help to alleviate most of the painful pressure points that you may develop in your sleep. Oh, and responsive mattresses are usually better for sex, too.
So - you should now be somewhat knowledgeable about the core features that need to be paid attention to while shopping for a new bed. This is true with any new mattress, both of the competitors of the Leesa VS TempurPedic duel included! Speaking of which, let's move on to the comparison at hand.
Leesa VS TempurPedic: The Comparison
The way that we'll go about comparing TempurPedic VS Leesa is by following the same pattern as seen above.
Durability
As I've mentioned at the beginning of this Leesa VS TempurPedic comparison, durability should always be the very first thing that you concentrate on when choosing a new mattress.
Think about it - say, you find a bed that has exceptional cooling, is super-silent, and has the sturdiest edges in the world. While all of these things might sound very attractive, if this same bed isn't at all durable, you'll just end up spending a whole lot of money and going through even more frustration, having to soon change your mattress yet again.
So, ya - durability is important. Now, one of the best ways of how you can learn about a bed's durability is by checking out the materials from which the item is made of - this Leesa mattress VS TempurPedic comparison is no different.

In the case of these two mattresses, the durability situation is actually rather similar - both of them are foam-based. Both Leesa VS TempurPedic have memory foam and polyfoam at the base of their construction.
The interesting thing to note here is that foam beds are usually seen as "less-than-durable" options, as far as longevity is concerned. That said, however, multiple Leesa mattress VS TempurPedic customer reviews point out that both of the mattresses in question are actually quite durable, thanks to the high-quality materials that they're made of.
Latest Saatva Coupon Found:
UP TO $500 OFF
Limited-time Saatva Sale
We're sharing a limited-time Saatva mattress discount with our readers! Grab this deal & enjoy your new mattress with huge discounts.
Expiration date: 08/12/2023
4,042 People Used
Only 83 Left
Firmness
At the very beginning of this Leesa VS TempurPedic comparison article, I've noted that most researchers around the world agree that proper sleep is an essential part of a person's general health - the term "sleep health" has actually been gaining a lot of traction as of late.
Well, the firmness of your bed does actually have a lot to do with this, too.
You see, firmer (medium-firm, to be exact) beds are considered to be beneficial for anyone who's struggling with back and neck pain. In addition to responsiveness, a firm bed is going to keep your spine properly aligned to the surface of the bed, thus maintaining a healthy and beneficial position.
Table: The firmness options of Leesa and TempurPedic
It's honestly no secret that many people still prefer softer bed alternatives - while there isn't anything inherently wrong with wanting more comfort out of your mattress, at the same time, that's not something that you'll need to worry about while choosing between Leesa VS TempurPedic.
You see, since both of the beds in this article are very similar in the way that they're built, they also provide almost identical firmness settings - most customers would describe them to be 'medium-firm'.

Did you know?
Motion Isolation
Yet again, an area in which both Leesa VS TempurPedic are very similar, motion isolation refers to you being able to get a good night's worth of sleep, even if you sleep with a partner who's constantly tossing and turning all around the bed.
Foam beds are actually usually the ones that provide the best motion isolation… Or the worst one. It does depend on a few different things, but the issue most commonly arises when a brand goes overboard in trying to create the "perfect motion isolation" effect and ends up with a mattress that will swallow you whole upon lying down on it.
Neither Leesa, nor TempuPedic are like that, however - customer Leesa VS TempurPedic Cloud, Adapt and ProAdapt reviews all note that the mattresses in question have above-average motion isolation, and should work fine in this regard, without going overboard.
Temperature Neutrality
Did you know that a lack of proper-quality sleep can result in a heavily reduced reaction time[2], thus impacting various different parts of your everyday life and causing some annoying and sometimes dangerous problems?
Well, one of the major issues that people face when it comes to not getting enough sleep (high-quality sleep, that is - there is a difference) is a hot-sleeping mattress.
While a warmer bed can be beneficial for a few different reasons, there's a very thin line between the concepts of "warm" "really, really way too hot". Unfortunately, that line seems to be rather difficult to meet, since many mattress providers tend to sway towards the latter.

Yet again, this is especially-so true with foam beds. You see, foam isn't at all breathable - it tends to trap heat, which then results in you having to wake up in the middle of the night, completely drenched in sweat.
That being said, while Leesa is reported to sleep somewhat hot, TempurPedic has seemingly managed to tackle this issue quite well - customers report the bed being relatively-cool to sleep on.
Responsiveness
In the same way how companies tend to go overboard in trying to offer customers proper motion isolation, the same applies to responsiveness, too.
Multiple Leesa VS TempurPedic Cloud, Adapt and ProAdapt customer reviews will tell you that, if done correctly, responsiveness can be one of the most appreciated features of a mattress.
Table: Pressure point alleviation for Leesa and TempurPedic
A responsive bed will mold around and adapt to your body form, without breaking its proper position - this is very beneficial to anyone who's suffering from painful pressure points, and wants to get rid of them as soon as possible.

If, however, a mattress brand goes overboard in trying to create the "perfectly-responsive mattress", the result is going to be the same as with previously-discussed motion isolation - a bed that does little more than sink down while bearing weight.
Yet again, however, customer TempurPedic VS Leesa comparisons note that both of the beds are very similar in this regard - both provide optimal responsiveness.
Sleeping Position
So - it's probably pretty obvious that both of the beds that we are talking about in this Leesa VS TempurPedic comparison article are very similar, in more ways than one. Does this also mean that they both suit the same types of sleepers, too?
Well… Yes and no.
LEESA
TEMPURPEDIC

High-Quality Layers
Medium Firmness - Almost for Every Sleeper
Almost For Everyone
Minimal Off-Gassing

You Can Choose From Different Firmness, Thickness and Construction Options
Zero-Motion and Amazing Sound Isolation
Very Durable (Customers Approved)
Great for All Sleepers
90-Nights Free Sleep

Not Perfect for Side-Sleepers
Not Great for Cool Sleepers

Minimal Off-Gassing
High-Price
30-Nights Break-in Period Required for Sleep Trial

Visit site
Read Review
See TOP10 Brands
Read Review
Table: Optimal sleeping positions for Leesa and TempurPedic
Customers report that Leesa is likely going to be best for back sleepers, while TempurPedic will be most appreciated by back and sides ones. It shouldn't be too big of a surprise that stomach sleepers aren't on this list - it's rather difficult to find a fam bed that would be "a great choice" for a stomach sleeper.
To be completely honest, probably the main reason why Leesa isn't as suitable for side sleepers as TempurPedic has to do with edge support - or, rather, lack of it, since Leesa doesn't have much of that.
Price
Now, let's move on to the pricing section of the Leesa VS TempurPedic comparison. A thing to note here, however, is that the prices might change at any given time, at the sole discretion of the mattress providers in question - always double-check via the links provided below!
Table: The pricing options of Leesa and TempurPedic
Leesa's prices look like this:
The TempurPedic Adapt model's pricing and sizing options:
Ya… Well, the prices do speak for themselves - Leesa is super-affordable, while TempurPedic is super-not.
Table: Shipping and trials
To add to all of that, Leesa offers a 100-night sleep trial (TempurPedic provides a 90-night one), and both companies provide 10-year warranties and free shipping within the US.
Conclusions
So, then, out of this TempurPedic VS Leesa debate, which mattress is the better alternative?
Well, granted that both beds are very similar in their design and benefits, I would most definitely go with Leesa - and yes, that's mostly because of the price. Tempur-Pedic provides some great foam mattress products, don't get me wrong, but when the price difference is this big, while the features are so similar, it's a no-brainer on my part.
If you're having trouble finding the best option for yourself, though, do check out our list of the best mattresses, overall. Also, don't forget that we have a side-by-side Leesa VS TempurPedic comparison - you can find it here.
Thanks for reading!
Leesa Deal Active Right Now:
SAVE UP TO $978
Limited-time Leesa Mattress Coupon
Special offer: use this Leesa mattress coupon and get up to $978 off your mattress purchase. Sounds too good to be true? See for yourself!
Expiration date: 08/12/2023
2,474 People Used
Only 56 Left
Scientific References
1. Daniel J. Buysse, MD: 'Sleep Health: Can We Define It? Does It Matter?'
2. Aurore Guyon, PhD, Lisa L. Morselli, MD, PhD, Marcella L. Balbo, MD, et al.: 'Effects of Insufficient Sleep on Pituitary–Adrenocortical Response to CRH Stimulation in Healthy Men'
Leave your honest feedback
Leave your genuine opinion & help thousands of people to choose the best mattress. All feedback, either positive or negative, are accepted as long as they're honest. We do not publish biased feedback or spam. So if you want to share your experience, opinion or give advice - the scene is yours!