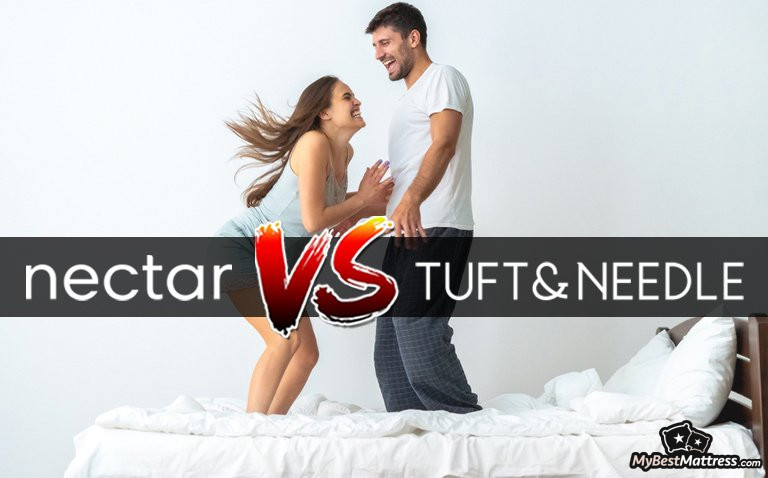 Memory foam beds are one of the most popular mattresses in the market. However, while they all use memory foam in at least one of the layers of their construction, each provider designs unique models with distinguishing qualities.
Since both Nectar and T&N mattresses rely on memory foam, in this Nectar VS Tuft and Needle comparison, we'll see how different two mattresses, that might seem the same at a first glance, are.
If you're not the reader type, then you can skip all the further parts and use our comparison tool to see the technical aspects of these two mattresses.
Nectar VS Tuft and Needle: Measures to Consider
I know that there are a few different comparison articles you may have found before coming across this Nectar mattress VS Tuft and Needle article. However, you may have also noticed that not all of them are actually helping, rather leave you hanging.
To make sure to provide you with both detailed and clear Nectar VS Tuft and Needle observation, I've selected the most crucial measurements for you to consider before making a decision.
But first, take a look into the Nectar VS Tuft and Needle evaluations:
Table: Nectar VS Tuft and Needle features' comparison.
As you can see the results are quite different. So, here are the aspects that I'll consider when comparing both of these brands and deciding which one of them is better:
Durability. Most of the mattress providers offer a 10-year money-back guarantee, so, you can assume that the mattress will serve you at least that long. Some top-tier brands even offer limited lifetime warranties, so, we'll see if any of two Nectar and T&N mattresses give you such a possibility.
Edge support. I know that many couples appreciate it when a mattress has firm and supportive edges. If a bed provides minimal edge support, you might feel like falling out of the bed when laying on the side. Also, it can get pretty difficult to stand up when there's no assistance.
Firmness. This measure shows how soft or hard the mattress feels. When choosing the mattress firmness it's important to not only consider your personal preferences but also such aspects as health issues.
Temperature neutrality. I doubt that any of you like to sleep hot. In my opinion, a good mattress is the one that manages to maintain neutral body temperature throughout the night, instead of making you sweat.
Motion transfer. If you value quality sleep, then you should make sure your partner is not standing in the way. By choosing a mattress that can minimize the motion transfer, both you and your partner will be able to sleep without any interruptions from each other's movement.
Noise isolation. Similar to motion transfer, this aspect is crucial for couples. While putting together Nectar VS Tuft and Needle we'll see which one of them wins the battle.
Responsiveness. This measure shows how good the mattress manages to adapt to different sleeping positions and how quickly responds to pressure. This measure together with bounciness can improve your nighttime activities.
Pressure point relief. This aspect is not only needed for seniors but also for young people who spend the majority of the days sitting. I can tell from my personal experience that pressure point relief is the most important quality that should help you to make a decision on which mattress to pick.
All the aspects are clear now, thus, thus it's time to move on to the actual Nectar mattress VS Tuft and Needle comparison.
Nectar VS Tuft and Needle: Let's Compare
I'll begin evaluating all the aspects one by one while highlighting the most important points.
Durability
When evaluating mattresses, we pay major attention to their quality that goes hand in hand with durability. These aspects mostly depend on the construction layers.
In Nectar VS Tuft and Needle layer comparison, it's clear to see that they're both very different. Here's the Nectar mattress construction:
1" Quilted Gel Memory Foam + Cooling Cover
3" Gel Memory Foam
1.75" Memory Foam
5.25" Mattress Foundation
And here's what Tuft & Needle mattress consists of:
3" T&N Adaptive Foam
7" Polyfoam/Polyurethane Foam
Even though it's known that both of these mattresses come in really great quality, I would still choose Nectar mattress - the provider combines different layers to provide you with the most pleasant qualities.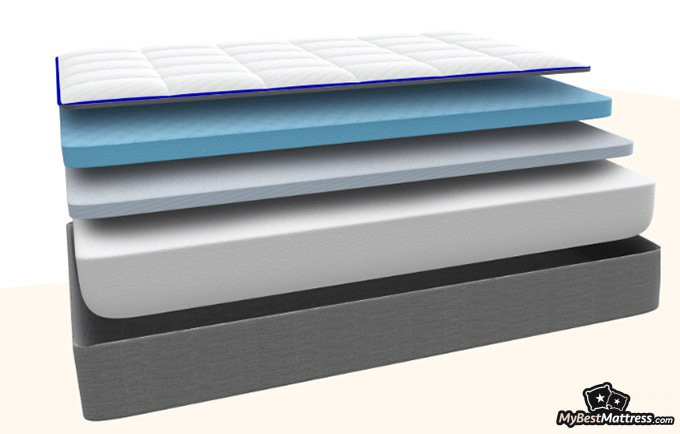 Tuft and Needle, on the other hand, is built from only two different layers, and I don't believe that this is the best option. Even though the number of layers does not have a direct impact on mattress quality, if you will pay attention to the top-tier providers, you'll see that all of them are designed from at least three layers.
So, when considering Nectar VS Tuft and Needle durability, the data shows that both of them should serve you for quite some time - at least 7 to 8 years. But as I was researching both of these mattresses I found more positive comments on the Nectar mattress. What is more, since it has more enhanced construction, I'm inclined to give it more hopes.
Latest Saatva Coupon Found:
UP TO $500 OFF
Limited-time Saatva Sale
We're sharing a limited-time Saatva mattress discount with our readers! Grab this deal & enjoy your new mattress with huge discounts.
Expiration date: 12/12/2023
4,042 People Used
Only 83 Left
Edge Support
Since memory foam mattresses are not really known for good edge support, I had a pretty firm opinion before evaluating each of these mattresses.
However, the Tuft and Needle VS Nectar edge support results surprised me. While Tuft and Needle was evaluated just like every other traditional memory foam mattress, Nectar manufacturers managed to prove that this approach is not always right.
But how is it possible, you might ask? The answer is quite simple - they use gel memory foam in the first layers of the construction. This material is way more responsive and bouncy than the traditional alternative, and, therefore, can provide you with better edge support.
So, between the two Nectar VS Tuft and Needle, the first mattress definitely outweighs the second.

Did you know?
Temperature Neutrality
Temperature neutrality has a major impact on the quality of your sleep. However, you should not only pay attention to the temperature of your room but also how cool or hot your mattress sleeps.
While temperature neutrality is what you should seek, the study showed that the human body reacts better to cooler temperatures rather than sleeping too warm/hot. So, making sure that the mattress has temperature regulating qualities is super important.
When comparing Nectar VS Tuft and Needle temperature neutrality, Tuft & Needle performed similarly to the majority of other memory foam mattresses. Thus, it's neither good nor bad, rather average results.
However, Nectar managed to surprise me, after analyzing sleepers' reviews, it became clear that the majority of them are pleased with the mattress cooling properties.

The reason for that is once again the gel memory foam that they're using. It became popular only in 2011 as a solution to regular memory foam mattresses that tend to trap your body heat. This material manages to not only maintain neutral body temperature neutrality but also offer cooling properties.
It's not only my personal opinion but also science that tells you Nectar manages to provide you with so much better temperature neutrality than T&N.
Motion Transfer and Noise Isolation
Memory foam mattresses rarely have problems with motion transfer and noise isolation. These two qualities are usually what make them better than others.
Let me explain why this is important. The research performed by the Sleep Disorders Center of Georgia revealed that sleepers experience more stage 1/light sleep than stage 3 and 4 sleep when the motion transfer affected the individuals. Needless to say, when you're interrupted during sleep, both your body and mind may not get enough rest.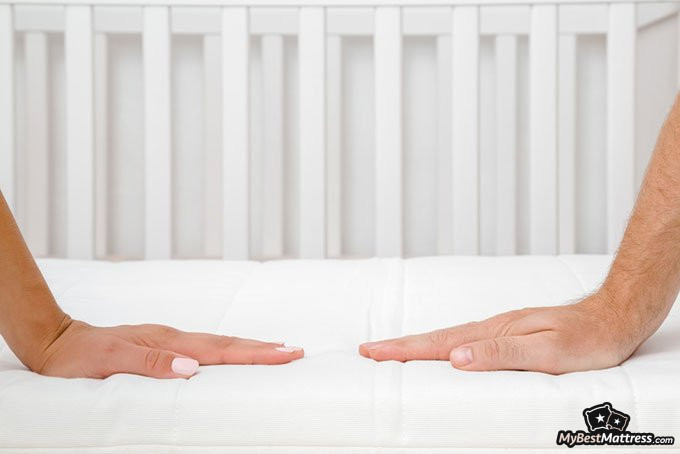 Getting back to Nectar mattress VS Tuft & Needle comparison, both mattresses will be able to minimize the motion transfer significantly and produce very minimal sound. However, sleepers are more pleased with the Nectar mattress that has perfect noise isolation and is totally silent.
Responsiveness
Responsiveness is needed to provide different types of sleepers with the needed qualities. If you're a combination sleeper, like the majority of us, you'll need a mattress that can adapt to your body no matter what your sleeping position is.
What is more, since responsiveness shows how good the mattress responds to pressure, it's strongly connected to bounciness, which is needed for a private couple time.
This time, in Nectar mattress VS Tuft and Needle comparison, Nectar strongly outweigh its competitor.
Pressure Point Relief
I said in the very beginning but, in case you forgot, I'll repeat it once again, mattress's ability to relieve the pressure points is one of the most important qualities that a bed can offer.
When evaluating Tuft and Needle VS Nectar based on the pressure point relief, it's completely clear that the Nectar mattress provides better abilities.
Table: Tuft and Needle VS Leesa pressure point relief.
People who tried sleeping on Tuft and Needle mattress weren't pleased with back and neck pain relief, while individuals who were sleeping on the Nectar mattress said that they felt alleviated pressure points and the needed amount of shoulder support.
Sleeping Positions Evaluations
Since both mattresses are medium-firm - 6,5 out of 10 on the firmness scale, they are a good option for the majority of sleepers. Only very light sleepers who weight less than 130 pounds should pick a soft mattress (about 4 out of 10), and heavy people (more than 230 pounds) should pick a bed that's about 7-8 on the firmness scale in order to extend the mattress's lifespan.

There's not much difference when comparing Tuft and Needle VS Nectar based on the best sleeping position, only your personal preferences. I would pick Nectar mattress since I'm a combination sleeper and prefer a mattress with more support that gel memory foam can provide me with. However, if you would compare Nectar VS Tuft and Needle Mint model, then the results would be slightly different.
Pricing
You can purchase both of these mattresses for less than $1000, which is definitely lower than the average price point.
Table: Tuft and Needle VS Leesa pricing.
Here are Nectar pricing and size options:
And here's the price list for Tuft & Needle:
Note that this is the current pricing, so it might be slightly different at the time you're reading this comparison article.
As you see, Tuft & Needle pricing is lower than Nectar's, the price differs by about $200 when evaluating the general price range. Even if the price is important, I believe that it's better to add the additional amount and enjoy better qualities.
I know that some of you might not feel safe purchasing mattresses online but that's why both providers offer free trials. Nectar gives you 365 days, Tuft & Needle allows you to sleep on their mattress for 100 days before deciding if you want to keep it.
Table: Tuft and Needle VS Leesa trial, warranty, shipping.
Since we have already gone through the most important Nectar VS Tuft and Needle aspects, let's get to conclusions.
Conclusions
All things considered, based on facts the better option is to pick Nectar mattress. In Nectar VS Tuft & Needle comparison it showed way better results.
Nectar mattress has better edge support, temperature neutrality, responsiveness, motion transfer, and noise isolation and offers better pain and pressure relief. Even though it's a little bit more expensive, the qualities are definitely worth paying for.
I believe that I've managed to provide each of the aspects that you were interested in a clear matter, however, if you want to take a look into the Nectar VS Tuft and Needle Mint or their original version that we have been looking into, then you can find all the technicalities here.
By the way, you can always grab a coupon code to purchase Nectar products for less and get other special offers.
Nectar Deal Active Right Now:
33% OFF
Nectar Special Offer
With the current Nectar mattress sale you can save up to 33%. Get one of the biggest discounts on mattresses when using this special Nectar mattress coupon.
Expiration date: 12/12/2023
3,101 People Used
Only 99 Left
Leave your honest feedback
Leave your genuine opinion & help thousands of people to choose the best mattress. All feedback, either positive or negative, are accepted as long as they're honest. We do not publish biased feedback or spam. So if you want to share your experience, opinion or give advice - the scene is yours!