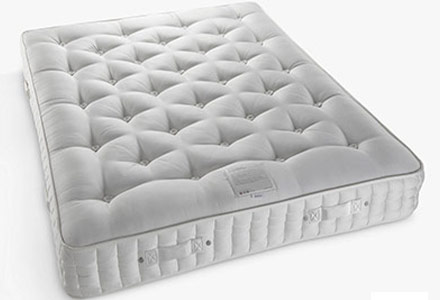 Anyone who lives in the UK is probably well aware of John Lewis - a department store chain that deals in a huge variety of different products, everything from computers all the way to mattresses.
In this article, we'll be taking a closer look at some of the customer John Lewis mattress reviews, and seeing if the beds are worth purchasing and sleeping on. Well, to be more specific, we'll actually be focusing on all of the John Lewis Natural Collection mattress reviews, since this collection seems to attract the most attention.
What we are NOT going to be doing, however, is looking at some other brands that John Lewis works with. In the shops, you'd be able to find mattresses all the way from Hypnos to Silentnight and even Tempur - if you want to know more about these products, you can check out their individual reviews, or look at the best mattresses, in general.
TL;DR: John Lewis a company that sells many different products, and mattresses are but one of them. It somewhat goes to show - while some customer John Lewis mattress reviews are rather positive towards the mattresses, claiming their luxuriousness, breathability and bounciness, it would seem that the beds possess issues with durability, longevity, and comfort.
Pros
Handmade
Made from sustainable materials
Breathable
Cons
Very expensive
Reports of durability issues
Lacks comfort
John Lewis Mattress Reviews: PROS
As always, we'll begin looking at the customer John Lewis mattress reviews and checking the mattresses out from a positive light. Still, while I've mentioned this in the introductory part of the article, I feel like it needs to be stressed here, too - we'll be focusing solemnly on John Lewis Natural Collection mattress reviews, and not looking at other products that the company deals in.
John Lewis' Natural Collection is often regarded as the "best collection" of mattresses offered by the brand. Admittedly, these products are somewhat exclusive and luxurious - and they are also quite popular, too. In short, that's basically the reason why it's worth focusing on these specific beds. And besides, there will be enough to talk about, believe me.
Handmade Mattresses
This feature, without a doubt, is one of the most unique aspects of the John Lewis Natural Collection mattresses.
The beds within the collection in question are all handmade - this has quite a few benefits, with the main one being that all of the mattresses are going to be somewhat unique.
Also, the mattresses should reveal themselves to be quite sturdy - this is something mentioned in some customer John Lewis mattress reviews, too. Now, do make sure not to confuse the terms "durable" and "sturdy" - they aren't exactly the same, at least in the context of mattresses.

John Lewis' mattresses being sturdy means that they are going to prove to be quite strong and not break down from bearing weight. In this context, durability is something that would refer to the beds retaining their shape, and not "caving in" as time goes on.
Truth be told, though, I was actually a bit surprised with the lack of emphasis on the fact that the products in question are handmade. Apart from some customer John Lewis Natural Collection mattress reviews and a few scarce mentions on the company's official website, there really isn't all that much attention pointed to this fact.
Latest Saatva Coupon Found:
UP TO $500 OFF
Limited-time Saatva Sale
We're sharing a limited-time Saatva mattress discount with our readers! Grab this deal & enjoy your new mattress with huge discounts.
Expiration date: 12/12/2023
4,042 People Used
Only 83 Left
Made From Sustainable Materials
When speaking about mattresses and their construction, sustainability is a term that refers to natural, organic materials and eco-friendly creation processes. To be frank, it's not exactly a feature that all that many mattress brands could boast about - especially not the lesser-known ones.
As you might have understood by now, John Lewis does offer customers sustainable mattresses - granted that the name of the collection even has the term "natural" within itself, this likely doesn't come as a huge surprise.
What does this mean to the customer, though?
To be honest, in the same way how I struggled to find customer John Lewis mattress reviews that would talk about the beds being handmade, I also had a pretty difficult time finding mentions that would concern sustainability, too.
That's not something that should take away anything from the fact itself, though - if you're an eco-conscious person, you'll definitely appreciate John Lewis mattresses.
Very Breathable
Breathability refers to your mattress staying cool to sleep on at night, even though you might be lying on a single spot of the bed for the entirety of the night. The way that this is achieved is different to each individual mattress - reading through the John Lewis mattress reviews, though, it surely seems to be one of the most appreciated features of the products in question.
So, how does this particular brand do it?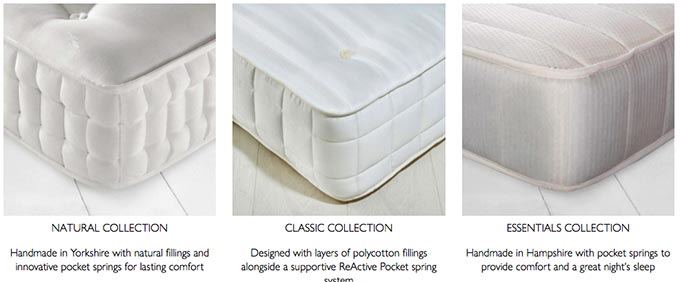 Well, for starters, the handmade mattresses sold by John Lewis possess pocketed springs. Innerspring mattresses, in general, are some of the coolest-sleeping, most breathable beds that money can buy. Their coil-based design promotes airflow, which is exactly what you'd need to make a mattress breathable and cool.
Also, some of the mattresses in the Natural Collection utilize cotton in their construction. Be it a mattress, comforter, or any other sleep-related product, if there's cotton involved, you can be sure that breathability's going to be "a thing", too. That's because cotton doesn't trap heat, and is thus a very breathable material.
Bouncy Mattresses for All of Your Non-Sleep-Related Needs
Being spring mattresses, naturally, the products in the Natural Collection are also going to be bouncy.
While bounciness, admittedly, isn't going to change a whole lot when it comes to proper sleep (other non-sleep-related factors can do that, though - a good example would be some somatic illness[1]), it can impact other areas if your mattress-related life.

Yes, I'm talking about sex.
Bouncy beds are super-cool when it comes to sexual intercourses, mostly because they take away a lot of the effort that you'd need to put into the process. Again - while you're not going to find many customer John Lewis mattress reviews that would talk about this phenomenon, the fact that they are innerspring products is proof enough.
John Lewis Mattress Reviews: CONS
While health problems such as sleep apnea[2] or chronic insomnia can completely demolish your quality of sleep, you don't even need to use such drastic examples - a bad-quality mattress is definitely enough to reach a similar "goal".
While John Lewis mattresses might not be "bad" per se, it's undeniable that there are many customer John Lewis mattress reviews that aren't particularly happy about the product that they've bought, for a variety of reasons.
Let's explore the most serious of those reasons a bit deeper.
Durability Issues
Among the most commonly-referenced John Lewis mattress issues is one that relates to durability - it would appear that many customers aren't happy with how the beds hold up throughout a relatively short period of time.
I'll admit - issues with durability are nothing to scoff at. If a mattress isn't durable, it kind of loses in all other areas, as well. Think about it - a bed can be super-cool, breathable, comfortable, possess the perfect level of firmness and be super-affordable, too, but if it breaks down after a couple of months, would you still buy it?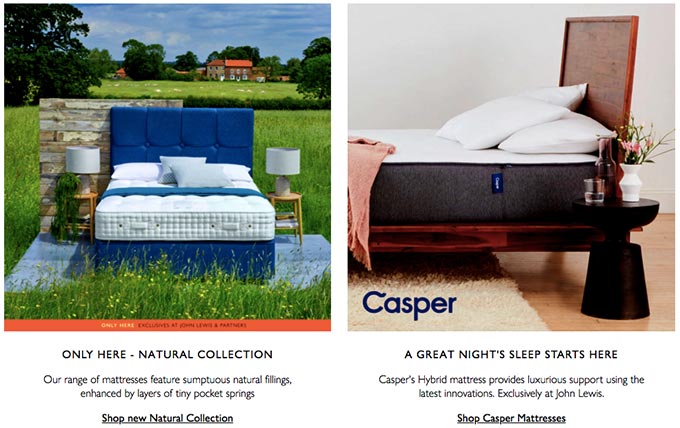 Most people would probably answer that question with a "definitely not".
It's worth pointing out that, reading through all of the John Lewis mattress reviews, it does not appear that the beds in question would break down as soon as a couple of months into the purchase. Still, customers definitely aren't happy with this aspect, and seeing some of the price tags of this mattress collection (we'll get to that), I think it's perfectly understandable why that's the case.
Not Very Comfortable
Admittedly, this is one of the more difficult aspects of John Lewis mattress reviews to talk about here. The reason is pretty simple - it's a very subjective matter, and what's comfortable for one person might be completely the opposite for another.
That being the case, though, seeing as there are quite a few customer John Lewis mattress reviews that mention this, there must be a common, well-known issue with the mattress collection that would cause this, right?
Well, from the looks of things, kind of. While there doesn't appear to be a singular issue, it seems like it's more of a collection of a few different things.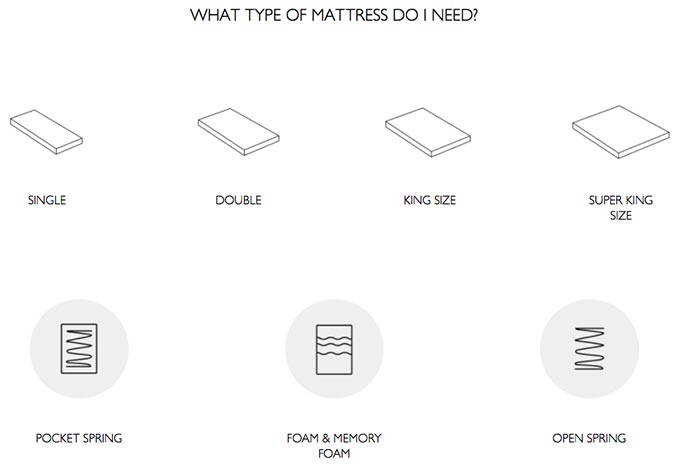 Naturally, durability is one of them. If your bed starts squeaking and simply feels unstable, that will surely impact your comfort levels.
Another issue seems to stem from the firmness setting of the John Lewis mattresses. Customers report that some of the beds are actually too firm, and there isn't enough pressure relief or body contouring happening to alleviate this. In turn, it causes some rather uncomfortable sleep experiences.
While there are many reasons for such negative customer John Lewis mattress reviews - some well-known and documented, others, perhaps, not so much -, the general sentiment still remains the same - purchasing a bed from the John Lewis Natural Collection might lead a customer to some less-than-comfortable sleep experiences.
Price
Right, so - the pricing part of the article.
I've eluded to this in a few different places throughout this review, but the prices for some of the mattresses in the John Lewis collection in question are simply out of this world.
Some beds start from £499 - pretty good, right? Well, yes - but if you're opting for a bigger mattress that would also have better-than-average specifications, purchasing a product from the Natural Collection can cost you anywhere up to £4599.
That's quite literally the definition of the term "expensive", and it blows most other mattress brands out of the water - not in a good way, though.
You see, prices like these make senes when you just look at the surface level of the entire ordeal - being handmade items, it's completely understandable that the John Lewis mattresses are going to cost much more than your average bed. Add sustainable materials and coils into the equation, and the price only goes up.

While that's all fine and dandy, the negative customer John Lewis mattress reviews are the turning point here. If the mattresses were of pristine quality, and there were but a few minor issues reported about them (although, for £4599, the bed should be close-to-perfect), then sure - the price is justified by those very same things.
This isn't the case here, though. If you're going to spend that amount of money on a mattress, you'd probably want it to be ideal - the fact that there are even some issues with durability is mind-boggling.
Also, the sleep trial periods of the beds vary. Some of them come with a 100-night sleep trial, while others might possess double that. While these are some standard periods of trial, they might still not be enough for some customers - especially if you're opting to purchase the more expensive version of the John Lewis mattresses.
Here is The Best Saatva Offer I Found:
UP TO $500 OFF
Limited-time Saatva Sale
We're sharing a limited-time Saatva mattress discount with our readers! Grab this deal & enjoy your new mattress with huge discounts.
Expiration date: 12/12/2023
4,042 People Used
Only 83 Left
Conclusions
So, to sum up, let me answer one last question - are John Lewis mattresses worth it, in my own, personal opinion?
No.
Admittedly, the beds offered by the company do have multiple different benefits, and the fact that they are handmade from sustainable materials is definitely unique. Having said that, the mattresses do also lack in quality and durability - something that could still perhaps be forgiven, if not for the absolutely insane prices attached to them.
The funny thing here, however, is that many of the products from other brands found within John Lewis stores (i.e. Tempur's beds) are arguably many times better choices than those made by John Lewis itself. While it may seem like an odd predicament, it does appear to be the case, especially while reading through customer John Lewis mattress reviews.
Finally, if you'd like to get yourself a sturdy, durable, high-quality and all-around top-tier mattress, do make sure to check out our list of the best beds in the industry. Who knows - maybe the much better alternative is waiting for you there? Whatever the case might be, the products that you'll find on that list are nowhere near as expensive as some of the John Lewis mattresses - that's for sure.
Thanks for reading, and good luck in your search!
Scientific References
1. Hollsten I, Foldbo BM, Kousgaard Andersen MK, Nexøe J: 'Insomnia in the elderly: reported reasons and their associations with medication in general practice in Denmark.'
2. Kinealy BP, Harding BC, Vazmitsel MA, et al.: 'Atypical lymphoid hyperplasia in a patient undergoing tonsillectomy for severe obstructive sleep apnea.'
Leave your honest John Lewis review
Leave your genuine opinion & help thousands of people to choose the best mattress. All reviews, either positive or negative, are accepted as long as they're honest. We do not publish biased reviews or spam. So if you want to share your experience, opinion or give advice - the scene is yours!