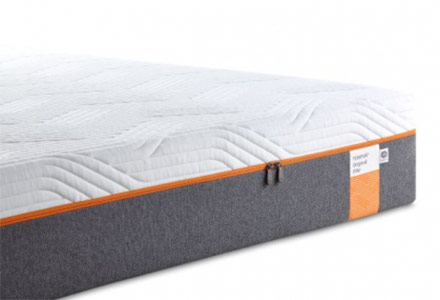 Finding the best mattress for yourself isn't an easy task, especially nowadays, when the competition is so fierce and every brand wants to be considered to be "the best". With the help of customer reviews, however, you could, in fact, make the right choice - in this Tempur mattress review, that's exactly what I'll try and help you do.
That's right - today, we'll be figuring out whether or not the Tempur mattress UK is worth paying attention to, and if it's a product that you should be looking to purchase. As per usual, we'll go about this in the traditional manner - pros, cons, pricing, and so on.
TL;DR: Tempur offers customers a selection of different mattresses, but the Original still appears to be the favorite of many. It's a medium-firm mattress that utilizes a foam-like technology called TEMPUR (hence the name of the brand). The bed is amazing at relieving pressure, isolating motion and keeping the sleeper cool, but the price tag might scare some people off.
Pros
Durable
Very good pressure relief capabilities
Great motion and noise isolation
Made from the signature TEMPUR materials
Cons
Very pricey
Initial odours upon unpacking
Tempur Mattress Review: PROS
We'll start off this Tempur mattress review by talking about the benefits of the Tempur mattress UK, but before we do that, let's get something cleared out.
The company in question offers its potential customer four different mattresses - Tempur Original, Tempur Cloud, Tempur Hybrid and Tempur Sensation. The main aspects that all of these mattresses differ in is firmness - the Cloud is the softest variant, while the Sensation is the firmest.

Other than that, the core features of all three of the mattresses are somewhat similar. Following that train of thought, in this Tempur mattress review, we'll be focusing mostly on a single model - the Tempur Original.
Why is that the case? Well, it's simply because of the above-mentioned reason combined with the fact that the original is often regarded as "the best of both worlds" in regards to firmness and overall design.
With that cleared out, let's get straight to it, shall we?
Sleep Cool When Compared to All-Foam Mattresses
If you've ever read any other sleep-related articles that I've written, you're probably perfectly well-aware of why I chose this particular point to begin the Tempur mattress review with.
I despise sleeping hot. While this is probably something that I share with most of the people around the world, I just cannot help myself - even the thought of waking up all drenched in sweat is enough to send a feeling of cringe down my chest.
Having said that, at first, all of the customer Tempur mattress reviews that I've noticed online and that talked about the mattress in question "sleeping cool" were surprising to me. If you know anything about foam or, in this case, foam-like mattresses, it's probably that they are anything BUT cool, temperature-wise.

And yet, the Tempur Original mattress is, in fact, reported to sleep relatively cool, especially when compared to some of its foam-based competitors.
So… What gives?
Well, it's actually the effects of the TEMPUR materials that the product utilizes. The mattress is made up of three (or four, if you purchase the thicker versions) different layers - Tempur's signature Comfort materials, Support materials and a Durabase technology-based mattress base.
This combination of signature materials allows the bed to be just warm enough for comfort, yet it still won't trap heat inside of itself, and will thus avoid getting too warm while you sleep on it. Considering the fact that this is a topic that's most difficult for foam beds to tackle, I'd say it's definitely a huge win for Tempur!
Latest Saatva Coupon Found:
UP TO $500 OFF
Limited-time Saatva Sale
We're sharing a limited-time Saatva mattress discount with our readers! Grab this deal & enjoy your new mattress with huge discounts.
Expiration date: 08/12/2023
4,042 People Used
Only 83 Left
Exceptional Motion Isolation
Movement isolation has seemingly become one of the core features of the Tempur mattress UK - whether you go to read the different customer reviews found online, or check the company's official website yourself, it's something that's quite evident.
So… Is motion isolation really all that important?
Well, yes - very.
If you're someone who sleeps alone, then sure - motion isolation might not be the first thing that pops to mind when picking out a new mattress, be it while reading through Tempur mattress reviews, or else. If, however, you sleep with a partner, or are planning to do so in the future, a bed that's good at absorbing motion is crucial.

You see, motion isolation acts in two different ways - it isolates the motion that you and your partner make (duh), but it also ensures that both of you are a little bit less restless during the night, in general. Needless to say, this can be a huge benefit when it comes to getting some decent rest and not being woken up by your own or your partner's movements.
While there are various different types of sleep disturbances out there[1], the ones that relate to motion are certainly among the more annoying of the lot. Foam beds, in general, are pretty good at absorbing motion - Tempur's Original mattress, however, takes it to another level.
Reading through all of the customer Tempur mattress reviews, it appears that the bed in question is going to be perfect at isolating motion to either side of itself, and absorbing it, altogether. Definitely a point worth keeping in mind!
Top-Tier Pressure Relief Capabilities
One area in which the three-four Tempur layer combination vastly exceeds in is pressure relief.
Most high-end foam mattresses on the current market are pretty well-known for this feature. It's one that relates to keeping your body properly aligned to the bed all throughout the night, and thus avoiding any possible pressure point formation.
Pressure points, as the name may imply, are certain areas of your body that have the biggest amount of pressure when touching the bed. On a poor-quality mattress, these areas would usually be your lower back, shoulders, neck, arms and hips. If you wake up in the morning feeling all broken and sore, it's highly likely that this is a tell-tale sign to start thinking about changing your bed.
Many customer Tempur mattress reviews will tell you that the Tempur Original is just the product to change it to.
The Tempur Original model will keep your body properly aligned to its surface, and thus avoid any possibility of pressure point formation. It's an ideal option for anyone who's been suffering the type of pains mentioned above!
Medium Firmness Level
If you were to ask random strangers what type of a mattress they'd prefer - a firm or a soft one -, there's a pretty good chance that the vast majority of the answers would tell you that it's the latter.
It makes sense, though - most of us would want our sleeping experience to be soft, cozy and comfortable, and the term "firm mattress" automatically associates with sleeping on the ground. Truth be told, this is actually one of the Tempur mattress problems that some customers talk about, too - at least when it comes to the Sensation model.
The Tempur Original, however, is a medium-firm mattress. Let me tell you why that's ideal.
Soft beds, in general, aren't all that good for your sleep health - these items tend to break your proper spine alignment (as discussed earlier on in the Tempur mattress review), which can result in some pesky issues in the long run.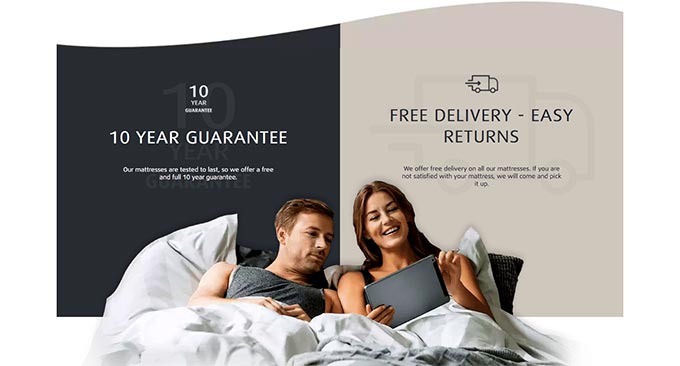 Firm mattresses, though, are usually seen as "the way to go". While these products might lack some comfort, they are great for your overall health.
By extension of that, a medium-firm mattress is a perfect compromise - that's exactly what the Tempur Original is, too.
In short, if you're concerned about your sleep health, and want to get the best possible option, customer Tempur mattress reviews will tell you that the Orignal model won't disappoint.
No Noise
I mean, is this even something that needs to be mentioned?
Noise is a pretty common issue that people deal with when it comes to some older mattresses. Even new products can be noisy, too - this is especially true with innerspring beds, although if they are of high quality, it should be something you'd need to worry about.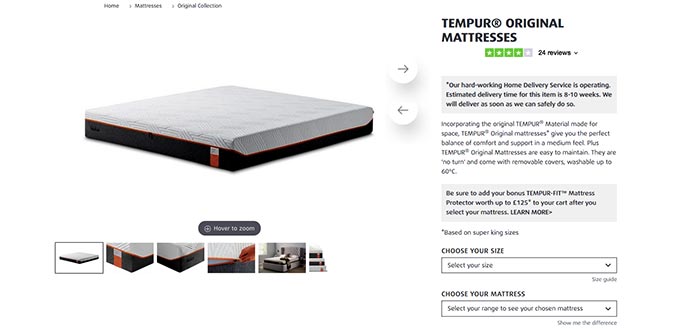 Foam mattresses usually don't have this issue. Considering the fact that the Tempur Original is a foam equivalent, this is even more-so true.
To put it very simply, even as the mattress ages, you shouldn't experience any issues regarding squeaks or other types of sounds - this is further-emphasized by some customer Tempur mattress reviews, too. To be frank, there aren't even any materials within the mattress to cause some sort of a sound, in the first place!
Tempur Mattress Review: CONS
Proper sleep hygiene is essential in order for humans to be productive[2] - that's a pretty obvious statement. Reading through all of the different customer Tempur mattress reviews, it's evident that the Tempur Original is a mattress that can, in fact, provide you with the means to get some decent rest, at any given point in time.
Even so, in regards to Tempur mattress problems, there are some customers that have had a few specific complaints about this particular bed. Most of these complaints have to do with the Tempur mattress price, but there are also some that talk about features directly related to the mattress itself. Let's take a look, shall we?
Off-Gasing Issues
Off-gassing is a term that refers to the mattress having some initial odors when you first unpack it. In essence, this is completely normal - almost all of the different beds out there are going to "off-gas", more or less.
Well, when it comes to the Tempur mattress problems, it would seem that this particular bed falls into the "more" category.

If you have a sensitive sense of smell, this can become a nuisance, pretty fast. It's surely not something that should impact your decision on whether or not to purchase the Tempur Original, but it's advised that you plan ahead.
What do I mean by that? Well, the best possible scenario is that you'd have another mattress to sleep on (i.e. your old bed) for like a week or so after you've bought and unpacked the Tempur Original. This way, your new product will be able to get rid of that initial odor, and you won't have to stick around for this endeavor.
Price
As mentioned a bit earlier in this Tempur mattress review, the biggest gripe that customers have regarding the Original model is the Tempur mattress price tag. Before we discuss it, you should probably get to see it, first:
There are a few additional "special sizes" not mentioned here, but these are the default options for the Tempur Original mattress, the Supreme version (21cm deep).
As you can see for yourself, it's pretty evident that the mattress in question is… Well, it's very expensive. It's also obvious why most of the customer complaints concerning the Tempur mattress problems revolve around this particular topic.
Are these high Tempur mattress prices justifiable, though? Well… To put it simply - yes, but it depends on who you'd ask.
The high price of the Tempur Original mattress signifies the quality and durability of the product, while also being justified by the fact that the bed is made out of the company's signature TEMPUR materials - ones that they claim to be superior to standard mattress foam.
Here is The Best Saatva Offer I Found:
UP TO $500 OFF
Limited-time Saatva Sale
We're sharing a limited-time Saatva mattress discount with our readers! Grab this deal & enjoy your new mattress with huge discounts.
Expiration date: 08/12/2023
4,042 People Used
Only 83 Left
Conclusions
With all of that being said and done, is the Tempur Original mattress worth purchasing and trying out?
Well, if you have the money to do so, then yes. That being the case, there are much more affordable options on the UK market - ones that wouldn't cost you an arm and a leg.
Sure, most of the "more affordable options" might not have such amazing specifications as the products offered by Tempur. Still, it depends on whether or not you're willing to compromise on the aspect of quality.
That aside, the Tempur Original is a great mattress - it's durable, not too firm and not too soft, has great pressure relief and motion isolation capabilities, and is a high-end product, in general. Definitely a decent pick!
In order to find some alternatives, however, you could check out our list of the best mattresses, overall - perhaps the right option is waiting for you there?
Scientific References
1. Carroll JE, Rentscher KE, Cole SW, et al.: 'Sleep disturbances and inflammatory gene expression among pregnant women: Differential responses by race.'
2. Ishibashi Y, Shimura A: 'Association between work productivity and sleep health: A cross-sectional study in Japan.'
Leave your honest Tempur review
Leave your genuine opinion & help thousands of people to choose the best mattress. All reviews, either positive or negative, are accepted as long as they're honest. We do not publish biased reviews or spam. So if you want to share your experience, opinion or give advice - the scene is yours!