If you're someone who constantly sleeps in a cold environment, or are a "cool sleeper", by default, but want to find alternative ways of how to warm yourself, you might be looking for the best comforters out there.
Or, perhaps you don't really know what a comforter is, and simply heard that it's a great product when it comes to staying warm and cozy while in bed - that could be the case, too.
Well, whatever it is, I do believe that you will appreciate this list of the best comforters of the current year. First up, I'll tell you what comforters are, and how they can be beneficial to you, and then we'll also discuss what to look for, too.
The list will look as follows:
Best Comforter: The Criteria
So, then, to start this best comforter list off on the right track, let's tackle the glaring question at hand - what are comforters?
To put it very simply, comforters are a special type of sleep accessory that helps you remain warm at night, and adds a lot of the "coziness factor", too.
Now, you might be thinking - so how are comforters different from bed sheets, blankets and everything in between? Worry not - I've had those exact same questions a long time ago, too. The products in question actually differ quite a bit!
First of all, construction. When compared to blankets or bedsheets, comforters are usually much thicker - filled with down, down alternative, or some other materials. Depending on those materials, you'll find that the warmth aspect of the comforter differs, too - some of them will be warmer, while others are going to be "dedicated for aesthetic use".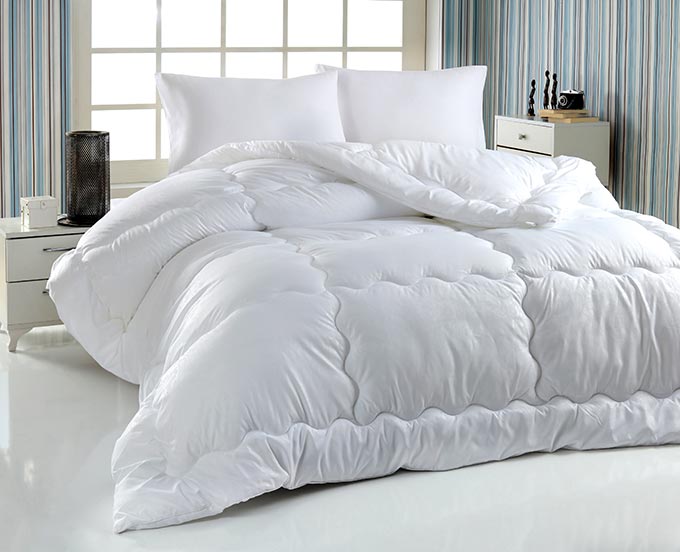 That's the other difference, too. Some of the best comforters are going to be great additions to the overall aesthetic of your room - using them for this purpose is actually a rather common phenomenon.
That said, though… How do you pick the best comforter sets for yourself, in the first place?
Well, the very first thing that you should pay attention to is the materials used in the creation process of the product. Some brands try to search for shortcuts and fill their comforters with less-than-desirable materials - not ideal!
The purpose of the comforter should be a priority, too. Whether you're searching for the best comforter brands in order to find a warm addition to your bed or to boost up your bedroom's design, that's something you should definitely figure out in advance.
All of that said, do also check the actual features that the comforter providers supply their customers with, too - warranties, sleep trials, refund policies, and so on. All of these things are important!
Now, let's move on to the list of the best comforters, shall we?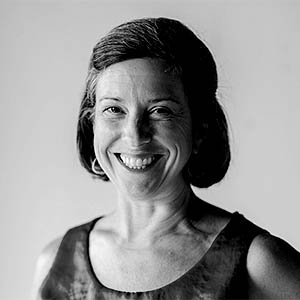 Martha Lewis
Certified Sleep Expert
Why so many people tend to experience difficulties sleeping?
I believe that so many people have a hard time sleeping because of our modern lifestyle. First of all, we're constantly busy, rushed, and stressed. Also, we tend to have lots of inflammation from the foods we eat, and the toxins we're exposed to. Your body releases cortisol when there's inflammation, which wakes you up at night. The third reason is because of technology and the ability to be on screens and exposed to blue light all hours of the day and night.
Ranks #1 out of 7 Mattresses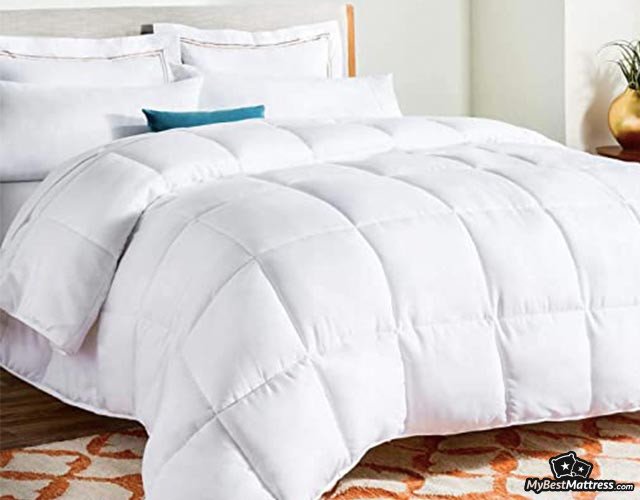 Things we liked:
+ Suitable for all seasons
+ Hypoallergenic
+ Decent pricing
Things we didn't like:
- Polyester cover might not suit everyone's preferences
- Lacks softness
A single look at some customer best comforter reviews found online will reveal to you the fact that Linenspa does, indeed, deal in some of the best products in this industry.
The brand has quite a few different comforters for sale - some of them are filled with white goose down, while others utilize down alternative. That's exactly the case with the product in question too - the All-Season Reversible comforter.
One of the most notable features of this product is that it's hypoallergenic - this means that there are very few chances that you'll end up developing some allergies to the filling of the comforter (microfibers) or it's cover (polyester). This is actually one of the more prominent issues when it comes to sleep-related products, so that's good to know!
Furthermore, with Linenspa being one of the best comforter brands out there, you can be sure that the quality of the product is going to be top-notch. Also, one of the better qualities of the All-Season comforter is that you'll be able to utilize it both in the winter and summer months - simply flip it around and you're set!
What is the Price of the Linenspa All-Season Reversible Down Alternative Comforter?
The price tags for the comforter in question are:
Do keep in mind the fact that the prices are subject to change at any given time!
Ranks #2 out of 7 Mattresses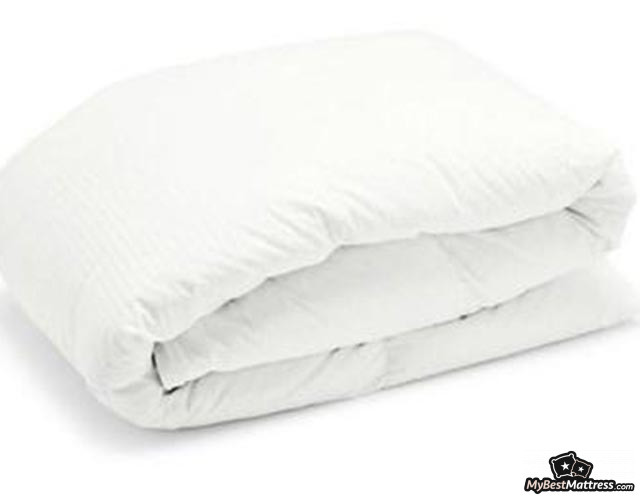 Things we liked:
+ Comfortable
+ Great all throughout the year
+ High-quality materials
+ Breathable
Things we didn't like:
Riley is a household name when it comes to the best comforters - same as some other brands mentioned on this list, the company is very well-known when it comes to comforters.
The product mentioned in this article - the Riley Goose Down Comforter - is great for a couple of reasons. First of all, it's quite suitable for all times of the year - it's warm, but won't get you too hot, which is definitely much appreciated in the Summer.
On top of that, Riley uses cotton sateen for the cover - this means that the comforter is going to possess exceptional breathability, and won't cause any heatwaves that would mean absolute hell for your quality of sleep. While there are many studies relating to sleep disturbances[1], you probably don't need scientific proof that heat is bad for sleep.
What is the Price of the Riley Goose Down Comforter?
Riley's comforter is priced like so:
As you can probably see for yourself, the comforter in question is definitely one of the priciest on this list. That being said, if you're truly looking for the best comforter on the market, you can't go wrong with Riley.
Ranks #3 out of 7 Mattresses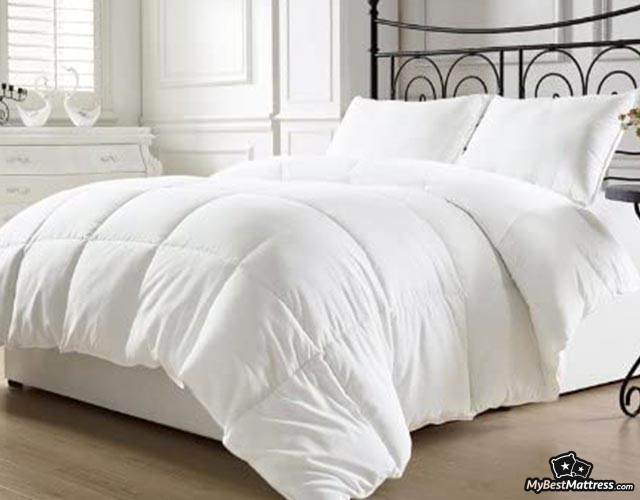 Things we liked:
+ Very soft
+ Great pricing options
+ White down alternative
Things we didn't like:
- Very few sizing options
If you're looking for the best comforter sets with the intention of using them to keep you cozy in your sleep (as opposed to simply placing it on your bed for aesthetic purposes), there's a pretty good chance that you'd want the item to be soft and smooth to the touch.
Not all comforters are like that. KingLinen, however, offers some very soft comforter options.
The product is also made with white down alternative - this is great for anyone who's allergic to goose down, since it won't make your allergies act up while you sleep with the comforter.
What is the Price of the KingLinen White Down Alternative Comforter?
The comforter is available in two sizes - Twin and Twin XL. The prices are:
The prices of the product are great, yet the selection of available sizes is pretty scarce.
Ranks #4 out of 7 Mattresses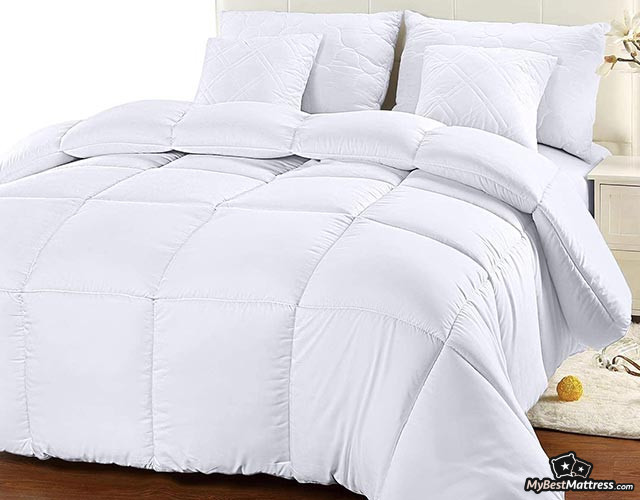 Things we liked:
+ Very soft and comfortable
+ Provides great coziness to the sleeper
+ Decent option during any season
+ Hypoallergenic
Things we didn't like:
- Some sizes are difficult to come across
If there's one thing that Utopia can boast about its comforters, it's that they are very bulky - truth be told, they're some of the bulkiest, most puffy products on this best comforter list!
Naturally, this comes with some added benefits, too - the main one would be that this particular comforter is very cozy. Customers note that the product is breathable, hypoallergenic and comparatively lightweight, which means that it should be suitable to be used all around the year.
In addition to being very cozy, Utopia's comforter is also one of the softer options on this list - if you like bulky and soft comforters, this might just be the product for you.
What is the Price of the Utopia Bedding Comforter?
Utopia's comforter's prices vary depending on a few factors, but you should expect to be able to find a Queen-sized version of the product to cost no more than $25-$30. That's a great price for one of the best comforters on the market!
Ranks #5 out of 7 Mattresses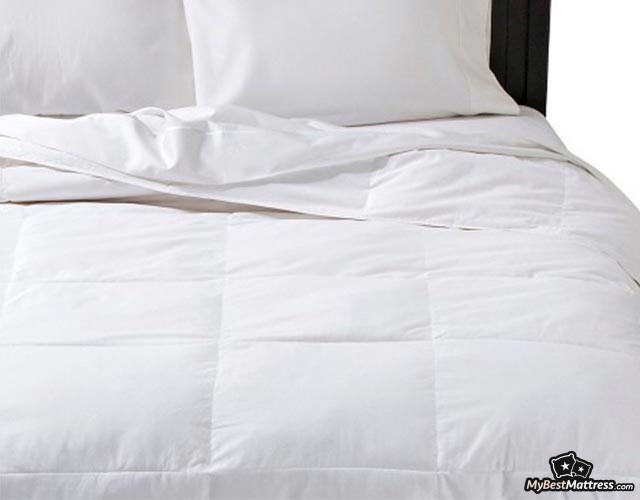 Things we liked:
+ Comfortable
+ Great "price VS quality" ratio
+ Warm
Things we didn't like:
- Only available via Target
- Limited size availability
- No warranty
Yes, Target does, indeed, sell comforters. Judging by the various customer reviews that you'd be able to come across online, it would seem that the products are some great underdogs, too.
What do I mean by that? Well, customers compare Target's comforters with some of the industry leaders - while the company uses some different materials (i.e. duck down instead of goose down), it has managed to create a comforter that feels luxurious, comfortable and soft.
The only real issue when it comes to this particular comforter is that it's only available via Target's official channels. While that does make perfect sense (it being a Target product), it does limit the number of people that would be able to purchase it.
What is the Price of the Target Fieldcrest Comforter?
The Target comforter costs are:
While it's a bit of a pricey comforter, the item definitely belongs on a list of the best comforters of the year, and is actually one of the more affordable options in its category.
Ranks #6 out of 7 Mattresses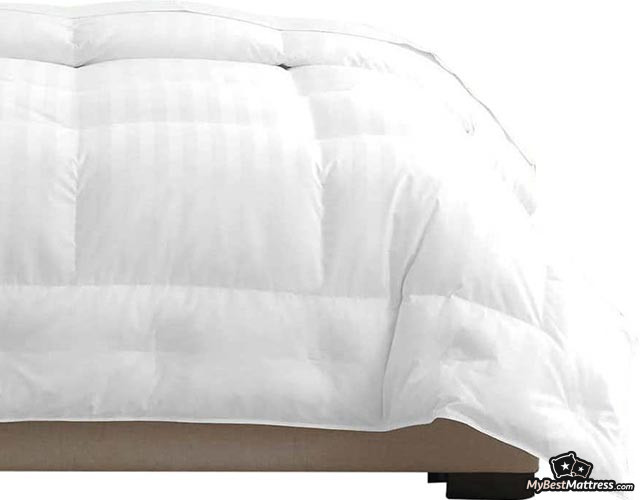 Things we liked:
+ Thread count - 500
+ Cotton-based outer cover
+ Very breathable
+ Top-tier quality
+ Great for all-season use
Things we didn't like:
Anyone who's looking for the best comforter brands on the market should be aware of Pacific Coast and the company's products - they are quite well-known, for better or for worse.
What do I mean by that? Well, the "better" part refers to the fact that these comforters are some of the best ones you could purchase - 500 thread count, cotton, all-season warmth, top-tier comfort and luxuriousness. The comforter is very fluffy and, judging by the customer reviews, is going to be amazing for all types of sleepers.
Now, the "worse" part is actually very simple and straightforward - while the product itself doesn't possess a lot of "cons" per se, there is one, glaring complaint that you'll see mentioned time and time again - the price.
What are the Pricing Options of the Pacific Coast Comforter?
Depending on the availability of the product and some other factors, the Pacific Coast comforter can be a difficult one to find. That said, these best comforter sets are going to cost you from $199.
Yes - FROM.
With a price tag like that, naturally, the comforter isn't going to be for everyone. Still, if it sounds like something you'd want to try out, chances are that you'll definitely be positively surprised.
Ranks #7 out of 7 Mattresses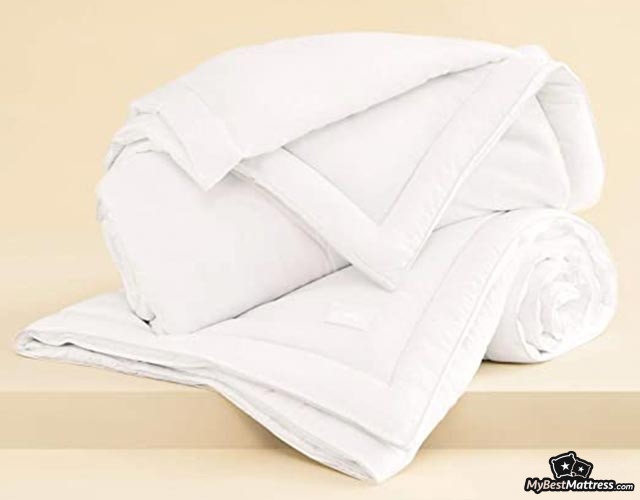 Things we liked:
+ Comfortable
+ Soft
+ Suitable for all-season use
+ Bulky and buffy
+ Sustainable materials, cruelty-free
Things we didn't like:
- Pricey
- May sleep a bit warm for some people
Buffy offers customers one of the more-general comforters on this list. What I mean by saying that is simply that the product that this company sells is definitely decent, no matter which perspective you look at it from.
Buffy's version of the best comforter is going to provide the sleeper with some great temperature balancing features - it will keep you either warm or cool, depending on the season.
The comforter is very soft and quite bulky, too - if you prefer products that you can "dive in" after a long day, Buffy does offer a comforter like that. Although that's probably not really surprising, seeing as it's literally in the company's name.
What are the Prices of the Buffy Comforter?
Buffy's comforter is priced like so:
As you can see, the product is far from being a cheap version of the best comforter. That said, it's also definitely not the most expensive model out there, either!
Conclusions
Sleep disturbances are really annoying, and they shouldn't be ignored - they can be a sign of some underlying health conditions[2], or huge amounts of stress, too.
That being said, many sleep disturbances cases fall down to one, single reason - sleeping either too hot, or too cool. Thankfully, there's a pretty easy way of how to deal with this issue - the best comforters.
The actual best comforter option is going to depend on a few different factors, all of which are going to lead back to you - your budget, personal preferences, reasons for buying a comforter, and so on.
Do rest assured that all of the products mentioned on this best comforter list are going to be top-tier, and provide most sleepers with some amazing sleep experiences. The actual, "right" choice does simply depend on your preferences.
That being said, I thank you for reading this article, and hope that you've managed to find the right comforter for yourself. Until next time!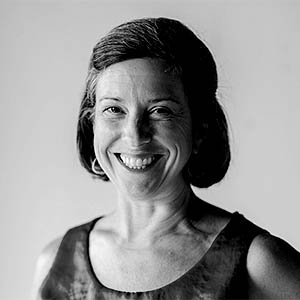 Martha Lewis
Certified Sleep Expert
Contributed By Martha Lewis, Certified Sleep Expert
Martha Lewis is a sleep consultant to health-conscious high achievers who want to sleep but can't. With multiple sleep certifications, an MS in holistic nutrition, and as an expert on gut hea...
Read Full Bio...
Scientific References

Contributed by Martha Lewis, Certified Sleep Expert

1. Watson LA, McGlashan EM, Hosken IT, et al.: 'Sleep and circadian instability in delayed sleep-wake phase disorder.'

2. Kanemoto H, Kazui H, Adachi H, et al.: 'Thalamic pulvinar metabolism, sleep disturbances, and hallucinations in dementia with Lewy bodies: positron emission tomography and actigraphy study.'



Leave your honest Best Comforter review
Leave your genuine opinion & help thousands of people to choose the best mattress. All reviews, either positive or negative, are accepted as long as they're honest. We do not publish biased reviews or spam. So if you want to share your experience, opinion or give advice - the scene is yours!