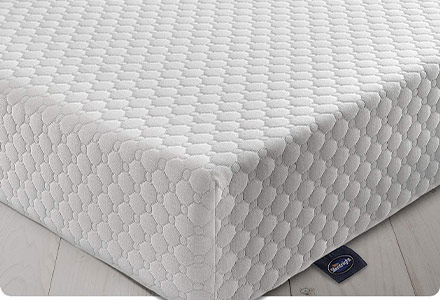 If you reside in the UK, chances are that you've heard about Silentnight before - this is true even if you've never looked for a new mattress before. The company has established an undeniable reputation within the country as one of the leading mattress providers. But what do customer Silentnight mattress reviews actually say about this product?
Well, that's exactly what we'll be trying to figure out right here, in this very article.
As you may know, choosing the best Silentnight mattresses can be a struggle, simply because there are a lot of different products to pick from. Worry not - we'll focus on the ones that encompass the best qualities of what Silentnight has to offer, and that may provide you with… Wait for it… Some silent night's worth of sleep.
I'm not going to apologize for that one.
TL;DR: Online, there are multiple customer Silentnight mattress reviews that talk about the different pros and cons of the various company's mattresses. Both memory foam and coil options offered by Silentnight do have their own benefits and shortcomings, but when you keep in mind the price tags of these beds, they truly do become amazing products.
Pros
Decent motion isolation (foam mattress)
Bouncy (spring mattress)
Medium firmness level (spring mattress)
Good pressure relief (foam mattress)
Very affordable (both mattresses)
Cons
Sleeps warm (foam mattress)
Noisy (spring mattress)
Questionable durability (both mattresses)
Silentnight Mattress Reviews: PROS
In this article regarding the best Silentnight mattresses UK, we'll be doing things a bit differently.
In most brand product reviews, I tend to focus on the main product that the brand has to offer to its customers. This way, you can get a pretty good and in-depth look at the product, and we can focus on the best of the best.
A single look at the customer Silentnight mattress reviews, however, will reveal that this company has way too many great options for you to pick from - it would be impossible to focus on just one.
So, with that in mind, we'll actually be focusing on two - the memory foam, and the innerspring beds.
Sure, Silentnight does have more different mattresses in stock, but the two mentioned above are among the most popular ones, and they also showcase the pros and cons of all of the brand's beds quite well. With that said, with each pro or con, I'll make sure to tell you which of the two (or both) mattresses that aspect concerns.
Having said that, let's get straight to the best Silentnight mattresses, shall we?
Decent Pressure Releaf (Memory Foam Mattresses)
Pressure relief is one of the more sought-after features for people who are looking for a brand new mattress. That's mainly because a lot of these people currently sleep on old and worn-out beds - these mattresses have usually developed sinkage and become saggy, which leads to a lot of sores and painful pressure points in the morning.
While pressure spots can seem like little more than a nuisance at first, they are actually quite serious, and should thus be dealt with as soon as possible. If left unaddressed for a long period of time, this issue will impact your quality of sleep and cause sleep disturbances - not something you'd want happening (this is true for both children[1], and adults, alike).

Many customer Silentnight mattress reviews do mention that the memory foam mattresses that the company sells - such as the one mentioned in this article, "Studio" - do provide some decent pressure relief. Surely, the products probably aren't going to perform miracles if the problem is quite serious in your case, but they'll surely alleviate pressure better than an old mattress.
Latest Saatva Coupon Found:
UP TO $500 OFF
Limited-time Saatva Sale
We're sharing a limited-time Saatva mattress discount with our readers! Grab this deal & enjoy your new mattress with huge discounts.
Expiration date: 29/09/2023
4,042 People Used
Only 83 Left
Bouncy, Medium-Firm (Spring Mattresses)
If you're looking for a bouncy bed, you're probably going to turn to the innerspring mattress market - good choice! Innerspring beds are truly the best options for those who want some bounciness out of their sleeping place.
Oftentimes, though, this comes at a trade-off - bouncier beds are usually firmer than, say, those who tend to sink down upon bearing weight (i.e. foam mattresses).
Now, I've worded that as a potentially "bad" thing simply because a lot of people want to sleep as soft as possible. While this may sound good in theory, that isn't actually the case - this is something that some customer Silentnight mattress reviews can tell you, too.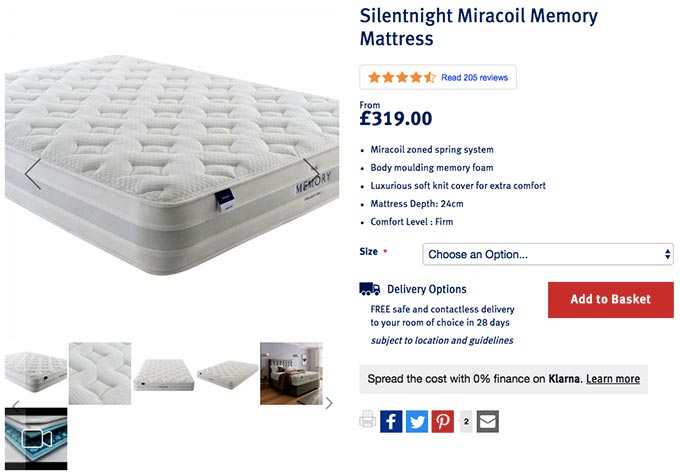 Earlier on in the article, we've talked about pressure points and how they are bad for your quality of sleep and your overall health, in general. Well, soft mattresses are going to give you just that - painful and annoying pressure points. That's simply because softer beds tend to sag and sink down much more than firmer ones.
Some of the best Silentnight mattresses UK can actually prevent that from happening - I'm talking about the bouncy and medium-firm Miracoil Memory beds.
These products are a great compromise between those customer Silentnight mattress reviews that talk about wanting a firm bed, and others who prefer softer alternatives. The medium levels of firmness are like the golden middle - on top of that, you also get a relatively-bouncy product, too!
Isolates Motion Quite Well (Memory Foam Mattresses)
Motion isolation is an important part of any mattress purchase, especially if you are someone who sleeps with a partner (or are eventually planning to do so).
Any Silentnight mattress reviews will tell you that a bed that fails to isolate motion to either side of itself is going to cause a lot of unwanted troubles. How is that, you may wonder? It's quite simple, really - such mattresses will allow you to feel every single movement that your partner makes throughout the night.
Ya - not exactly a recipe for a good night's worth of sleep, now is it?

Well, if you were planning to check out the best Silentnight mattresses UK, then I've got some good news for you - customer Silentnight mattress reviews agree that the foam variant of the bed in question is one that will absorb motion transfer quite well.
Naturally, it does also depend on just how sensitive you are - if you're woken up at night from the slightest gust of wind outside the window, or minor movement on your bed, then ya - the foam mattresses offered by Silentnight might not be of much help.
Anyone else, however, can rest assured - the beds do provide decent motion isolation.
Silentnight Mattress Reviews: CONS
Now that we've covered some of the most notable benefits of both types of the Silentnight beds, we're also going to check out some of the more negative customer Silentnight mattress reviews, and see what are the main issues that customers have with these products.
While there's a lot of research and studies concerning the topic of sleep (some are, admittedly, more interesting than others[2]), there isn't any type of research that would tell you whether or not Silentnight's products are going to suit you. This is why your only option is to trust customer Silentnight mattress reviews - do take everything with a grain of salt, though!
Not the Most Durable Beds on the Market (Both Mattresses)
One of the more common negative customer Silentnight mattress reviews that you'll likely come across online has to do with the durability aspect of the mattresses in question. This is true for both beds - the spring-based one, and the foam mattress.
Customers report that the products aren't very durable, and aren't going to be for anyone who likes longevity and high-quality materials. Now, it's worth noting that the beds aren't actually going to fall down upon arriving - that's nonsensical. Still, when compared to some industry leaders, these mattresses do fall short in this regard.
That being the case, however, the prices of even the best Silentnight mattresses UK are nothing like those that you would pay for those some high-end beds from top-rated brands, too - it's basically a trade-off.
May Become Noisy with Time (Spring Mattresses)
While spring-based mattresses are awesome for a variety of different reasons, they do have their shortcomings, too. One of the more well-known of these shortcomings would have to do with the fact that spring beds tend to become noisy.
Sometimes, very noisy.

Now, "very" perhaps isn't the term that is adequate to be used when it comes to Silentnight. Still, some customer Silentnight mattress reviews do mention that the innerspring variants that the company has in stock can, in fact, cause some noisiness.
For some people, this might not be too much of an issue. If you're a light sleeper and get woken up easily, or if you're planning to do more things on your bed than just sleep, this can, in fact, hinder your experience with the coil beds.
Sleep Warm (Memory Foam Mattresses)
As far as customer issues with the Silentnight mattresses go, this one has to be the most annoying and frustrating of the lot.
Sleeping hot is a very uncomfortable experience. No matter how you look at it, temperature neutrality is always going to be one of the core aspects in regards to getting high-quality, undisturbed sleep.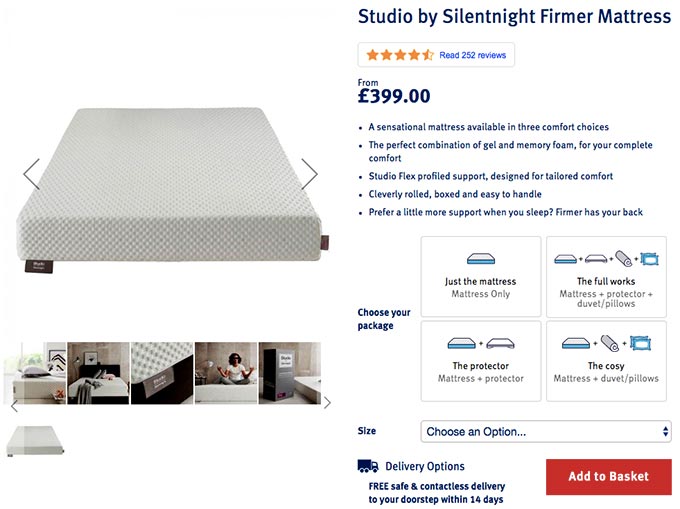 It is also true, however, that foam beds aren't known for their exceptional breathability. This is the case with many top-tier foam mattresses - naturally, it's also going to be true with other products of this type, too.
Customer Silentnight mattress reviews do note that the memory foam beds that the company sells can become increasingly warm with time, as you sleep on them. There's not really a way to beat around the bush here, not that it should be done, in the first place - if you're a hot sleeper, by default, or if you simply cannot stand heat whilst sleeping, the foam Silentnight beds aren't going to be ideal for you.
Price
To finish off this review of Silentnight, let's discuss the pricing options of both of the mattress models in question.
The pricing options for the Studio memory foam mattress are:
The prices of the Miracoil Memory spring-based mattress are:
If there's one thing that's quite evident here, it's that the pricing options for some of the best Silentnight mattresses are truly amazing! The products in question are surely some of the most affordable beds on the UK market, at least when it comes to the "price VS quality" ratio.
Silentnight also offers its customers a 60-night sleep trial. While that's a bit on the low end, it's worth mentioning that some high-end mattress companies do also offer as low as 60 nights worth of trial to their customers - keeping that in mind, that's not all that bad!
Here is The Best Saatva Offer I Found:
UP TO $500 OFF
Limited-time Saatva Sale
We're sharing a limited-time Saatva mattress discount with our readers! Grab this deal & enjoy your new mattress with huge discounts.
Expiration date: 29/09/2023
4,042 People Used
Only 83 Left
Conclusions
So - would I recommend purchasing and trying out either of the Silentnight mattresses?
For the most part, I would.
Undoubtedly, Silentnight is one of the most well-known and appreciated mattress brands in the UK. A huge part of the reason for why that's the case is simply because this company provides its customers with some affordable, decent-quality beds.
Believe it or not, but that's actually quite rare! It's usually a "one of the two" type of a deal - either you get a very inexpensive bed that's also of some very questionable quality, or a top-tier mattress that is quite costly.
It would appear that Silentnight has managed to find a pretty good middle-ground.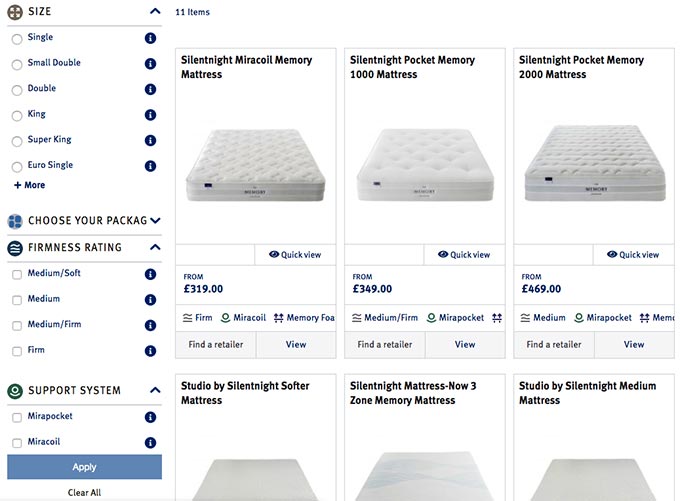 It's true that both of the mattresses in question aren't going to perform miracles for your sleep. The spring bed can get noisy, while the foam option sleeps rather warm - also, bot mattresses aren't "at the top" in regards to their durability aspects, either.
Still, that being said, if you live in the UK, and are in need of a decent, mostly-reliable mattress, you won't really go wrong with Silentnight.
If, however, you think that this company isn't for you, and all of the customer Silentnight mattress reviews haven't convinced you to try the beds out, you might want to take a look at some of the mattress industry leaders, overall. Perhaps your ideal bed is waiting for you there?
All in all, I thank you for reading this article, and hope that it helped you make up your mind concerning Silentnight. Best of luck in finding the best mattress for yourself, and until next time!
Scientific References
1. Barbosa RRB, Liberato FMG, de Freitas Coelho P, et al.: 'Sleep-disordered breathing and markers of morbidity in children and adolescents with cystic fibrosis.'
2. de Jong JC, Maroda AJ, Camacho M, Chen PG: 'The Impact of Playing a Musical Instrument on Obstructive Sleep Apnea: A Systematic Review.'
Leave your honest Silentnight review
Leave your genuine opinion & help thousands of people to choose the best mattress. All reviews, either positive or negative, are accepted as long as they're honest. We do not publish biased reviews or spam. So if you want to share your experience, opinion or give advice - the scene is yours!