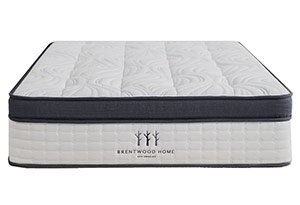 Brentwood Home was founded more than 30 years ago. The company manufactures luxurious mattresses that are made of healthy materials that meet the Golden State standards.
At first, the company was selling mattresses through retailers, however, due to the high markup, in 2012 they decided to sell mattresses online and ship them straight to your doorstep. This way they can offer not only better prices but also a much more pleasurable shopping experience.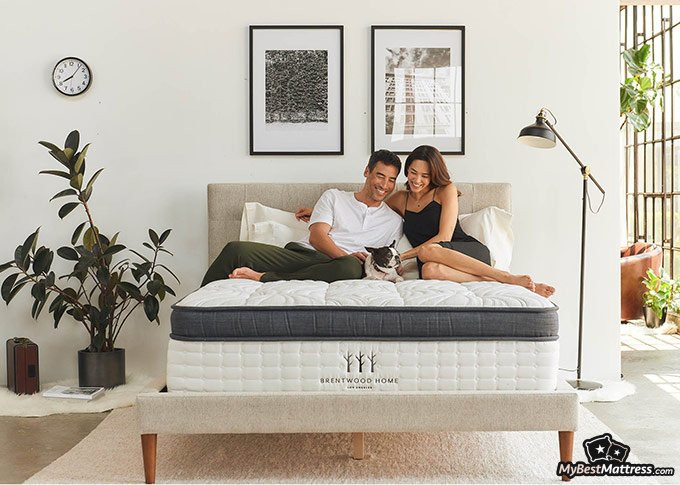 Brentwood Home offers multiple mattresses to choose from, each of them is uniquely built. In this Brentwood Home mattress review, I will shortly introduce you to each of the company's mattresses, however, I will take a closer look at their best-selling luxury hybrid mattress, including its pros and cons, pricing, and additional details.
Without further ado, let's move into the Brentwood Home mattress reviews.
Verdict at a Glance
Brentwood Home Oceana is a luxurious hybrid mattress that's designed using high-quality certified materials. The mattress is made of very breathable materials, it's bouncy and responsive, offers strong edge support as well as manage to isolate a motion transfer to a significant extent. On the other hand, some sleepers might lack pressure relief properties.
Pros
Exceptional breathability
Hybrid construction
Minimal motion transfer
Good bounciness and responsiveness
Cons
Some noise
Might lack pressure relief
Brentwood Home Mattress Reviews: Introduction to Different Models
At the moment, Brentwood Home offers 5 different models to choose from. Each of them comes with different structures and qualities as well as can be suitable for different wants and needs (no matter if you're looking for an eco-friendly alternative or an affordable bed). Before jumping straight into Brentwood Home mattress reviews, I would like to introduce you to each of them shortly: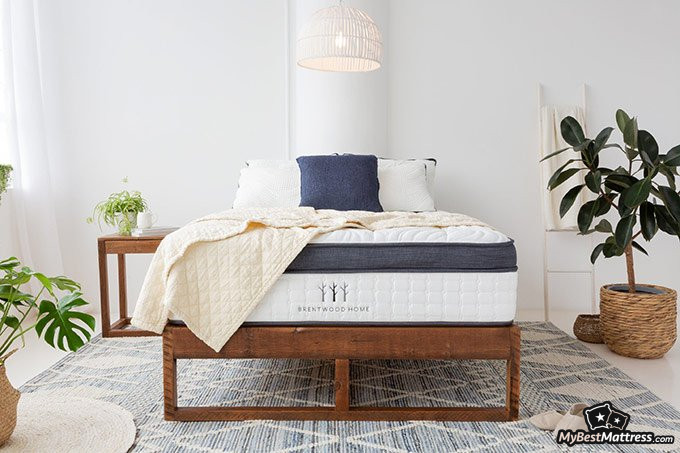 As you can see, Brentwood Home offers some really amazing mattresses to pick from. However, as I already mentioned previously in this Brentwood Home mattress review, I will further focus on the Oceano luxury hybrid mattress.
Brentwood Home Mattress Reviews: PROS
As always, this review should be started with the positive aspects. You'll be happy to know that Brentwood Oceano mattress comes with some really exceptional properties.
Made of High-Quality Materials
The first thing that should be mentioned in Brentwood Home mattress reviews is the Oceano mattress reviews and quality of the materials.
The Oceano is a high-profile (14.5" thick), medium-firm (6) hybrid mattress that's designed using top-tier quality certified materials. Let's take a look at the mattress structure:
Plant-Based Tencel™ Blended Fabric Cover. The fabric is sustainably produced, it provides you with breathability and moisture-absorbing abilities.
GOTS Organic Certified Wool. This material is breathable and has moisture-wicking abilities, so you shouldn't be sleeping too warm.
5-Zone Support Core. Support coils ensure that you get an optimal amount of support, especially in shoulders, back and hips.
Responsive Micro-Support Coils. Up to 1722 coils ensure that you get not only comfort but also responsiveness, which is a quality that's needed for couples.
CertiPUR-US® certified memory foam with Plant-Based BioFoam®. Memory foam manages to conform closely to your body and alleviate pressure points.
Luxurious natural poly-silk fiber. The natural silk fiber is very breathable and ensures that mattress wouldn't trap heat.
Air Luxe foam. It provides even more comfort and pressure point relief. What is more, this foam doesn't trap heat.
Pocketed coils. 8" of pocketed coils provides exceptional breathability, bounciness as well as responsiveness.
Premium base support foam. Certified high-density support foam that ensures stability.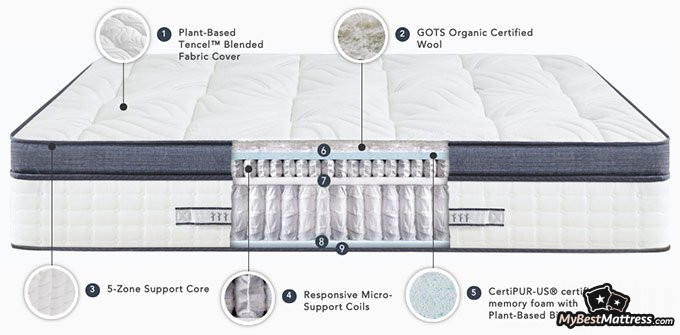 Since the Bretwood Oceano mattress is made of high-quality materials, it should serve you longer than an average hybrid bed. According to Brentwood Home mattress reviews, the Oceano should maintain its initial condition for at least 7 years.
Exceptional Breathability
You probably know that thermoregulation properties are needed if you want to experience high-quality sleep. Too warm and too cold temperatures can lead to sleep disturbances that might affect the health and well-being of many individuals.
According to Brentwood Home mattress reviews, the Oceano mattress works really well at temperature regulation. The organic wool is naturally breathable and manages to wick away moisture while pocketed coils promote airflow and can cool off your body.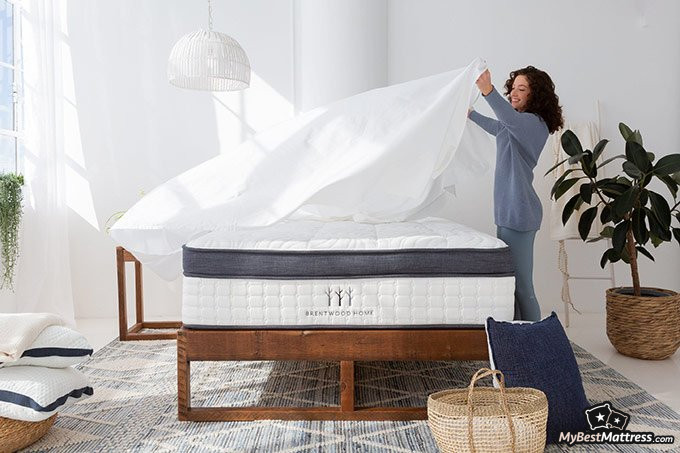 In general, hybrid mattresses work well when it comes to thermoregulating properties. Foam mattresses, on the other hand, usually trap heat and sleep too warm. That being said, if you prefer lower sleep temperatures, you should avoid this option.
Strong Edge Support
Mattresses with soft edges can be really uncomfortable to sleep on. Not only because they do not allow you to take advantage of the entire mattress surface but also because when sleeping on such a mattress you can accidentally fall out of the bed in the middle of the night.
The good part is that most of the Brentwood Home mattress reviews evaluated the Oceano mattress edge support really well. The majority of them claim that sleeping on the sides of the mattress is just as comfortable as in the middle. This has to do with the fact that the support core is zoned with lower-gauge coils along the perimeter, making it firmer and more supportive.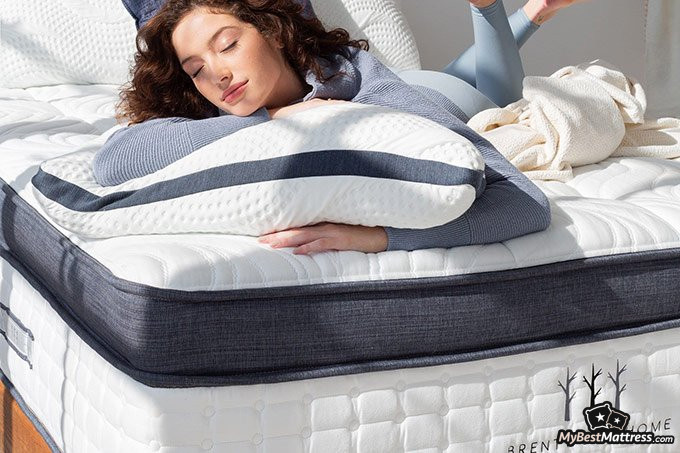 If you're looking for a mattress with strong edge support, it's recommended to choose either innerspring or hybrid beds. Since foam mattresses do not have edge support systems, they're usually saggier towards the sides.
Good Bounciness and Responsiveness
If you're looking for a mattress that would help to improve your sex life, there are a few aspects that you should take into consideration. The most important ones are bounciness and responsiveness.
When a mattress is bouncy, it doesn't allow you to sink too deep but instead provides you with additional bounce back that helps to create a consistent rhythm and make the entire process so much more enjoyable.
What is more, responsive mattresses manage to adjust to different positions quickly and provide a stable surface for your body. Unresponsive mattresses, on the other hand, respond really slowly and make you feel as if being trapped. They require more effort when you want to change a position.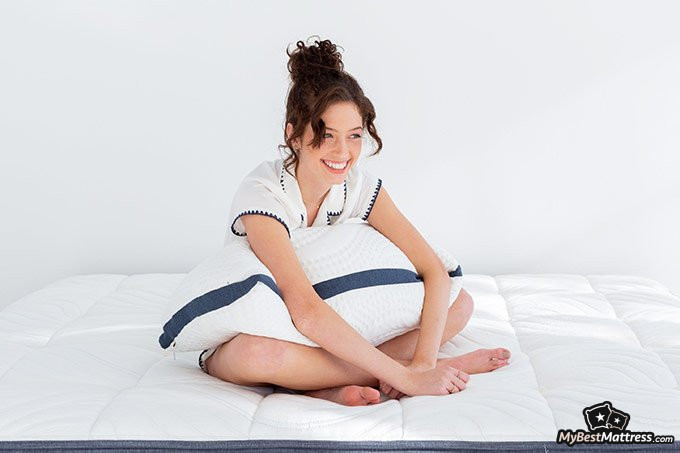 Multiple Brentwood mattress reviews claim that the Oceano provides a good amount of bounciness and responsiveness for couples. What is more, since the mattress is relatively quiet compare to some other bouncy mattresses, it will allow you to enjoy the quality time with your partner without worrying about your neighbors.

Did you know?
Absorbs the Motion Transfer
The good part about hybrid mattresses is that they manage to connect the best properties of memory foam and innerspring mattresses. That being said, The Oceano mattress is not only bouncy and responsive as innerspring mattresses but also manages to isolate a motion transfer to a significant extent.
Motion isolation is not as important to single sleepers as it is to couples. If you have a partner who keeps tossing and turning throughout the night and transfers all the motion to your side of the bed, it can negatively affect the quality of your sleep.
The studies that were focused on motion transfer and sleep founded that when people are feeling constant movement throughout the night, they experience less deep sleep that is crucial for all the restorative functions that are happening in our bodies.
Brentwood Home Mattress Reviews: CONS
Since all the positive aspects of Brentwood Home mattress reviews are already discussed, it's time to look at the Oceano mattress negatives.
Lacks Some Pressure Relieving Properties
Pressure points are the painful spots in your body that build up when a mattress is unable to distribute your body weight throughout the entire surface evenly. In most cases, people are feeling pressure points in their back, shoulders and hips.
In most cases, memory foam mattresses tend to provide the best pressure-relieving properties, whereas innerspring mattresses are the least capable.
The Oceano mattress may not perform as good as some top-tier memory foam mattresses, however, it still works relatively well. Based on Brentwood Home mattress reviews, the mattress manages to alleviate a fair amount of pressure for light- and average-weight sleepers, however, heavier sleepers might lack this property.
Some Noise
Noise is usually associated with old mattresses that have coils in their construction. However, some new mattresses can produce a fair amount of noise as well. Even though the Oceano mattress is designed using pocketed coils, which are quieter than other mattress coil types, some Brentwood Home mattress reviews were complaining about it.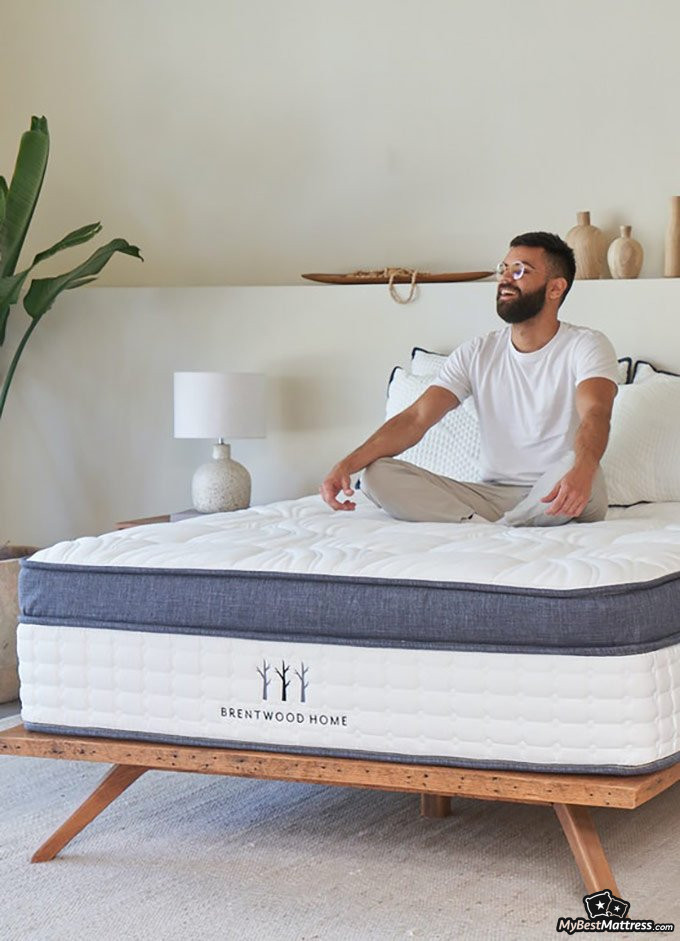 If you're looking for a completely noiseless mattress, you should consider memory foam beds. In most cases, they do not produce any noise when bearing weight.
Pricing and Additional Details
I already covered the most important aspects that reveal how good Brentwood Home mattress performs, however, there are still a few additional aspects that should be mentioned in Brentwood Home mattress reviews, including pricing, shipping information, and other details.
What are the Oceano Mattress Prices?
Some Brentwood Home mattress reviews say that Oceano mattress is pretty expensive, however, you should take a look at the prices for yourself:
Note. The prices are an object of change, so by the time you'll be reading this Brentwood Home mattress review, they might be slightly different. You should visit the Brentwood Home official site to find the most up-to-date information.
It's fair to say that the Ocean mattress prices are higher than average, however, since it's made of high-quality materials and comes with so many great features, costumers claim that it's completely worth it.
If you're looking for a more affordable mattress, you should check out Brentwood Home Cypress mattress reviews. It's the most affordable memory foam mattress offered by the company. Brentwood Home Cypress mattress reviews evaluate it really well compared to other inexpensive alternatives.
Now, if you're not sure whether Brentwood Oceano or any other mattress is suitable for you, you can take advantage of the company's 1-year sleep trial. This means that you get 365 nights to sleep on the mattress before deciding if it's suitable for you. The shipping and returns won't cost you officially.
The only drawback regarding sleep trial that Brentwood Home mattress reviews distinguish is that you have to sleep on it for at least 30 days because it takes time to get used to it.
What is more, all Brentwood Home mattresses come with a 10-year manufacturing warranty, which covers all the manufacturing defects. That being said, it's completely risk-free.
Now that all the information regarding Brentwood Home Oceano mattress is clear, it's time to jump into conclusions.
Conclusions
Therefore, Brentwood Home offers five exceptional mattresses that each is designed for different needs. The company's best-selling model is the Oceano luxury hybrid mattress that's made of top-tier certified materials.
The sleepers prefer Brentwood Home Oceano mattress because it's really breathable, provides an optimal amount of support as well as bounciness and responsiveness. What is more, it manages to isolate the motion transfer to a significant extent.
However, it might produce some noise when bearing weight and can lack pressure-relieving properties for heavier-weight sleepers.
Since the Oceano mattress is one the pricier side, you might want to check out other recommended alternatives. If so, take a look at the list of the beds that offer the best price-quality ratio!
Leave your honest Brentwood Home review
Leave your genuine opinion & help thousands of people to choose the best mattress. All reviews, either positive or negative, are accepted as long as they're honest. We do not publish biased reviews or spam. So if you want to share your experience, opinion or give advice - the scene is yours!