While the majority of sleepers are looking for the best cheap mattress, some people are searching for durability and the best quality without concentrating on the price. This list is created for those people who can allow themselves to choose the best luxury mattress without worrying about the money.
So, note that the price factor is unimportant in this review, I will only pay attention to the aspects that can benefit your sleep.
Here's the best luxury mattress list that I will go through today:
Best Luxury Mattress - Top 7 Beds for Good Life
In this list, you will find the very best luxury mattresses of 2019.
Ranks #1 out of 7 Mattresses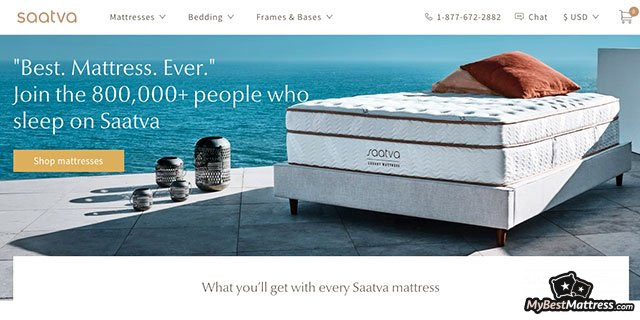 Things we liked:
+ Very bouncy and reponsive
+ Cool (temperature AND visual-wise)
+ Top-tier edge support
+ Handcrafted in the US from ECO materials
Things we didn't like:
Saatva is the first mattress that comes in mind thinking about the best luxury mattresses. It's one out of a few beds that don't come packed in a box. Saatva offers two luxury mattresses, one of them is the original Saatva and the other one is created especially for heavy people - Saatva HD.
Both of them are innerspring mattresses, which provide you with luxurious support. The Saatva offers three options you can choose from: medium soft (4), medium-firm (6) and firm (7.5). Since the Saatva HD is designed for heavier people, it offers only the firm (7) option.
There's a reason why Saatva is focusing on firmer alternatives. Based on the study on the effect of different mattress designs[1], beds that are subjectively identified as medium-firm are optimal for promoting sleep quality, comfort, and spinal alignment.
Both mattresses will provide you with amazing temperature neutrality due to the coil layer, so you will wake up fresh and carefree. Also, each mattress has firm edge support, which will protect you from rolling out of the bed during the worst nightmares.
Now, I have to say that Saatva isolates the motion transfer worse that the Saatva HD. However, the reason for that is that mattress is bouncy, which makes it amazing for sex. It could actually be called the best luxury mattress for sex while being the finest mattress, in general. I'm not just saying that - Saatva reviews can confirm.
The last feature I will discuss is offered by both mattresses - amazing conforming. Sleepers say that Saatva adapts to their body curves perfectly while alleviating pressure points. So, if you feel pain in your neck, back or hips, it's a sign that your mattress fails to provide you with these qualities.
Take a look at how good sleepers evaluated Saatva's ability to alleviate the pressure points:
The results are almost perrrrfect!
What is the Saatva mattress price?
Let's move to the Saatva price. Here you can see the options of Saatva price:
And here are the prices of Saatva HD mattress:
Note that such a price was offered at the time of writing this article, so, it might vary slightly (of other brands' too).
By the way, Saatva often offers special promotions and discounts regularly, so, you should take advantage of them.
Saatva Deal Active Right Now:
Cyber Monday Week
$150 OFF Any Purchase
Saatva Cyber Monday Week Sale is live! Get $150 OFF any sleep products with a value of $1000 or more. Hurry up this is limited chance to save on a new Saatva mattress.
Expiration date: 17/12/2019
9,137 People Used
Only 37 Left
As you can see, there's a major difference between the Saatva and Saatva HD pricing, but you should decide which bed will be more beneficial for your personal needs.
Ranks #2 out of 7 Mattresses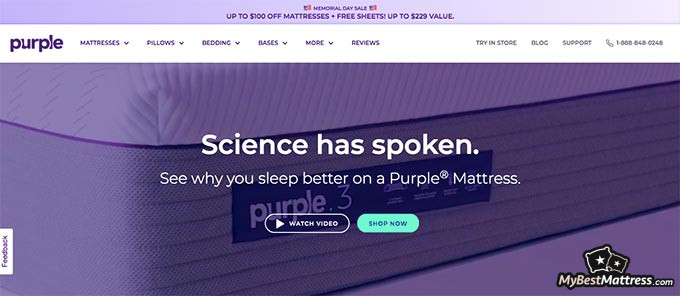 Things we liked:
+ Really good temperature neutrality
+ Firm, but not too much
+ Great motion isolation
Things we didn't like:
- Expensive
- Not the best edge support
Purple provides its customers with two mattress alternatives. The first one is the Original Purple and the second one is the New Purple. Since you came here looking for the best luxury mattress, I will only focus on the New Purple.
Just by looking into the New Purple, you can see that it's an extraordinary mattress. Purple is a hybrid bed, which uses the Smart Grid technology in the comfort zone. You can choose from three levels of thickness: 11", 12 ", and 13". Also, it's available in three firmness options: medium-soft (4.5), medium (5.5), and medium-firm (6.5). Therefore, you can find this mattress in the perfect firmness and height option for yourself.
The strongest quality of the New Purple is temperature neutrality. The manufacturers promise that it is a breathable mattress that disperses the body heat very effectively. Purple mattress reviews confirmed that to be the case.
Moving to the motion and sound isolation, I can tell you that Purple works just great. You won't hear or feel your partner moving through the night, which will have a significant impact on your efficiency the next day.
If you spend your day sitting by the computer, then you might be experiencing the neck and back pain. In this case, it's a must to consider a mattress that is capable of reducing the pain and can relieve pressure points. That's exactly how the New Purple works. It effectively adapts to your body while alleviating the pressure points.
If you're experiencing back pain and want to make the right choice, then you should be aware of the studies that were performed already. The research on the effects of mattress firmness[2] revealed that sleepers with lower-back pain had better outcomes when choosing a medium-firm mattress. That's exactly the option that Purple provides you with.
What is the New Purple Mattress Pricing?
Here you can find the prices for the New Purple mattress:
By the way, here's the special offer that you can take advantage of:
Purple Deal Active Right Now:
Free Product
With a Mattress Purchase
Use this exclusive Purple promo code to get a free product up to $129 value with a mattress purchase. Pick from free sheets, pillows, mattress protectors & more.
Expiration date: 12/12/2019
3,012 People Used
Only 88 Left
So, even if it's a luxury mattress, it still manages to maintain the average pricing.
Ranks #3 out of 7 Mattresses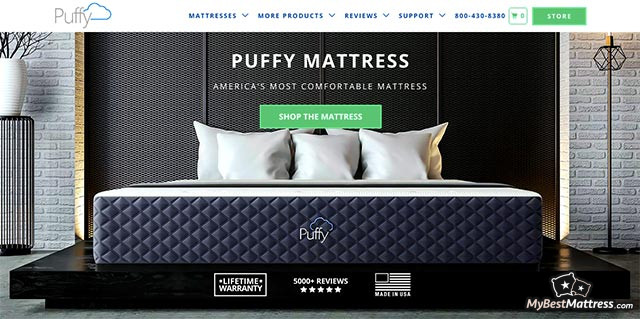 Things we liked:
+ Best for all type of sleepers
+ Lifetime warranty
+ Total spine pressure elimination
+ Highest breathability & coolness
Things we didn't like:
- Average temperature neutrality
Puffy offers two memory foam designs: the Puffy and the Puffy Lux. However, after comparing the mattress features, it became clear that Puffy Lux is so much better high-end mattress than the original version. So, let me present to you one of the best luxury mattress brands - Puffy Lux.
Puffy Lux comes in the medium firm (6) level of support, it's designed from four individual layers. The strongest sides of the Puffy mattress are motion and sound isolation, which will protect couples from waking up at night from the partner's movement.
This high-end mattress also conforms to your body closely while relieving pain and pressure, it's just what you need after a long day at work. Also, Puffy Lux provides you with a feeling of sleeping in the mattress rather than on the mattress. And, even if it's the memory foam bed, it manages to maintain natural body temperature throughout the night.
Now, since it's the memory foam mattress, it has some flaws related to its design. This mattress won't be the best option for heavier sleepers and it's not as bouncy as hybrid beds, so it may not be that great for every couple.
What is the Puffy Lux mattress price?
Now let's move to the Puffy Lux mattress price. Here are the pricing options for the Lux model:
If you're interested, check out the current Puffy mattress offer:
Puffy Deal Active Right Now:
$300 Cyber Monday Coupon
For Any Puffy Mattress
You still have a chance to enjoy amazing discounts & purchase a new Puffy mattress for less. Use this coupon & receive $300 off!
Expiration date: 16/12/2019
3,264 People Used
Only 36 Left
Yet, another mattress, which maintains perfect quality and price ratio, and gives you awesome deals.
Ranks #4 out of 7 Mattresses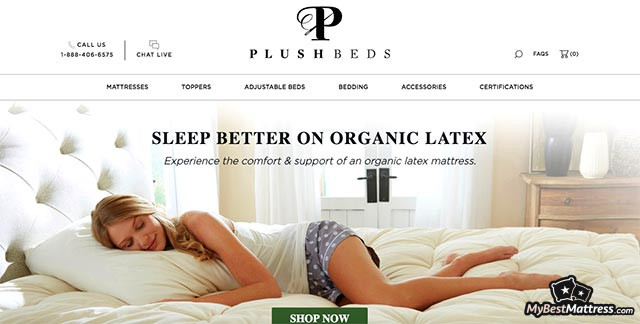 Things we liked:
+ High-Quality Materials
+ Variety of Options
+ Motion and Noise Isolation
+ Maintains Body Temperature
Things we didn't like:
- Not that Great Edge Support
- Minimal Body Contouring
PlushBeds offer the best luxurious mattresses for those who are concerned about environmental issues. You can pick from latex mattresses that are created from organic materials and certified by GOLS, GOTS, USDA, Oeko-Tex Standard 100 and GreenGuard Gold. You can choose from a few collections, including the Botanical Bliss, the Natural Bliss collection and the Luxury Bliss mattress.
The Botanical Bliss is the most popular mattress of the PlushBeds collections and should serve you at least seven years. With this mattress, you will never sleep hot, it also provides you with amazing motion and sound isolation that makes a major difference for couples. And, even if it's not the bounciest mattress, it will work great for the majority of couples.
In terms of the features, the Natural Bliss shows quite similar results to the Botanical Bliss. Since this mattress is designed from natural materials, it releases a very minimal odor. It isolates motion transfer and produces very minimal sound. What is more, this best luxury mattress is great for hot sleepers as it preserves the temperature neutrality throughout the night.
Finally, the Luxury Bliss. This mattress really surprised me. It has every feature that you could hope from the best luxury mattress. This mattress will serve you longer than many other hybrid beds. It's very quiet and produces very minimal odor. It also offers amazing conforming and great temperature neutrality. So, what could be better?
What is the PlushBeds Pricing?
The price of the Botanical Bliss collection varies from $1099 to $2898, the Natural Bliss mattress can cost from $799 to $2199, and the Luxury Bliss varies from $999 to $1799.
Ranks #5 out of 7 Mattresses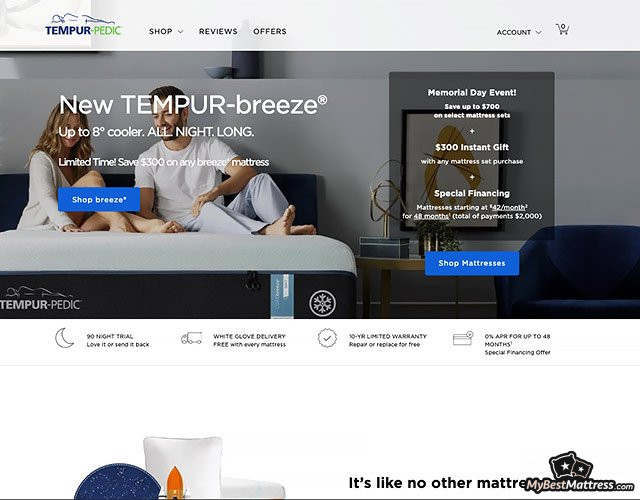 Things we liked:
+ You Can Choose From Different Firmness, Thickness and Construction Options
+ Zero-Motion and Amazing Sound Isolation
+ Very Durable (Customers Approved)
+ Great for All Sleepers
+ 90-Nights Free Sleep
Things we didn't like:
- Minimal Off-Gassing
- High-Price
- 30-Nights Break-in Period Required for Sleep Trial
Tempur-Pedic is one of the luxury mattress brands. It offers a wide variety of the high-end mattresses, including TEMPUR-Adapt, TEMPUR- ProAdapt, TEMPUR- LuxeAdapt and the TEMPUR-breeze.
TEMPUR-Adapt offers both memory foam and hybrid models in medium (5) firmness. These mattresses should serve you at least 8 years, they have SmartClimate cooling covers, so mattresses work amazing keeping the temperature neutrality through the night.
TEMPUR-ProAdapt also provides two design options: all-foam and hybrid bed. You can choose the all-foam design in three levels of firmness: soft (3), medium (5) and firm (7). And the hybrid version in medium (5) firmness. These mattresses also come with dual-layer SmartClimate cooling cover.
TEMPUR-LuxeAdapt offers memory foam mattress, which comes in three levels of firmness: soft (3) and firm (7). It's designed from memory-foam, high-density poly-foam and of course has a dual-layer SmartClimate cooling cover.
And the last mattress, which deserves to be called the best luxury mattress is TEMPUR-Breeze. It provides you with two choices: TEMPUR-PRObreeze and TEMPUR-LUXEbreeze. The first version comes in medium (5) firmness and the second one in soft (3) and firm (7) settings.
I have to say that each of these beds is worthy to be named the best luxury mattress.
What is Tempur-Pedic Price?
I have to say that Tempur-Pedic mattresses are one of the most expensive ones I've ever seen. TEMPUR-ProAdapt price varies from $2399 to $4798, TEMPUR-LuxeAdapt ranges from $3,199 to $6,398, TEMPUR-Adapt pricing is from $1599 to $3198. TEMPUR-Breeze PRObreeze cost varies from $2999 to $5998. And, the LUXEbreeze pricing ranges from$3699 to $7398.
Ranks #6 out of 7 Mattresses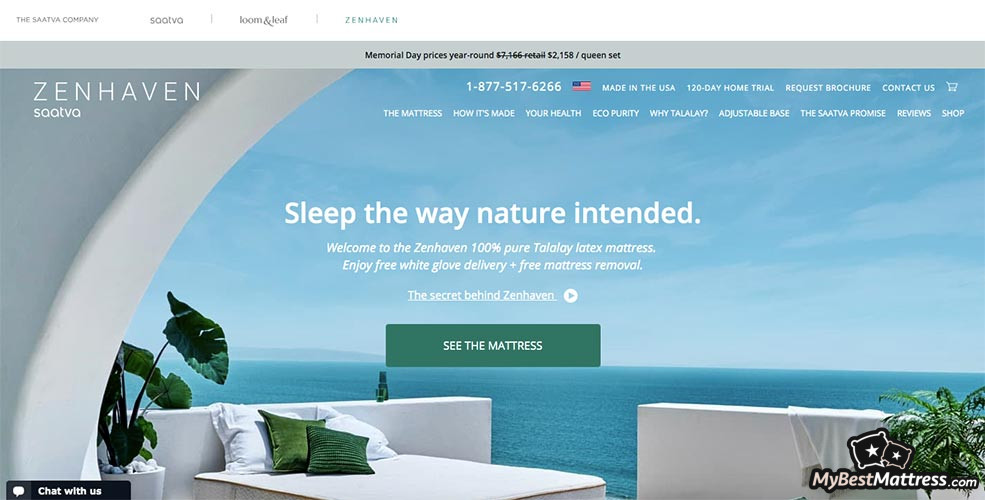 Things we liked:
+ Multiple firmness options
+ No noise
+ Good movement isolation
Things we didn't like:
Zenhaven provides you with a luxury mattress design, which offers two levels of firmness in one bed: luxury plush (4) and gentle firm (7). It's a latex mattress, which has the dual comfort layers constructed from Talalay latex.
The strongest feature of Zenhaven is conforming. According to the luxury mattress reviews, it adapts to the body perfectly and targets your pressure points. So, it's a perfect way to relax after a long day at work.
Zenhaven also deserves to be called the best luxury mattress because it produces almost none sound and absorbs the motion to a significant extent. These two features are crucial for couples as they can sleep without being interrupted by one another.
The majority of Zenhaven owners report that the mattress sleeps relatively cool, so if you're a hot sleeper, there's nothing to be concerned about. Also, the firm side of the mattress is quite responsive to pressure, and the bed is perfectly bouncy for sexual activities.
What is the Zenhaven mattress price?
Let's move to another important aspect - Zenhaven price. Zenhaven pricing options are here:
Considering the fact that this mattress offers amazing conforming and pressure relief, it's worth every penny.
Ranks #7 out of 7 Mattresses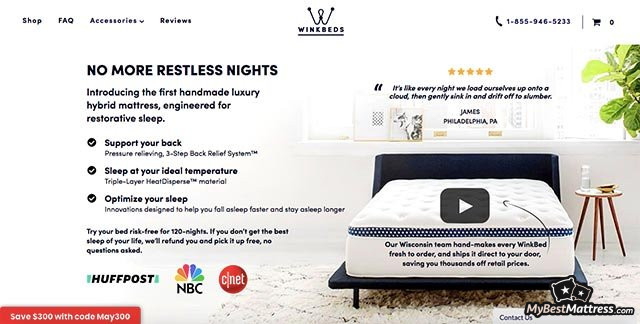 Things we liked:
+ Good noise and motion isolation
+ Bouncy
+ Great temperature neutrality
+ No off-gassing
Things we didn't like:
- 30-day break-in period
- Relatively new company
WinkBeds is one of the best-known luxury mattress brands. It provides two mattress designs: innerspring and memory foam. The first design offers three levels of firmness: soft (4.5), luxury firm (6.5) and firm (7.5). And the second option only firm (7) option as it's created specifically for people who weight more than 300 pounds.
Luxury mattress reviews revealed that sleepers were pleased with both of the options. Of course, the WinkBed Plus wasn't as comfortable for light sleepers because of the firmness. But, based on the sleepers reviews I can say that the mattress is perfect for heavyweight side and back sleepers.
Now, let's take a look into each of the mattresses separately. As it is one of the best luxury mattresses, the WinkBed will serve you more than average hybrid or innerspring mattress. Also, luxury mattress reviews showed that there was very minimal off-gassing, which evaporated very quickly.
This mattress will offer a good motion and sound isolation, of course, not as good as the memory foam mattresses do. However, it has something better - bounciness, which will serve greatly for your sexual activities. And, of course, edge support that comes with the luxury mattresses.
The WinkBed PLUS offers almost the same features as the original WInkBed, the only difference is that it produces more sound, less bounciness and sleeps warmer than the innerspring mattress.
What is the WinkBeds mattress price?
Here's the list of prices and available options that you'll find on Winkbeds:
As you can see, the pricing is not that high for a luxury mattress.
Conclusions
Therefore, my recommendations are clear -Saatva, New Purple, and Puffy Lux. All these beds are super durable, conforming, offer temperature regulation qualities, bounciness, edge support, and, of course, alleviate the pressure points.
I hope that you found in this article everything that you have been looking for. Now you have more than seven options of the best luxury mattresses to pick from. So, choose wisely!
1. Radwan A, Fess P, James D, et al.: 'Effect of different mattress designs on promoting sleep quality, pain reduction, and spinal alignment in adults with or without back pain; systematic review of controlled trials.'
2. Francisco M Kovacs, Víctor Abraira, Andrés Peña, et al.: 'Effect of firmness of mattress on chronic non-specific low-back pain: randomised, double-blind, controlled, multicentre trial'
Leave your honest Best Luxury Mattress review
Leave your genuine opinion & help thousands of people to choose the best mattress. All reviews, either positive or negative, are accepted as long as they're honest. We do not publish biased reviews or spam. So if you want to share your experience, opinion or give advice - the scene is yours!