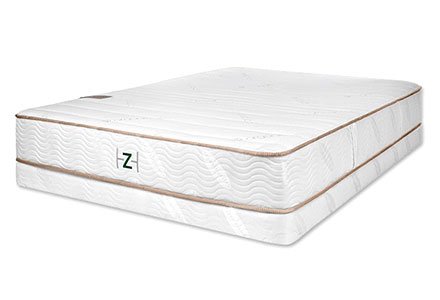 Finding a mattress that would serve you for years to come is no easy feat. Just as there are many different mattress providers out there, there are also different types of mattresses - it can get really confusing! That's why today, we'll be talking about some of the most notable Zenhaven mattress reviews.
Zenhaven is somewhat of a rare type of a mattress, since it's made out of latex (as opposed to the popular designs such as memory foam or innerspring-based ones). We'll get into the pros and the Zenhaven mattress complaints, and then talk about the price.
In the end, I'll give you a quick summary and tell you whether or not I think the Zenhaven reviews were right.
TL;DR: Zenhaven mattress reviews are almost all universally praising the mattress - and with good reason, too! Zenhaven is a luxury, latex-based mattress provider - the product is well-made, sturdy and is not noisy at all. While the edge support might be non-existent, Zenhaven makes it up by providing great motion isolation.
Pros
Multiple firmness options
No noise
Good movement isolation
Zenhaven Mattress Reviews: PROS
To start off on a positive note, let's look at the Zenhaven mattress reviews that have some pretty good things to say about the product. If these reviews were put into a table, they would look a little something like this:
Table: Zenhaven mattress features and benefits
Now, let's elaborate on some of those points.
Not a Sound
Noise reduction is often going to be the first thing that you'll notice while reading through a lot of the Zenhaven reviews. The vast majority of people who have purchased the mattress claim that it is practically completely silent.
As I've mentioned in the introductory part of this review, Zenhaven is made out of latex. Keep this in mind, since it's a factor that's going to come up quite often in the chapters ahead.
It would seem as if a lot of the people who are writing the positive Zenhaven mattress reviews and emphasizing the noise factor of the product have never come across a latex mattress before Zenhaven. And that's actually great - that's how you know that these are actually genuine reactions, and that people are really surprised with the product!
My point is that a lot of people that are changing their mattresses tend to have old, innerspring products that sound like a thousand screeching cats once you sit on them. Since latex mattresses are somewhat rare (at least when it comes to good ones), you may not really know what to expect from them. And, well… Noise elimination is one of the more notable features.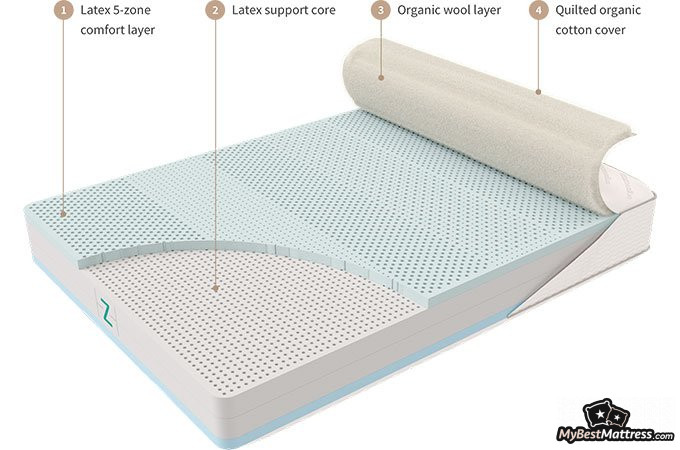 If we were to fully trust the Zenhaven mattress reviews, you could be laying, twisting and turning, jumping and rolling on the mattress - thanks to its design, there should be little to no actual sound coming from it. That's a great start!
Latest Saatva Coupon Found:
UP TO $500 OFF
Limited-time Saatva Sale
We're sharing a limited-time Saatva mattress discount with our readers! Grab this deal & enjoy your new mattress with huge discounts.
Expiration date: 29/09/2023
4,042 People Used
Only 83 Left
You Won't Feel a Thing
OK, admittedly, that subtitle might have sounded better in my head… Just to be clear, we'll be talking about motion isolation next.
Remember when I said that the "latex" factor is going to make a frequent appearance in Zenhaven mattress reviews? Well, it is definitely one of the main contributors to the fact that Zenhaven has great motion isolation.
Why does one need motion isolation, you might ask? A few notable reasons, actually.
First of all, people who sleep in pairs (or more) are going to be ones that appreciate this feature the most. You see, even though it might be difficult to wake yourself up by tossing and turning around at night, it becomes that much easier when it's your partner doing the movement.
With Zenhaven, you shouldn't run into such problems, though - because of its latex design, it conforms around your body and even though you were to twist around, a person lying next to you wouldn't even notice it.

Even when you're sleeping alone, there's always the possibility to get woken up by your own movements. Happened to me a few times, actually - it's the strangest thing! You wake up, feeling as if you've just run a marathon, but you have no idea why the heck your mind decided to wake you in the first place.
A lot of the times, it's because of excessive movement[1].
Well, if we were to trust the Zenhaven reviews, then it's a problem you shouldn't find yourself in if you purchase this mattress.

Did you know?
Best for Back Sleepers
People sleep in very different positions throughout the night - that's a pretty well-known fact. Mattress providers know this better than anyone else - that's why they tend to shape their products in accordance to the most popular and most commonly-encountered sleeping positions.
There are quite a few different types of sleepers, but the most common three that you're bound to encounter or hear about are back, side, and stomach ones. All of these types require somewhat different conditions in order to get a good night's sleep.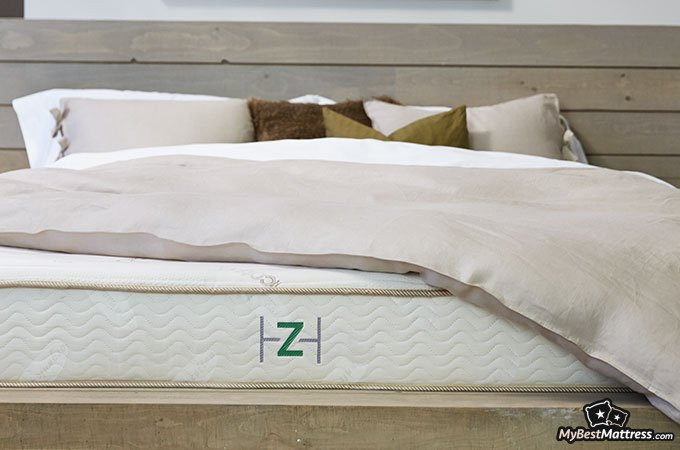 Zenhaven mattress reviews make it pretty clear - the mattress is best suited for back sleepers. Furthermore, people who like to sleep on their back or side will often develop some painful spots[2] on their body - these spots are usually in the areas which receive the most pressure throughout the night, i.e. neck, back, shoulders, etc.
Zenhaven offers a cure for that.
While this feature is most commonly associated with memory foam mattresses, latex seems to work just fine, too - sleeping on the Zenhaven mattress, you should be able to cure all of those painful spots in a short period of time.
But wait - there's more.
There are a lot of Zenhaven mattress reviews that talk about the mattress being very comfortable for side and stomach sleepers, too.

But Aaron, you said that different types of sleepers need different types of mattresses! LIAR!
Hold up - before you crucify me on a shabby-looking mattress, let me tell you why this might be the case.
You see, Zenhaven is a flippable mattress - both sides of the product offer different firmness levels. This means that back and side sleepers will be able to sleep on a bit of a softer surface if they so wish to, while stomach sleepers will have access to a firmer surface - all in one mattress!
Table: Zenhaven pressure point alleviation
This is actually one of the most notable features that Zenhaven mattress reviews talk about. It ain't easy to please all of the different types of sleepers simultaneously - there are only a few mattresses in the market that are able to do so, and Zenhaven is one of them.
A Surprisingly Good Mattress for Sex
Yes, it is, indeed, surprising - let me explain why that's the case.
Latex mattresses share a lot of similarities with all-foam products. There are places where latex is superior, and vice versa. However, in most cases, the factor of responsiveness is the same - both types of mattresses tend to offer none.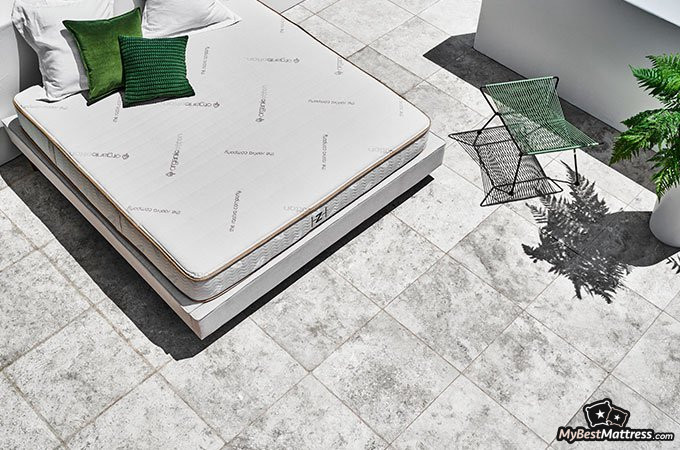 However, as you might have guessed from the subtitle, Zenhaven mattress reviews would beg to differ.
You see, this is where the whole "flippable mattress" thing comes back in. Since one side of the mattress is quite firmer than the other, it does actually make Zenhaven a decent choice for sex (at least as far as bounciness and responsiveness go).
Now, truth be told, it's nowhere close to being as good as an innerspring product, but at least as far as latex mattresses are concerned, Zenhaven is likely to be at the top.
Zenhaven Mattress Reviews: CONS
Now, we've checked out all of the main points that are often talked about in Zenhaven mattress reviews. To continue on with our review, let's take a look at some of the Zenhaven complaints that people seem to have.
Spoiler alert - there aren't many.
Weak Edge Support
Admittedly, this has to be one of the most notable Zenhaven mattress complaints that surface out of the reviews.
Remember when I said that latex mattresses share a lot of similarities with all-foam ones? Well, that does also apply to the negative side of things, too. Memory foam products tend to have weak edge support mostly because there is no sturdy base to reinforce the edges, as opposed to the metal coils that innerspring mattresses possess.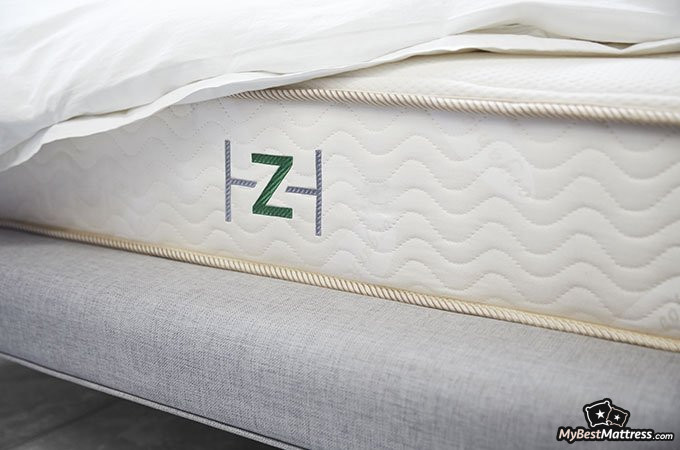 In all honesty, latex mattresses are even worse.
Because of its state, latex is very bad at keeping a sturdy edge. Zenhaven mattress reviews point out that it's actually very easy to sink into the mattress near the edges of it - not really an ideal situation.
That being said, this probably won't be a problem for everyone.
You see, edge support is only important in two types of scenarios - either if you like to sleep at the edge of the mattress, or if you're keen on keeping things on it. If neither one of these scenarios describe you, then you should be set.
If this mattress doesn't quite float your boat (hehe), there are other options to pick from. Take a look at our list of the top mattress providers - you're bound to find something to your liking.
Might be Too Warm
Some Zenhaven mattress complaints reference the fact that the mattress sleeps too warm. However, this seems to be an ongoing discussion - some people claim that it's too warm, while other Zenhaven mattress reviews say the opposite.

From all of the research that I've done, it would seem to me that there isn't really a simple and concise answer. This is completely based on the person in question - by default, latex mattresses should, indeed, sleep cooler than their all-foam counterparts, but they're still far off from innerspring products in the field of temperature neutrality.
It's pretty simple, really - if you don't mind your mattress absorbing a little bit of heat, then you shouldn't yourself have any Zenhaven complaints concerning this issue. However, if you're a person who gets uncomfortable super-easy and to whom heat is their pet peeve, then Zenhaven might indeed be a bit too warm.
Price
We've talked about the Zenhaven mattress complaints, looked at the positive aspects of Zenhaven mattress reviews and discussed everything in between. All that's left to cover is the price tag that the product comes attached with.
What is the Zanhaven mattress price?
Zenhaven pricing options are, as follows:
Well, Zenhaven is definitely on the expensive side of things. Seemingly, this is where the whole "luxury mattress" part comes in once again - the prices are pretty good representatives of what you would pay for a (quote, unquote) "luxury mattress".
That being said, Zenhaven does offer customers free white glove delivery and a 120-day home trial. In addition to all of that, they'll remove your old mattress, if you want them to.

The trial is also something to keep in mind - 120 days is more than most mattress providers offer! You'll have 4 whole months to decide whether or not Zenhaven suits your expectations.
With all of that said, however, keep in mind the fact that the price tags of the Zenhaven mattress are subject to change at any given time, depending on the preferences of the provider.
Here is The Best Saatva Offer I Found:
UP TO $500 OFF
Limited-time Saatva Sale
We're sharing a limited-time Saatva mattress discount with our readers! Grab this deal & enjoy your new mattress with huge discounts.
Expiration date: 29/09/2023
4,042 People Used
Only 83 Left
Conclusions
So, now that we've reached the end of this review, we can firmly state that all of the main benefits and shortcomings of the Zenhaven mattress are quite well-known to us. Only one question is left unanswered - would I recommend Zenhaven?
I would.
Table: Zenhaven mattress review summary
Look, it's quite obvious that the company doesn't really offer cheap products - the prices are actually really high, and can make you spill your drink when you first see them.
That being said, however, Zenhaven doesn't shy away from the fact that they do, indeed, offer customers a luxury product. It's one of the rarely-encountered latex mattresses in the industry, and the fact that it's at the top of the market should give you a pretty good idea of how adamant the company is in providing good quality products.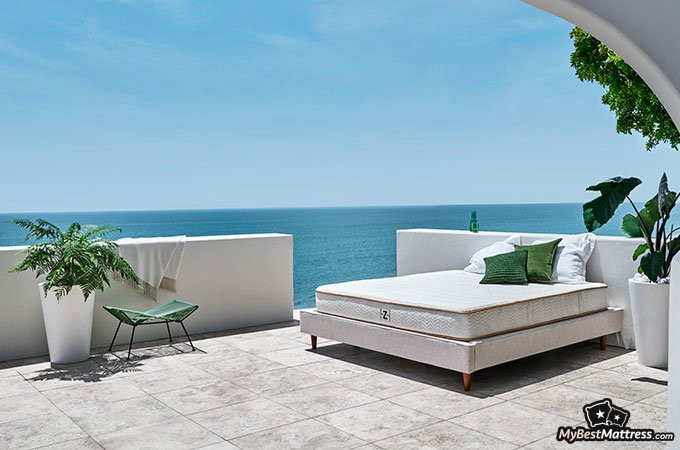 The Zenhaven mattress also has very few issues, with the lack of edge support being the only unquestionable one. It's an all-around great mattress - but is it really good for you?
Well, it depends. If you're looking for a mattress that would have great motion isolation, multiple firmness options and you don't mind paying a bit more money for it, then yes - Zenhaven is a great choice.
If, however, you're on a bit of a budget, and are actually looking for a product that would be super-bouncy and responsive, then there are definitely better options for you out there. Check out the better alternatives!
All in all, I do hope that this review has helped you in making your mind up whether or not Zenhaven is worth paying attention to. Whatever you choose, I wish you the best of luck in finding the most suitable mattress for yourself!
Scientific References
1. National Center for Chronic Disease Prevention and Health Promotion, Division of Population Health (accessed via CDC.org): 'Key Sleep Disorders'
2. Radwan A, Fess P, James D: 'Effect of different mattress designs on promoting sleep quality, pain reduction, and spinal alignment in adults with or without back pain; systematic review of controlled trials.'
Leave your honest Zenhaven review
Leave your genuine opinion & help thousands of people to choose the best mattress. All reviews, either positive or negative, are accepted as long as they're honest. We do not publish biased reviews or spam. So if you want to share your experience, opinion or give advice - the scene is yours!