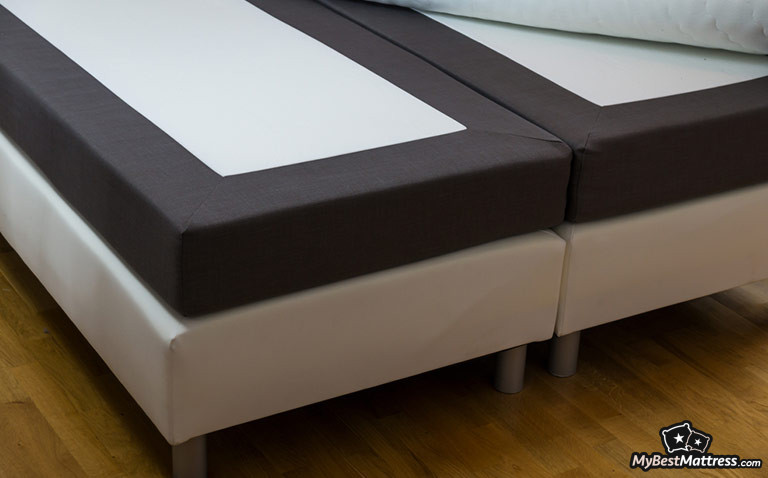 Some civilizations always sleep on the floor. Even if it comes naturally for them, it might sound unimaginable to some of us. And, since the majority of sleepers prefer the quality mattresses that are super comfortable to sleep on, there are certain things you need to know about your bed foundation.
So...
Do I need a box spring?
Is a box spring necessary?
These are some of the most common questions people ask after getting a new mattress.
I know what you're thinking. "I've already bought a mattress, why do I need a box spring?" That can be quite irritating, I fully understand. Nonetheless, after reading this article, you will understand why everyone keeps highlighting the fact that the mattress foundation is necessary.
In case you haven't got yourself a new mattress yet, I would recommend checking out the list for the most recommended innerspring mattresses in the industry. You can see how they compare with each other below.
You'll find out that there are few significant reasons for choosing a box spring, however, in case you decide that it's not for you and you want to keep your mattress on the floor, you should never go for memory foam mattresses, and instead, choose innerspring ones. They have a firmer construction, supportive edges and won't sag as quickly. The most recommended options include Saatva, WinkBeds and Helix.
Saatva Deal Active Right Now:
What is a Box Spring?
The term "box spring" doesn't say a lot about its initial meaning. Basically, a box spring is a foundation that lifts your mattress up. It usually has a wooden frame and springs or metal rods that aimed to support and lift your bed. Box springs are recommended for everyone who wants to decrease exposure to mite allergens.[1]
Just like you need a mattress to support your body, the mattress needs a box spring to ensure its longevity. In most cases, the height of the box spring is similar to the bed itself.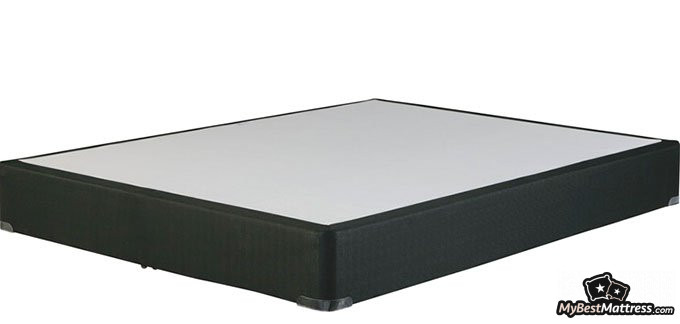 People who like minimal design do not use any additional bed frame, only box spring and the mattress. It sounds like the perfect option for those who have very little space in the room.
So, it's clear what the box spring is. However, the main question still remains - "do you need a box spring?".
Why Do You Need a Box Spring?
Let me provide you with the main benefits of the mattress foundation that will answer the question - "why do you need a box spring?".
Warranty Protection
Even though the modern mattresses don't necessarily have to be placed on the box spring, the majority of the mattress providers put it as a requirement if you want your warranty to be legitimate.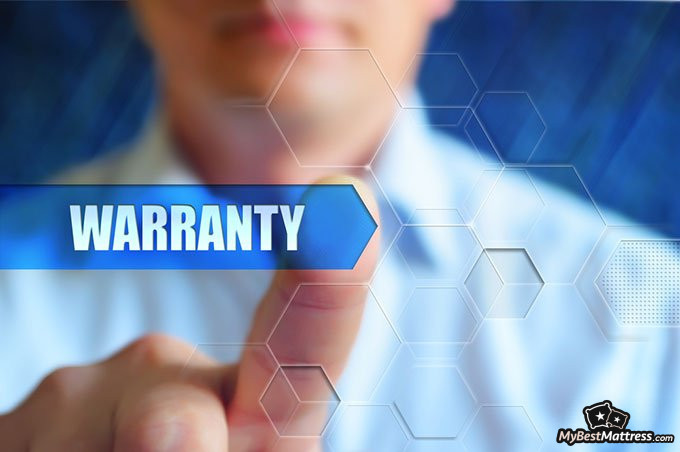 Most commonly, memory foam and latex mattress providers will ask you to use a mattress foundation. The reason for that is quite simple. Mattresses require support, and if you fail to provide that, they can deteriorate prematurely. So, the box spring will protect your mattress from sagging.
However, you should NEVER place a new mattress upon the old box springs because it can shorten the mattress lifespan and destroy any chances of warranty. And always match the mattress with a box spring.
Thus, considering the fact that, in most cases, you get at least 10 years warranty, you should make sure to meet the provider's requirements and don't ask "why do I need a box spring?" anymore. In this case, it seems like a pretty logical request.
Latest Saatva Coupon Found:
Lifts Your Mattress
Even though many people prefer to put their mattresses directly on the ground, it causes a few problems.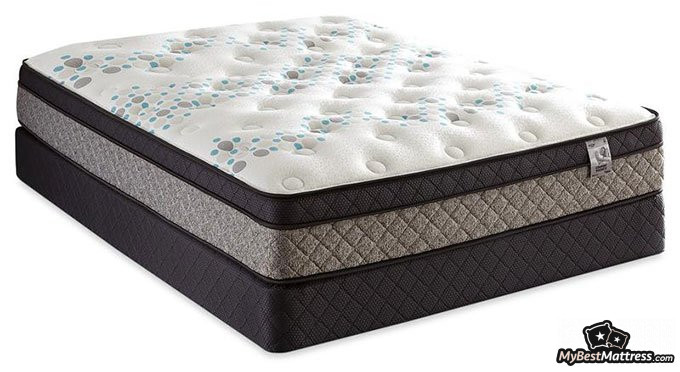 When you sleep on the ground, you inhale dust and dirt that, in the long run, can be really harmful to your health. Also, putting your mattress directly on the cold floor can easily get you sick. Thus, even if it looks attractive, your health won't be thankful.
On the same note, when you put your mattress on the ground, you don't allow it to breathe - there's simply no airflow. So, the excessive heat and sweat that your body is producing has no way to get out of the mattress and stays trapped. This way, you create favorable conditions for mold formation. Needless to say, it can cause an allergic reaction. Mold is a major factor in the asthma epidemic[2].
What is more, when your mattress is placed on the ground, it takes additional energy to get up. That's why it's not the most comfortable alternative.
Therefore, one of the main purposes of the box spring is to lift your mattress from the ground. While various opinions exist, studies show that your mattress shouldn't be laying directly on the ground.
Support
The analysis of the sleepers' reviews' showed that box spring is a perfect choice for those who suffer from back pain.
Different from sleeping on the ground, box spring will provide you with perfect support and adapt to your body curves while maintaining the healthy position of your spine.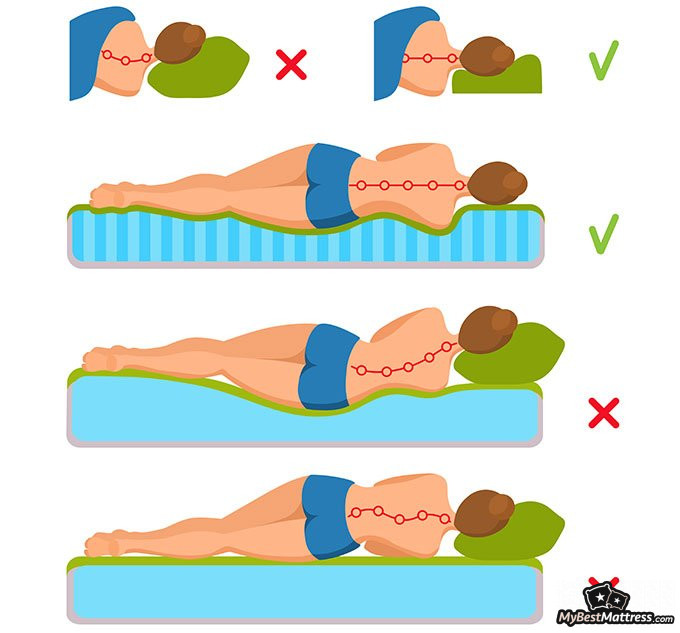 On the contrary, when you put your mattress on the ground, it will provide you with more pressure in unwanted areas. If you're a side sleeper, it's the worst decision - you will, most likely, wake up with neck and hip pain.
Therefore, if any of the previously named benefits of the box spring seem essential to you, then the answer to the question - "do you need a box spring?" is definitely YES.
Types of Box Springs
Previously, mattress manufacturers used to design only one-size box springs that stood at about 8 inches tall. However, since not all sleepers preferred such a height option, they created a low-profile box spring that's, in most cases, between 5 and 6 inches tall.
Thus, there are two types of box springs in the market today:
Traditional box springs
Low-profile box springs
Let's go through their main differences to help you decide which is the best alternative for you.
Also, make sure to take advantage of the most recent deals and get yourself a new mattress, if you haven't done that yet.
Saatva Deal Active Right Now:
Traditional Box Springs
Traditional box springs usually are about 8 inches tall, depending on the manufacturer. They're great when you buy a slim mattress and want to add additional height to your bed set. It allows you not to worry about the mattress elevation and apply the box spring of your preference.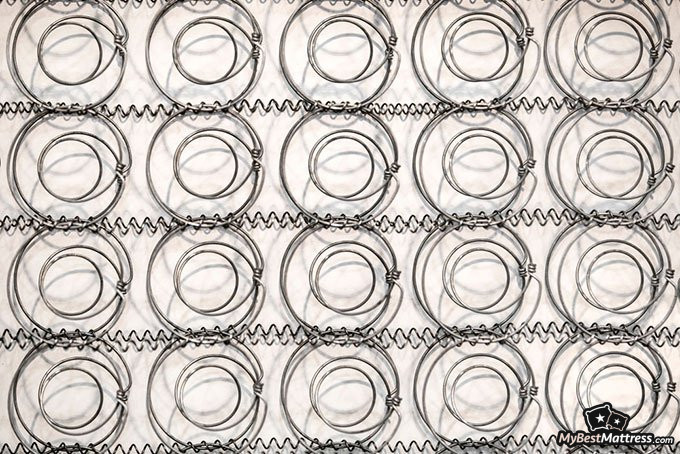 On the other hand, regular box springs are way more difficult to move. So, if you want to add height to your bed set, have a more sturdy and bouncy option, prepare to deal with additional weight.
Therefore, here are the main features that characterize the traditional box springs:
Heaver but firmer
Easy to get out of the bed
Difficult to move
Adds additional height to the bed set
So, ask yourself - "do you need a box spring that's 8 inches?". If the answer is "no", then take a look into the alternative option - low profile box spring.
Low-Profile Box Springs
Low-profile box springs are thinner and lighter than the traditional box springs. They're perfect if you already have a tall mattress and don't want to add additional height to it.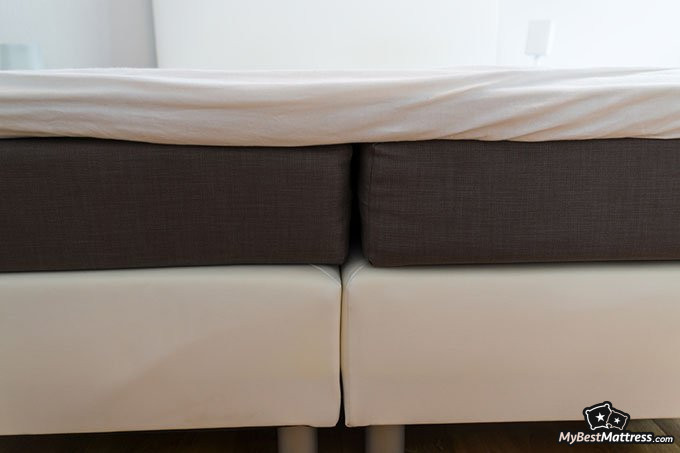 Also, you get extra support without the additional height that overcrowds your room. Needless to say, many people prefer this option due to the visual perks, such as minimalism.
Make sure to understand that both traditional and low-profile box springs will provide you with the same amount of support. So, while sleeping, you won't feel any difference.
Here are the main features of the low-profile box springs:
Easy to move
Add additional support to your mattress
Great for aesthetic reasons
Might be too low for some sleepers
Therefore, the question is not "do you need a box spring?" but, rather, "which box spring should you choose?".
Alternatives to Box Spring
It's natural that not everyone prefers box spring, either due to its qualities or visual elements. That's why I want to introduce you to the alternative options you should consider.
Foundations
Today mattress foundations are the most popular options amongst manufacturers and sleepers. Even though foundations are often understood as box springs (due to the same function), they're different.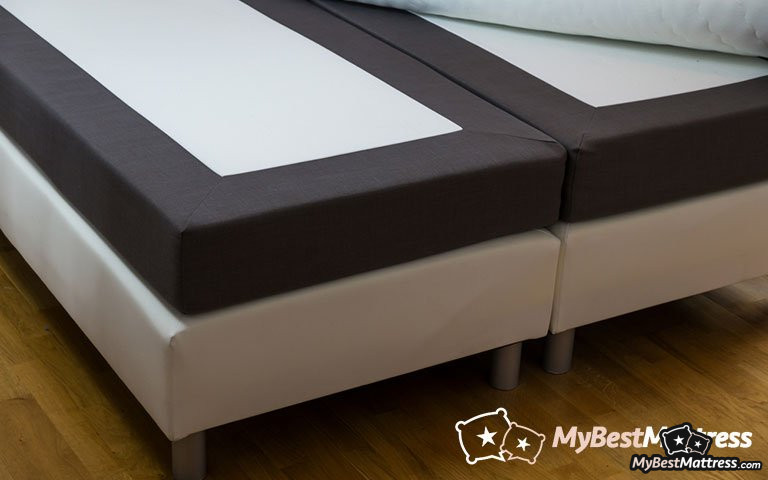 Most often foundations are designed out of wood, with many slats going along the surface. Sometimes, they have metal in the construction.
What's excellent about foundations is that they offer the perfect support that will prevent premature sagging in almost every type of mattress in the market:
Saatva Deal Active Right Now:
So, do you need a box spring when you can choose a foundation? I would say that there's no significant difference, only your personal preference. Both of these options will provide your mattress with the support that protects it from sagging.
Bunkie Boards
Bunkie boards are simple thin wooden pallets that are created to provide your mattress with extra support.
While they cannot fully replace the box springs or the mattress foundation, it can be put between your old box springs and a new mattress. Also, it's a great idea to place it under the foam or latex mattress to increase the lifespan and maximize comfort.
Bunkie boards can also be added on metal bed frames. This way, you will elevate your mattress and give it additional support. Just make sure to match the frame and bunkie size, and put it on carefully to not tear the fabric.
Adjustable Bases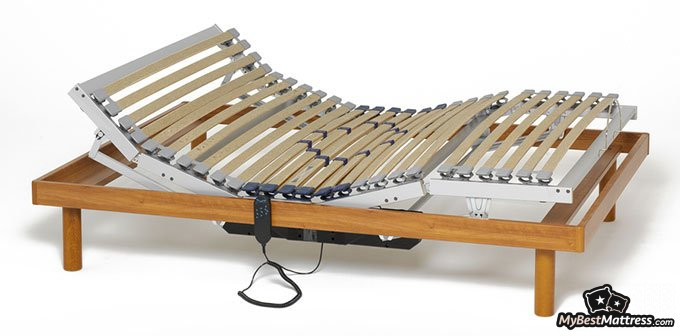 Adjustable bases are on the leading edge of the mattresses' industry. They can benefit any sleeping position and allow couples to adjust their bedsides individually.
The most common benefits of the adjustable bases include:
Comfort - you can adjust your bed based on your sleeping positions to add additional comfort.
Pain and pressure relief - since you can adapt a mattress to your sleeping position, you can sleep in a way to take the pressure off the problematic areas.
Reduce Snoring - it's proven that raising the top half of the bed can help to minimize the snoring noticeably.
Better quality of sleep - when you sleep in the regular bed, you cannot make any adjustments, but with this base, you can easily set your mattress in a position that would take off the pressure of your aches.
The only major drawback of the adjustable bases is the pricing. In many cases, it will cost you more than the mattress itself. However, you can find a variety of discount codes for some of the best products here.
GHOSTBED

Florida, USA
2010
USA

I had trouble finding a good mattress and after several visits to different mattress sales sites, I chose GhostBed Queen size and I do not regret it. Effective, firm and comfortable mattress. I recommend.

victorine_burns_10

See TOP10 Brands
Read Review
Table: GhostBed company info.
One of the most recommended adjustable bases is offered by GhostBed. GhostBed adjustable base provides exceptional quality and truly affordable prices. It features 15 massage modes, multiple ergonomic positions, under-bed LED lighting. What's amazing is that this base works with any mattress.
The GhostBed adjustable base can reduce chronic neck and back pain, allows you to relax and might help you to deal with nightmares. It will be delivered completely free and comes with a limited lifetime warranty.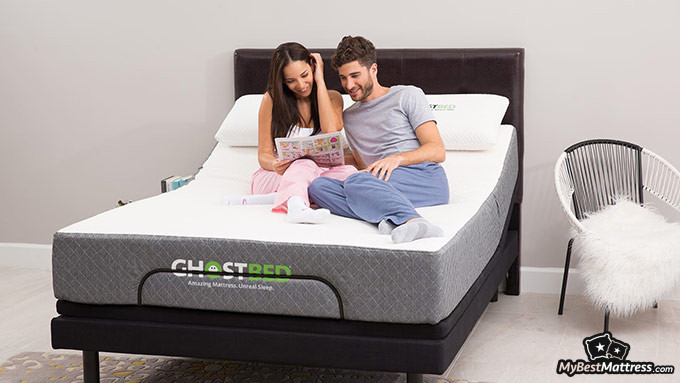 Therefore, consider any of these mattress bases and pick the best one based on your personal preferences. The only thing that you should pay attention to is the warranty requirements - it may ask you to get a specific option.
Bed Frames that do Not Require a Box Spring
Unless the mattress warranty tells otherwise, the answer to the question "do you need a box spring?" with the following bed frames is NO.
If you're using any of these bed frames, it's not necessary to add box spring (unless the warranty tells otherwise):
Solid platform frame. It plays the same role as the base and provides a stable base that makes sure your mattress is not sagging prematurely.
Platform frame with slats. Different from a solid platform frame, it uses slats to form the base for your mattress.
Adjustable frame. It's quite evident that box spring would not work together with an adjustable bed frame and would only interfere with its functionality.
Reinforced metal frame. Reinforced frames add additional support from side to side and make sure that the weight of your mattress is distributed evenly.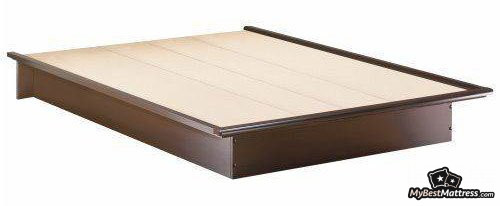 Therefore, if while reading this article, you answered the question - "do you need a box spring?" negatively, these bed frame options are exactly what you need.
Conclusions
Now that we came to the conclusions, it's time to ask the very first questions again.
Do you need a box spring?
Is a box spring necessary?
Here are the benefits of using a box spring that will answer your question positively:
Lifts your mattress from the ground
Protects your warranty
Adds support
You can pick either the regular box spring mattress that will increase the height of your mattress set or the low-profile box spring that's way easier to move, look better aesthetically, and create a minimal style.
Now, if you answer the question - "do you need a box spring?" negatively, then you can consider other alternatives that will give your mattress similar support:
Foundations
Bunkie boards
Adjustable bases
And if you want to buy a frame that doesn't require additional support, you should choose:
Solid platform frame
Platform frame with slats
Adjustable frame
Reinforced metal frame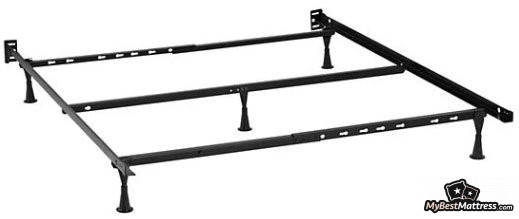 In case you decide that box spring or any other bed frame is not for you, and you decide to sleep on the floor instead, you should never choose memory foam mattresses. They tend to have poor edge support and are not really breathable. That being said, choose top-rated innerspring mattresses, such as Saatva and WinkBeds and enjoy your sleep, even if it's "on the floor".
Saatva Deal Active Right Now:
Scientific References
1. Jay Portnoy, MD, Jeffrey D. Miller, MD, P. Brock Williams, PhD, et al.: 'Environmental assessment and exposure control of dust mites: a practice parameter'
2. Joseph Pizzorno: 'Is Mold Toxicity Really a Problem for Our Patients? Part I—Respiratory Conditions'
---
TOP3 Most Popular Coupon Codes

$300 OFF + FREE Pillow
Limited-time Puffy President's Day Sale