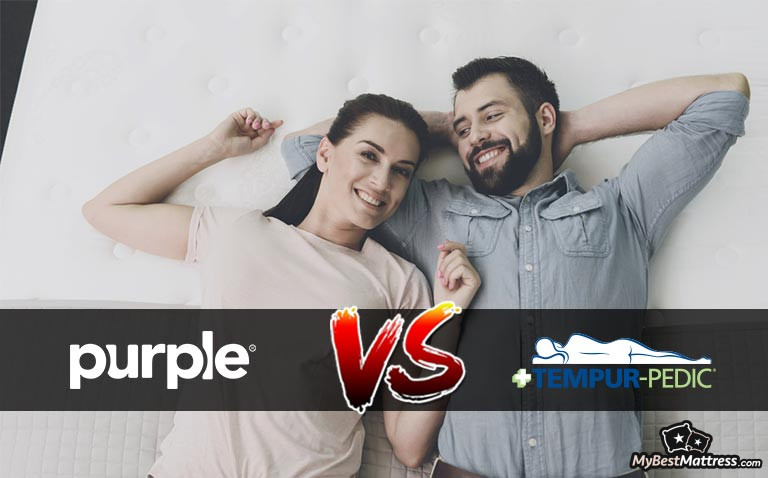 A cynic might say - a Purple VS Tempur-Pedic comparison? What's there to compare? Hybrids are always going to be better than memory foam beds!
The truth, however, is often quite different.
While it is correct that hybrid mattresses are usually much better bed alternatives than all-foam ones, things are never just "black and white" - there's a lot of grey area in between, and the same applies to this Purple VS TempurPedic comparison, too.
Table: Purple and TempurPedic mattress introduction
Worry not, however, for we shall explore all of the main features and benefits of the two beds in question, and by the end, you should be able to make the choice that's going to be best for you! If you'd like, you could start by taking a look at our side-by-side comparison of the two beds, and then jump straight on into the in-depth comparison at hand.
Purple Mattress VS TempurPedic: The Criteria of Comparison
More and more people these days are paying increasingly closer attention to their sleep - with various different sleep-related issues[1] plaguing a vast number of people, it's only natural that you'd want to guarantee yourself the best sleep that's possible.
One of the main ways of doing so is by picking out the right pillow and mattress.
Table: Purple and TempurPedic mattress features and benefits
That being said, everyone is going to have their own, personal wants and needs when it comes to the perfect bed. In the table above, you can see some of the more popular of these features - in this Purple mattress VS TempurPedic comparison, however, we'll focus on 5 of them:
Durability. No matter if you're reading a Purple VS TempurPedic or any other bed comparison out there, you should always pay close attention to the durability of your bed. This doesn't only concern the warranty tag of the mattress, though - durability also has to do with the longevity of the material from which your bed is made of, and signs of wear that might appear at any given time on the outside of your mattress. That said, make sure to not mix up "signs of wear" with stains and other, similar issues - those can be solved rather easily.
Firmness. The firmness level of a mattress is going to decide whether you're going to sleep comfortably, or in a healthy manner. Truth be told, these two things aren't necessarily exclusive form one another - however, multiple customer Purple mattress VS TempurPedic comparisons will tell you that oftentimes, you'll have to choose. This is because softer beds are seen as being more comfortable, while firmer ones provide proper spine alignment.
Motion isolation. It often doesn't matter how tired you are or how drained you feel after a long day at work - a single wrong turn your partner makes on the other side of the bed in the middle of the night can wake you up in an instant. Surely, that's going to be an issue related to your mattress not isolating motion well enough. Most people underestimate the significance of motion isolation, up until the point when they start sleeping with a restless partner - TempurPedic VS Purple mattress customer reviews further this notion.
Temperature neutrality. Both cool and warm mattresses have their specific, distinct benefits. The type of beds that don't have any benefits, however, are hot ones - a mattress that sleeps hot is going to make you wake up constantly throughout the night, thus breaking your proper sleep cycle and rendering you completely tired in the morning hours, when it's time to actually wake up and get going.
Responsiveness. Throughout the time that I've been reviewing different mattress brands and studying the topic of sleep health, I've come to the conclusion that responsiveness is always the one feature that should be paid the most attention to (well, after durability, that is). Customer Purple mattress VS TempurPedic comparisons second this sentiment - a responsive bed will not only help you avoid some annoying sleep-related issues, but also alleviate already-existing ones, too.
With these five major features of our Purple mattress VS TempurPedic comparison out of the way, there's still one more thing left to discuss - sleeping positions. Given that it's a somewhat broader topic than the above-discussed ones, we'll dedicate a separate chapter to it, at the end of this TempurPedic VS Purple mattress comparison.
Purple Mattress VS TempurPedic: The Comparison
There are a few ways we could start talking about the pros and cons of both of the beds of this Purple mattress VS TempurPedic article, but for the sake of continuity, let's take it from the top and review the durability aspect first.
Durability
If you've read any other Purple mattress VS TempurPedic reviews, or have looked at some of my other mattress comparisons, you might know that the materials from which a bed is made of usually have a pretty big say in just how durable the end-product turns out to be.
The Original Purple mattress is a hybrid - it's made from a mixture of polyfoam, elastic polymer and buckled column gel. Keep the "elastic polymer" part in mind - it's something that's going to come up quite a few times in this Purple bed VS TempurPedic comparison.
The TempurPedic Adapt, on the other hand, is a foam mattress - it's comprised out of three layers of memory foam and polyfoam.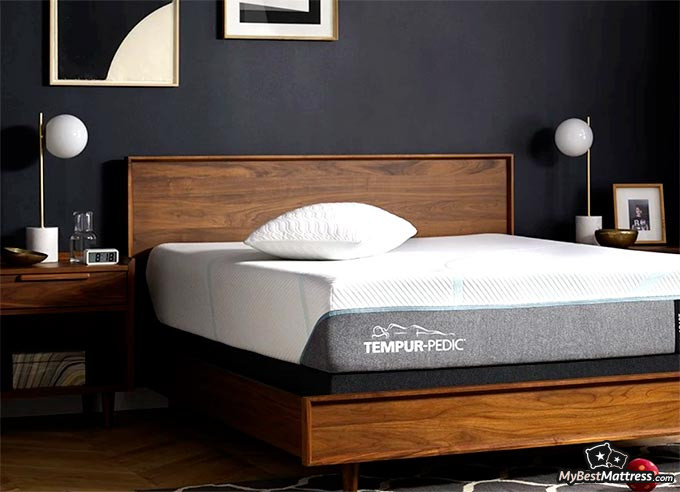 Now, it's no secret that foam is widely considered to be one of the less-durable materials, at least when it comes to mattresses. And while that's true to an extent (especially when talking about older foam bed models), TempurPedic is actually considered to be just as durable as Purple.
Purple gets its durability from being a hybrid and thanks to some elaborate design features. TempurPedic, however, uses some very high-end materials, which, in turn, allows their foam bed to be just as durable as one of the best hybrids in the industry - pretty neat!
Latest Saatva Coupon Found:
UP TO $500 OFF
Limited-time Saatva Sale
We're sharing a limited-time Saatva mattress discount with our readers! Grab this deal & enjoy your new mattress with huge discounts.
Expiration date: 27/09/2023
4,042 People Used
Only 83 Left
Firmness
Mattress firmness is a bit of a personal topic for me. I've suffered from severe back pains for the bigger part of my adult life, and one time, while staying over at a friend's house, I got the chance to sleep on what might be considered as a "firm" mattress.
I've never slept so good in life.
Now, I know that many people who are reading Purple mattress VS TempurPedic comparisons prefer to sleep as comfortably as possible - oftentimes, this means sleeping on a softer bed.
Table: Firmness options of the Purple and TempurPedic mattresses
That being the case, however, firmer mattresses are always going to be more beneficial than soft ones, at least in the long run. A medium-firm bed will help you alleviate lower-back pains, and keep your body in a proper position while you sleep.
Out of this Purple bed VS TempurPedic comparison, Purple is the much firmer option. While the mattress isn't "super-firm", its elastic polymer-based design ensures that your body stays in the optimal position throughout the night, without sinking down into the mattress.
While many customer reviews point out that TempurPedic can, indeed, be considered as a "medium-firm" bed, it still falls on the softer side of the spectrum.

Did you know?
Motion Isolation
One thing that foam beds are actually rather good at is isolating motion that's made on one side of the mattress from reaching the other. This goes to show in the Purple mattress VS TempurPedic comparison, too.

Purple's motion isolation feature comes from its hybrid design. When you combine foam with the elastic polymer technology that the brand has developed, you get yourself a bed that isolates motion very well - if you sleep with your partner, that's something that you'll definitely appreciate.
The story is somewhat the same with TempurPedic Adapt, too, but instead of polymer, the material that allows this mattress to achieve above-average motion isolation is memory foam.
Temperature Neutrality
No matter what kind of methods it is that you use to improve your quality of sleep - special mattress toppers, high-end pillows or even sleep-tracking diaries[2] -, all of them are going to fall short if you're forced to sleep on a bed that tends to heat up pretty fast.
The above statement is especially so true for anyone who's living in warmer climate locations, and doesn't have air conditioning in their bedroom - a bed that lacks adequate cooling can really ruin your sleep in these conditions.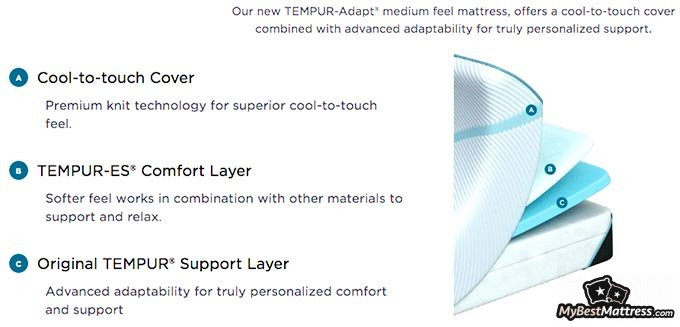 That said, customer Purple bed VS TempurPedic reviews will tell you that the Original Purple mattress is likely going to be one of the coolest-sleeping beds that you'd be able to find on the market. This is, yet again, thanks to the elastic polymer found within the bed's design - the material is exceptionally breathable, and is amazing at promoting airflow and not trapping heat within itself.
While TempurPedic might also be considered a "cool-sleeping" mattress, its cooling capabilities are nowhere near as good as those of Purple. That said, given that foam beds are actually really difficult to be made cool, it's still nice that TempurPedic has managed to achieve this, albeit not on the same level as Purple.
Responsiveness
Multiple Purple VS TempurPedic customer reviews will tell you that a responsive bed is your best bet in getting rid of your back, hip and even shoulder pains, while also preventing new ones from forming.
How is that the case? Well, responsive mattresses are going to eliminate certain pressure points from your body - this is done by molding your body into a specific position in which it remains aligned all throughout the night.
Table: Pressure point alleviation of both of the Purple and TempurPedic beds
When it comes to this TempurPedic VS Purple mattress comparison, both of the beds in question are considered to provide customers with some above-average responsiveness. Keeping their specific design intricacies in mind, that shouldn't come as too big of a surprise.
Sleep Positions
While all of the above-discussed and evaluated features are going to be crucial for you to figure out before deciding on which of the beds in this Purple mattress VS TempurPedic comparison is going to be better for you, there's one more important aspect that needs to be addressed.
As you probably know, people tend to sleep in many different positions throughout the night. The three main ones would be back, stomach and side - these are also positions that mattress companies pay the most attention to.
PURPLE
TEMPURPEDIC

Really good temperature neutrality
Firm, but not too much
Great motion isolation

You Can Choose From Different Firmness, Thickness and Construction Options
Zero-Motion and Amazing Sound Isolation
Very Durable (Customers Approved)
Great for All Sleepers
90-Nights Free Sleep

Expensive
Not the best edge support

Minimal Off-Gassing
High-Price
30-Nights Break-in Period Required for Sleep Trial

See TOP10 Brands
Read Review
See TOP10 Brands
Read Review
Table: Optimal sleeping positions for the Purple and TempurPedic mattresses
Customer Purple mattress VS TempurPedic reviews will tell you that Purple is going to be best for side sleepers, while TempurPedic is likely to be most appreciated by anyone who prefers sleeping on their back and sides.
That being said, this does not mean that a stomach sleeper might not enjoy TempurPedic, or a person who primarily sleeps on their back is definitely going to be uncomfortable sleeping on Purple. Look at this information as helpful advice, rather than some "unbreakable rules"!
Price
So, with all of that said, let's take a look at the final aspect of the Purple mattress VS TempurPedic comparison - pricing and sizing options of both of the beds.
Note, however, that all of the prices provided below might change at any given time. Always make sure to double-check!
Table: Purple and TempurPedic mattress pricing options
Purple's prices are:
The price tags for the TempurPedic Adapt look like this:
Needless to say, while Purple can still be considered as an affordable mattress, TempurPedic is insanely expensive.
Table: Purple and TempurPedic mattress shipping, warranty and sleep trial information
Purple does also provide a 100-night sleep trial, a 10-year warranty, free shipping in the US and the company does ship their products internationally. TempurPedic, on the other hand, offers customers 90 nights to try the bed out, the same 10-year warranty and free shipping in the US, but they do not ship internationally.
Conclusions
With all of the information presented in front of your eyes, the final question remains - which of the two Purple mattress VS TempurPedic products should you pick?
I would advise you to go with Purple.
Purple is an affordable mattress that's known for its breathability and cooling features. The mattress is responsive and durable, and does also isolate motion pretty well.
While Tempur-Pedic isn't a "bad" product by any means of the term, it does lack proper cooling features, and the price of the bed might scare even the most adamant of customers away.
All in all, if you're still not sure, do check out our side-by-side Purple mattress VS TempurPedic comparison. Also, have you considered purchasing a completely different bed, altogether?
Scientific References
1. Daniel B. Kay, PhD, Helmet T. Karim, BS, Adriane M. Soehner, PhD, et al.: 'Sleep-Wake Differences in Relative Regional Cerebral Metabolic Rate for Glucose among Patients with Insomnia Compared with Good Sleepers'
2. Michelle A. Short, PhD, Teresa Arora, PhD, Michael Gradisar, PhD, et al.: 'How Many Sleep Diary Entries Are Needed to Reliably Estimate Adolescent Sleep?'
Leave your honest feedback
Leave your genuine opinion & help thousands of people to choose the best mattress. All feedback, either positive or negative, are accepted as long as they're honest. We do not publish biased feedback or spam. So if you want to share your experience, opinion or give advice - the scene is yours!