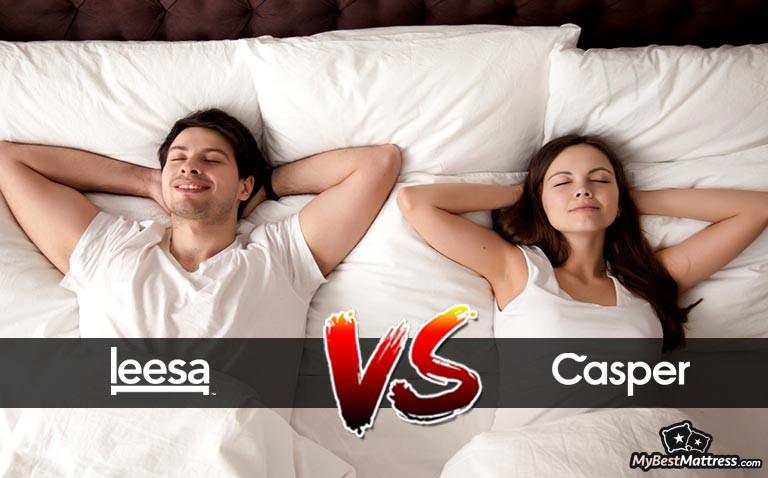 If you're reading this Leesa VS Casper comparison article, chances are that you have a proclivity towards memory foam. If that's the case, it can be really frustrating, having to choose one of the two better memory foam mattresses of the current industry.
Don't worry - I'm here to help.
Table: Leesa and Casper short introductions
While both of the mattresses in question are made out of memory foam, they are far from being the same, in many different ways. Once you learn about their main differences, you should be able to solve the "Casper VS Leesa mattress" dilemma in no time.
Also, for the full technical details and a side-by-side comparison of the two mattresses in question, you can visit here.
Leesa VS Casper: The Essential Features of a Proper Mattress
No matter which two mattresses it is that you're analyzing - be it Leesa VS Casper or any other -, there are always going to be a load of features that customers reference. Notably, though, some of those features are completely preferential and don't really make that much of a difference in the grand scheme of things.
Table: Features of the Leesa and Casper mattresses
In the table presented above, you can see some of the most-commonly analyzed features of all the types of beds out there. Out of all of those features, however, we'll focus on five - durability, firmness, motion transfer, temperature neutrality and bounciness.
You might say - but why are you ignoring off-gassing or edge support? Well, mostly because those are pretty self-explanatory, and aren't as controversial as the five mentioned above.
Durability. There are many different things that attribute to the durability of a mattress. Given that this is a "Leesa VS Casper" comparison, both of the beds are going to have something in common - the material from which they are made of. However, naturally, the number of layers and the construction process of the mattresses make a big difference, too.
Firmness. Firmness has got to be one of the most controversial topics in the entire sleep product industry. Whether you're talking about a top-tier pillow or trying to compare Casper VS Leesa, there are always going to be two huge groups of people - those who prefer soft beds, and those who could sleep on a rock.
Motion transfer. If you sleep with your significant other (or perhaps your dog?), and feel every single, slightest movement that they make throughout the night, that's a pretty good indication that it's time to change your mattress. Most customer Casper mattress VS Leesa Mattress reviews will tell you the same - motion transfer is super-important when you aren't sleeping alone.
Temperature neutrality. While losing your blanket or turning on the air conditioner are usually among the very first things that people do once they get hot while sleeping, your mattress does actually have a lot to do with it. Some mattresses sleep rather cool, while others are exceptionally hot - an important factor to figure out in this Casper VS Leesa mattress comparison!
Bounciness. A bouncy and responsive mattress can be a lot of fun, overall, but this feature is going to be most-appreciated by couples who are trying to improve their sex lives. If you catch yourself sinking into your bed, well… Chances are that sexual activities are going to require a whole lot of effort.
So - those are the five main features that you should always think about when purchasing a new mattress, and they are going to be the ones that we'll reference throughout this Leesa VS Casper comparison, too.
Leesa VS Casper: The Comparison
To keep things as simple and as concise as possible, we'll go through each of the aspects one by one, trying to find the better option between Casper VS Leesa.
Durability
As mentioned earlier in the Leesa VS Casper mattress comparison article, the material from which a mattress is made out of is often going to be one of the main factors as far as durability is concerned.

That said, both of the beds in question are made out of memory foam - while this material isn't considered to be the "most durable" around, it would seem that both Casper and Leesa have managed to figure it out.
Customers report that the Leesa mattress is made out of high-quality foam, while Casper has a pretty sturdy construction, overall. So, if you're worried about your mattress failing you a year in, you can rest assured - both beds should hold up rather well.
Latest Saatva Coupon Found:
UP TO $500 OFF
Limited-time Saatva Sale
We're sharing a limited-time Saatva mattress discount with our readers! Grab this deal & enjoy your new mattress with huge discounts.
Expiration date: 08/12/2023
4,042 People Used
Only 83 Left
Firmness
According to research done by F. M. Kovacs and colleagues back in 2003, medium-firm mattresses are actually seen as the most optimal choice for anyone suffering from lower back problems. Well, I'm glad to state that both beds in this Leesa VS Casper comparison are often referenced as being "medium-firm".
Table: Leesa and Casper mattress firmness options
Again, that's mostly thanks to the memory foam-based design that the mattresses share. Leesa is slightly firmer than Casper, but that's mostly because it's comprised of 3 layers, whereas Casper is made out of 4.
If you do care about your overall health and fall in the huge group of people suffering from back, shoulder or hip pains, then both of these mattresses should do a pretty good job at alleviating your issues. That said, don't forget that a top-tier pillow is also going to help keep your spine aligned, and your neck in a comfortable position!

Did you know?
Motion Transfer
As noted at the beginning of this Leesa VS Casper comparison, motion isolation is going to be most important for anyone who doesn't sleep alone. If your bed does a poor job at absorbing motion, you're going to have a pretty difficult time staying asleep, especially if the other person is an "active" sleeper.
Among other problems, the lack of motion isolation can lead to sleep deprivation or even some more serious issues - that's nothing to scoff at!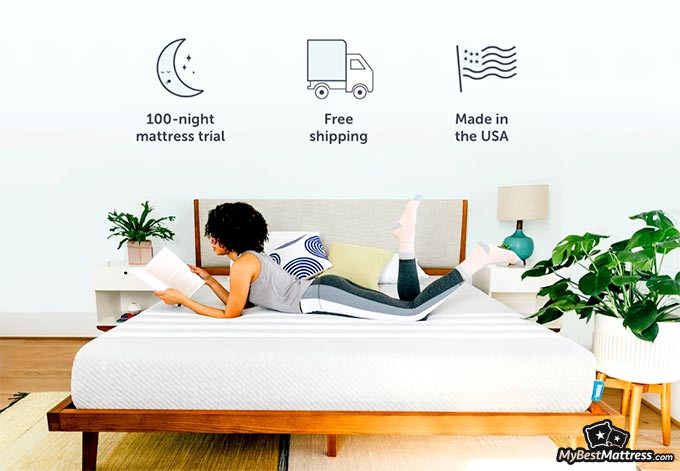 As far as this Leesa VS Casper mattress comparison goes, it would seem that Leesa is actually better in absorbing motion and allowing you to sleep peacefully at night. Customers claim that this is likely due to the before-mentioned high-quality design of the bed - combine that with some layers of memory foam, and you've got yourself a pretty stable mattress.
Casper, on the other hand, is rather "average" in motion absorption. That said, this does translate into it being the slightly-firmer option of the two. It depends on what it is that you need more - a firm mattress, or one that does a good job at negating motion transfer and keeping you isolated from the movements of your partner while you sleep.
Temperature Neutrality
No one likes to sleep hot - that's probably something that doesn't even need to be said out loud, right? No matter if you're looking at Leesa VS Casper mattress comparisons, or any other, individual mattresses out there, that's a universal truth.
Note, though, that I am using the word "hot". I'm not referring to the cozy feeling of warmth that you get when you tuck yourself into the sheets - that's great! No, a hot mattress is one that will basically try to suffocate and boil you at the same time, not allowing a minute of decent rest.

Unfortunately, memory foam products are notorious for sleeping hot - that's very obvious taking a look at the Casper mattress VS Leesa mattress comparison, too. While both beds are made out of this type of foam, both of them also lack adequate cooling technology to sleep, well… Cool.
That said, the same issue plagues most top-tier memory foam products - Leesa VS Casper aren't exceptions. If you really do care about sleeping as cool as possible, your best bet is to go with a hybrid mattress that would have springs and coils in its design.
Bounciness
Bouncy mattresses are simply fun, in general. Beds that are bouncy are generally much more breathable and temperature neutral, by design.
That said, this quality is mostly associated with innerspring beds or hybrids. Yet again, it's also something that memory foam lacks.
Foam, in general, tends to sink - this means that, once you lie down on your mattress, it might not only "mold" around your body, but take it a step further and sink down. Needless to say, that's something that you don't want happening - it will break your proper body alignment, and might cause some pesky morning pains in return.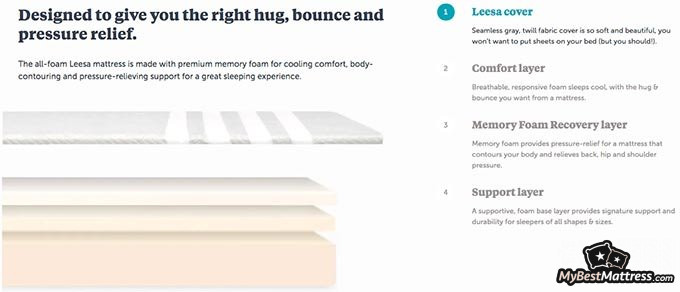 According to customer Casper mattress VS Leesa mattress reviews, both of the beds in question aren't bouncy enough for most people's preferences. On top of everything, a mattress that is prone to sinking will also give you a hard time during sexual activities - no one wants to battle their mattress while occupied with other activities at the same time.
Note, though, that neither Leesa nor Casper aren't actually "sinky". Instead, they simply aren't "responsive" enough to be called "bouncy" - it's a pretty important distinguishment!
Sleeping Position
Now that we have all of the essential features of the Leesa VS Casper comparison out of the way, there's still one thing left to discuss.
Yup, that's right - sleeping positions.
To keep things as simple as possible, let's assume that there are three big types of sleepers out there - side, stomach and back ones. Different mattress types will be more suitable for different sleeping positions - that's pretty obvious.
LEESA
CASPER

High-Quality Layers
Medium Firmness - Almost for Every Sleeper
Almost For Everyone
Minimal Off-Gassing

Made of Quality Material
Casper is For Every Sleeper's Needs
Medium-Firm Level of Support that Works for Almost Everyone
100-Nights Sleep Trial
Durable (Confirmed by Users' Reviews)

Not Perfect for Side-Sleepers
Not Great for Cool Sleepers

Only One Firmness Option
Not so Great for Hot Sleepers

Visit site
Read Review
See TOP10 Brands
Read Review
Table: Leesa and Casper mattress sleep positions
Here, Casper seems to have the upper hand - by popular opinion, it is going to be the bed that suits most sleeping positions out there. It's actually a pretty rare feature! Leesa, on the other hand, is most-appreciated by people who prefer sleeping on their backs.
Needless to say, these designations aren't absolute. You might perfectly well be a side sleeper who will find Casper unbearable, or a stomach sleeper who is going to absolutely love Leesa. However, as far as general tendencies go, the trend seems pretty obvious.
Price
Now that we've gotten all of the features of the mattresses themselves out of the way, let's transition and move on to talking about the actual pricing details of the Casper VS Leesa mattress comparison.
Table: Pricing options for the Leesa and Casper mattresses
The pricing options for the Leesa mattress are:
Casper's pricing and sizing options look, as follows:
As you can probably see for yourself, the pricing options for both of the Leesa VS Casper mattresses are rather similar. That said, Leesa does seem to be the more affordable alternative, especially as you go up in size.
Table: Leesa and Casper mattress shipping, warranties and trials
That said, both of these mattress providers have 100-night sleep trials in place, and both of them also offer 10-year warranties with their products. Leesa, however, does not ship their products internationally - Casper does.
Conclusions
With all of the essential features of both of the Leesa VS Casper comparison mattresses talked-about and reviewed, and with the pricing and sizing option in front of you, only one question remains - which mattress should you pick?
Well, it's pretty simple, really. Both of the beds are based out of memory foam - this means that you're probably searching for this type of a product, anyway. Casper, however, is firmer, has stronger edges and is simply thicker than Leesa. It's also a mattress that should suit most types of sleepers out there - that's a big deal!
Leesa, on the other hand, is a medium-firm, high-quality mattress. It absorbs motion pretty well, is durable and also more affordable than Casper. That said, if you aren't a back sleeper, then Leesa might not be the best bet for you.
If, however, after reading this Leesa VS Casper comparison you've noticed that neither of these two beds is a great option for you, do check out our lists of the best memory foam mattresses and the best mattresses, in general. Who knows - perhaps the perfect bed for you is waiting there, yet to be discovered?
All in all, I hope that this Leesa VS Casper comparison article was useful to you, and that you now at least know a whole lot more about the two beds in question. Also, don't forget to grab yourself a coupon if you do decide to purchase either one of these two mattresses, and check out our detailed comparison here!
Cheers, and good luck!
Leesa Deal Active Right Now:
SAVE UP TO $978
Limited-time Leesa Mattress Coupon
Special offer: use this Leesa mattress coupon and get up to $978 off your mattress purchase. Sounds too good to be true? See for yourself!
Expiration date: 08/12/2023
2,474 People Used
Only 56 Left
Leave your honest feedback
Leave your genuine opinion & help thousands of people to choose the best mattress. All feedback, either positive or negative, are accepted as long as they're honest. We do not publish biased feedback or spam. So if you want to share your experience, opinion or give advice - the scene is yours!