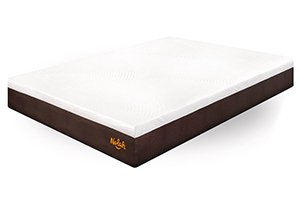 Have you been feeling tired even if you had a 9-hour sleep? Your back is killing you? These are only some of the signs that can indicate that it's time to get rid of your old bed and look for a new option.
Nolah offers two all-foam beds to pick from. When searching for Nolah mattress reviews, you might have come across mixed opinions. With the help of sleepers' feedback, I will make sure to clear things out.
In this Nolah mattress review, I will introduce you to both Nolah mattresses while focusing on the Nolah Signature model that sleepers evaluated as a better alternative.
Verdict at a Glance
Nolah offers two all-foam mattresses - Nolah Original and Signature. Sleepers prefer the Signature model better. It's a flippable mattress that manages to alleviate pressure points, reduce motion transfer significantly, and sleep cooler than the majority of foam beds. On the other hand, it lacks bounciness and edge support.
Pros
Minimal motion transfer
Noiseless
Close conforming
Cons
Lacks edge support
Not bouncy enough for some
Nolah Mattress Review: Get to Know Them
Let me begin this Nolah mattress review by shortly introducing the company and its products. The company is based in Colorado and offers two mattress options to pick from - Original and Signature.
The Nolah Original mattress is 10-inches thick, medium firm, all-foam bed that's great for light- and average-weight side sleepers. It's designed from three individual layers: cooling Nolah AirFoam, high-resilience support foam, and high-density base foam.
The Nolah Signature mattress is also a foam bed that features in flippable design and is 12-inches thick. One side of the bed is medium soft, another one is firm. You should pick a firmer or softer side based on your needs.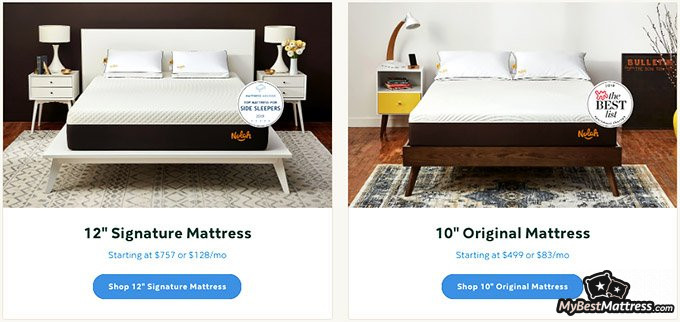 When purchasing Nolah mattress, you contribute to a noble cause. For every sold bed, the company makes a donation to Defenders of Wildlife that have been protecting American wildlife since 1947.
Once buying a mattress you can choose from 20 endangered animal species, including Polar Bears, Dolphins, Bald Eagles, Sea Otters, and others. Together with your mattress, you will get a certificate as a proof of donation that helps to save American wildlife.
Now that you have a general idea about the company, it's time to move further into Nolah mattress review and see how good their Signature bed is.
Nolah Signature Mattress: Why Should You Choose it?
Since Nolah has much to offer, I will start with the reasons why you should consider this mattress.
Alleviates Pressure Points
Pressure points are areas on your body where you feel the tension when laying on the mattress. A top-tier mattress should alleviate the pressure points by providing the right amount of support in the areas where you need it the most. It also has to do a lot with choosing the right level of firmness for yourself.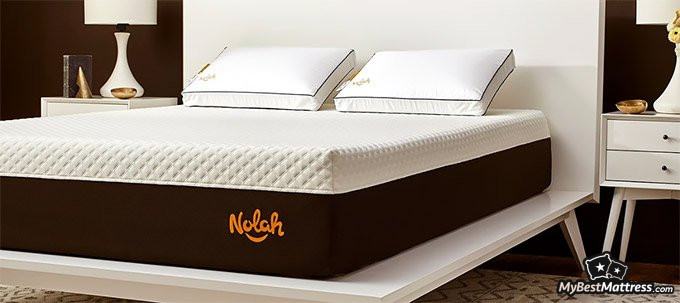 Since pressure point relieving properties have a lot to do with how you feel, in general, I distinguished this benefit as the most important aspect of this Nolah mattress review.
Sleepers claim that Nolah Signature mattress conforms closely to the body and provides the right amount of support where needed. Since it's a foam mattress, you will feel as if being hugged.
Latest Saatva Coupon Found:
UP TO $500 OFF
Limited-time Saatva Sale
We're sharing a limited-time Saatva mattress discount with our readers! Grab this deal & enjoy your new mattress with huge discounts.
Expiration date: 13/06/2023
4,042 People Used
Only 83 Left
Flippable Mattress
Choosing the right mattress firmness is not as easy as it seems in the first place. You need to consider your weight, sleeping position, and health issues (if you have any).
Nolah bed has an exceptional construction that allows you to flip the mattress and pick either medium soft or firm side. Nolah is designed of four different layers, the top and bottom layers (depending on which level of comfort you pick) are made of cooling Nolah AirFoam, the support layer is designed of high-resilience foam, and the foundation of high-density breathable foam.
The soft side is recommended for light- and average-weight side sleepers, whereas the firmer side for back sleepers or heavier individuals. You can try each of the sides and then decide which one works better for you.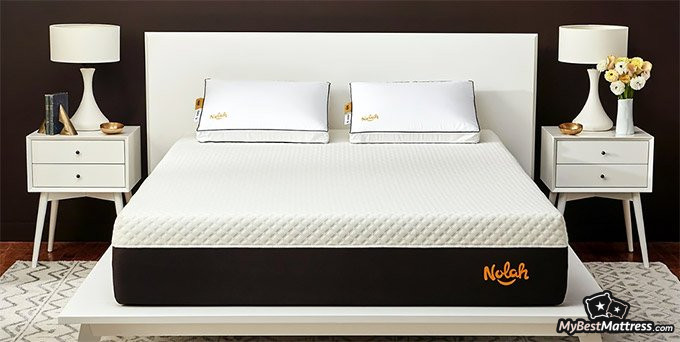 Based on the studies, people who are suffering from back pain should choose firmer mattress. Knowing that about 38.3% of individuals[1] are suffering from chronic back pain, Nolah mattress can help to lessen this issue for a significant number of people.

Did you know?
Uninterrupted Sleep
When asked, what's the most important thing that couples expect from the bed, the majority of the answers include motion and sound isolation. That's not surprising at all.
If you're a sensitive sleeper, you know the struggle when your partner is tossing and turning during the night, and you can feel every movement he/she makes. Nolah Signature mattress manages to minimize motion isolation to a significant extent. It means that you will barely feel your partner moving even if he/she is jumping on the other side of the bed.
To make sure you understand how important this aspect is, I'll provide you with research. The study examined the influence of lateral motion transfer on sleep.[2] The results indicated that sleepers who felt mattress motion transfer during the night experienced much more stage 1 sleep, and less stage 3 and 4 sleep. Therefore, motion transfer can intervene with the most critical stages of your sleep.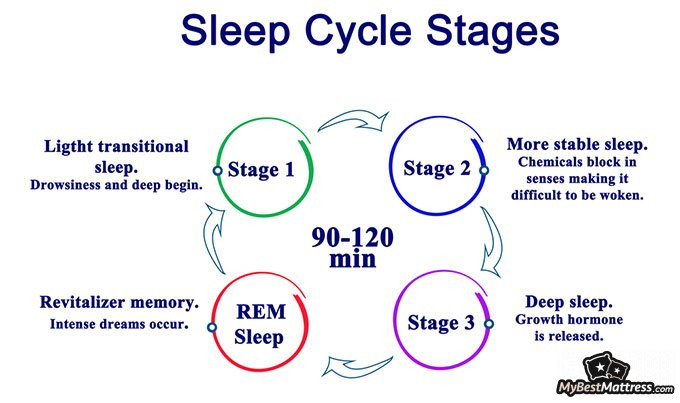 Talking about the noise, some mattresses produce it when bearing weight. This issue is mostly associated with beds that have coils in their construction, however, there are always exceptions.
Since it's Nolah mattress review, you should know that this bed is completely silent. This aspect is crucial due to the fact that environmental noise can interfere with your sleep, and poor sleep leads to health deterioration. [3]
Sleeps Cooler than the Majority of All-Foam Mattresses
You might wake up in the middle of the night soaked in sweat due to the nightmare that you were just having. However, when your mattress is responsible for you sleeping too hot, that's an issue.
Temperature and sleep quality are highly linked together. It's so much better to sleep slightly cooler rather than too warm, as your body temperature drops when you fall asleep. Even though there were several Nolah mattress complaints about it sleeping too warm, the majority of Nolah Signature owners claimed that the bed sleeps cooler than their previous memory foam or all-foam beds.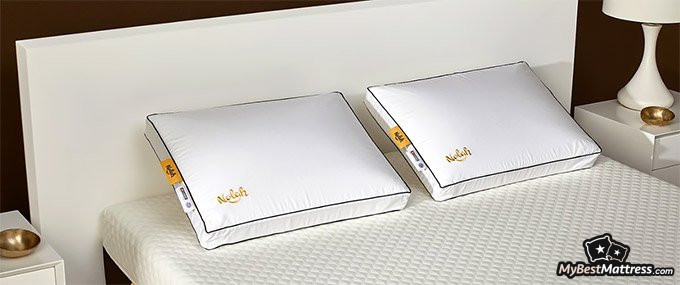 The reason for why Nolah sleeps cooler than other all-foam mattresses might be the cooling Nolah AirFoam layer. The manufacturer promises close conforming without trapping you "in the mattress". Some Nolah mattress reviews claimed that the provider manages to fulfill this promise.
Now that all the major benefits in this Nolah mattress review are clear, let's get to the least exciting parts and discuss Nolah mattress cons.
Why Nolah Signature Mattress is Not the Best Option?
Let's continue Nolah mattress review with its flaws.
Weak Edge Support
Based on the majority of Nolah mattress complaints, the Signature bed lacks edge support. While it might not sound like the major concern, it's more unpleasant than you think. When sleeping with your partner you won't always have enough space to sleep in the middle of the bed, usually, you will sleep on the side of it.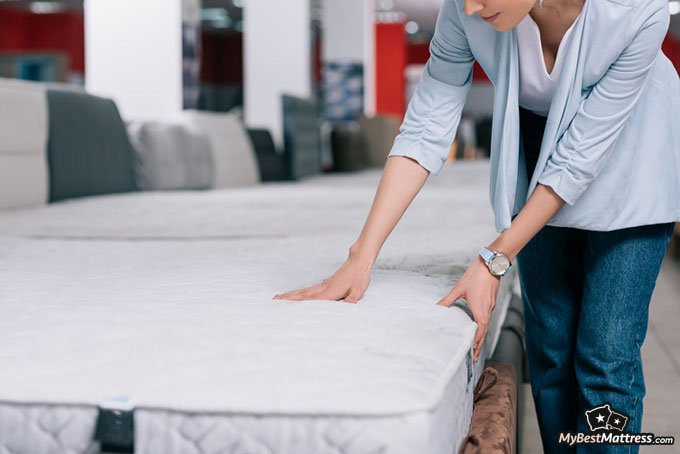 If edges of your bed are too soft, they won't support your body as intended. Falling out of bed in the middle of the night is not the best experience. Since Nolah reviews revealed that it's an issue, you should think if it's worth the risk.
Lacks Bounciness
Bounciness is the measurement that the majority of the couples appreciate. After all, it's beneficial for sexual activities. When looking for Nolah complaints, I found that sleepers lacked bounciness.
This is something that could be expected from Nolah bed as almost all mattresses that are made of foam tend to lack this feature. If you're looking for a springy option, then consider innerspring or hybrid beds that have coils in the construction.
Average Durability
High-end mattresses tend to be pricey. When you purchase such a bed, you expect it to serve you for at least a decade. However, not all of them manage to fulfill your expectations.
Even though the Signature mattress comes with a higher-than-average pricing point, Nolah reviews revealed that they last only about 7 years. Such a lifespan is common to mediocre beds, however, considering the price (that you will find in the further section), I would expect it to serve longer.
If you want to find a bed that offers the best price-quality ratio, we have prepared the whole list for you. Check it out here.
Nolah Pricing and Additional Details
There are a few aspects that still haven't been discussed in this Nolah mattress review. First of all, let's take a look at the pricing of Nolah mattresses.
Nolah Original mattress pricing is here:
Twin - $619 USD
Twin XL - $759 USD
Full - $879 USD
Queen - $1019 USD
King - $1119 USD
Cal King - $1119 USD
And here's how much Nolah Signature mattress costs:
Twin - $1069 USD
Twin XL - $1169 USD
Full - $1369 USD
Queen - $1569 USD
King - $1769 USD
Cal King - $1769 USD
Note that these prices are provided at the moment of writing this Nolah mattress review, so they might slightly differ by the time you'll be reading it.
As you can see Nolah Original mattress offers a lower-than-average pricing point, however, Nolah Signature is slightly more expensive. But don't get upset, you'll find various discounts and promotions on a regular basis. You can check out if there are any working coupon codes at the moment here.
Each bed comes together with a 120-night risk-free trial, meaning that you have almost 4 months to sleep on Nolah mattress before deciding if it's the right option for you. Nolah mattress reviews claim that it's more than enough time. The only drawback is that there's a 30-night break-in period, meaning that you won't be able to return the mattress earlier than that.

You also get a 15-year replacement warranty for Nolah mattresses that begins once you purchase a mattress. The warranty will cover if any manufacturing flaws appear, however, to make sure that it's valid, you should fulfill all the requirements such as the usage of the appropriate foundation. You can find out all the details on their official site.
If for some reason you decide to try some other product, then don't feel guilty about it. All returned Nolah mattresses are either donated to local charities or recycled. So, there's no harm.
Once you purchase Nolah mattress, it will be shipped with FedEx Ground. You will get a tracking number that will allow you to see how the bed is traveling from the factory to your door.
What is more, you will get it delivered in an eco-friendly box that reduces the shipping volume by 80%. Since the bed is light-weight, it will be super easy to set it up.
Here is The Best Saatva Offer I Found:
UP TO $500 OFF
Limited-time Saatva Sale
We're sharing a limited-time Saatva mattress discount with our readers! Grab this deal & enjoy your new mattress with huge discounts.
Expiration date: 13/06/2023
4,042 People Used
Only 83 Left
Conclusions
All things considered, Nolah Signature mattress can be evaluated as a mediocre bed. It provides you with some amazing features such as motion and sound isolation, close conforming and pressure point relief, and sleeps cooler than the majority of foam mattresses.
On the other hand, some Nolah mattress complaints mentioned that mattress sleeps too warm. What is more, since it has soft edges, you won't get enough support when sleeping on the side of your bed.
Nolah reviews also mentioned that mattress lacks bounciness that's beneficial for couples. Therefore, there are many aspects you should think through before deciding whether or not to pick Nolah mattress.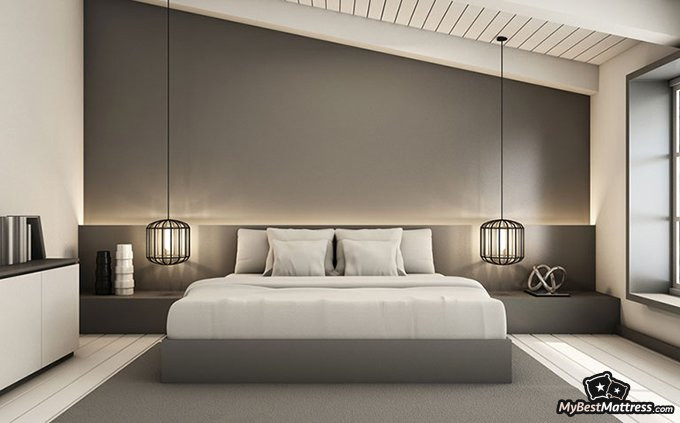 You can purchase Nolah Signature for a slightly higher-than-average price range, get a money-back guarantee, free shipping and warranty.
So, do I recommend this mattress?
Yes and no. Even though it has almost all the vital measures that are expected from a high-quality mattress, there are so many better options that you can consider for even lower prices.
At the moment, many sleepers prefer Saatva mattress. It's a durable innerspring bed that sleeps cool, offers proper noise and motion isolation, and is bouncy along with other amazing features. The even better news is that Saatva costs almost as much as Nolah mattress.
Scientific References
1. Mathilde M. Husky, Farina Ferdous Farin, Philippe Compagnone, et al.: Chronic back pain and its association with quality of life in a large French population survey'
2. Wellman JJ, Bohannon M, Vogel GW: 'Influence of lateral motion transfer on sleep.'
3. Demian Halperin: 'Environmental noise and sleep disturbances: A threat to health?'
Leave your honest Nolah review
Leave your genuine opinion & help thousands of people to choose the best mattress. All reviews, either positive or negative, are accepted as long as they're honest. We do not publish biased reviews or spam. So if you want to share your experience, opinion or give advice - the scene is yours!