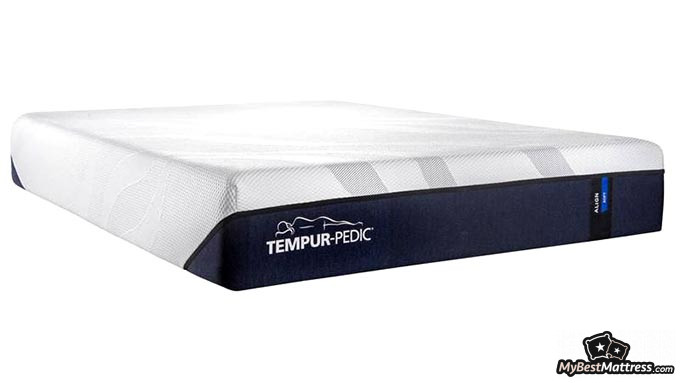 So, you need a new mattress, and are looking for the best way to go about it? Well, you have two choices - either purchase a mattress online, or drive to a retailer and pick a new bed out of their stock. In this article, we'll be taking a look at one such retailer - namely, we'll talk about some customer Mattress One reviews.
As you may or may not know, purchasing a brand new bed from a retail shop has its benefits and shortcomings - we'll talk about that, too. Also, while some Mattress 1 reviews will tell you that the company sells multiple different mattresses, we'll be concentrating on three of the top dogs - TempurPedic, Sealy and Stearns and Foster.
TL;DR: All three of the mattresses mentioned in this article tend to get a lot of praise from other customer Mattress One reviews. That said, in the vast majority of cases, it's always a better idea to purchase a new mattress from the providers themselves, than to do so in a physical shop.
Pros
Some high-end mattress brands sell via this retailer
Easily-accessible if you live nearby
Cons
Higher pricing points
Small selection of truly reliable mattresses
Mattress One Reviews: Top 3 Mattress Brands
As noted at the beginning of this article, there are many different customer Mattress One reviews that you might be able to find online. That's because the retailer actually sells quite a few different beds, and works with multiple different mattress brands.
That being the case, though, in this article, we'll focus on three specific mattress companies and their products:
Naturally, you might say - but why? If there's a huge range of beds to pick from, why did you choose to focus on these specific three?
Actually, the answer is pretty simple - because these three providers offer the best products out of the lot.

The unfortunate thing here, however, is that the company doesn't really have many of the well-known and loved beds for sale - you're not likely to find names such as Saatva or Purple with this retailer. That being the case, however, the three names mentioned above still come with their own sets of benefits - that's rather obvious reading through some Mattress One reviews.
Without further ado, let's talk about the three brands that you'd be able to find in a Mattress One retail shop.
TempurPedic - High-End Mattresses with High-End Price Tags
First up, we have TempurPedic - one of the very well-known mattress providers of the industry. Whether you're reading through Mattress One reviews or other customer feedback, you might notice a pretty common pattern concerning this mattress provider:
Everyone. Wants. A. TempurPedic. Mattress.
I'm not even exaggerating - TempurPedic is like the super start of the entire industry! It's not without a solid reason, either - the company provides its customers with a few different mattress variants, all of which provide exceptional pressure relief and body support capabilities.

Furthermore, the beds are very durable - the design and construction processes of a TempurPedic mattress, no matter the model, are truly top-tier. The mattresses are expected to serve the sleeper for a long, long time to come, and you shouldn't face any durability issues - at least judging from the majority of customer Mattress 1 reviews.
Pricing
Now, let me be "up-front" with this - TempurPedic mattresses aren't cheap.
Well, OK, that might be an understatement of the century - they are actually insanely expensive, at least when compared to some other top-scoring beds out there.
And, in all honesty, that's not unique when it comes to Mattress One reviews, either - while the beds are actually going to be even more expensive in the store, even if you opt to purchase the TempurPedic mattress online, the sentiment still remains the same.
TempurPedic Deal Active Right Now:
Buy 1 Get 1 Free
Pillow Bundles
Purchase a selected TempurPedic pillow and get a second pillow of equal or lesser value completely free! Follow this coupon link & add two pillows to your shopping cart.
Expiration date: 10/12/2023
1,765 People Used
Only 35 Left
Concentrating on the company's most popular model - the Tempur-ProAdapt -, the prices might range anywhere from a bit over $2000 up to almost $5000! That's the case if you were to buy it online - still, the Mattress One prices are going to be even bigger than that - it's a retailer, after all.
Latest Saatva Coupon Found:
UP TO $500 OFF
Limited-time Saatva Sale
We're sharing a limited-time Saatva mattress discount with our readers! Grab this deal & enjoy your new mattress with huge discounts.
Expiration date: 08/12/2023
4,042 People Used
Only 83 Left
Sealy - An Innerspring Alternative
Sealy offers customers three different mattress collections in the Response line. For transparency's sake, we'll be focusing on the most popular one - the Premium collection.
Sealy's mattresses are somewhat unique in this list. Some customer Mattress One reviews have pointed this out, but Sealy actually offers innerspring beds to its customers.
These days, decent innersprings are actually pretty difficult to find. The industry, as a whole, seems to be turning towards foam and latex, with the top leaders being hybrids.
Still, there are some companies that actually offer top-tier innerspring beds to their customers - if you need an example, you shouldn't look further than Saatva.

Sealy is one such company, too. Their Premium collection mattresses exceed in breathability and bounciness - two categories that spring beds are so well-known for.
Some customer Mattress 1 reviews will tell you that breathability and cooling are some of the most essential features that you might need from a new mattress. I concur - while there's research that shows how, say, short naps during the day can minimize your sleepiness[1], none of that's going to help if you sleep on a hot mattress.
Sealy's beds have pocketed coils in the support layer, however - being located at that part of the mattress, the coils promote high levels of breathability and allow the bed to remain cool throughout the night. Even if you're a hot sleeper, by default, Sealy should still sleep pretty cool.
When it comes to bounciness, well… Let's face it - one of the only reasons why you might be looking for a bouncy mattress is sex. Not many Mattress One reviews are going to tell you this, but it's true - a bouncy mattress can improve your and your partner's sex life exponentially.
Price
Compared to TempurPedic, Sealy offers some truly competitive price tags. Note, however, that there are some customer Mattress One complaints that talk about the lack of durability with some of the Sealy's models bought via retail. This is actually a notable complaint, in general, but there's a common trend that the beds sold in physical shops lack even more durability than those you'd purchase online.
That being said, if you were to purchase the Sealy mattress online, it would cost you anywhere from $901,55 up to $934,99, depending on the size of the mattress. Pretty good!
[featured-coupon review_id="208"]
Also, keep in mind that the Mattress One prices for Sealy are going to be a bit higher than those found on the company's site - well, at least in most cases.
Stearns and Foster - Luxurious Mattresses with Great Pressure Relief
Same as TempurPedic and Sealy, Stearns and Foster offers customers a different variety of mattress collections to pick from. In this article, we'll be focusing on Mattress One reviews that deal with the Reserve Hepburn collection.
Reserve Hepburn is the perfect mattress collection for those who are suffering from lower back, hip, shoulder and other pressure point pains.
Truth be told, while people are looking for Mattress One prices and customer reviews, not many pay close attention to the pressure relief capabilities of the mattress that they're interested in - that's a big mistake!

You see, if you currently sleep on an old mattress (or simply one that's not good at alleviating pressure), you might notice that you're constantly sore in the mornings. People seem to attribute this to other causes - difficult workouts the day before, faulty sitting positions, and so on.
The truth of the matter, however, is that - more often than not - your mattress is at fault.
Thing is, old beds tend to get worn out with time. Because of this, the bed becomes unable to disperse the pressure that your body applies to its surface, and thus concentrates it at some certain spots - pressure points.
These points are located at some certain areas around your body - the most common culprits are the hips, shoulders, neck, knees and lower back. Sleep on an old bed, and you'll likely feel the effects at these spots in the morning.
Some customer Mattress One reviews, however, will tell you that the Stearns and Foster Reserve Hepburn collection can help you deal with that. The mattresses in this collection are apparently amazing at relieving pressure and keeping your body properly aligned to the surface of the bed.
Price
Now, pricing is tricky here - no matter if you read some Mattress One complaints or go to the actual Stearns and Foster customer reviews, you're likely to notice a common trend of people not being too happy with the pricing of the mattresses.
That's not at all surprising - Stearns and Foster beds are insanely expensive.
Purchasing the mattresses online, they will cost you anywhere from $3899 up to $9798. That's a huge difference! The actual price will depend on the model and the sizing option that you go with - the bigger the mattress, the crazier the price tag.
[featured-coupon review_id="204"]
If you choose to buy the bed over at Mattress One, you should expect it to cost even more than that. As a retailer, the company needs to make a profit, and thus will charge you more than the official provider would.
Purchasing a New Mattress: Online VS In the Shop
Now that we've covered the top three beds available over at one of the Mattress One shops, let's talk about one more important subject.
Anyone and everyone who's ever thought about buying a new mattress has, at some point, bumped into this issue - should you buy a mattress online, or in a physical, brick and mortar shop?
Well, I'm here to tell you - you should always look for mattresses online.

While there's still an opinion that you should go into a shop and see the mattress live lingering around, it's becoming a thing of the past. People are catching up to the fact that "seeing a mattress live" doesn't really do anything for their decisionmaking - that's obvious from some customer Mattress One reviews, too.
In actuality, it might even be worse - here are a few reasons why shopping for a mattress online is a smarter idea than doing so in a shop:
No rushing. Online, you won't have any shop assistants trying to rush you through their selection and standing by your side as you check out the beds. This can not only get quite annoying, but it might also impact your decision on which mattress is going to be most suitable for you.
Wider selection. Well, "wider" is probably not the word to use here - online, you'll have the access to almost every single noteworthy mattress in the world! You can find different providers that seem to suit you, compare and contrast their products and make an informed decision - not something that's all that possible in a physical shop.
Lower prices, better deals. Poor sleep can be caused by a variety of issues - work interfering with personal life[2], stressful situations, anxiety, and so on. That said, you might also sleep quite poorly knowing that you've significantly overpaid for your new bed. As mentioned earlier, retailers have to make a profit, and so usually charge more than the official providers would. On top of that, you probably won't get as good of a warranty or sleep trial deal in a retail store as you would online.
These and a few other reasons showcase why there are some customer Mattress One complaints found online that note how you should turn away from retail stores and shop for your mattresses online. In all honesty, no matter if you're focusing on Mattress One reviews or the reviews of the actual mattresses themselves, that should actually be the case.
Here is The Best Saatva Offer I Found:
UP TO $500 OFF
Limited-time Saatva Sale
We're sharing a limited-time Saatva mattress discount with our readers! Grab this deal & enjoy your new mattress with huge discounts.
Expiration date: 08/12/2023
4,042 People Used
Only 83 Left
Conclusions
Now that we've analyzed some of the most prominent customer Mattress One reviews, you should know more about Mattress One and the top beds that the retailer sells to its customers. While the beds offered in the shops are definitely decent, you're still better off purchasing them online, from the official websites of each of the providers in question or even Amazon.
Table: The 3 best mattresses currently available to be purchased online
Also, if you're interested in truly high-end beds, do check out our list of the best mattresses of the year. There, you'll be able to pick a mattress that will serve you for many years to come.
Scientific References
1. Jared M Saletin, PhD, Cassie J Hilditch, PhD, William C Dement, PhD, and Mary A Carskadon, PhD: 'Short Daytime Naps Briefly Attenuate Objectively Measured Sleepiness Under Chronic Sleep Restriction'
2. Orfeu M. Buxton, PhD, Soomi Lee, PhD, Chloe Beverly, BS, et al.: 'Work-Family Conflict and Employee Sleep: Evidence from IT Workers in the Work, Family and Health Study'
Leave your honest Mattress One review
Leave your genuine opinion & help thousands of people to choose the best mattress. All reviews, either positive or negative, are accepted as long as they're honest. We do not publish biased reviews or spam. So if you want to share your experience, opinion or give advice - the scene is yours!