Sealy is a mattress brand that offers customers a wide variety of mattresses - you'll find hybrid, foam and innerspring beds showcased on the company's website. Today, we'll be looking at and concentrating on customer Sealy mattress reviews that deal with the brand's most popular mattresses - the innerspring Response line.
If you're looking for an innerspring bed, chances are that Sealy is going to be one of the first brands that pop up. However, another thing that you'll also notice pretty fast is that customers have somewhat different opinions about the mattress line in question. Are the products worth checking out, in the first place? Well, let's find out.
Also, if you need a high-quality bed, there are better alternatives - you'll be able to find them here.
TL;DR: Customer Sealy mattress reviews note that, out of the three collections available in the Response line, the Premium collection is going to be the best option for most. The mattresses lack durability and pressure point relief, but are quite cool to sleep on, and are quite affordable.
Pros
Decently sturdy edges
Bouncy
Rather breathable
Affordable
Cons
Lacks motion isolation
Not durable
No pressure alleviation
Sealy Mattress Reviews: PROS
Whether you've heard about the special mattress technology that the brand uses, and are now looking for Sealy Posturepedic reviews, or simply Sealy mattress reviews, in general, you'll likely first want to know the benefits that the product provides. Let's start this review by talking about exactly that.
Do note, though, that we'll be talking about the three Sealy mattresses (mattress collections) available in the Response line - Essentials, Performance and Premium. Near the title of each particular feature discussed below (whether a pro, or a con), you'll find a little note that states which of the collections are talked about in the following text.
That being said, if you're looking for Sealy hybrid mattress reviews, you're not really going to find them here - since the innerspring beds are seen as the best product that the company offers to its customer, this review will focus on exactly that.
Cool to Sleep On (All Three Collections)
If there's one thing that all innerspring mattresses have in common (whether Seally mattresses, or others), it's breathability - you'll struggle to find a more breathable mattress than a traditional innerspring.
It would seem that the majority of customer Sealy mattress reviews agree with this notion - all three of the beds in the Response line are deemed to be quite breathable.
Now, truth be told, all types of mattresses out there are going to have some sort of cooling technology installed into them - if they don't, well… You're likely better off not even looking at such products.
That said, however, it is also no secret that not all cooling technologies work the same. Take foam mattresses, for example - most of them are going to be infused with cooling gel in order to mitigate the natural heat problem that foam, as a material, has.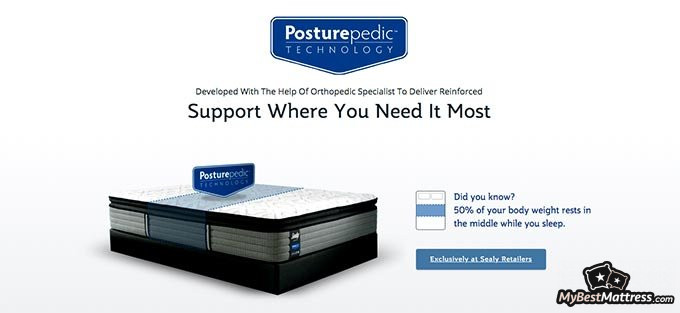 Unfortunately, it's not always successful - there are plenty of foam mattresses that still sleep really hot, regardless of the before-mentioned cooling gel.
Reading through Sealy mattress reviews, however, you'll soon learn that the situation is vastly different with innerspring products. That's because the metal coils inside of such beds supply them with natural breathability and cooling, since they leave room for air to circulate within the mattress.
So, in short, if you sleep hot and a cool-sleeping mattress is an utmost priority to you, Sealy mattresses (the ones in the Response line, that is - Sealy hybrid mattress reviews might tell a different story) are going to sleep much cooler than their foam counterparts.
Latest Saatva Coupon Found:
UP TO $500 OFF
Limited-time Saatva Sale
We're sharing a limited-time Saatva mattress discount with our readers! Grab this deal & enjoy your new mattress with huge discounts.
Expiration date: 27/09/2023
4,042 People Used
Only 83 Left
Bouncy (All Three Collections)
Another feature for which innerspring beds are rather famous for is bounciness.
Now, bounciness can offer a few different benefits to the sleeper. That said, it will be most useful to couples - bouncy mattresses are generally seen as being great options for sex.
Customer Sealy mattress reviews report that all three mattresses collections in the Response line - Essential, Performance and Premium - are going to offer decent bounciness and body support capabilities. However, this is only true if you're a lighter person - heavier sleepers might notice that the beds aren't particularly good at bouncing their bodyweight back up.

Did you know?
Decently Strudy Edges (Premium Collection)
Whether you're looking for Sealy Posturepedic reviews that deal with the brand's hybrid mattresses, or are interested in some top-tier innerspring products, the one quality that all of these beds are likely going to have in common is proper edge support.
Strong edges, though, are most commonly associated with innerspring mattresses. Because of their coil-based design, the beds retain their shape much better, and avoid developing sinkage towards the sides.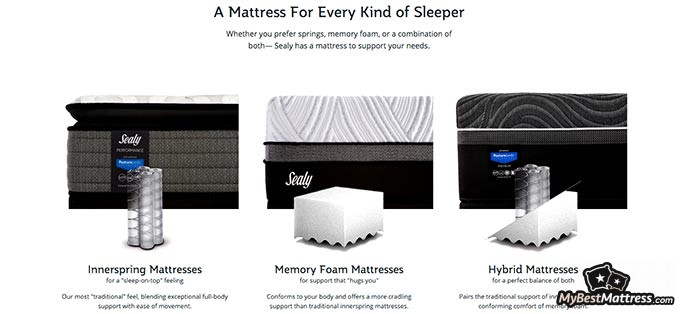 Online customer Sealy mattress reviews talk about edge support quite a bit. It would seem that while other collections in the Response line lack in this area, the Premium mattresses offer properly strong edges.
What this means is that, if you do purchase the Premium mattress, you won't have to worry about constantly rolling to the sides of your bed, or having to deal with your mattress "caving in" towards the middle.
Sealy Mattress Reviews: CONS
While the products do have their own, specific benefits when it comes to being innerspring beds, it has to be acknowledged that there are quite a few customer Sealy mattress reviews that aren't all that fond of the beds in question. Now, let's take a look at some of the more prominent complaints that people might have.
Little-to-None Pressure Alleviation (All Three Models)
Initially, people looking for reliable Sealy Posturepedic reviews might get excited learning that the Performace and Premium mattress collections actually utilize the Posturepedic technology.
That said, however, multiple customer Sealy mattress reviews report that, while the situation is mediocre at best with Premium, all three of the collections in the Response line offer minimal pressure point alleviation.
While innerspring mattresses, in general, aren't particularly known for having "top-tier pressure relief", Sealy's beds are even below that benchmark.

As you probably know, pressure relief is actually one of the most important features that a proper mattress should have. A bed that is good at alleviating pressure points will contour to your body and conform around it, thus dispersing any and all pressure points throughout the surface of the mattress.
Unfortunately, if your old bed is giving you a hard time and making you constantly feel sore in the morning, Sealy isn't really going to be able to help you in this regard - you best look elsewhere.
Lacks Durability (All Three Models)
Right… This might actually be a notable issue.
Whenever you're looking for a new mattress, one of the first things that you likely take note of is durability. There's a general rule of thumb to follow when it comes to purchasing a new bed - if it lacks durability, it's not worth paying attention to.
Well, in most cases. There are exceptions.
It makes sense, though, right? Imagine purchasing a bed with high-end pressure alleviation features and some fancy cooling technology, only to have it break down on you in the first few months - not ideal!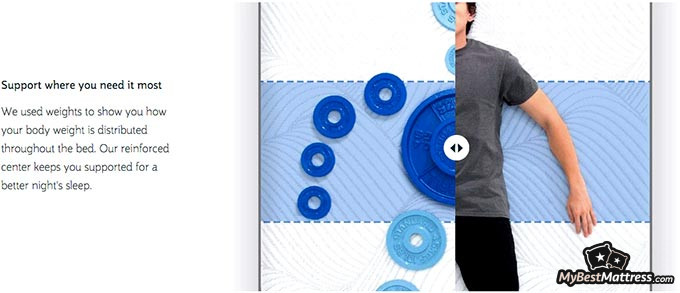 On the other hand, if you are actually looking for an affordable mattress alternative, in the first place, and aren't planning to sleep on the bed for years to come (maybe you need it for your studies period, or a guestroom?), a lack of durability, theoretically, could be overlooked.
Customer Sealy mattress reviews do emphasize the fact that all three of the Response line models lack durability. Keeping their price tags in mind, that's not too surprising, but it might still be a huge issue for anyone looking for a long-term mattress. If you're one of these people, I strongly suggest taking a look at our list of the best mattresses out there.
Aren't Good at Isolating Motion (All Three Models)
Motion isolation is a feature that's going to (mainly) be important for anyone who sleeps with their partner. A mattress that is good at absorbing motion can help you move less during the night, too, but the true benefits shine when you sleep with a person who is a restless sleeper.
If your bed is good at isolating motion, chances are that you're not really going to feel your partner turning around at night. Even though daytime naps can help you with certain specific, sleep-related issues that you might have[1], they are not going to replace nighttime rest - a person who is tossing and turning on the other side of the bed, however, can ruin all of that pretty fast.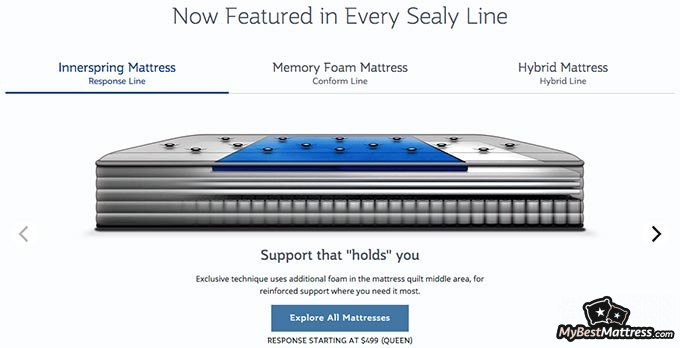 Same as with many other features mentioned by customer Sealy mattress reviews, innerspring mattresses aren't really known for their motion isolation capabilities. While Sealy hybrid mattress reviews note that the hybrids of the company are rather OK at isolating motion, that's not something that you'll get with the Sealy innerspring beds.
Price
Now, as you might have gathered by this point, there are more than enough customer Sealy mattress reviews that aren't too fond of the products in question. If there's one redeeming feature, however, it has to be the price of the products in the Response line - Sealy offers some of the most affordable innerspring mattresses you're likely to come across.
The price tags for the Sealy Response line Essential collection are:
Sealy Performance collection prices look like this:
And the Premium collection:
The first thing that you'll likely notice is that the prices seem to be all over the place - that's because Sealy retails its products through Amazon. There, the price tags depend on the availability of the beds, the suppliers, and so on. Needless to say, the prices might fluctuate by quite a bit!

Furthermore, with the exception of the Premium collection, it's probably obvious that Sealy offers some truly affordable beds - almost all of them are below the $1000 mark!
One of the more unfortunate things here, however, is that Sealy can't really offer you a stable trial period - since the company's beds are sold via third party retailers, the trial periods are going to vary by quite a bit. That said, the brand does offer a 10-year warranty on all of the mattresses, by default.
Here is The Best Saatva Offer I Found:
UP TO $500 OFF
Limited-time Saatva Sale
We're sharing a limited-time Saatva mattress discount with our readers! Grab this deal & enjoy your new mattress with huge discounts.
Expiration date: 27/09/2023
4,042 People Used
Only 83 Left
Conclusions
In this day and age, it is probably rather obvious that proper sleep is essential in order for you to feel great and to function properly. Sleep affects everything from driving a car[2] to performing tasks at work and being able to concentrate - this probably isn't new to anyone.
What many people do underestimate, however, is the role that their mattress plays in improving their sleep quality. This is seemingly true with customer Sealy mattress reviews, too - many people purchase Sealy's mattresses with the hope of boosting their sleep quality, yet without doing proper research about the brand and the products in question.
So, is Sealy worth it?

If you're looking for a long-term product that provides high-quality features, no. Sealy innerspring beds are breathable and somewhat bouncy, and have OK edge support, but that's about it. No motion isolation, no pressure relief, no reliable durability - some of the most essential features are missing from these mattresses.
If, however, you're looking for a mattress for a short period of time, or aren't willing to invest more money into getting yourself a better bed, then you could surely try Sealy out. In any case, you're always going to be better off with getting yourself a high-end mattress that will serve you for many years to come - if you're interested in a bed like that, check out our list of the best mattress out there.
All in all, I thank you for reading this article on the innerspring Sealy mattresses, and hope that it was informative and useful to you. Good luck in finding the best bed for yourself!
Scientific References
1. Fiorenza Giganti, PhD, Cinzia Arzilli, Francesca Conte, PhD, et al.: 'The Effect of a Daytime Nap on Priming and Recognition Tasks in Preschool Children'
2. Daniel J. Gottlieb, Jeffrey M. Ellenbogen, Matt T. Bianchi, and Charles A. Czeisler: 'Sleep deficiency and motor vehicle crash risk in the general population: a prospective cohort study'
Leave your honest Sealy review
Leave your genuine opinion & help thousands of people to choose the best mattress. All reviews, either positive or negative, are accepted as long as they're honest. We do not publish biased reviews or spam. So if you want to share your experience, opinion or give advice - the scene is yours!