If you've ever read any best mattress reviews, you've probably heard about Purple. It's one of the most well-known, innovative mattress companies in the industry - their New Purple mattress is absolutely stunning. However, today, we'll talk about some customer Purple pillow reviews.
Purple offers customers two different pillows - Purple and Purple Plush. Frankly, the word "different" is an understatement - they are the complete polar opposites of each other. Don't worry, though - in this Purple mattress pillow article, we'll talk about both of them.
TL;DR: Customer Purple pillow reviews are generally pretty happy about the product, even though it only offers a single firmness option and is heavy. That said, if you're more of a "plush" pillow kind of a person, chances are you're going to love the Purple Plush alternative.
Pros
Same technology (Smart Comfort Grid) in both the mattress and the Purple original pillow
Both pillows sleep cool
The original Purple pillow is very easy to clean
Cons
Original Purple is a heavy pillow
Single firmness option
Purple Pillow Review: PROS
Given that both the Purple pillow and the Purple Plush pillow are so different, it's only natural that they will have very different pros and benefits for your average, everyday sleeper.
That being said, though… What even are the actual benefits of a decent pillow?
Well, first of all, support. Neck and head support, to be more precise.
Customer Purple pillow reviews will tell you that, no matter what type of a pillow you're going to purchase, you should always research whether or not it offers proper support for your neck and head. For example, a polar opposite of this would be a pillow that sinks in when you place your head on it.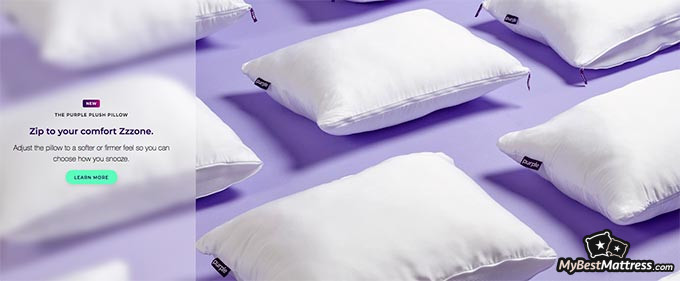 You see, if your sleeping product offers proper support, your spine is going to stay aligned all throughout the night, reducing the pressure that it would have to withhold with a sinking pillow. This, in turn, will drastically reduce the probability of you waking up with a sore back, neck or shoulders.
Also, proper materials. While this might sound a bit "tongue and cheek" given that I'm saying it in a Purple pillow review, some sleep product companies like to experiment with various different materials when it comes to pillow covers and inserts - let's just say that's not always ideal.
Now, don't get me wrong - there are companies that "get it right". In all actuality, the Purple mattress pillow is a great example of what "getting it right" means in this context. Why? Well, because the product utilizes the same technology as the company's famous mattresses.
Smart Comfort Grid Technology
Purple's "Smart Comfort Grid" technology is one of the main features that the company is so well-known for. It's some hyper-elastic polymer grid made in a specific way - when built into a mattress, this technology makes it very responsive, cool and comfortable to sleep on.
Customer Purple pillow reviews claim the very same thing.
While the situation is quite different with the Purple Plush pillow (it's stuffed with "Smart Fluff"), the original Purple Pillow is filled with the same polymer grid as the company's mattress. Needless to say, this makes for a pretty interesting product.
The Purple Pillow is extremely supportive - because of the polymer grid, there's almost no chance of it "sinking" when you lay your head on it. Some Purple pillow reviews talk about other, similar products that should be this way, but start to sink a couple of days in.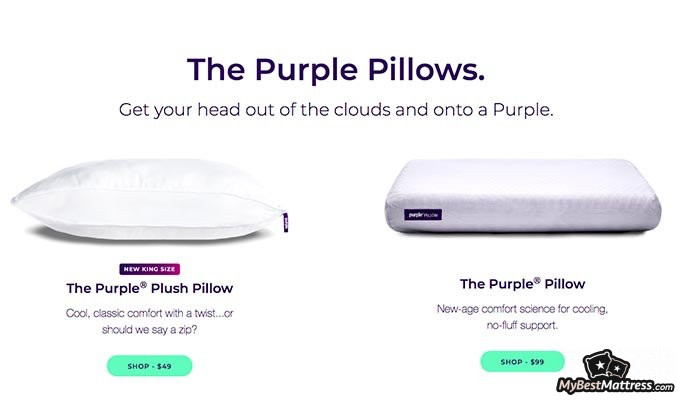 That's not the case with the Purple original pillow.
The Smart Comfort Grid technology adapts to your head and neck, helping your spine retain a natural position when lying down and preventing most arching and bending. Customers claim that, after sleeping on the Purple pillow for a few nights, they've noticed reduced shoulder and neck pain.
As far as the Purple pillow reviews for the new Plush model are concerned, just as I've mentioned earlier, the product is quite different. The Plush model comes stuffed with poly fiber puffy balls - they create a much softer, less-stiff feeling.
That's not to say that the Purple Plush is a "sinking" pillow, however.
While I've encountered a few customer Purple pillow reviews that talk about the pillow being a bit sinky (if that's even a word), the fact of the matter is that you can choose and adjust the firmness level of the pillow at any given time, with some built-in gussets that you can zip and unzip.
To put it short, while both Purple pillows are very different in the way that they're made, they both offer some pretty good support, and the Purple Plush pillow has multiple firmness options.
Latest Saatva Coupon Found:
UP TO $500 OFF
Limited-time Saatva Sale
We're sharing a limited-time Saatva mattress discount with our readers! Grab this deal & enjoy your new mattress with huge discounts.
Expiration date: 05/12/2023
4,042 People Used
Only 83 Left
Cool Pillows
If you live somewhere where it's extra-warm, or you have your air conditioning system out for repair, you can probably appreciate the fact that sleeping cool is very important to most people.
You don't even need to think about some of the hotter regions in the world - think fever! I keep on stressing this in multiple pillow and mattress articles, but it would seem that customer Purple pillow reviews truly do agree with the sentiment - there are a few things as gross and uncomfortable as waking up drenched in sweat.
Naturally, the very first thing that you'd want to make sure is that your mattress is breathable and, well… Cool. However, the same (just on a smaller scale) applies to your pillow, too.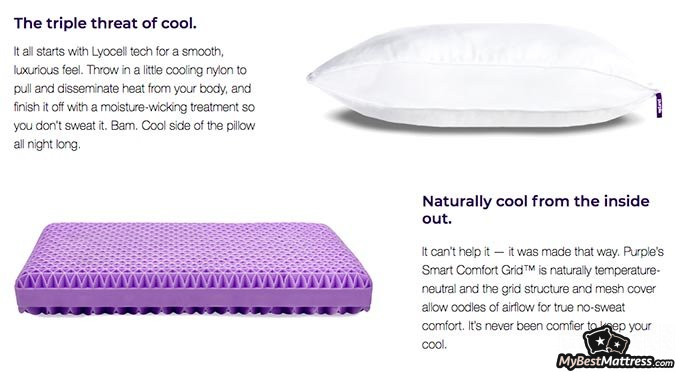 Because of the same, above-talked-about technology, Purple has been known to provide some of the cooler-sleeping mattresses of the industry. Well, the same can also be said about both of their pillows.
The original Purple pillow is super-breathable - that's a no-brainer, seeing as it utilizes the same technology as the company's beds. That being said, though, there are many customer Purple pillow reviews that claim the same about the Plush version of the pillow, too.
Purple Plush provides a cool sleeping experience because of the cover of the pillow. It's made from Nylon and Lyocell fibers, including other materials - these keep heat and moisture far away from your face, head and neck, thus removing the possibility of waking up all soaked in sweat.
Very Easy to Clean
While not directly related to the actual process of sleeping, cleaning a pillow can be a huge hassle… Or a very simple process, depending on the product in question.
Customer Purple pillow reviews are almost unanimous - both of the pillow products offered by the company are extremely easy to clean and take care of. But let's take it one step at a time.
The original Purple pillow, it being made out of the hyper-elastic polymer grid, is probably the easiest pillow to clean that you'll ever come across. While that does indeed sound like a bold statement, it might perfectly well be true - all you need to do is throw the cover into the washing machine, and wash the actual pillow with some laundry detergent and warm water.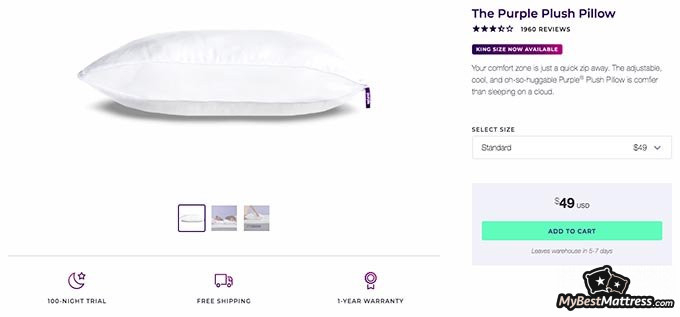 The Purple Plush is a bit of a different story, since it's not stiffed with solid polymer, but rather puff balls. That said, cleaning is still pretty simple.
Customer Purple pillow reviews have found that the easiest way to clean your Purple Plush pillow is by machine-washing it on a cold water cycle. That's really all there is to it - the cover washes the same as with the original pillow.
Purple Pillow Review: CONS
The Purple pillow reviews that customers leave online aren't only overly-positive, though - there are some quirks that customers have pointed out with the products.
The main issue that most people have, however, has to do with the original Purple pillow.
A Heavy Pillow
Since the Purple Pillow is practically made out of a polymer grid, it's going to be heavy. Quite heavy, in fact - you'll have a hard time finding a heavier pillow out there!
While weight doesn't necessarily have to be a problem, it might actually become a nuisance to some people (at least according to Purple pillow reviews). It would seem that side sleepers are the ones affected by this the most.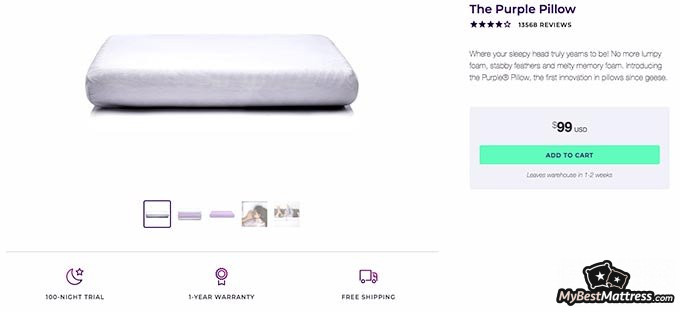 It does kind of make sense, though. If you prefer sleeping on the side, chances are that you like to either place your hand under the pillow, or adjust it to be either higher or lower, depending on personal preferences.
If your pillow is heavy, this is something that's going to be difficult to do. Adjusting it while sleeping (or being sleepy) will require you to almost fully wake up, which can really piss off some people.
Might Sleep Rather Firm for Some People
The Purple original pillow isn't going to sleep "soft" - that's obvious. That being said, however, if you're someone who has a sensitive neck, the product might actually be a bit too hard for you.
This is something that can be avoided by opting to go with the Purple Plush pillow. As I've mentioned at the beginning of this Purple pillow review, the Plush variant of the product is much softer due to the way that it's made, and the materials that it's made from.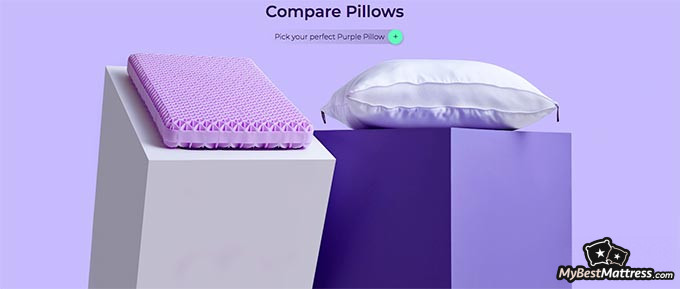 Something that should definitely be kept in mind, however, is that while firm pillows might not be as comfortable as their softer alternatives, most of the time, they are going to be better for your neck and shoulders. It's best that you find a middle ground between comfort and support - Purple Plush seems like a good option here.
Price
The Purple pillow cost is that one thing that many people wonder about when they first hear about the product. This applies to both the original pillow, and the Purple Plush - with them being as hyped-up as they are, you would think that the price tags are going to be somewhat insane.
Well… The opposite is actually true.
While some people aren't particularly happy about the fact that the Purple original pillow only comes in a single sizing option, no one can say too much bad about the Purple pillow cost. The original pillow retails for $99. All things considered, that's a great price.
The Purple Plush, however, does have two different price and sizing options - Standard and King:
It's difficult to stress this enough, but Purple definitely has some of the absolute best prices in the industry. The fact that you can purchase such as well-crafted pillow for as low as $49 is absolutely incredible. Honestly, the Purple pillow cost, in general, is great.
On top of these amazing prices, Purple does offer extra purchase benefits to its customers. No matter with which of the two Purple pillows you decide to go with, you'll receive a 100-night sleep trial and a year of warranty. So, if you decide that the pillow isn't really for you, you can return it in a 100 days and get a refund.
On top of that, Purple provides free shipping to anyone who's located in the contiguous USA.
Here is The Best Saatva Offer I Found:
UP TO $500 OFF
Limited-time Saatva Sale
We're sharing a limited-time Saatva mattress discount with our readers! Grab this deal & enjoy your new mattress with huge discounts.
Expiration date: 05/12/2023
4,042 People Used
Only 83 Left
Conclusions
At this point, you can probably see that the Purple pillow reviews left online by the company's customers tend to agree on the fact that the company has definitely managed to transfer their great mattress reputation to the department of sleep accessories, namely - pillows.
The original Purple pillow is a heavy product, since it's filled with hyper-elastic polymer grid. This makes the pillow very shape-retaining and easy to clean, and places it on the firmer side of things. The product is well-known to offer some of the best head and neck support on the market.
The Plush variant of the Purple mattress pillow is the cheaper, softer version of the above-mentioned Purple original pillow. The two are very different, yet are both widely beloved by the company's customer. Purple Plush retains shape pretty well, is relatively soft and (same as the original) is very cool to sleep on.

Regardless of the pillow you choose to purchase, you'll receive free shipping in the US, a year of warranty and a 100-night sleep trial. On top of all of that, if you are also in need of a new mattress, you could definitely check out the New Purple - it's an incredible product with an extensive list of amazing qualities attributed to it.
All in all, I thank you for reading, and hope that, if you decide to check either one of the Purple pillows out, you will find them to your liking.
Leave your honest Purple Pillow review
Leave your genuine opinion & help thousands of people to choose the best mattress. All reviews, either positive or negative, are accepted as long as they're honest. We do not publish biased reviews or spam. So if you want to share your experience, opinion or give advice - the scene is yours!